ProWritingAid is a tool that improves your writing, fixes grammatical errors in real-time, and does much more things. In this article, I will review this tool and compare it with a similar tool named Grammarly.
So,
What is ProWritingAid, and how can it be used?
ProWritingAid (PWA) is an online proofreading tool and word processing software. This tool supports various types of devices and could help Academic, Business, and other writing purposes. 
Using ProWritingAid, you can improve your writing skills, fix grammatical errors, proofread consistency and plagiarism, and more.
What features have ProWritingAid?
This software has various kinds of features. Using this tool, you can enhance your reputation, improve efficiency, maintain consistency and develop skills and capability. Other than this, the software has many other helpful features, as mentioned below:
Summary report of key issues
20 Different writing reports
Plagiarism checker
Massive vocabulary
Word Explorer
Passive Voice to Active Voice
Pre-defined writing styles
Online Web editor
Desktop App (Mac & Windows)
Browsers Extension (Chrome, Edge, Firefox, & Safari)
Word Processor Integration (MS Word, Google Docs, & Scrivener)
ProWritingAid has different pricing packages or plans, so if you buy a premium plan, you will get all features, but they also have a free plan with limited features. 
Below I have mentioned pricing and packages and also compared them among themselves.
How much does ProWritingAid cost? Pricing & Packages
ProWritingAid has three different types of packages, one of those is free packages with limited features. For using ProWritingAid premium and premium plus, you have to buy monthly, yearly, or lifetime membership. 

As for an individual user, ProWritingAid will charge you a minimum of $20 for a month membership. In case you want to check plagiarism, you have to pay $24 for a monthly membership of the premium plus plan.

The price goes high up to $399 for the premium plus a lifetime membership, and membership is also available as a yearly plan.
The business owner can get ProWritingAid paid plans at the minimum price of $6 per month.
Comparison: ProWritingAid Free vs. ProWritingAid Premium
In the free version, you don't have to pay for any uses. ProWritingAid has a desktop app, browser extensions, and MS Word and Google Docs add-on, but in the free version, you can only use the online editor (web app) and the 500 words at a time within it. Using the free online web editor, you can check 19 writing reports like Grammar check, Readability, Echo, Overused Words, Repeats, etc.
In the premium version of ProWritingAid, you get all the available features on the free version, plus you can use the desktop app, browsers extension, and the add-ons, and there will be no word limits as the free version. ProWritingAid premium also gives to integration option for the popular scriptwriting tool Scrivener. ProWritingAid Premium plan's membership starts at $20 per month, $79 for a year, and goes up to $399 for a lifetime membership.
| Features | Free Membership | Premium Membership |
| --- | --- | --- |
| Word Limit | 500 Words | No Limit |
| Summary Reports | Key Issues Report | Key Issues Report |
| Writing Reports | 19 Writing Reports | 19 Writing Reports |
| Online Web Editor | Yes | Yes |
| Desktop App & Office Add-on | No | Yes |
| Browsers Extension | No | Yes |
| Scrivener Integration | No | Yes |
| Plagiarism Check | No | 2 Check Per Month |
| Pricing | Free  | $79/ year |
Comparison: ProWritingAid Premium vs. ProWritingAid Premium plus
As you can see, the features and pricing of the premium version of ProWritingAid above there I have mentioned. But that is not all, and one more part is missing in this version, the plagiarism checker tool. If you want to check your content's plagiarism report, you should go with the premium plus version of ProWritingAid.
In this premium plus version of the ProWritingAid tool, you will get a plagiarism checker tool, and you can check up to 50 times a year. According to ProWritingAid, the premium plus package is highly beneficial for academics (Scholar, Writer, and Researcher). ProWiringAid premium plus pricing is $24 monthly, $89 yearly, and $499 for a lifetime membership. 
There is not much difference between premium and premium plus packages, but you can see all differences in the table below.
| Features | Premium Membership | Premium Plus Membership |
| --- | --- | --- |
| Word Limit | No Limit | No Limit |
| Summary Reports | Key Issues Report | Key Issues Report |
| Writing Reports | 19 Writing Reports | 19 Writing Reports |
| Online Web Editor | Yes | Yes |
| Desktop App & Office Add-on | Yes | Yes |
| Browsers Extension | Yes | Yes |
| Scrivener Integration | Yes | Yes |
| Plagiarism Check | 2 Check Per Month | 5 Check Per Month |
| Pricing | $79/ year | $89/ year |
Who should use ProWritingAid and why?
ProWritingAid is complete writing, editing, proofreading tool for various types of writers like fiction, non-fiction, academic, blogs, and copywriting.
So, why should you use ProWritingAid?
There are many alternatives to ProWritingAid like Grammarly, Linguix, Writer, Whitesmoke, and more other tools. Grammarly is a popular tool compared to ProWritingAid, but it is costly, and other editing software is affordable but with limited features compared to ProWritingAid.
ProWritingAid Online Editor (Web Editor)
ProWritingAid online editor comes with every bit of features that are mention on the official site. In case you are a free membership user, then you can only use the web editor.
Free membership users can only get reports for up to 500 words, and the plagiarism checker is also not available for free users.
When you subscribe for paid membership, you can access everything, including the plagiarism checker, grammar checker, and twenty-plus reports checking tool.
However, the ProWritingAid online editor's user experience is good but not excellent as the desktop app and the MS Word add-on.
How to use the ProWritingAid online editor?
Open the official website and login into your account, then click on "Use App." 

After opening the editor, you can set your writing goal by specifying like a cover letter, sales email, business, academics essay, book reviews, and more.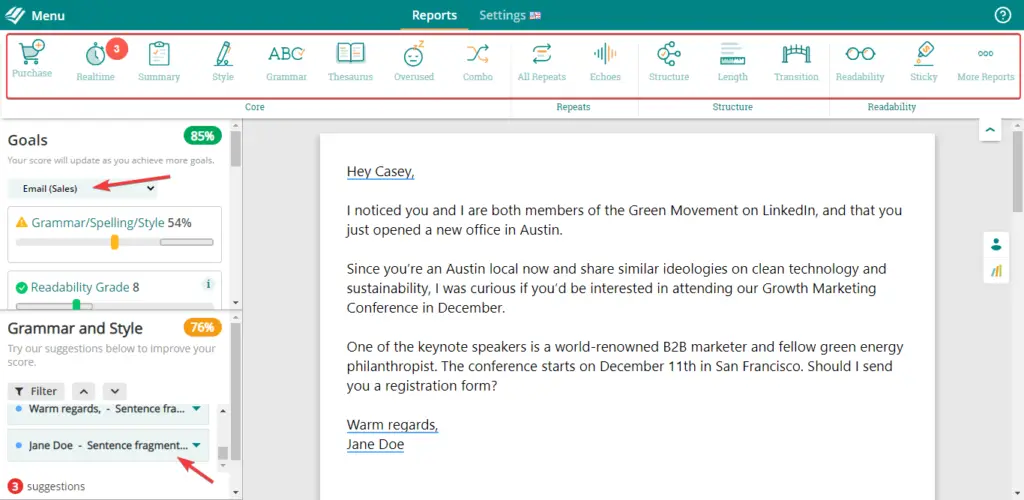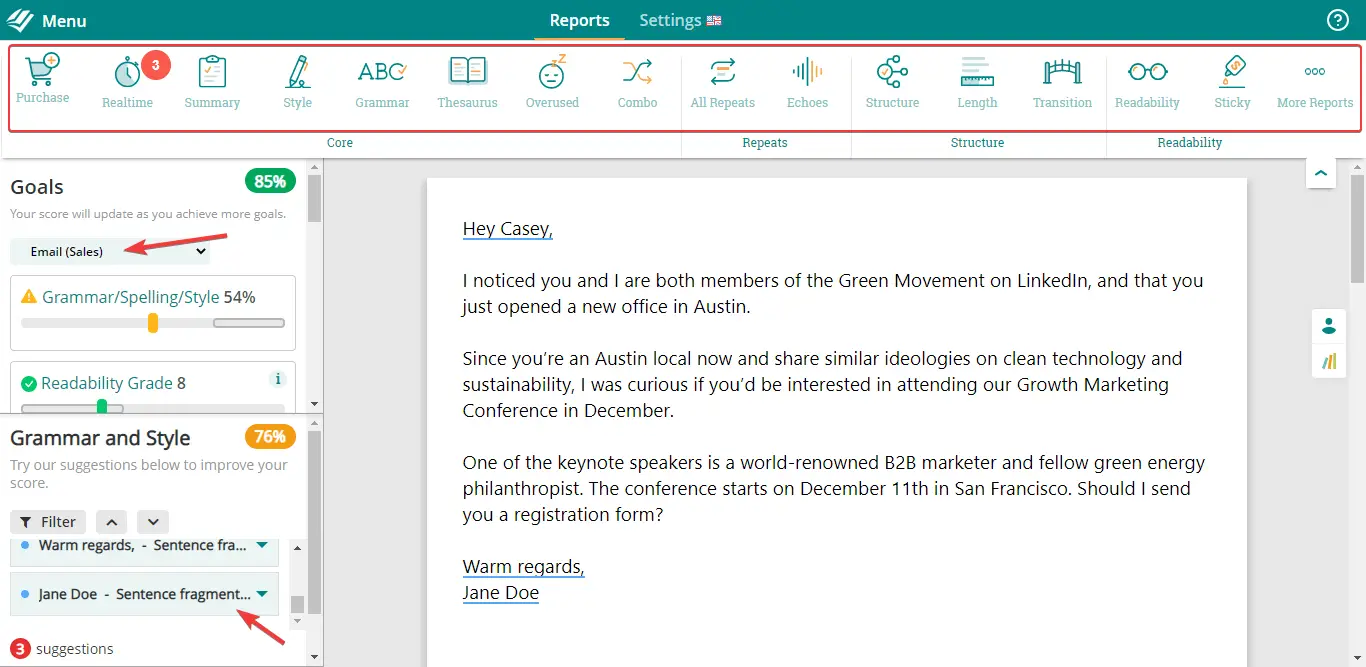 You can check the various report, as you can see above in the image, like readability score, word transitions, overused words, echo, cliches, and more. When you click on a word, you will get lots of synonyms. Even you can use the Word Explorer tool to get word suggestions.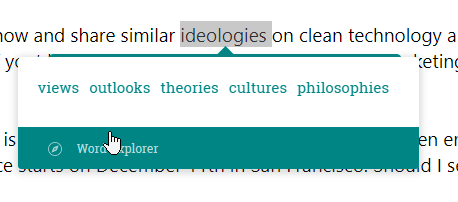 ProWritingAid Desktop App
The ProWritingAid desktop app is excellent in terms of user experience. The desktop app is significantly cleaner than the online web editor. However, you get all the features that are available in the online editor. 
The desktop app is only available for the paid users, and when you first open the app to edit or write, it will prompt you to enter your license key.
In the ProWritingAid desktop app, you can write in three types of file format, HTML, TXT, and Markdown. As a blogger, I have enjoyed using TXT and HTML setup. As usual, you find text styling in MS Word and Google docs, but there is no option in the app to add heading tags, strong text, or blockquote, but these features are available on ProWritingAid online editor.


However, you can add heading tags, blockquote, and other stuff in HTML format. If you know HTML basics, you can easily style your writing on the ProWritingAid desktop app, alongside the grammar check, spelling, punctuation, etc.
As I have mentioned that, only paid members are can use the desktop app. But you want to try; then you can take a trial for a week. 
This desktop also works as an add-on for the Scrivener app and Open Office for PC and Mac.
ProWritingAid MS Word add-on
ProWritingAid supports Office 2007 to the newer version. I have used the add-on Office 2013 professional version, and it works flawlessly. User experience is the same as using the ProWritingAid desktop app and online editor. But the MS office's power and the ProWritingAid add-on features make it a lot better than the desktop app and online editor.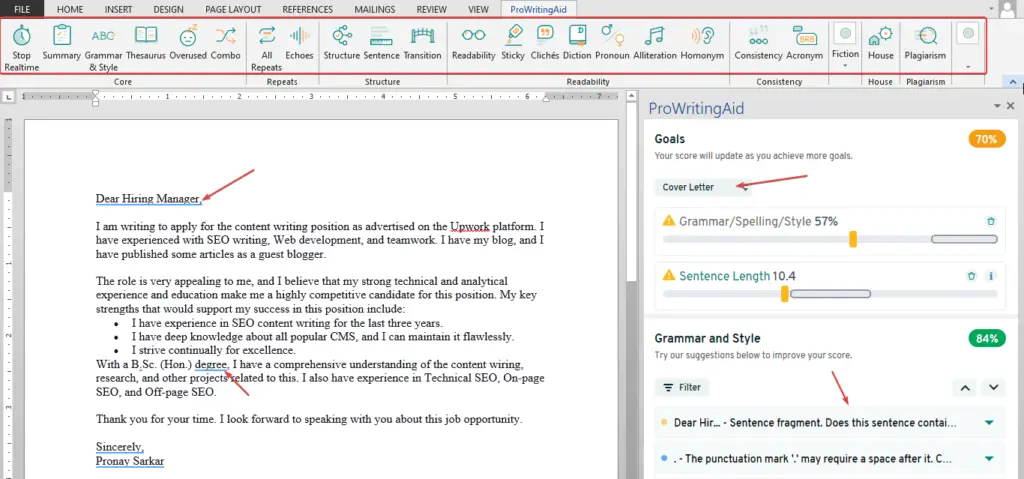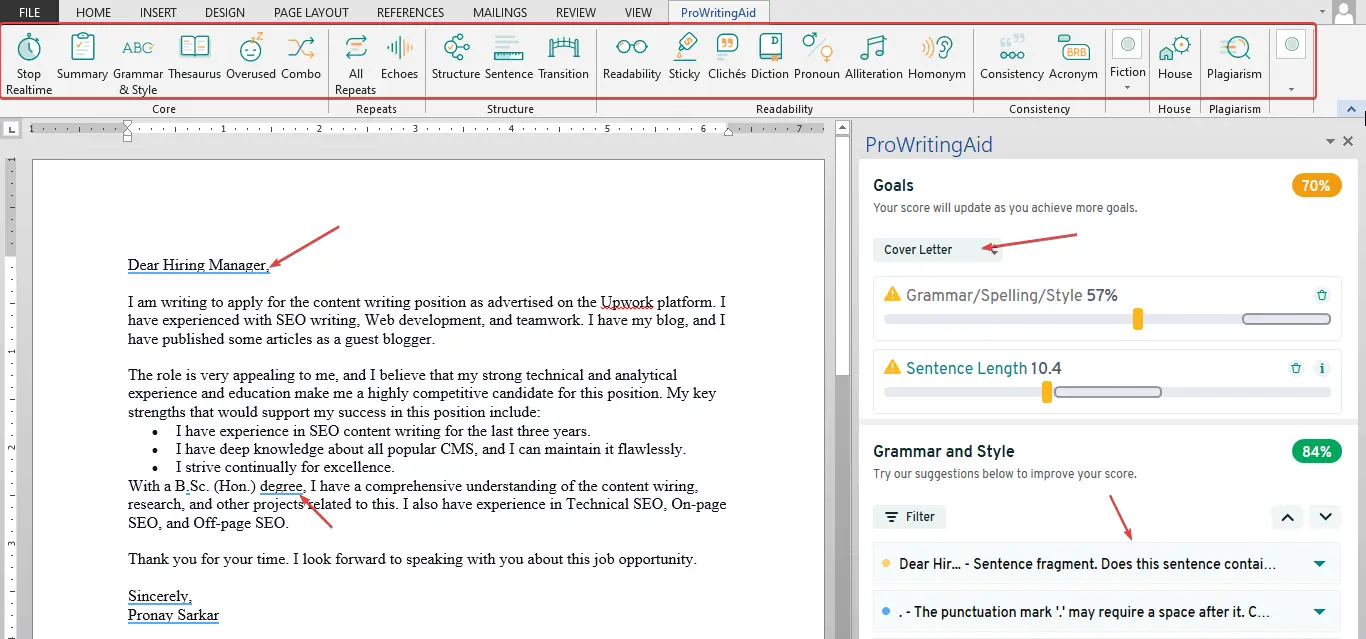 For using the ProWritingAid MS Word add-on, you have to download the add-on from the official site. You have to know that you should have a valid license for using the desktop app, Word's add-on, or browser's extension. 
In case you want to examine the add-on before purchasing the ProWritingAid license, you should take a week's free trial using this link.
So, how to use the add-on in MS Word? After downloading the add-on file and then install it on your PC or Mac. Now open MS Word software and start writing.
ProWritingAid Google Docs Add-on
ProWritingAid Google Docs add-on is also very similar to the desktop app. You get two options, the first one is to improve the document, and the second one is to get summary reports.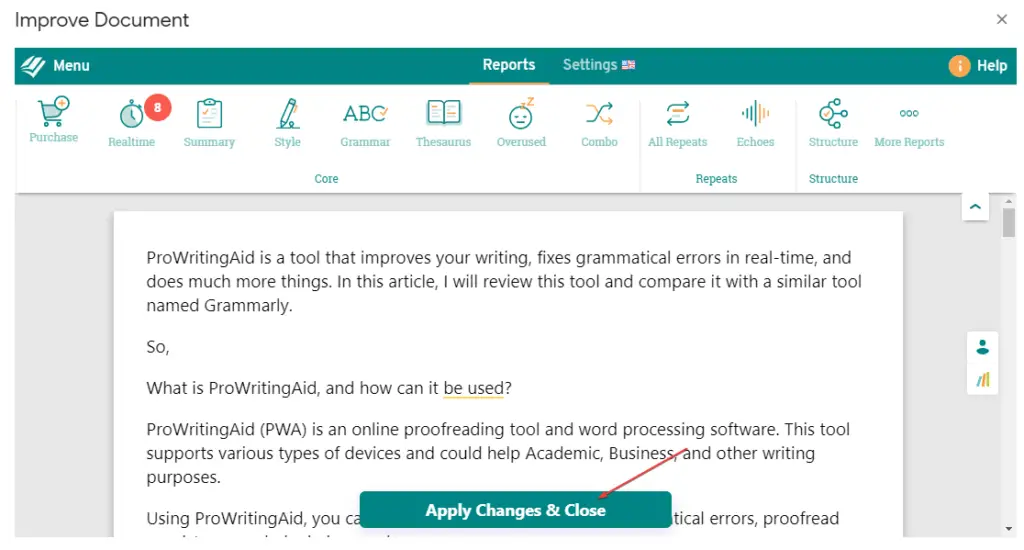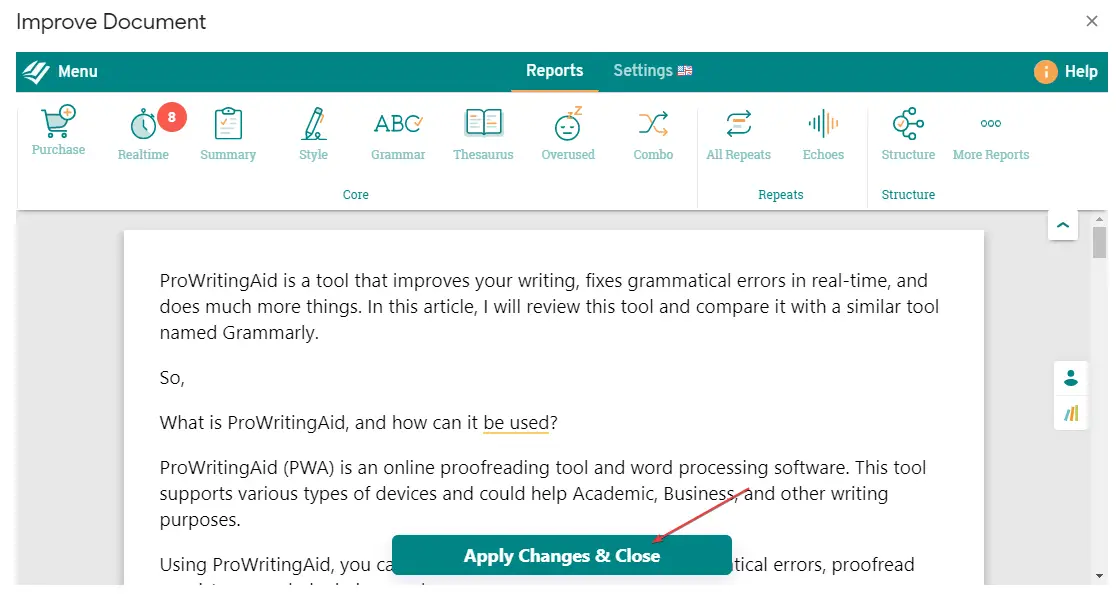 When you click on improve the document, the add-on will pop a window to enhancing the content, and the user interface is the same as the desktop app.
Browsers Extension
ProWritingAid browsers extension supports almost all popular browsers like Google Chrome, Microsoft Edge, Firefox, and Opera. 


I have used the extension in my new Edge browser, and it's not good as the actual writing platform of ProWritingAid.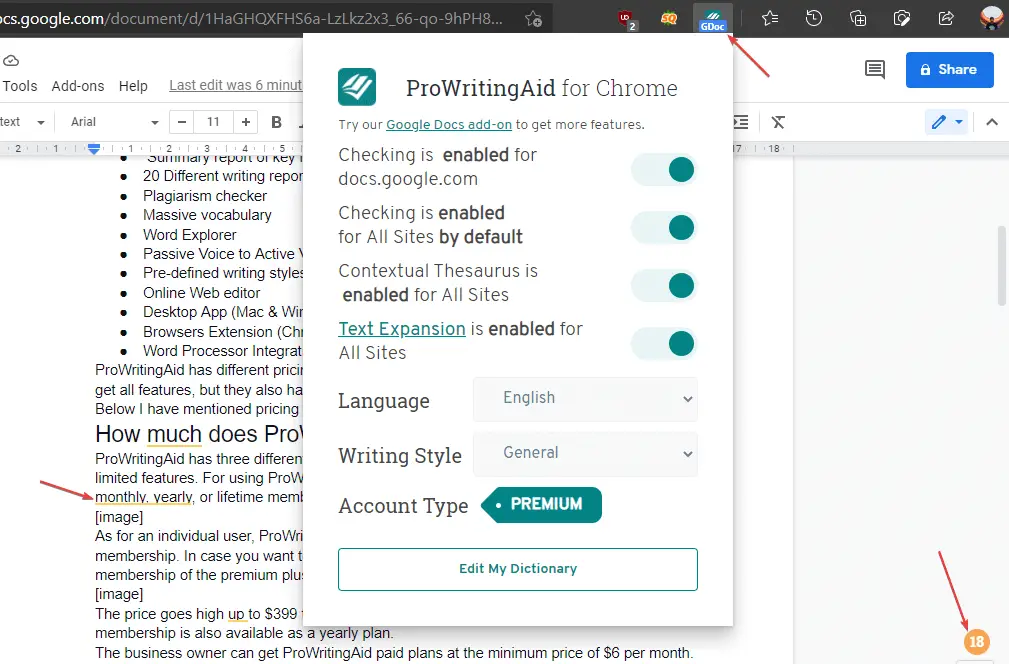 You can download the extension for Chrome, Edge, and Opera from the Chrome web store, and for Firefox, you can download it from the Firefox add-on site.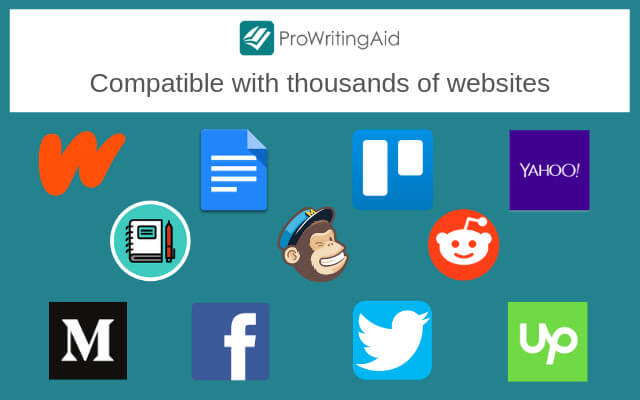 This add-on also supports almost every writing platform like Medium, WordPress, Blogger, and so others.
ProWritingAid: What's I like about the tool and what's not (PROs & CONs)
ProWritingAid proofreading tool is good enough if we consider the pricing. Its pricing is very low in comparison to other competitors like Grammarly and others. So, I want to share what's I like about this tool and what's not.
PROs
CONs
So, these are the advantages and disadvantages I have found on the ProWritingAid tool. It's not at all, and there would be more pros and cons, But these are the most similar pros and cons that I have found during my test.
Although it is a great tool, they have gotten lots of testimonials about the services, and during my experiment, it worked so fine. Frankly, I have missed Grammarly during the test. Why so? I am going to explain in the comparison of ProWritingAid vs. Grammarly.
ProWritingAid Review: All aspects that I have liked most
ProWritingAid is a comprehensive combination of tools. Using this tool, you can check grammatical error (faulty verbs, pronouns, and using inappropriate tense), spelling check, plagiarism check, and other. So, here I am going to tell my experiences that I have liked most about ProWritingAid.
Pricing
Most grammar checkers or proofreading tools are paid, so this one also. But ProWritingAid has a free plan, and all premium plans are affordable compared to others.
Document Formatting
Document formatting is essential to describe the content. You have seen newspapers, books, and other written stuff, and these are well formatted with Headline, Headings, Blockquote, and sub-headings. ProWritingAid did a decent job on formatting. You will not find any formatting features on the ProWritingAid desktop app; however, you can do configuration using HTML language if you know HTML.
Writing Style & Document Type
My most liked feature on the ProWritingAid tool is the different types of writing styles. If you have to write a cover letter or an academic essay, you can change the style from setting or goal. And when you set the style type, the tool will suggest improvements according to the style preset. ProWritingAid has 19+ different style presets.
Browsers Integrations
ProWritingAid integrates with almost every popular browser like Chrome, Firefox, Edge, and Opera. However, I haven't found any special features on the ProWritingAid's browser extension. 
Business Uses
ProWritingAid is a perfect tool for businesses or big companies. Their pricing starts from the lowest price of $6 per month, and it's great. 
I have specified above the pricing and the features that are you get on ProWritingAid.
Student Offers
I love that they provide a specific 20% discount for students. And you know I have already told you about that, this tool is fantastic for academic works.
So, how will you get the 20% student discount? First of all, you have to visit the official site of ProWritingAid and scroll to the bottom, and you will find a link for the student discount. Visit the link and verify your student information and get a 20% discount instantly.
Refund policy
Refunds play an essential role whenever you purchase any digital or physical products or services. ProWritingAid provides you 14-days full refund policy. In case you don't like the tool or whatever problems you have, they give you full refunds. 
You can also take one week free trial of their premium membership, where you can access all the premium features.
ProWritingAid Review: All aspects that I have hated most
As you all have read, what I like about this tool. Now I am going to specify the features which I have not appreciated so much.
User Interface
The tool is impressive, but UI is obsolete and looks like old software. Most websites and apps are crafted with material design in modern times, and it looks stunning like Grammarly and Linguix.  
ProWritingAid should improve the UI, and the online web editor sometimes gets glitchy.
Plagiarism Checker
The plagiarism checker tool on ProWritingAid is excellent but, they give you limited access. How? In the premium plan, you only check two times in a month, and in premium plus, you can prevent plagiarism up to five times a month or complete 60 checks in a year.
Cross-Platform Support
This tool supports most popular apps and browsers, but these days how can we forget about our mobile devices (iOS & Android). ProWritingAid doesn't have any app for iOS or Android. If you check Grammarly, they have a specific Keyboard app for Android, iPhone, and iPad.
Grammarly Vs. ProWritingAid
Grammarly is a top-rated writing tool and easy to use with its stunning user interface. Grammarly strongly integrates with cross-platform. I have been using Grammarly since I have started my blogging career, and the previous month (March 2021), I have purchased ProWritingAid premium. During my testing, I have observed some differences.
| Features | Grammarly Premium | ProWritingAid Premium |
| --- | --- | --- |
| Pricing | $139.92/ year | $79/ year [$89 Premium Plus] |
| Spelling Checker | Yes | Yes |
| Grammar Checker | Yes | Yes |
| Punctuation Checker | Yes [Robust] | Yes |
| Plagiarism Checker | Unlimited Checks | Limited Checks |
| Browsers Extension | Yes | Yes |
| MS Word & Google Docs Add-on | Yes | Yes |
| Desktop App | Yes | Yes |
| iOS & Android Support | Yes | No |
| | Explore Grammarly | Explore ProWritingAid |
FAQs about ProWritingAid
What is the best grammar checker free?
In the market, you will get lots of grammar checker tools. I have tested the three premium tools, and those are awesome. The first one is Grammarly, and in my opinion, this tool is far better than any other tool in the market. The second one is ProWritingAid, and the third one is Linguix.
How do I get ProWritingAid premium for free?
ProWiringAid premium yearly cost is $79, but you can get this tool's premium license for free. You have to sign up for the free membership plan, then ProWritingAid will give a referral link, and you have to share with your friends and referred ten sign up and get the one-year free premium license.
Is ProWritingAid better than Grammarly?
Grammarly is a robust grammar checker tool, and ProWritingAid also a decent tool but many points lack the ProWritingAid. But I would say Grammarly is the best of all popular grammar checking tools.
Does ProWritingAid work with Mac?
Yes, ProWritingAid perfectly works with Mac. If you are using Microsoft Office on Mac, you can install the Add-on or install the ProWritingAid Mac App to write the content.
Is ProWritingAid secure?
Yes, ProWritingAid is secure, and all your written content is safe with their secure server.
Final Thought
ProWritingAid is a decent editing tool with overall values and performance. However, it is not great as Grammarly. But considering the pricing ProWritingAid, then it is a complete package with decent value. 
If you thought about purchasing any proofreading tool's membership, first you should take a free trial or free membership plan. By the way, don't be unsatisfied if you have purchased ProWritingAid premium membership. Use promo code HONEY20 for getting a 20% discount on ProWritingAid membership plans.
And, what do you guys think about ProWritingAid? Is it worth your money? Please let me know in the comments.