Semrush is an online marketing tool and trusted by over 5 million marketing professionals. Semrush provides insight and solutions for companies in any industry to build the brand, manage social media, and research various data.
SimilarWeb is a marketing insight tool that gives you 100 million websites and over 5 million apps data.
This article will compare Semrush vs SimilarWeb; both tools are related to the same categories, but one has more tools and gives in-depth information. So I am going to compare features by feature.
Features that will help you to improve strategy
When we think of SEO and SEO-related tools, only a few names come to mind. It is possible that Semrush already comes because its advanced SEO features are not available by anyone else, although Semrush's rival SEO tools are also available, including SimilarWeb. And this article will explain why you have to choose Semrush over SimilarWeb. 
Must Read: Semrush Step By Step Guide And Tutorial.
The first reason is that who provides the most advanced and modern SEO facilities. After using Semrush and SimiliarWeb, I have concluded: Semrush has more features and tools than SimilarWeb. If you don't believe it? Check out the feature comparison table, ask your fellow marketer friend, visit the Semrush and SimilarWeb official site, take a trial, and see yourself.
| Semrush | Key Features | SimilarWeb |
| --- | --- | --- |
| ✔ | Activity Tracking | ❌ |
| ✔ | Advertising  Management | ❌ |
| ✔ | Email Alerts | ❌ |
| ✔ | Analytics/ROI tracking | ❌ |
| ✔ | Amazon Tools | ✔ |
| ✔ | API Integration | ✔ |
| ✔ | App Insight | ✔ |
| ✔ | Domain/Website Analysis | ✔ |
| ✔ | Site Audit (Automate the process) | ❌ |
| ✔ | Social Auto Publishing | ❌ |
| ✔ | Content Scheduling | ❌ |
| ✔ | Backlink Management (Analysis to Outreach) | ❌ |
| ✔ | Brand Management (Analysis to Tracking) | ❌ |
| ✔ | Benchmarking | ✔ |
| ✔ | Broken link discovery | ❌ |
| ✔ | Calendar Feature | ❌ |
| ✔ | Collaboration Tool | ❌ |
| ✔ | Google Data Studio Integration | ❌ |
| ✔ | Competitive Analysis | ✔ |
| ✔ | Competitive Monitoring | ❌ |
| ✔ | Advanced Import/Export | ❌ |
| ✔ | Data Visualization | ✔ |
| ✔ | Geotargeting | ❌ |
| ✔ | Google Analytics Integration | ✔ |
| ✔ | Browser Extension | ✔ |
| ✔ | Google Docs Integration | ❌ |
| ✔ | Historical Data | ✔ |
| ✔ | Lead Generation | ✔ |
| ✔ | Local SEO | ❌ |
| ✔ | Keyword Research | ✔ |
| ✔ | Keyword Rank Tracking | ❌ |
| ✔ | Mind Maps | ❌ |
| ✔ | Multiple Search Engines Data | ❌ |
| ✔ | Multi-Country | ❌ |
| ✔ | Multi-Language | ❌ |
| ✔ | Social Media Monitoring | ❌ |
| ✔ | WordPress Integration | ❌ |
| ✔ | HubSpot CRM | ❌ |
| ✔ | Multiple Projects | ❌ |
| ✔ | Plagiarism Checker | ❌ |
| ✔ | Video Rank Tracker | ❌ |
| Get Free Trial | | Get Free Trial |
As you can see in the feature comparison table above, I have noticed these features during my use, and as per the comparison table, there are lots of features that Semrush has that are lack on SimilarWeb. However, you will find similar features on SimilarWeb; either those tools are outdated or need to be updated. If frankly say SimilarWeb is not advanced as Semrush. 
A keyword research tool is one of the most crucial tools for marketers. Both Semrush and SimilarWeb has their own version of keyword research tool. 
Why am I saying " their own version"? Because Semrush has a more robust keyword research tool in comparison to SimilarWeb. And it does not just do keyword research. You can analyze a single keyword or multiple keywords at a time, with various filters that lack on SimilarWeb.
Semrush uses multiple data sources to provide you with better insight, traffic analytics, keyword analytics, historical data, and more. Semrush also has social media marketing tools, like Facebook ad campaign management, social media post scheduling, social media performance tracking, and more, and these features are missing on SimilarWeb.
Is Semrush expensive than SimilarWeb?
Pricing is one of the most crucial parts for customers alongside the features of the product. Both tools, Semrush and SimilarWeb, have different pricing and features. You can sign up for free on both platforms, and even you can take a free trial of their paid plans. However, SimilarWeb isn't transparent with its pricing. You have to contact their salesperson.
During my free trial access, I have noticed something. On SimilarWeb, you have to choose what kind of work you want to do with the SimilarWeb platform. They have five different options, Digital research, Digital marketing, Shopper, investor, and Sales. And you have to be specific about these options because when you first join the SimilarWeb platform, you have to select one option and, after choosing, you can't modify it. It isn't suitable for a marketer that you can't access the complete tool.
On the other hand, Semrush is frank about its pricing and features and all pricing and features information you will get on its official website. Semrush has three different price plans with core SEO tools, and you can also take Semrush's.Trends Toolkit with adding some extra money. By the way, if you want a custom quote, you can also contact Semrush's sales team for your management.
Semrush Pricing:


Semrush has three different plans, Pro, Guru, and  Business, and you can also choose the Semrush. Trends bundled with the base plan by paying $200 extra. You might be thinking about want is. Trends? So, check out the article about Semrush .Trends.
Semrush Pro:-
The Pro plan is primarily for freelancers, small startups, or in-house marketers who have a limited or meagre budget to do SEO, PPC, and other stuff with Semrush's 40+ advanced tools.
Pro plans start at $119.95/month for monthly billing, and if you choose annual billing, you have to pay $99.95/month, including 16% of savings.
Semrush Guru:-
The Guru plan is focused chiefly on Small Medium Businesses (SMBs) and growing marketing agencies. This plan is included with all features that have come with the Pro plan and other advanced features.
Semrush Guru plan starts at $229.95/month as for monthly billing, and for annual billing, you have to pay $191.62/month.
Semrush Business:-
The Business plan is the most expensive plan on the Semrush platform, and it is for big agencies, e-commerce projects, and the business with an extensive web presence. This plan includes all Pro features plus additional features like API access, Google Data Studio, and more.
The Business plan's pricing starts at $449.95/month, and if you pay as annual billing, you have to pay $374.95/month.
SimilarWeb Pricing:


SimilarWeb doesn't have any variety in pricing. However, you can't find it on the official website. When you visit the pricing section, you will find two plans, one is a Free plan, and the second one is an Enterprise plan. In the Enterprise plan, you have to contact the sales team for the actual pricing.
Semrush vs SimilarWeb: How do they collect data and provide information?
Both platforms obtain their data from various sources, and even they collect the data from website owners, partners, and public sources. Semrush and SimilarWeb have their own technology and methodology to collect data and then providing to the clients. Semrush has enormous keywords and backlinks databases, over 20 billion keywords, and over 40 trillion backlink data. SimilarWeb claims they have been collecting 10 billion digital signals daily and two terabytes of data are analyzed daily.
During my use, I found that Semrush is way better than SimilarWeb. If you have a low traffic (less than 5K) website, SimilarWeb can't show you basic traffic analytics and other information to connect with Google Analytics. 
By the way, Why is Semrush better than SimilarWeb? On Semrush, you can quickly audit your website even with low traffic, and they show way more data than SimilarWeb. If you connect with Google Analytics, then you can even visualize the data very precisely. 
After connecting with Google Search Console and Google Analytics with Semrush, you can get bit by bit data of any specific page in one place, and you don't have to open separated tabs for different tools.
SimilarWeb lacks these features causes of requiring better integration and databases.
| Data | Semrush | SimilarWeb |
| --- | --- | --- |
| Keyword/Terms database | 20 Billion | 1 Billion |
| Backlinks database | 40+ Trillion | – |
| Google SERP databases | 142 | – |
| Apps | – | 4.7 million |
Who is more Accurate, Sermrush vs SimialrWeb
Accuracy is as important as pricing, and if you are paying for something and do not get the right results, then it is not good. But in Semrush and SimilarWeb, both are relatively accurate, but who is more accurate? So let's get find out.
As I have mentioned above, the features of both tools and precisely Semrush beat SimilarWeb, cause SimilarWeb lacks most of the popular tools that most marketers need.
So, I will compare a similar tool (Website Analysis) that Semrush and SimilarWeb have on their platform.
Semrush Domain Overview
Semrush domain overview tool analyzes websites and domains and gives you information related to the website. On this tool, you will get Traffic trends insight, Organic or paid keywords, backlinks trends and lost and found backlinks, Competitor insight, Advertisement information, and more.
Organic Research: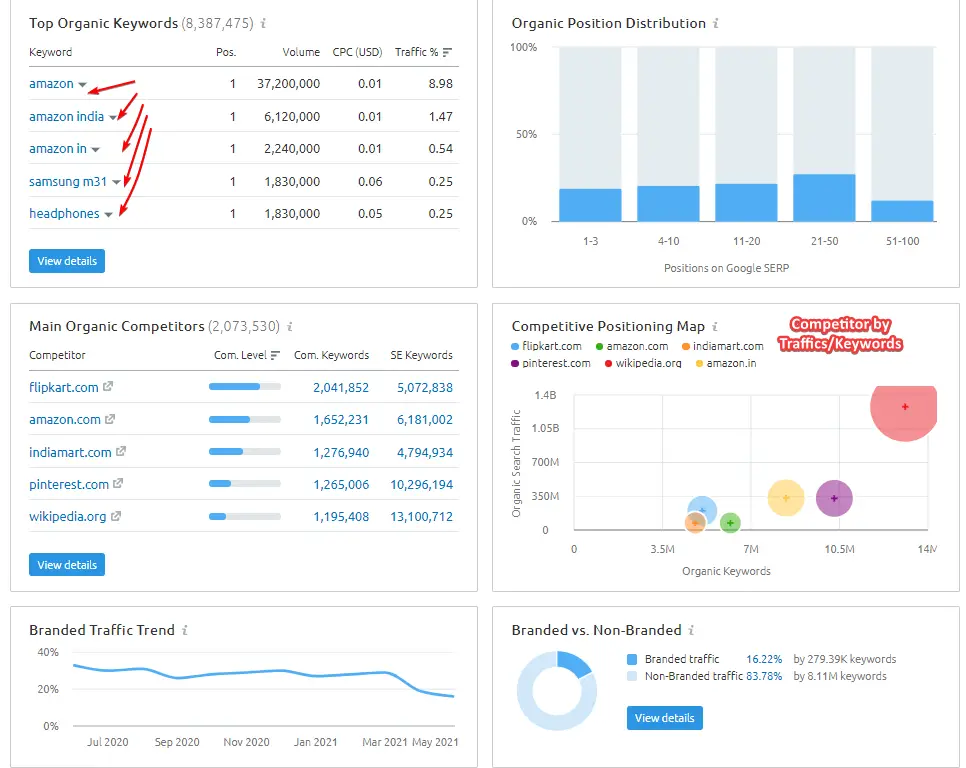 Advertising Research: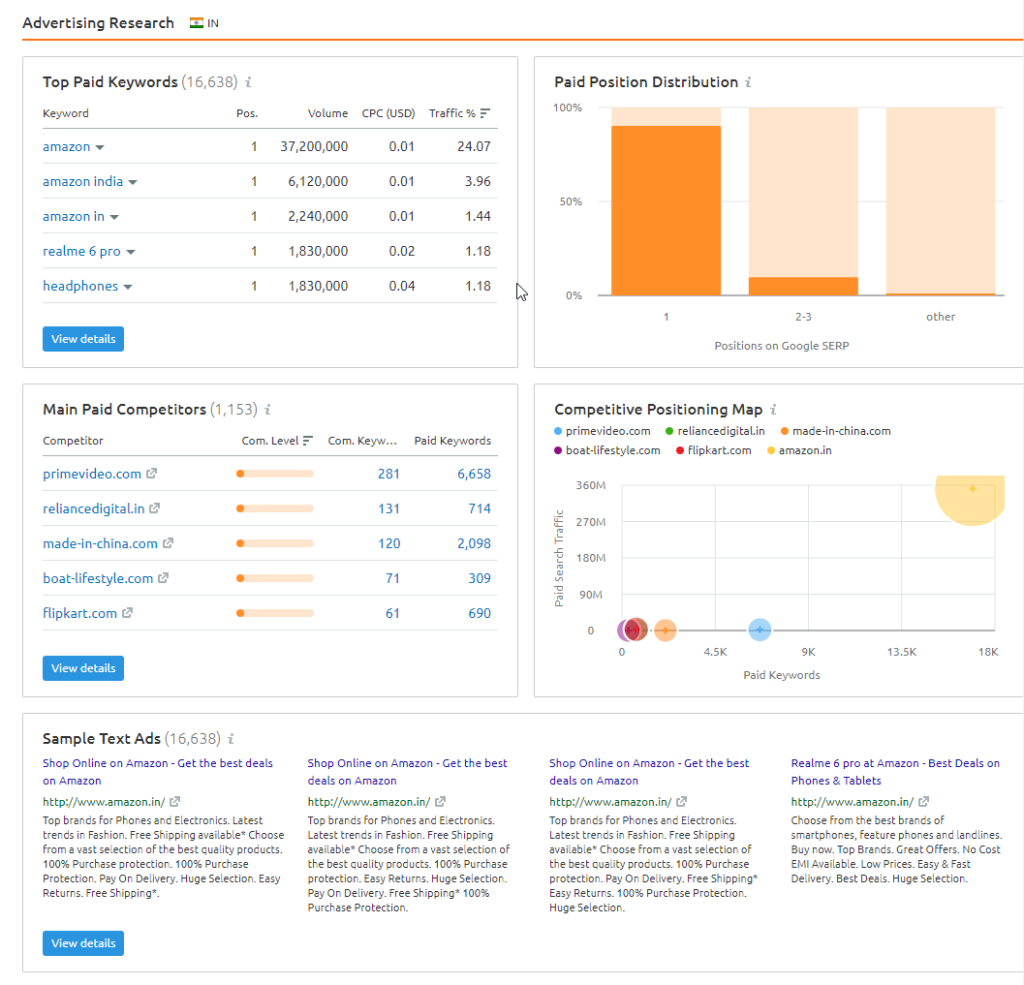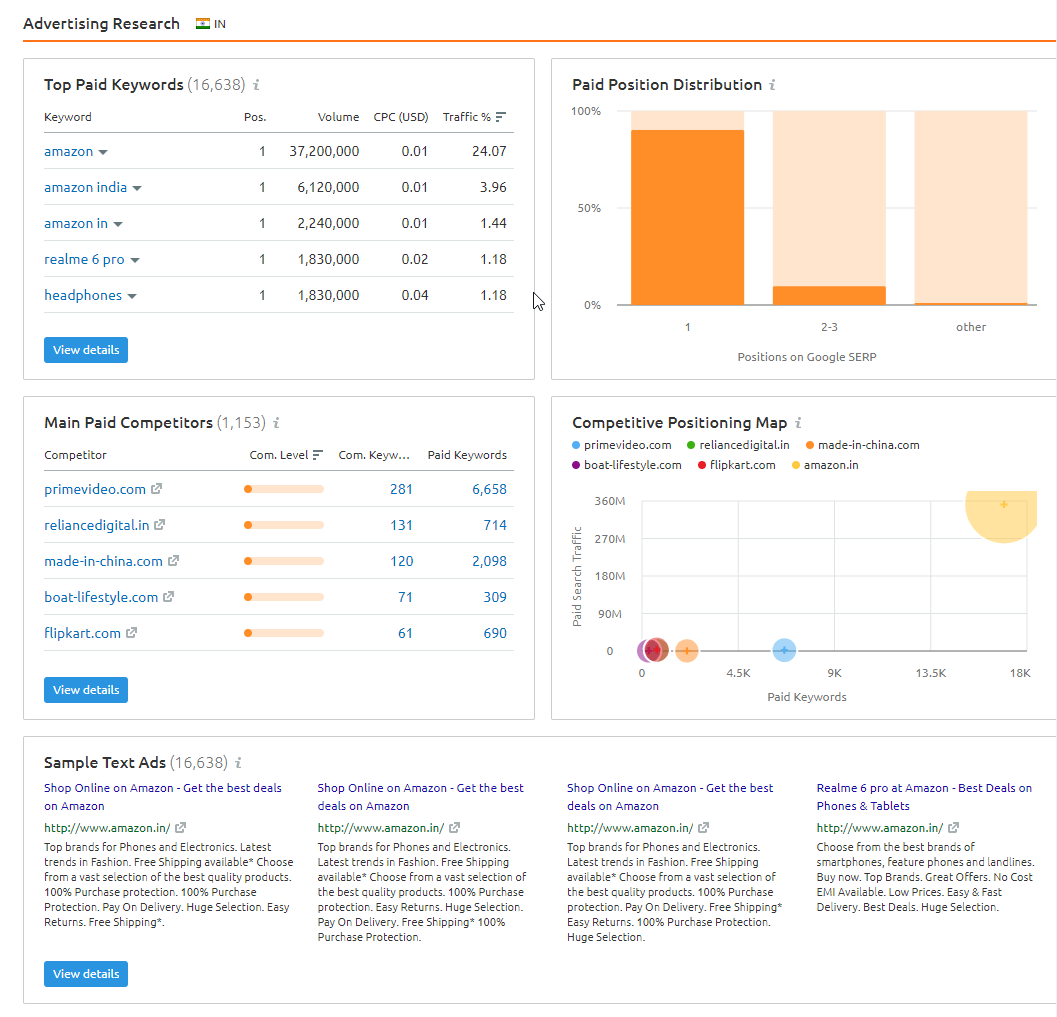 Backlinks: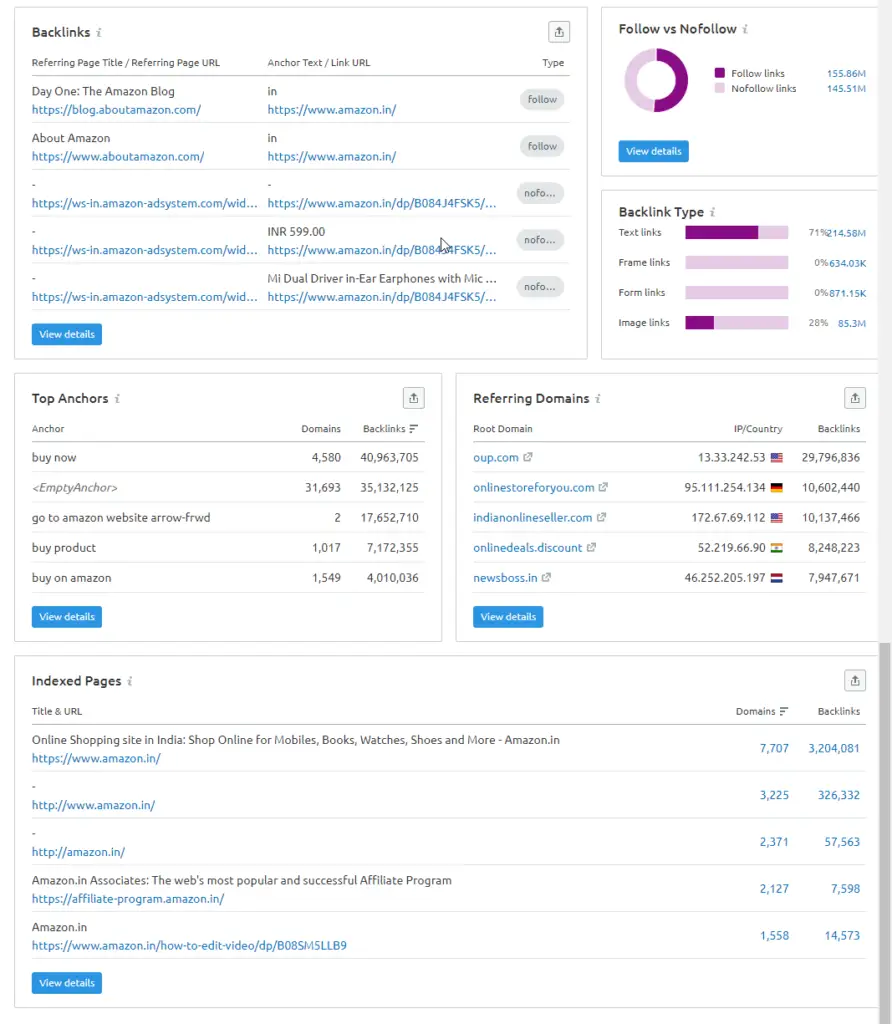 Display Advertising: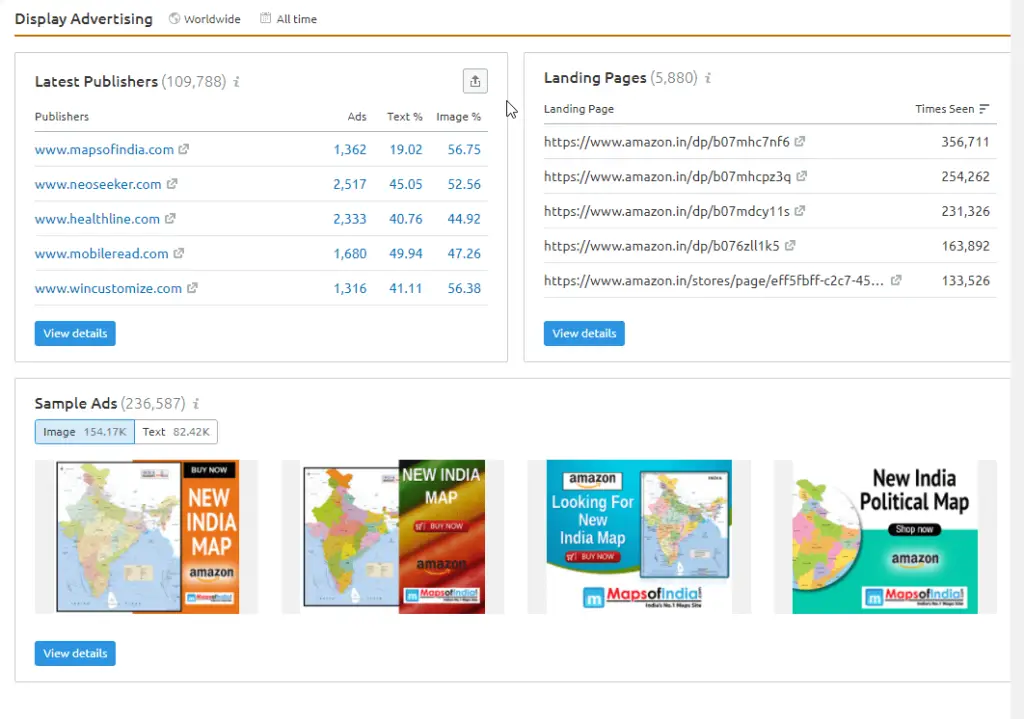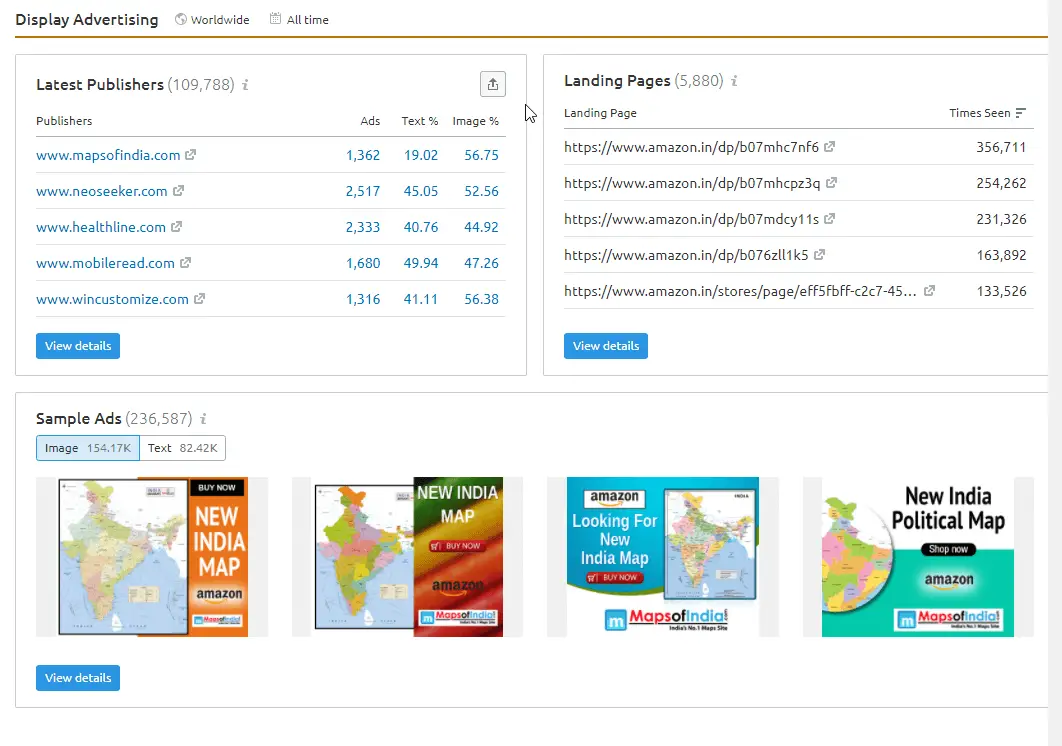 SimilarWeb Website Performance
SimilarWeb website performance tool is similar to Semrush domain overview tool. But during my test, I found some features are missing, and the data they are showing on test results are different.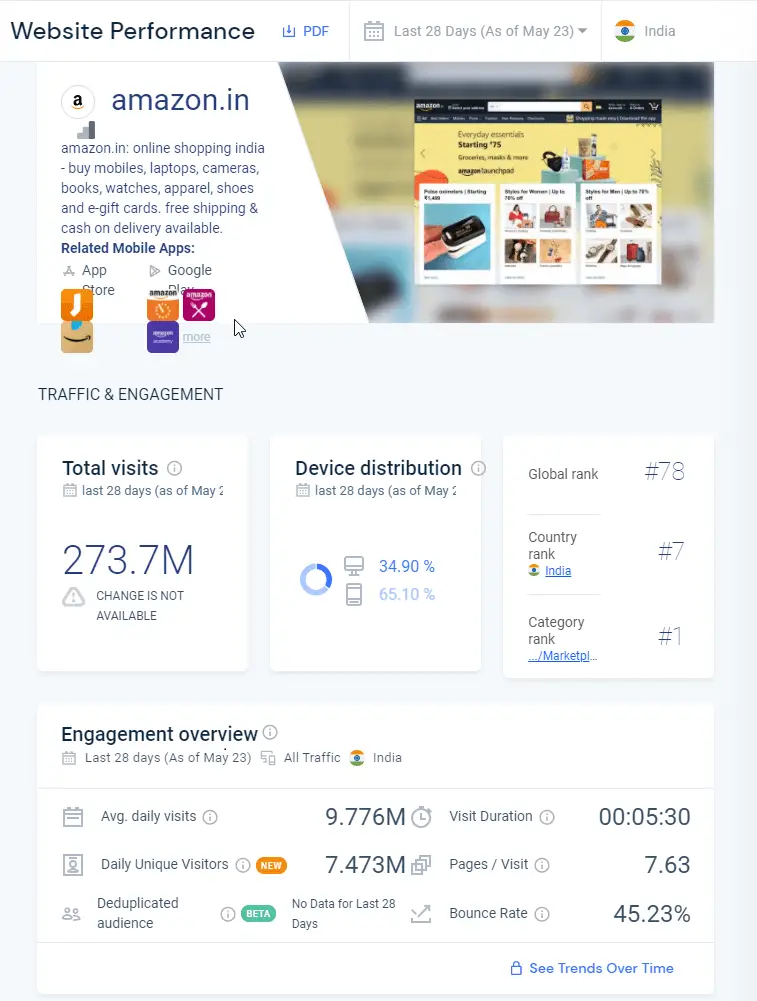 SimilarWeb Marketing Channel: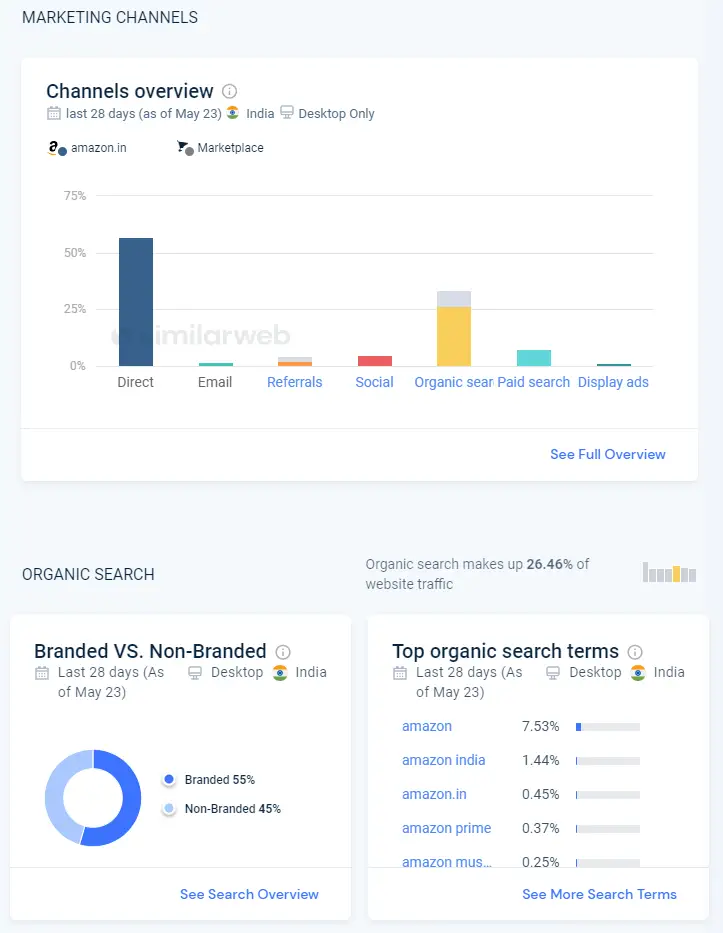 SimilarWeb Social Traffic: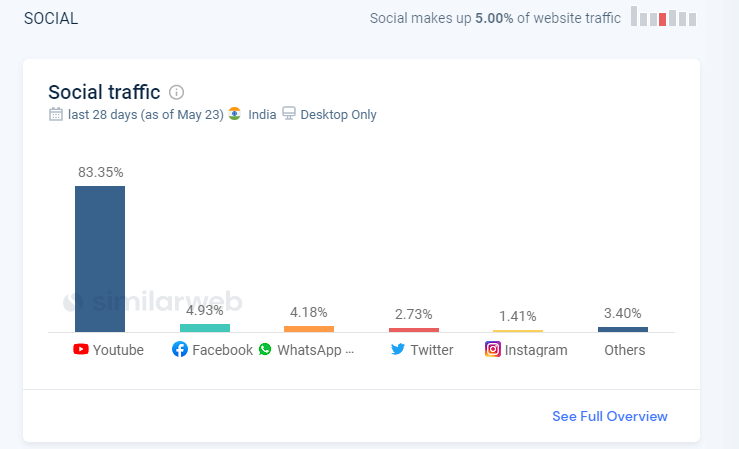 SimilarWeb Paid Search: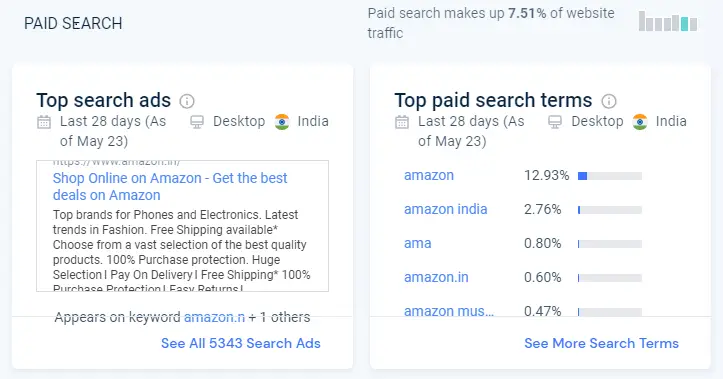 SimilarWeb Display Advertising: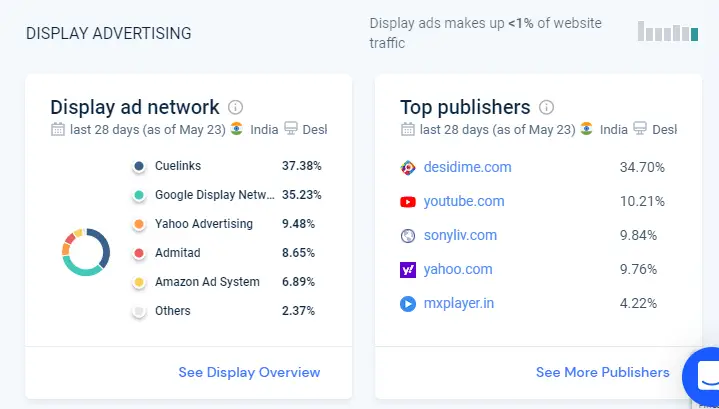 As you can see above in the images, Semrush has shown approximately 330 million traffic, and SimilarWeb shows approximately 270 million. And there is a difference of about 22% of the value. Not just that, I have used another SEO tool Ubersuggest to analyze the same website and got very similar results (approx 326 million traffic) to Semrush.
Semrush has a backlinks analysis tool and shows backlinks on the domain overview dashboard. Unfortunately, SimilarWeb doesn't have the feature. Semrush is precisely accurate than SimilarWeb because Semrush results are very similar to other popular SEO tools. And even I found different results for this website (PROWEBTIPS) when I compare it with Google Analytics. Semrush's result is also very close to Google Analytics.
Which platform provides the best extensive services?
Addons like the cherry on the cake. Don't you think it's amazing? In my opinion, yes it is amazing. Semrush give you a bunch of add-ons option to choose. However, Semrush's core features are far better than SimilarWeb.
If you don't have time to create a piece of content, you can place an order on the Semrush marketplace. Want banner generator tool, take Semrush banner generator tool, analyze current market trends, take Semrush. Trends addon and there are more possibilities with Semrush.
Popular Add-ons You can purchase on Semrush:
Popular Add-ons You can purchase on SimilarWeb:
SimilarWeb has some add-ons, but not much like Semrush. I liked that Semrush has been transparent with every add-on. Semrush provides Amazon Tools (Sellerly) at $49 per month, and on SimilarWeb, they provide Shopper Intelligence, but you have to contact the sales team to use the tool.
50+ Tools (Head to Tails everything that you will need)
Semrush and SimilarWeb have plenty of tools, like SEO, PPC, Competitive research, Amazon Tools, and other tools. But, Semrush has more tools in comparison to SimilarWeb. 
Semrush has Content Marketing tools that lack SimilarWeb, and even Semrush has social media marketing tools. By the way, if we count how many tools have Semrush on their platform, you find more than 50+ tools (including add-ons).
As I have already mentioned that, Semrush is an all-rounder platform for the marketer, and if you are a content marketer, then go with Semrush instead of SimilarWeb, they don't have any Content marketing-related tools.
SimilarWeb user interface is unique but not fast enough as Semrush. I have encountered with SimilarWeb's bot-blocking system, and that isn't very pleasant.
Who is the best according to users? Semrush vs SimilarWeb.
The final reason for choosing Semrush over SimilarWeb is "trust." Semrush is one of the most trusted and powerful tools for marketing, not only for Digital marketing, it even help for local dominance.
As per the pricing (above in the image), Semrush is very transparent compared to SimilarWeb. Not only that, I have crawled the most popular sites for user reviews.
Semrush got 4.5 stars out of 5 on Trustpilot.com and G2.com, where SimilarWeb got 2.3 stars on Trustpilot.com and 4.3 stars out of 5 on G2.com.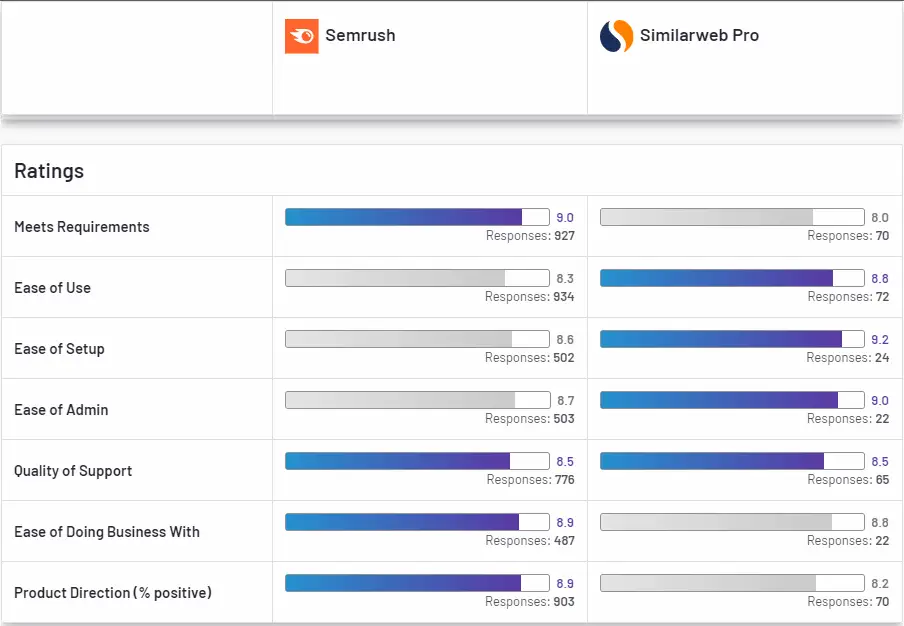 FAQs about Semrush vs SimilarWeb
How does SimilarWeb calculate traffic?
SimilarWeb calculates a visit when visitors visit a website and access multiple pages. If visitors go inactive for more than 30 minutes and become active on-site after 30 minutes, SimilarWeb counts as a new visit or session.
How does Semrush calculate traffic?
Semrush calculates a domain's estimate traffic by multiplying CTR (Click Through Rate) by its keyword volume (Monthly volume on SERP) and dividing by 30 (Number of Days in a month).
What does Semrush offer that SimilarWeb doesn't have?
Semrush is probably cheaper than SimilarWeb because you have to contact the sales team. And there are lots of features that you will not find on the SimilarWeb platform like, Content Marketing Tools, Social Media Marketing tools, and more. Semrush has more data compared to SimilarWeb.
Where does Similarweb get its data?
SimilarWeb collects data via various mediums, like directly from website owners, public data, SimilarWeb browser extension, more.
Should I use Semrush?
Definitely use the Semrush platform. Semrush has more than 50+ advanced SEO tools, and you can get free trial access.
Why is SimilarWeb shows not have enough data?
If you have a low-traffic website (less than 5k traffic per month), then SimilarWeb does not have enough data, but you can connect with Google Analytics to get a better insight.
Is there any free way to check website traffic on Semrush or SimilarWeb?
Semrush and SimilarWeb both platforms give free trial access, and even you can signup for free. And you can access their tools for free with limited access. By the way, you can analyze the website traffic using Semrush free account and SimilarWeb free account.
Conclusion
In this article, I have explained why you should choose Semrush over SimilarWeb. You will find seven brief reasons, and frankly, I am not saying that SimilarWeb is a terrible platform for digital marketers; SimilarWeb is also good. But it would be best if you had the scope and Semrush provides that. On Semrush, you get over 50+ advanced tools, including 40+ SEO tools and others. They have the content marketplace, dedicated Amazon tools, Video rank tracker, and more.
Now you have to decide which platform you should choose. Both platforms give free trial access to their services. By clicking the link, you can sign up for free.