Back in time, free keyword research and getting content ideas were a pain in the ass. You need to research all over the internet to get content ideas and the keywords research but thanks to Ubersuggest, this tool solved the problems of many beginners.
In this article, I am going to review Ubersuggest. So stay tuned…
What is Ubersuggest?
Ubersuggest is one of the cheapest or you can say freemium tools for Search Engine Optimizations. Ubersuggest was recently acquired by US entrepreneur Neil Patel afterward He was significantly expanding the features of the tool.
This tool helps to generate Keyword ideas, Content ideas, and even full site SEO audit.
Key Features of Ubersuggest
Ubersuggest Keyword Ideas
Ubersuggest is a good tool for keyword ideas and keyword analysis, although it is the early stage of this tool it is getting better and better by day.
This tool suggests a whole bunch of keywords and their related terms, questions, and comparisons so you can find out the right keyword for the content and the good thing is that Ubersuggest also gives keyword overviews side by side.
What is the best use of Ubersuggest's keyword ideas? Answer simple as that, this tool will show related keywords and Google SERP's ranking on the side. So every suggested keyword shows hundreds of ranked contents so it's good for analysis and optimizing content.
For extreme keyword analysis, you can filter with minimum and maximum value of Search Volume, Paid Difficulty, SEO Difficulty, CPC, and even exclude or include the terms in your preferred keywords.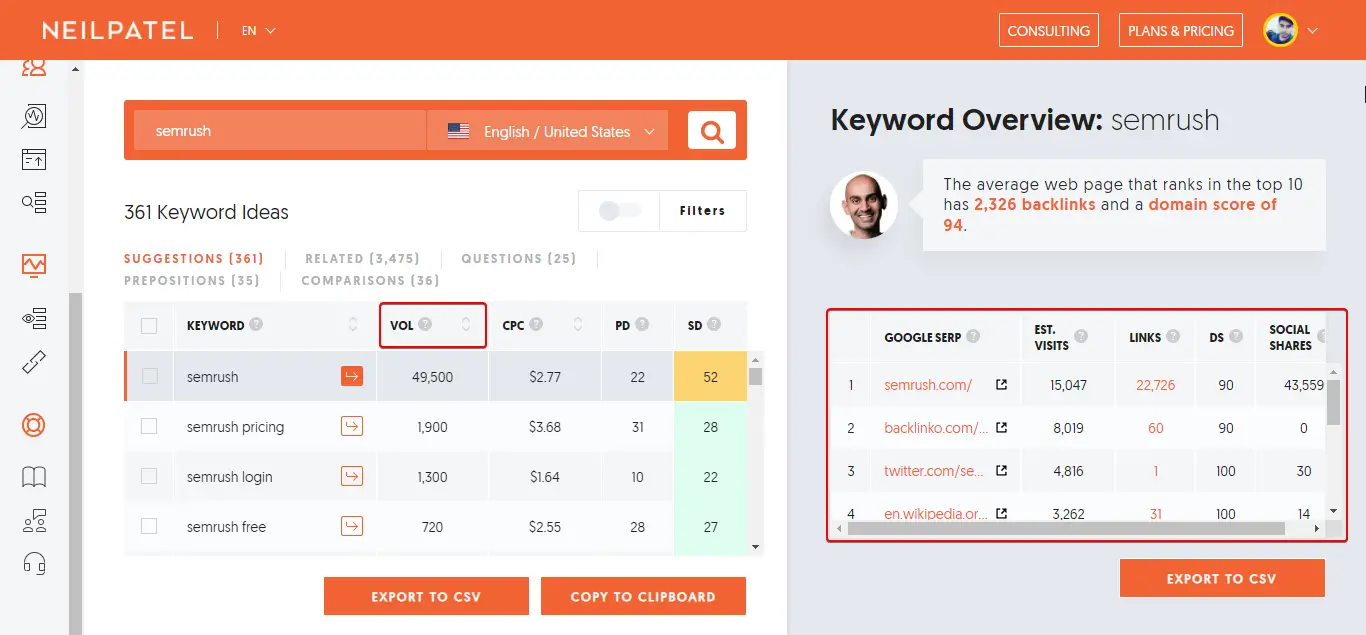 Ubersuggest Content Ideas
It's good to have a tool like this, it makes your work so easy. Ubersuggest's Content Idea gives you a great overview and top-ranked content in a particular keyword. I had searched about "semrush" as an example but you can search your main keyword to get a better contrast about the keyword and the content.
There is a question, how I will get content ideas or how do I optimize my content using this tool? Okay, the answer is simple. You need to enter your main keyword and analyze the top listed content and check their social engagement, and even open their content for in-depth analysis.
That was the idea, how you can analyze content and get better optimization ideas. In terms of user experiences and functionality of this tool was great.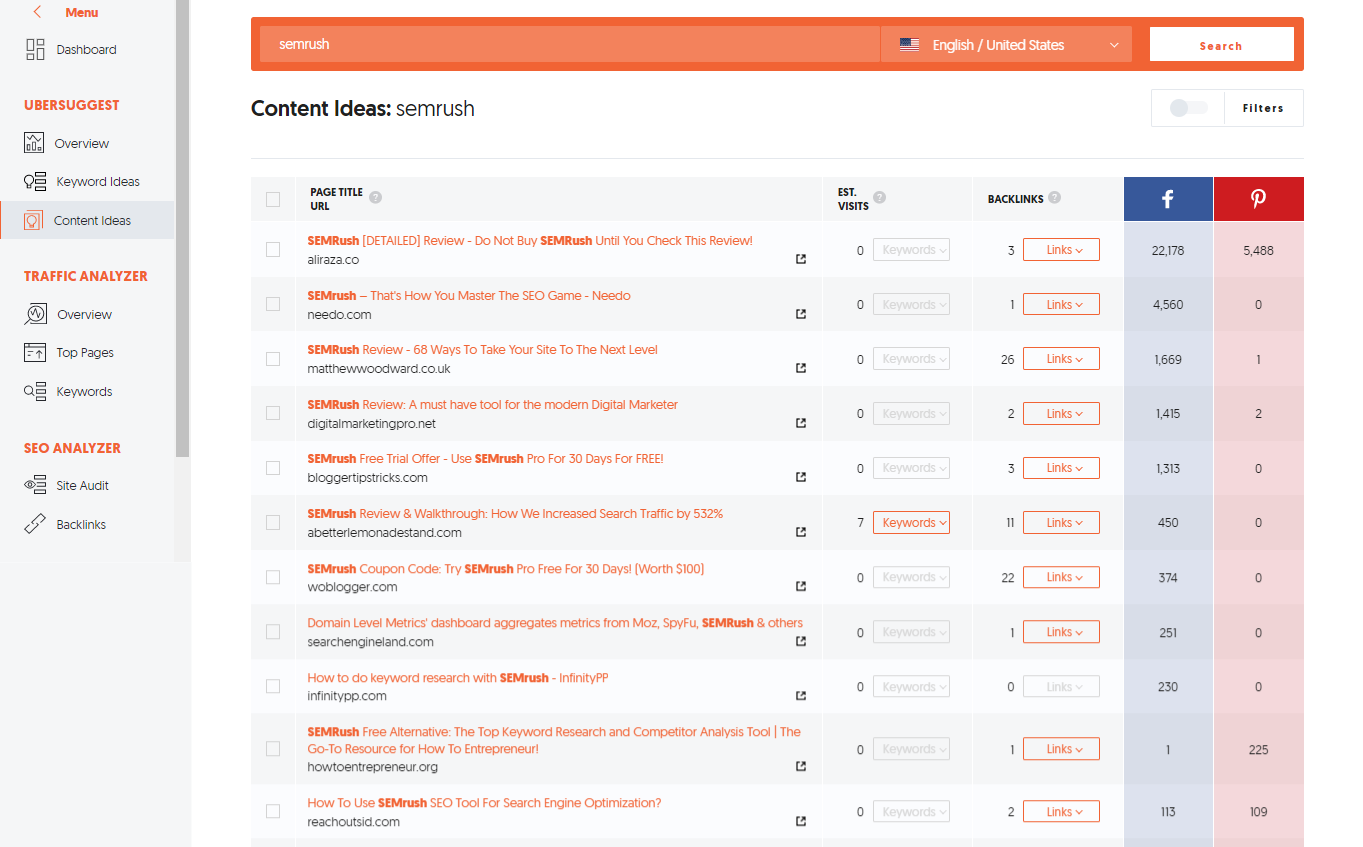 Ubersuggest Traffic Analyzer
This tool is also the same as SEMrush and other paid tools provided. If you have been using SEMrush or ahrefs then you would find some differences between their data and Ubersuggest's data but I can't say which one is accurate but Ubersuggest is okay in terms of the pricing.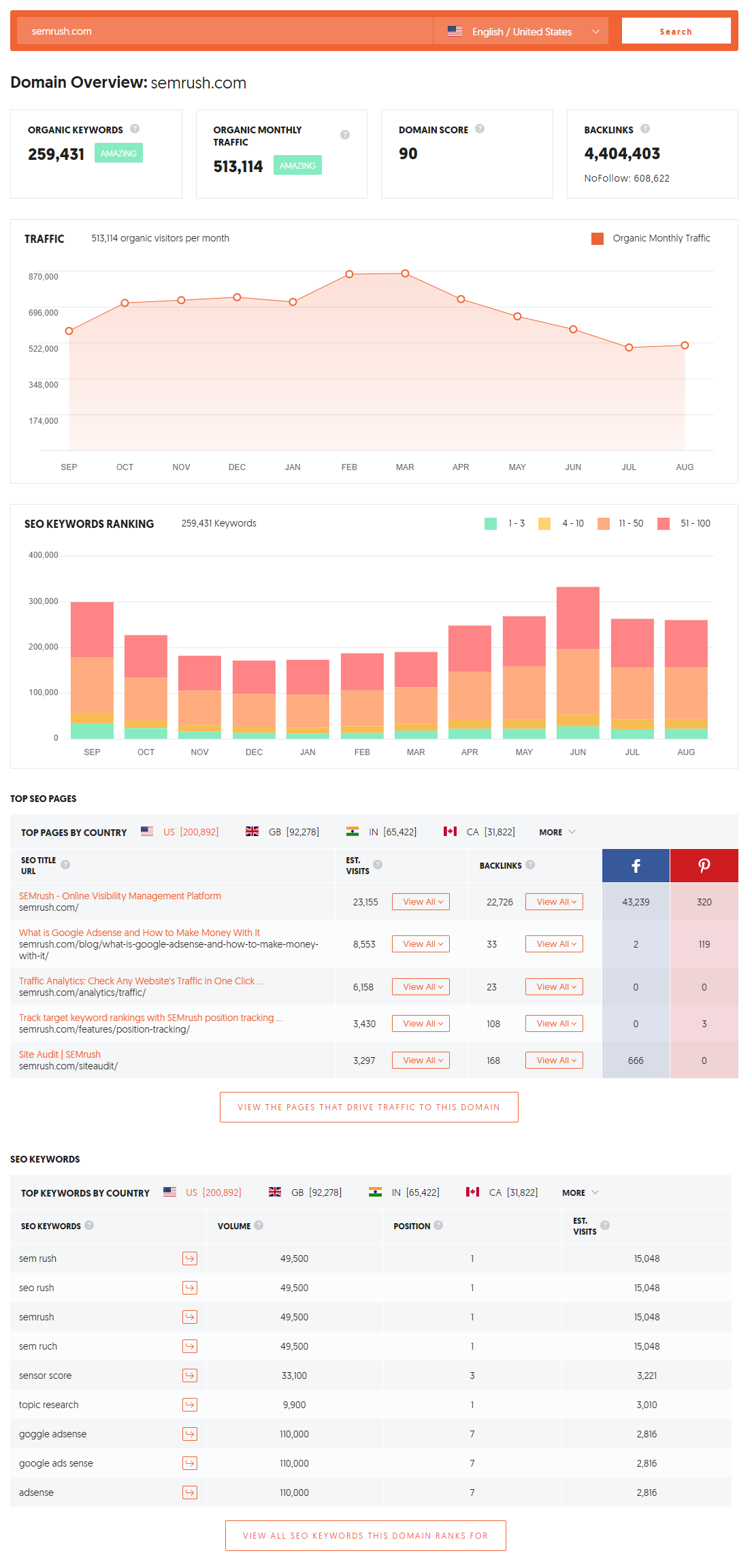 Ubersuggest's traffic analyzer shows an overview, when you enter a domain name, in the results, shows monthly organic traffic, how many keywords are ranking over time, and even top SEO ranked pages as you can see above in the image.
I have already mentioned that if you have used other paid tools then this tool can disappoint you and this tool is its early stage, but Neil Patel said on his social media, he is on the way of new tools and tweaks for the Ubersuggest.
Ubersuggest Chrome Extension
Ubersuggest also has a chrome extension like other SEO tools have, this extension is free of cost, and in my opinion, this tool is great to live search metrics.
For downloading this SEO extension you need to visit Chrome Web Store and search "Ubersuggest", as you can see the image below, click on the Ubersuggest and download, then it will appear on the browser's toolbar.

Get SEO Metrics and Keyword Suggestion on Google Search: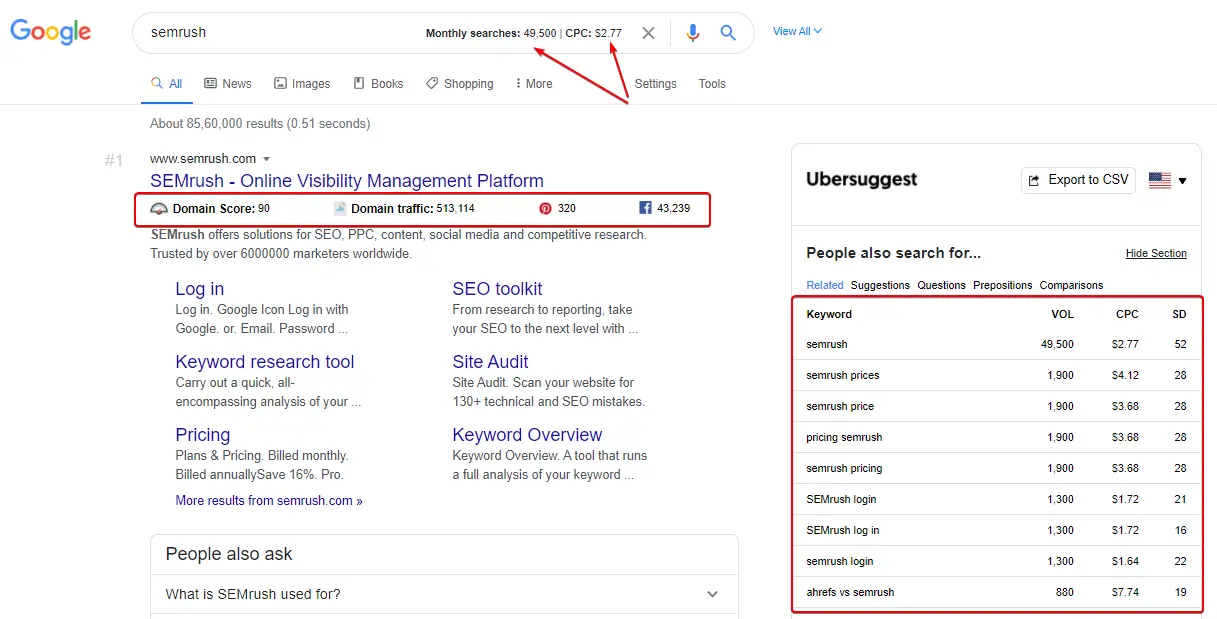 After installing the Ubersuggest chrome extension, when you search a term or keyword then you can see the volume of searches and cost per click (CPC) and in the result, you will get the domain scores, traffic volumes, and social share count below the titles of search results. This is very helpful in terms of competitor analysis and its own content optimization. In the sidebar, you will get a separate box for a suggestion box that is related to your searched terms. This box shows Keyword suggestions, Questions that are searched by people.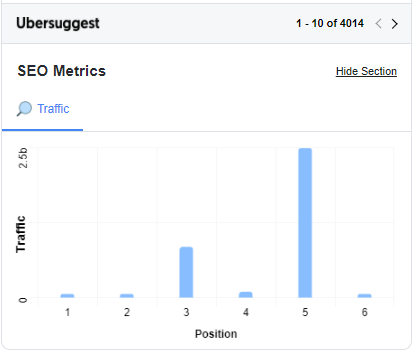 Domain Overview Using Ubersuggest Chrome Extension:
You can check domain overviews when you surf a website using this tool. You will get backlinks counts, Organic monthly traffics estimation, and graphical representation of all metrics, so you can easily.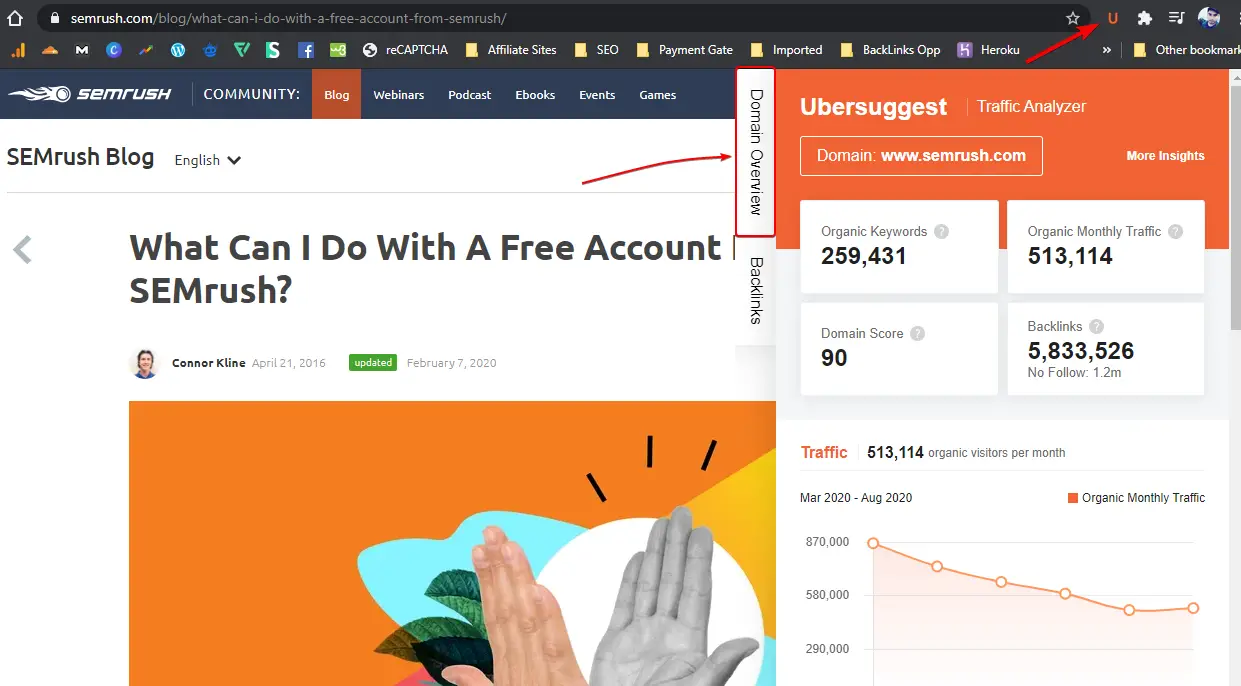 Backlinks Overview Using Ubersuggest Chrome Extension:
This tool also has a specific section for backlinks and you will get Domain rating, overtime backlinks counts, and graphical representation of all metrics.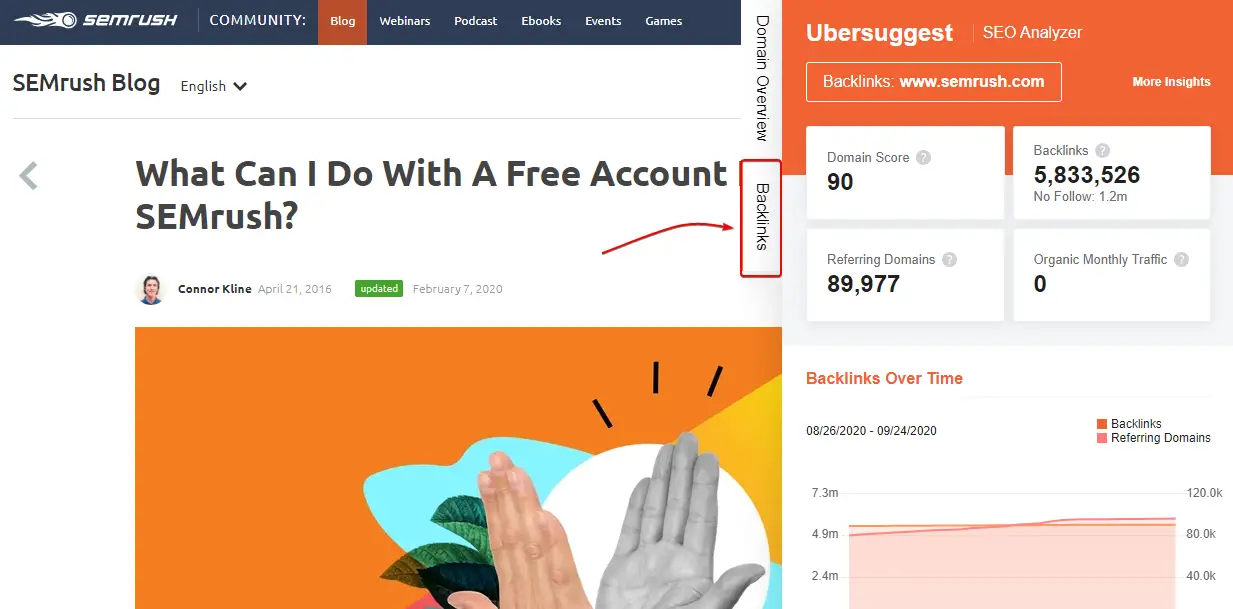 Check new and lost backlinks on the same page. Ubersuggest's tool also specifies the most popular links and which URL is linked as you can see in the image below.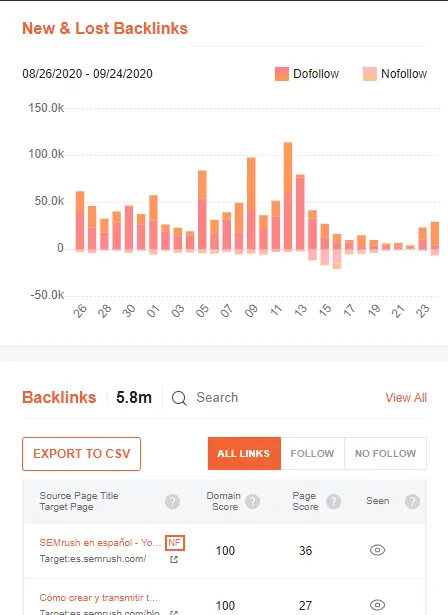 Ubersuggest's Free Plan
Ubersuggest has a free plan and the good thing is that you can access every tool of Ubersuggest. It is a kind of god gift for beginners if I say because most beginners can't even afford the second year's renewal. So why they will spend their money on extra resources. Some premium tools like SEMrush and Moz give a free trial but for a limited time and they require a Credit Card. In the case of Ubersuggest gives you access to all tools but limited gives limited analysis results.
Future of Ubersuggest
According to Neil Patel Blog, their team is always doing tweaks and adding new features in Ubersuggest. Neil Patel states that, in his blog, he will update soon the Competitor Analysis tool for analyzing the competitor. You can check the SEO side by side, and you can optimize more efficiently.
Pricing of Ubersuggest
Ubersuggest one of the cheapest All in one SEO tools and the pricing is up to 90% cheaper than others. Ubersuggest has two types of plan, one is a monthly basis and the second one is just for the lifetime (No need to renew). Ubersuggest's plans have a seven-day trial, and you can access all the features of Ubersuggest.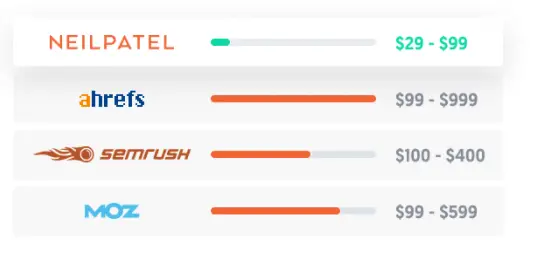 Individual Plan
In this plan, you can manage up to three websites in a single account and the cost will be 12 USD per month and if you buy for a lifetime then the cost will be 140 USD, no monthly no yearly charges, it is for a lifetime. Really when I have seen the pricing I was amazed and this is not a kind of scam so if you consider buying then it is worth the money.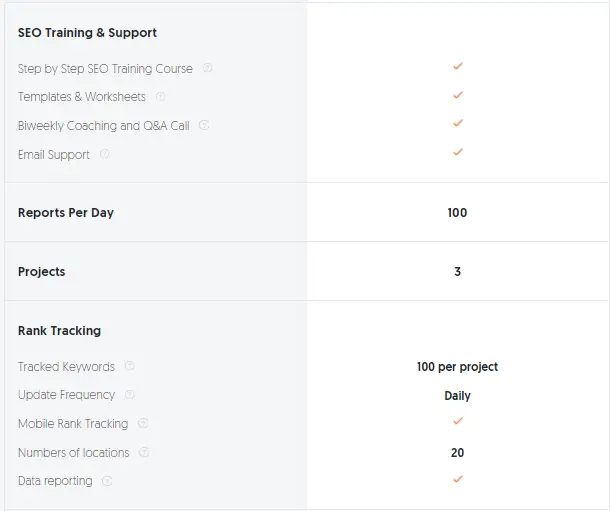 Business Plan
In this plan, you can manage up to seven websites. This plan is made for small and medium-sized businesses. This plan costs 20 USD per month and a lifetime plan will cost you 240 USD.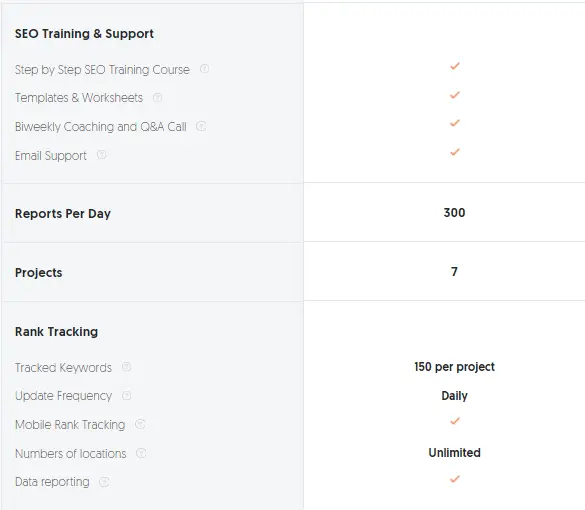 Enterprise or Agency Plan
This plan is focused on large businesses or agencies. In this plan, you can manage 8+ above websites. This plan costs you 40 USD per month and if bought for a lifetime then it will cost you 480 USD.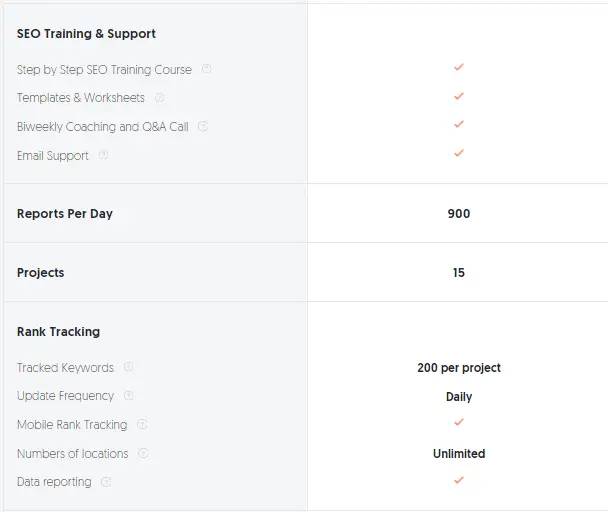 PROs and CONs of Ubersuggest
Ubersuggest is a great tool in terms of its early stage but also has many issues when compared with other paid tools like SEMrush, Ahrefs, and Moz. Besides if you compare the prices of Ubersuggest's plans then you can ignore other highly paid tools.
I have listed some major pros and cons below:
| | |
| --- | --- |
| PROs | CONs |
| 👍 Amazing Pricing | 👎 Lack of Competitor Analysis |
| 👍 Ease of Access | 👎 Slow Loading |
| 👍 Weekly Position Tracking Mail | 👎 |
| 👍 Access all Tools for Free* | 👎 |
Conclusion
We are finally in the conclusion and guys I am really impressed with Ubersuggest cause of their pricing and the features. You can ignore all the lags and cons of Ubersuggest because at this price point no one can give this kind of SEO tool and second thing is that they consistently improve the features and user experiences.
But in case you have the budget to get a more functional and reliable SEO tool then SEMRush is the one.
Thank you, guys! That's it for today. If you have any questions about Ubersuggest then you can directly ask Neil Patel on twitter or you can comment here. 😀