If you are an artist and you know that your artwork and contents have potential, then you should take the power of the Internet.
Why will you take the power of the Internet? Because if you want to do business with your artworks or have already business locally then you can expand the world-wide.
For this process, you need a unique identification and a platform. So, for your (or business) identification you can buy artist and arts-centric ".ART" top-level domain and show the World you have potential arts and artworks.
Stay tuned artists and enthusiasts of arts, I am going to tell you how you can take advantage of the power of the Internet and how to grow your business or brand online.
Artistic Business Plan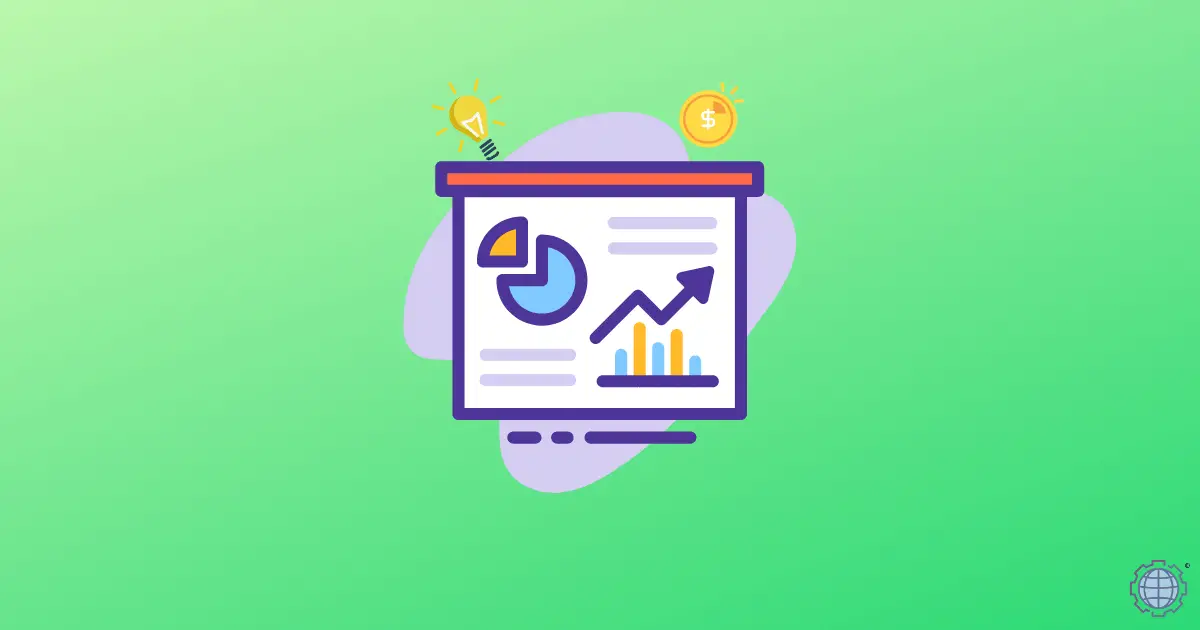 You are good at art; you are a great artist, or you have a large local business. But until you bring yourself or your business to the online platform, you will lag behind others.
So, to develop your business you need to make concrete plans, but as an artist, you need to have an artistic plan.
If you are a beginner artist, you cannot make a plan right away, it can easily lead to failure. For this, you must understand the ability of your art and the desire of the market.
So, to understand the market, you must do research, and the internet has not been a better place for research.
Local art businesses can easily take their business to the online platform and start earning instant money, but the problem here is for early artists or art lovers.
So, from my side, an easy trick for those early artists and art lovers is that they keep on displaying their art on the online platform regularly.
Present Your Artwork on the World Wide Web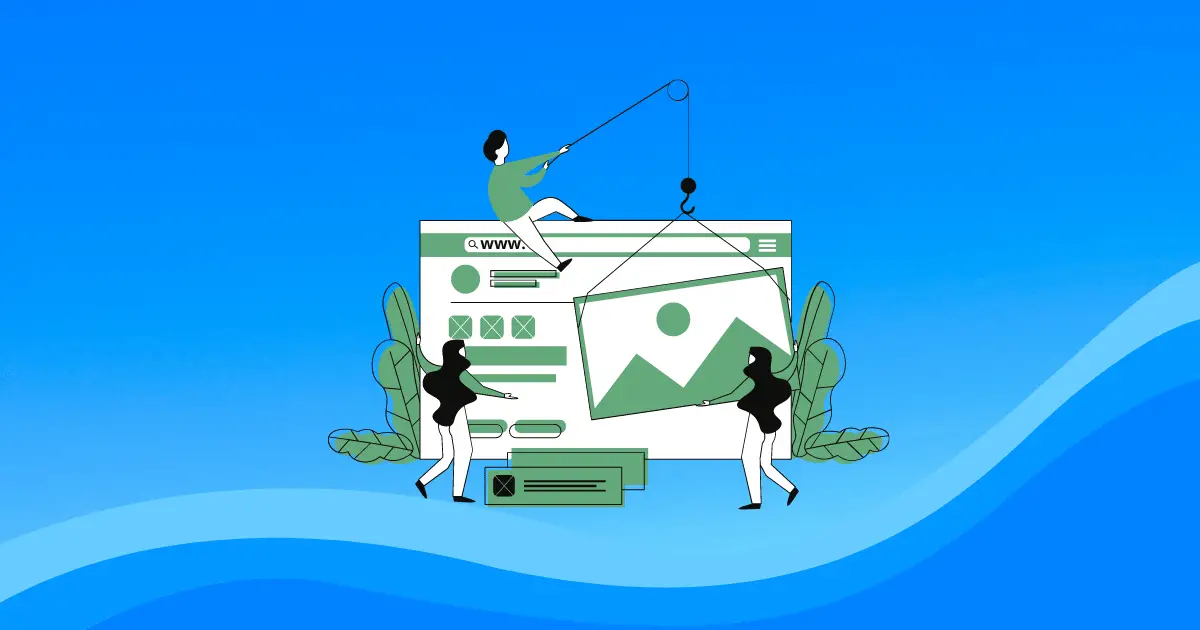 Identifying your identity and your business on the online platform is very easy in today's time. But unless you systematically do this work, then your online identity will be created, but you will stay away from the eyes of the people.
The easiest way to avoid this is to create a website in which you can write your artwork through the medium of writing and painting to people. Apart from this, there is a social media platform where you can briefly showcase your art.
We will learn more about social media in detail. So, first of all, we talk about how you can display your artwork on a website and open your online art market or store.
How to build your brand identity by creating a website?
Step – 1. Buy Your Artistic or Brand Domain Name
To start your business online, you should buy the brand domain name carefully, if you already do business and you want to do it online, you have to buy the domain with the current business name or a similar name. So that people can easily reach you or your business.
The artist who has not started any of his business yet and who wants to do only online, how can people choose their brand name, we have given some examples below, so you can check.
Now, as if you have chosen a name, how to buy a domain name to make your online presence?
The best way is to buy the dot-art domain name of your art profession, you can follow the procedure given below or you can buy the domain name for just $3 from Dynadot using the coupon provided here.
Go to Dynadot Domain Registrar:
Got to dynadot.com and you will find the search bar on the home page or you can go to the Dynadot dot art domain finder from here (OFFER – dot art domain @3 USD).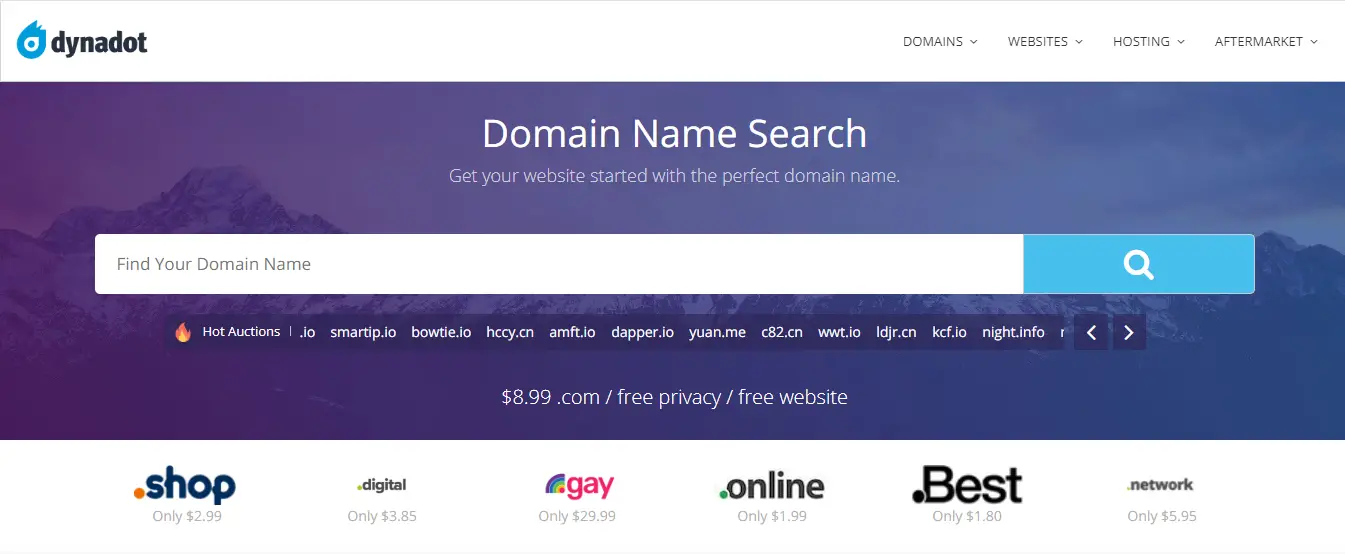 Search dot ART Domain Name:
Search your favorite domain name on dynadot.com as you can see in the image below. We have some Art business ideas to check out below.

View Cart and Apply Coupon Code: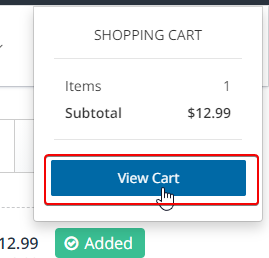 Click on View Cart and apply the coupon code, where you will find the coupon code, click just below the coupon provided and reveal the code as you can see in the image, you will save $9.99, and the dot-art domain will be available for just $3.

Login or Create a New Account:
Next step, if you already have an account then log in or just create a new account and go to the next step.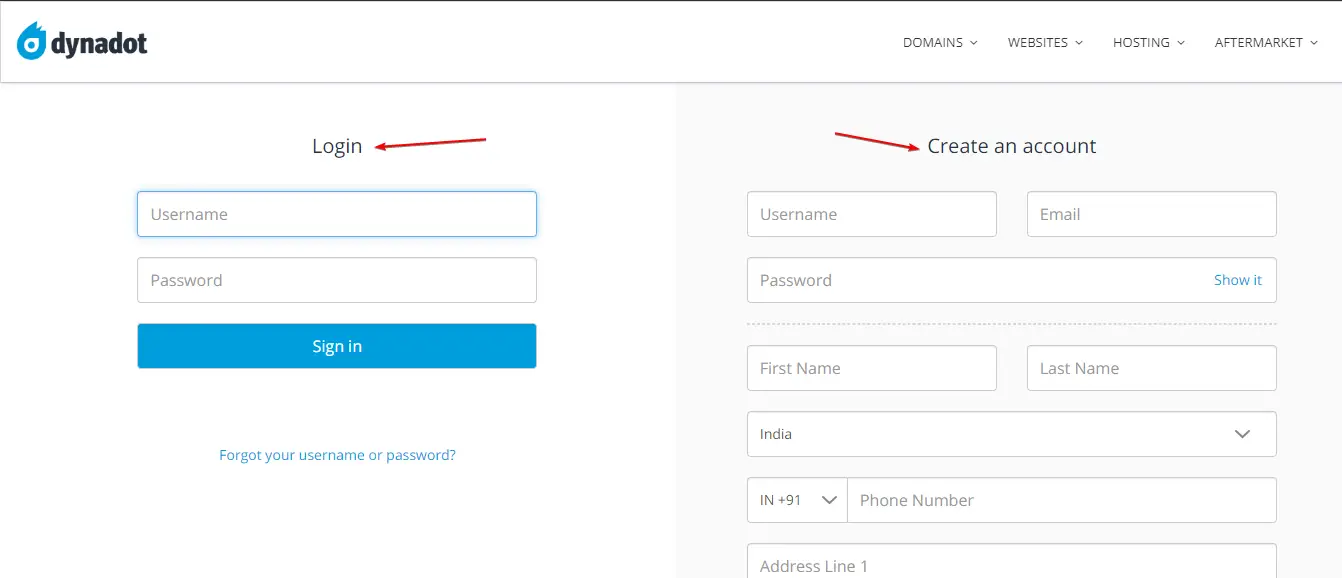 Payment Option on Dynadot:
Now the payment options, you can pay by Credit/Debit card, PayPal, Skrill, and Bank Wire but I suggest taking the PayPal option, it's safe and 100% secure.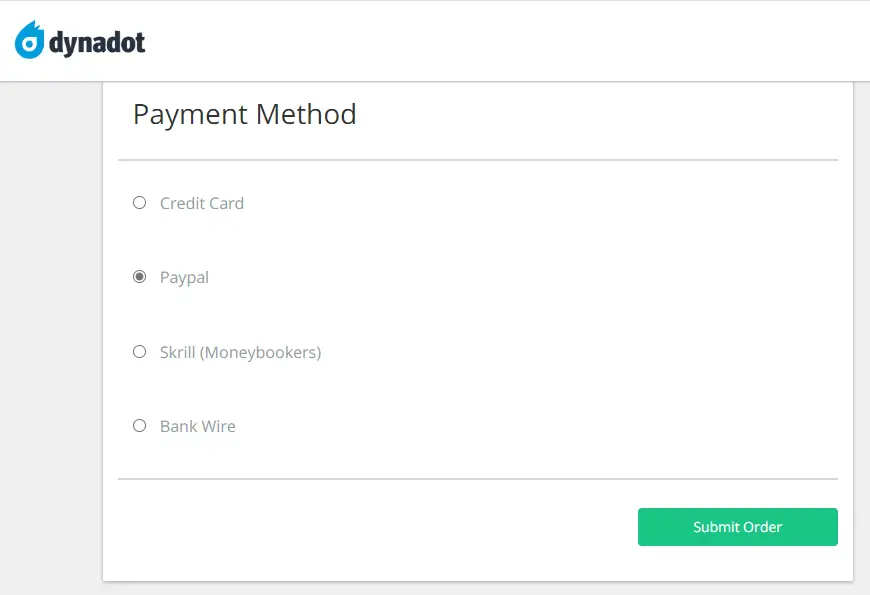 Some Awesome dot ART Based Websites:
Some awesome dot art domain names from World Leading companies, like Amazon, Facebook, Pixar, and more.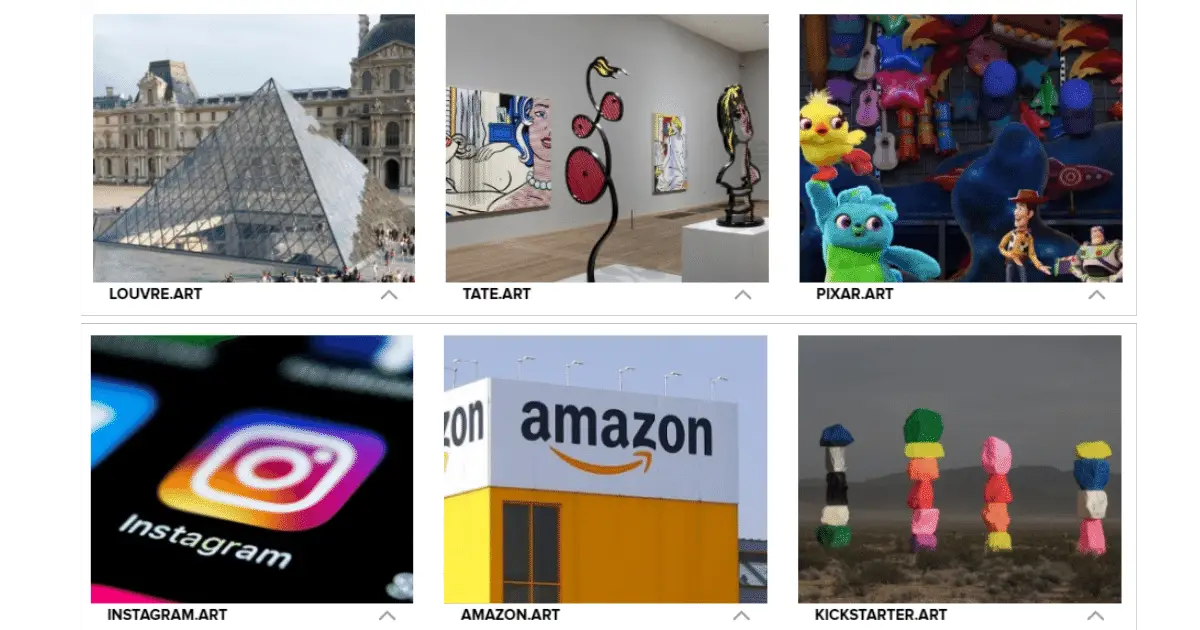 Some Basic Tips, what to do after Domain purchasing?
Now, what to do after buying your brand-new domain name for your Art business, so you should create a website by yourself or you can hire someone. If you are making your website yourself then you should consider the best in class web hosting so here is a promo.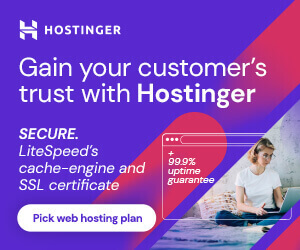 Is Your Website Slow?
Migrate to Hostinger and get up to 80% off on all shared hosting plans. Hostinger is one best hosting in terms of performance and affordability. Starts at $1.99/mo.
Step – 2. Create Your Artistic Website
Creating a website will primarily require a domain name, and secondly, web hosting will store your website's data. Above we saw how to buy a domain, and now we will see how to buy hosting.
So, we will use the Dynadot platform itself to buy hosting as it is offering VPS hosting at a very affordable price. If you take hosting from Dynadot, you will have to pay $10 a month and if you take it for a full year you can only get it for $100. And its special thing is that it is a cloud server, no matter how many websites you can host in it, there are no barriers.
Select Dynadot VPS Hosting:
Open the Dynadot homepage and you will find the hosting option on the top right side select VPS hosting. Confusion about VPS hosting, know in-depth "what is VPS web hosting?".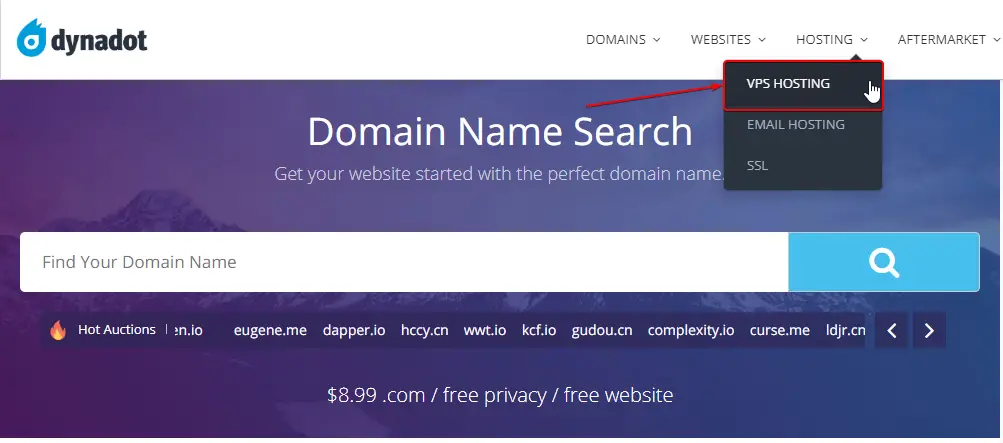 Get Started with VPS hosting:
After selecting VPS hosting, you will see the image below, click on "Get Started" for your further VPS configuration.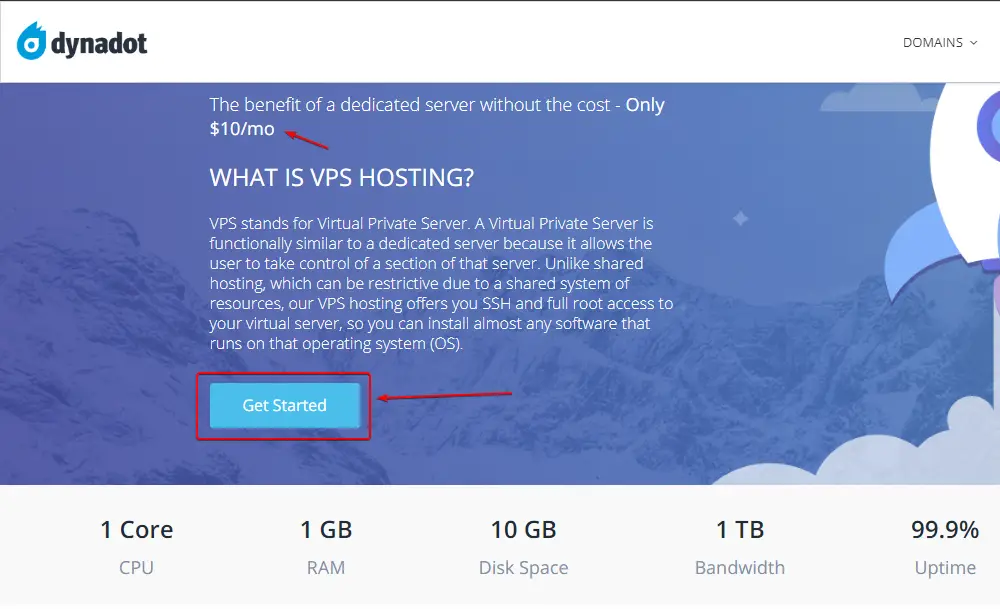 Select Operating System for VPS:
Now enter your domain name, (if you haven't bought yet, get a dot art domain at $3) and select your operating system (Recommended Ubuntu 16 with LAMP) next, select the plan, Dynadot provides two plans one on is monthly basis whose cost is $10 per month and second is $100 per year and it is compared to $20 lower than the monthly plan.
After selecting the plan click on "ADD TO CART".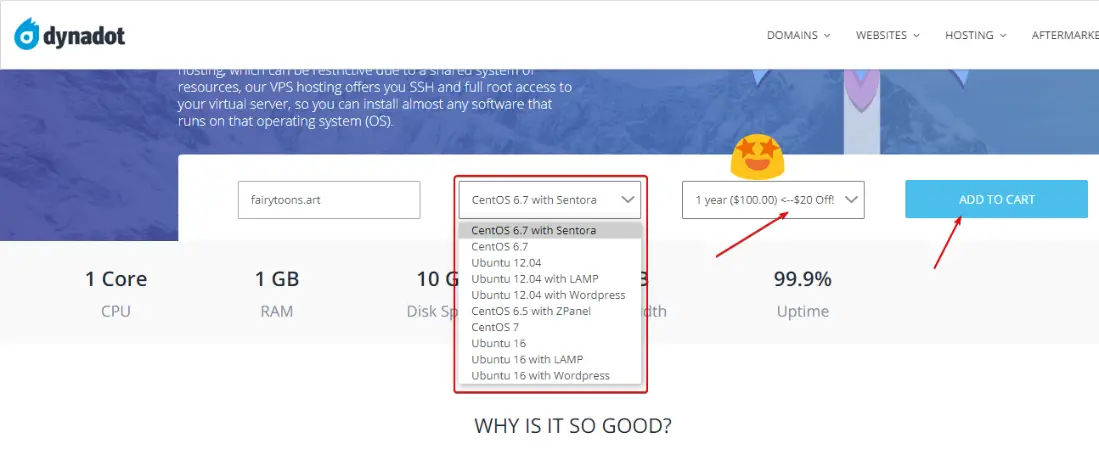 Check out the VPS Plan:
Click on checkout for the further process.

Pay with PayPal
PayPal is the recommended payment method for Dynadot, this method is 100% secured and verified.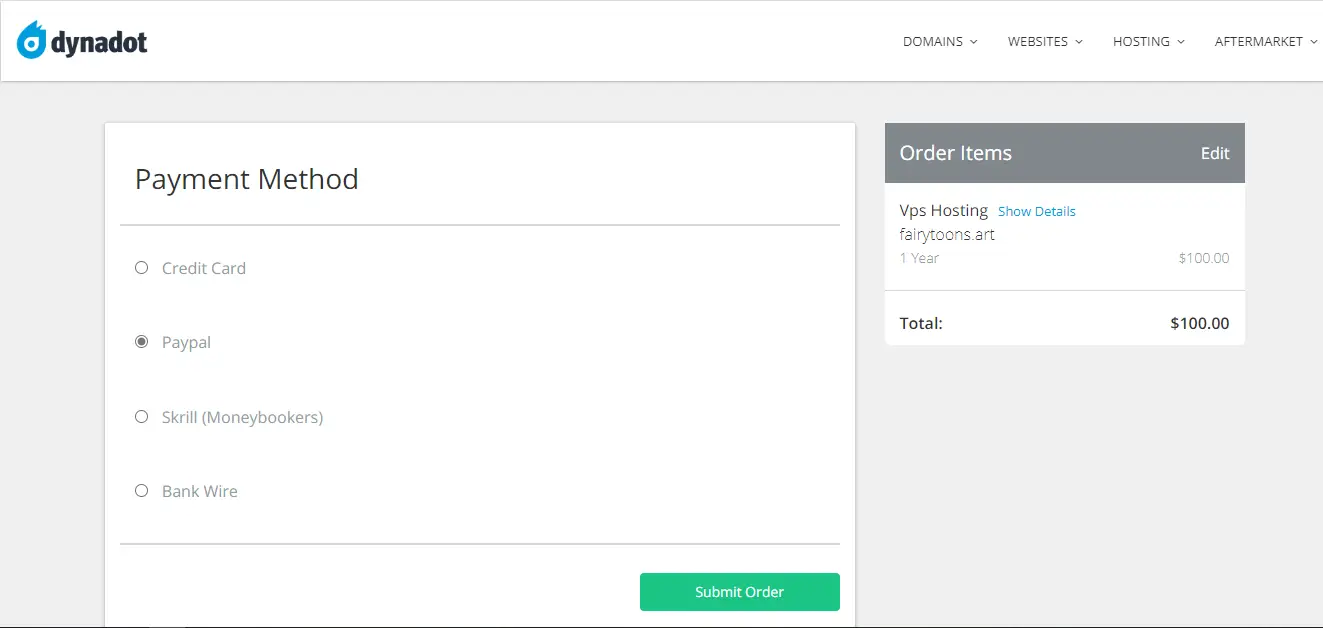 Note:- Dynadot discontinued their VPS hosting services, for further information you can contact their chat support.
Sell Your Artwork for Profit
You know that you can earn money online by increasing your brand or business recognition by doing your artistic work. Besides, you can sell your artwork worldwide without any hassle.
Currently, there are many platforms where you can sell your product, but there are many limits, and you cannot make rules accordingly.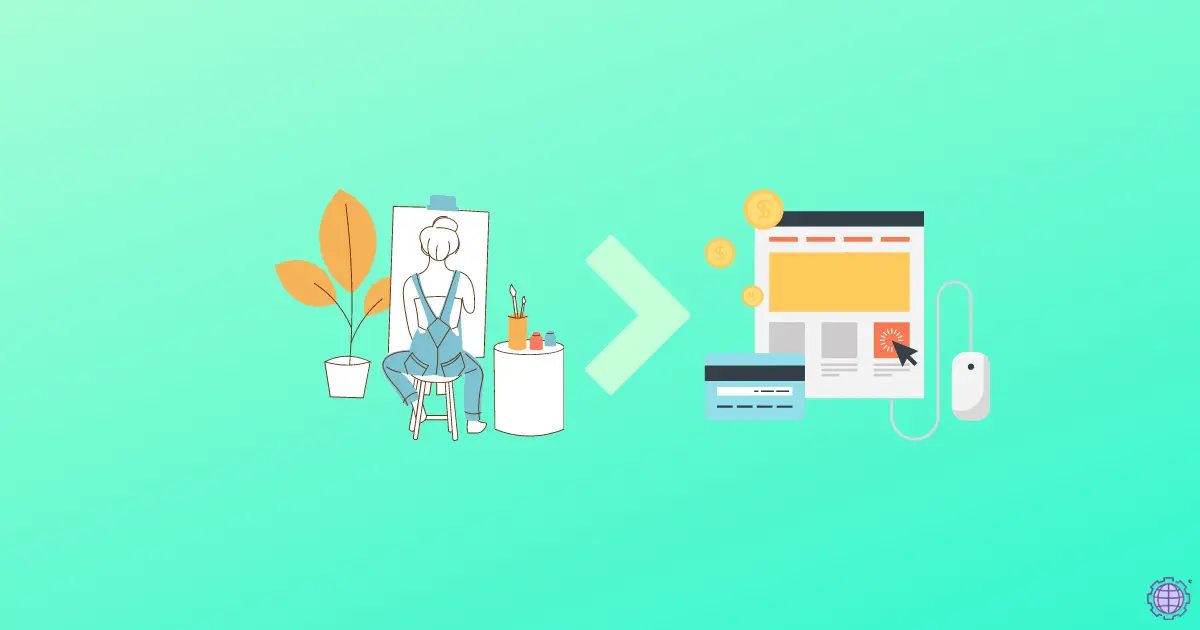 So, what are the other options besides these online e-commerce platforms? I have already told you that you can create your website, which means that you can also create your own e-commerce website, where you will make rules according to yourself and earn a profit.
What do you have to do about this? Buying a domain that matches your art business. So, here's a question, where to buy a domain name? As I said above this process you can buy from Dynadot and by clicking on the link below you can buy the dot-art domain for only 3 dollars.
If you want to know how to create an e-commerce or simple blog website, then, you must read our Starter Guide for blog making or you can get our special e-commerce guidebook for free.
Sharing Artworks Demo on Social Media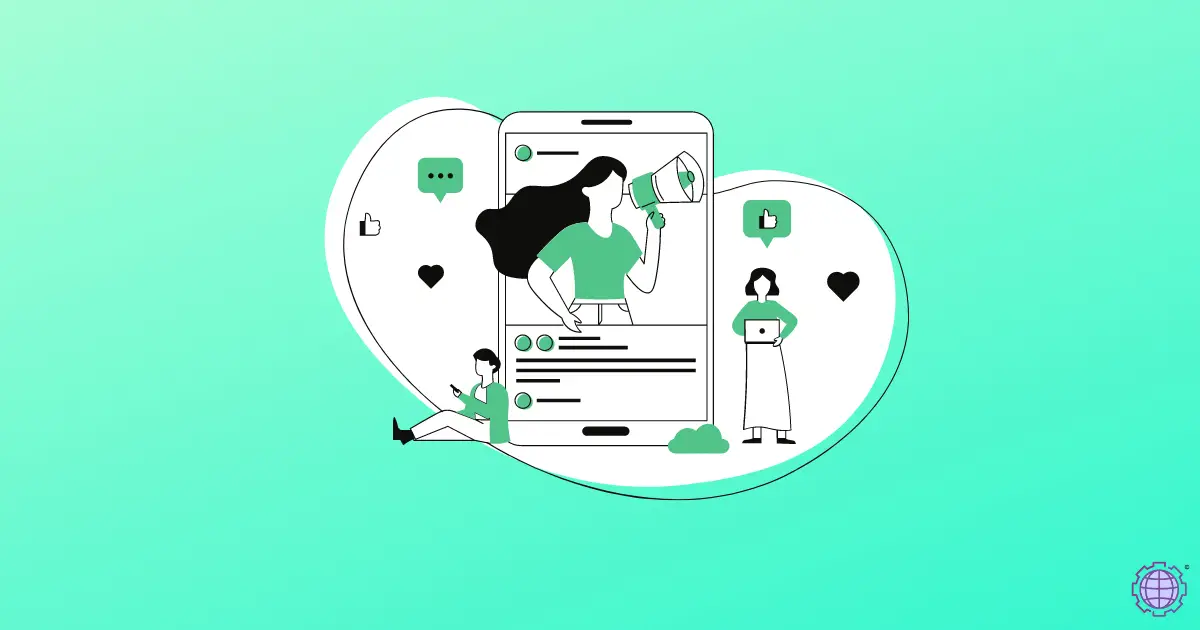 In the present times, social media platforms are not only working to connect with a distance but also to increase business and brand reputations. If your brand or your business has an online presence, then your customer easily builds trust. But the trust of the customer is formed when you are regular and engaged with your audience on your social platform.
If you are a new artist or have a local business, then you should first create your audience on social media. So on the strength of these, you can take your business to the world level.
You can make your artwork accessible to millions of people by creating a Facebook page and you can do the same on Instagram. You can showcase your art by making videos on YouTube. All this will be beneficial for you, but therefore you must work very hard to build an audience.
Some Artistic Name Ideas for You
If you keep in mind some common things for your present and future business, no one can stop your progress.
Start an online business with the same name as your business is related to (e.g. business related to art), create a business page on social media, promoting a product or brand. Regularly check the performance of your opponent and take care of how you are behind him and say in your business that there is a deficiency.
You can also search on the Internet about your business, such as if you want to do art business, then you can search some terms on Google, such as "Art Business Ideas", "Website for Art Business", "dot art domain name for Art Business", et cetera.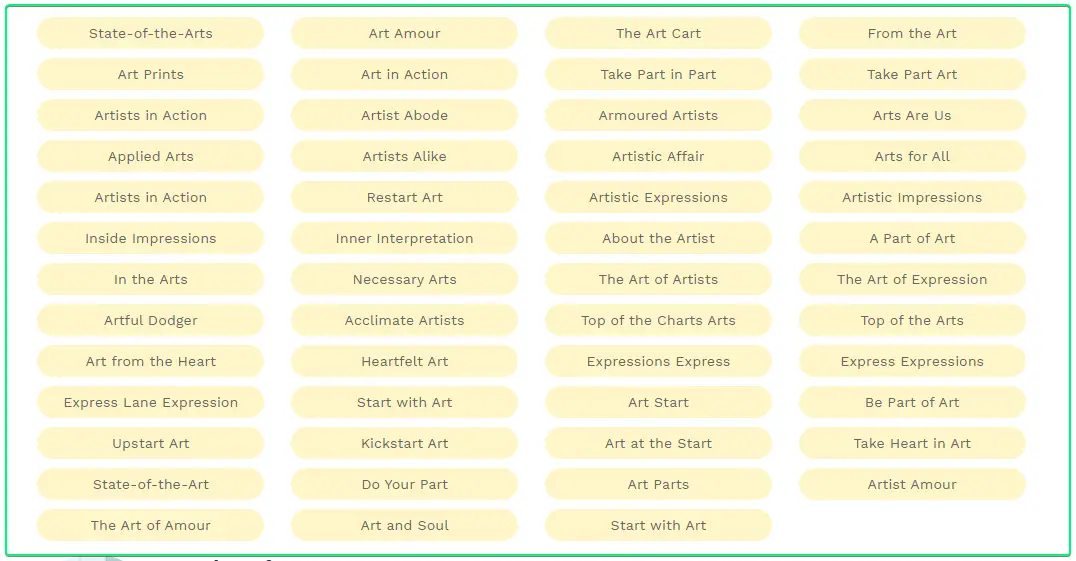 In the above picture, you can see some art business names, which I have done a list by doing research, you can also do it through the Internet and hire an expert.
You can convert your business and brand ideas into an online business as per the picture, you can contact me for more help.
FAQs about Dynadot and.ART Domain
How much dot the art domain cost?
Dot Art domain's usual price is $12.99 per year but you can purchase at $3.00 for the first year from Dynadot.com.
How do I name my art website?
You should name your art website as what is your business name or your brand name. You can research Art Business Ideas on Google.
How do I brand my artwork?
For branding your artwork you should share your artwork visuals on social media and your website.
How can I sell my art online?
You can make your art selling e-commerce websites and you can sell your artwork globally.
Where is the best place to post art?
Pinterest, Instagram, Ello, Facebook, and YouTube, are some social media websites where you can post art, other than social media you can create a website of artwork from Dynadot.
How can I promote my art online?
Create your art website by purchasing a domain name from Dynadot and promoting your art worldwide.
How do I create an art website?
You need to buy a domain then host and create a website. For the art website, the dot-art domain is perfect so you can buy a domain name for just $3 from dynadot.com.
Conclusion
At present, online art businesses have high potential. If you are an artist and have not started yet, then we suggest that you should prepare to start today. Because the sooner you start, the sooner you will be able to capture your audience and customer. This will be profitable for you.
Friends, if you liked this article, do not forget to share it and if you have an art business in your mind or are connected to internet marketing in some way, you can contact me or comment in the comment box.
Thank you!