Hostinger is one of the platforms, which is mostly known for its affordable pricing. Hostinger was established in 2004 and it's an ICANN-certified company that means you can trust 100 percent against frauds.
So, guys, I have been using Hostinger web hosting for the last 30 days, and I am going to talk about Is Hostinger good for your pocket and website?
Before you take any web hosting plans from Hostinger or any providers, please read the article first. It could be very helpful for you.
Overall Experiences with Hostinger
I have been using Hostinger web hosting for the last 30 days and the user experience is great, Hostinger has their custom cPanel known as hPanel. So, this is very comfortable and adaptive to use their cPanel. (No more traditional cPanel Interface). Hostinger has more than 100+ one-click installable applications including popular WordPress CMS, JOOMLA, and OpenCart CMS.
👉 Check out the article "How to install WordPress in Hostinger?"
First thing first, I am going to talk about the initial and final setup in Hostinger web hosting. So, when you purchase a plan from Hostinger, you need to add your domain name (Existing or New) to Hostinger cPanel for proper work, also you can select the location of your server in the initial setup. Hostinger is very easy to set up, most of the work is completed automatically.
Pricing of Hostinger Web Hosting
Pricing matters to everyone, Hostinger is one of the most popular web host providers, and their focus is on newbies, small businesses, and new start-ups. I have used various types of web hosting from various hosting providers. But when we talk about pricing and reliability then Hostinger is great.
Hostinger is globally serving their services and even they have regional-specific websites, so if you check the pricing then you should find slightly different prices and plans. For example, if we check Hostinger India's website then Hostinger provides just three plans and pricing is very similar to the global pricing.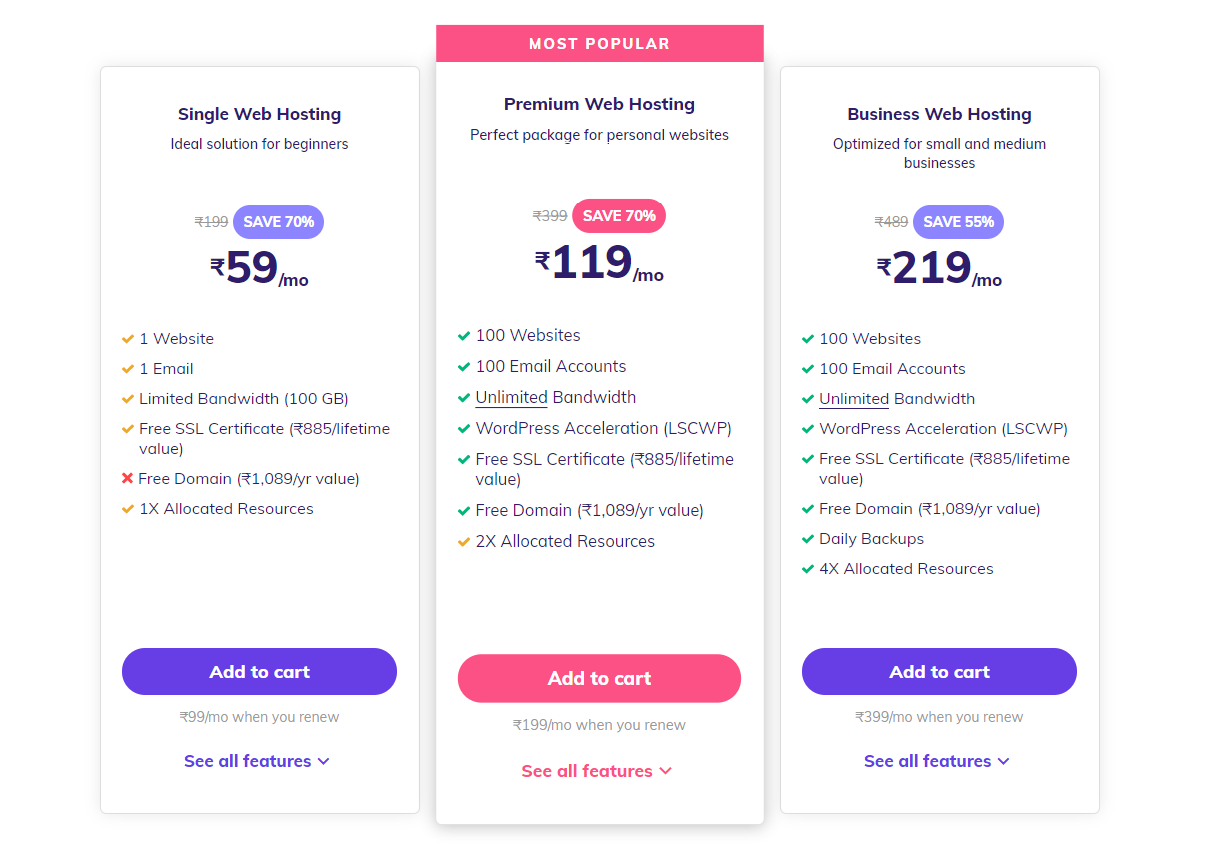 Hostinger Web Hosting Plans
Hostinger's web hosting plans are great in terms of how many years you will be purchasing. They have been using some kind of tricks on their pricing so anyone can be tricked easily and purchase their plan. When you open Hostinger's homepage they will show you their lowest price. But the lowest price will remain if you purchased their plan for the long term (Minimum Four Years).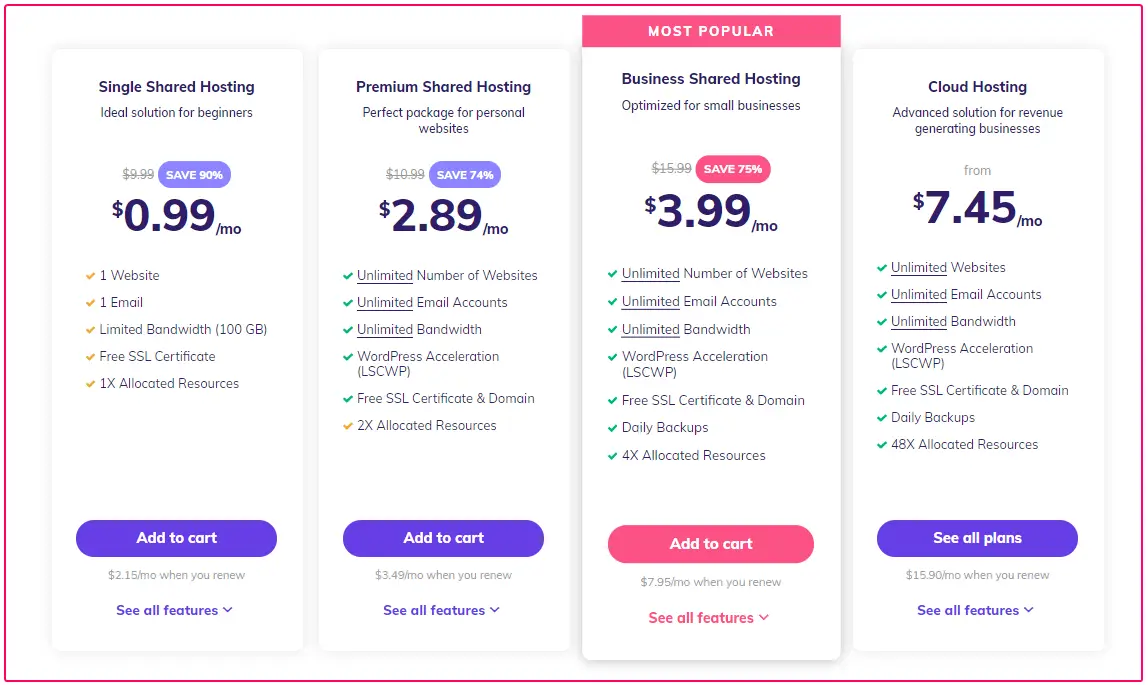 But there is a twist if you do the math with their pricing you will get definitely the cheapest price with a better-reputed platform. I have done the math of their hosting plans. You can see the table below.
Single Shared Hosting
Single Shared Hosting is the cheapest web hosting plan from Hostinger and you can manage only a single domain name. This plan has some limitations compared to other plans. If you have started a new website or want to start then this plan is perfect for you, because this plan is very cheap compared to others and precisely you won't get huge traffic on a new website so this plan gives limited traffics bandwidth and only a single business email access. Check out how to grow your website traffic?
This plan starts from $ 0.99 per month if you purchase for 48 months minimum or if you want to buy for two years, one year, or even a month then it will cost you more than $0.99 per month.
Premium Shared Hosting
Premium Shared Hosting is one of the most popular and affordable plans from Hostinger. This blog is currently running on this plan and I also hosted some of my micro niche blogs. Hostinger delivers seamless speed and uptime. I haven't sought any server-down yet, but Hostinger guaranteed for 99.9% of the uptime rate of their servers.
In this plan, Hostinger provides unlimited domains and email management with unlimited bandwidth also, you will get SSH access and a free weekly backup option.
Premium Shared Hosting starts from $2.89 per month if you buy this plan for up to 48 months and there is a sale live you will get up to 74% discount and a free domain name.
Business Shared Hosting
This plan is perfectly fit for those, who have a small business who already have a revenue source and want to expand their business. Hostinger's Business Shared Hosting plan, you get four times more resources than the Premium Shared Hosting. 4x more resources mean more RAM, Better Quality of Storage, and A Better CPU.
In this plan, everything is the same as the Premium Shared Hosting excerpt the resources, and you will get an option of daily site backup.
Business Shared Hosting started from $ 3.99 per month if you buy this plan for 48 months (4 Years).
Hostinger Cloud Hosting
Cloud hosting mainly focuses on medium-sized or large-sized businesses that are generating revenue. I won't suggest you buy this plan if you don't have any business or revenue-generating sources.
Hostinger's Cloud Hosting plan started from $7.45 per month and you will get 48 times more allocated resources compared to the Business Shared Hosting. This plan is 4x faster than other plans and this Cloud Hosting plan is included with Dedicated IP Address so your every website will get a different IP address rather than a shared IP address.
Hostinger v/s A2Hosting
I have compared Hostinger pricing and features with a common competitor A2Hosting, who is providing the same types of web hosting. As you can see from the table below they both have huge differences in their pricing. Hostinger is about half of the A2Hosting pricing if you take the premium shared hosting from Hostinger.
| | | |
| --- | --- | --- |
|   | Hostinger | A2Hosting |
| Pricing | $2.89/month x 48 = $138.72* | $4.99/month x 48 = $239.52* |
| Websites | Unlimited | Unlimited |
| Storage | Unmetered | Unmetered |
| Bandwidth | Unlimited | Unlimited |
| Free Domain | Yes (1 TLD) | ❌ |
| Free SSL Certificates | Yes (for a lifetime) | Yes |
| Money-Back | 30-days Guarantee | 30-days Guarantee |
| | | |
Hostinger and A2Hosting both have the same type of LiteSpeed web server techniques and provide similar specs. There is one more benefit if you buy web hosting from Hostinger, you will get a free domain name (TLD) that is not included on A2Hosting Shared Hosting Plan.
Opinion on Pricing
Price is precious for everyone, if you invest your money and that money doesn't give you any benefit then it is a waste. So, here is my opinion on Hostinger's pricing.
Hostinger has a good marketing strategy, he is given the same strategy on all his plans. I hope you have read all the pricing details mentioned above in the article, the hosting shows its prices as low as possible and when you buy any plan they will suggest you buy a 48 months plan. If you buy the plan, you will get a web hosting plan with a cheaper price and the hosting will get a long-term customer, a win-win situation.
Hostinger also has a 30-days money-back guarantee, which is a good thing that I thought. But by chance, if you encounter any kind of problems after 30-days (end of money-back guarantee), then what?
Definitely, you will contact the customer support. In my case, I haven't encountered any issue after purchasing the plan (Premium Shared Hosting) from Hostinger. I have been using their services since June 2020 and I got two times the downtime cause of server upgrade.
So, overall pricing and the performance is amazing, you should try at least for a month then you can decide. [Go checkout]
Performance of Hostinger Web Hosting
According to Hostinger, they guaranteed fast and reliable web hosting and according to my test, you will get better speed when you buy premium shared hosting or above plans because these plans come with way more resources than the base plan.

The image above is shown on the homepage of Hostinger and you can see the picture is clearly showing the load time of the website is 0.143 seconds.
So, I decided to test the actual environment, and you can't believe Hostinger tricked the users. First, check out our page speed test results screenshots.
GTMetrix Page Speed Test Result:

As you can see in the image above, these results are from the GTMetrix page speed test result. In this result, I got the page load time is 1.4 seconds, which is way higher than Hostinger mentioned on their website. But there is a fact, I have crawled a little deeper and found some factors that cause various or different-different results.
So, what did I do? I have switched the speed test tool from GTmetrix to Pingdom Tools and we have selected the testing location European continent because my server is located in the European region. Now I get the load time of 500 milliseconds, so that's quite matching results as Hostinger showed in their site.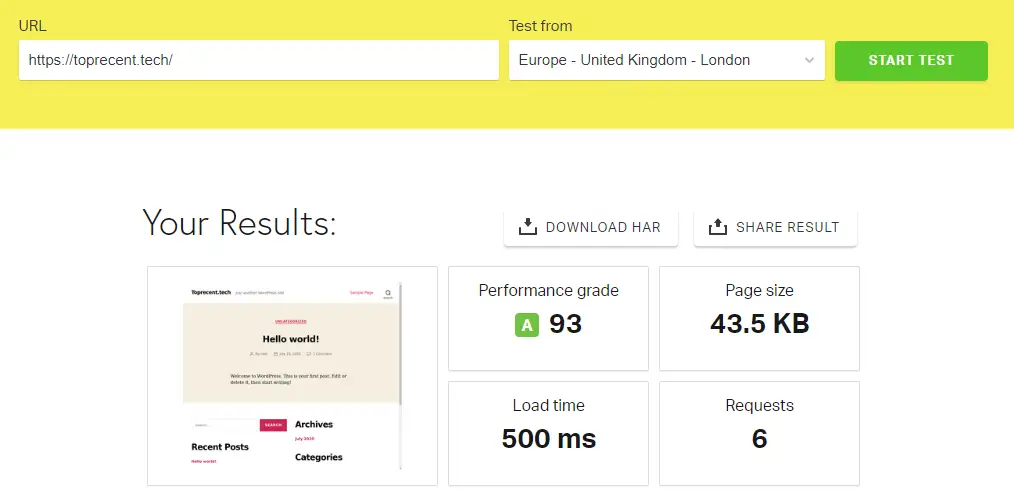 But I have researched more about the Hostinger Hosting's speeds, if you buy their base plan the results will differ and even if you buy the Hostinger Cloud hosting plan then you will get totally different results but it will be way better than I have got.
Hostinger's Server Uptime:
Hostinger has hundreds of servers and you can check their live server status. Mostly Hostinger's overall uptime 99% because some of the servers get sometimes upgrade and get downtime.

Opinion on Hostinger Hosting Web Speed
In my opinion, Hostinger's web hosting plan is promising as my test results. I have run many tests on my websites and newly hosted sites. Results are always great for the first time, but when we install themes or other necessary plugins then the site's page load time gets increased.
But, Hostinger also gives the solution to this problem, if you are an advanced user or have good knowledge about WordPress then you can optimize your website more often.
I have been using a pre-installed LiteSpeed cache plugin to optimize my website other than you can use the WP-Rocket cache plugin, this plugin reduces your work and optimizes way better than other plugins.
So, my final verdict on Hostinger Hosting web speed is awesome, I have used other shared hosting providers like GoDaddy, Namecheap but Hostinger is faster than these providers.
Support of Hostinger
Hostinger provides 24*7 live chat support with actual technicians and Hostinger has a huge documentation and tutorials base. But there is no telephone or call support at any local or international level, that's a negative point. In the comparison of Hostinger Support and others, GoDaddy support is number one.

I have been using Hostinger hosting and I haven't encountered any issue with them. But first when I migrated my website then I had taken chat support and it was great. Hostinger migrates all data from my previous host provider and settings up all settings here free of cost.
So, if you are a beginner or intermediate in the English language it would be great for you to get any kind of support. But if you don't know English then it would be hard for you because there is no local language support.
PROs and CONs of Hostinger
Every hosting provider gets some pros and cons so Hostinger as well gets. I have identified some pros and cons that you can see on the table.
| | |
| --- | --- |
| PROs | CONs |
| 👍 Best Pricing for Long Term | 👎 Bad Pricing for Short Term |
| 👍 24*7 Chat support | 👎 No Phone Support |
| 👍 30 – Days Money Back Guarantee | 👎 No Traditional cPanel |
| 👍 Free Hosting Migration |   |
| 👍 Lifetime SSL certificate |   |
| 👍 Free Domain Name |   |
| 👍 Student Discounts |   |
| 👍 YouTube Creator Support |   |
| 👍 Ease of Access |   |
These are the major pros and cons of Hostinger that I had found out, and there were some other minor pros and cons.
Conclusion: Should You Buy Hostinger or Not?
Now there is a question, should you buy Hostinger's web hosting plan? In my opinion, I suggest you buy Premium Shared Hosting or Business Shared Hosting. If you buy the base plan or the Cloud Hosting plan that would make no sense to buy these plans. If you select the base plan then it would be way better to purchase from the Namecheap base plan with low cost compared to Hostinger and if you choose to buy a cloud hosting from Hostinger then better be check the pricing of Digital Ocean or Bluehost hosting.
Nevertheless, the Hostinger Premium Shared Hosting plan is an amazing and value for money deal for long term usages.
So, guys if you have any suggestions about Hostinger or this article please comment, and if you think this article would be helpful for your close one then please share. Thanks!