I recently decided to take look at Cloudways web hosting as per my friend's recommendations, previously I was using Google Cloud Hosting for one of my websites. Frankly speaking, Google was robbing us, so we again made an intention that we will shift from Google Cloud to Cloudways. And today I am writing this article after a week of testing.
So, friends if you are looking for good cloud web hosting, then you must read this article once before taking any cloud hosting.
In this article I am going to cover Cloudways web hosting initial impression, what are the features of it, what is its pricing and initial website setup, etc., so stay tuned.
Initial Impression of Cloudways
Cloudways web hosting's platform is very easy to access (user-friendly) and likely everyone can use it without having any technical background.
If you know that Cloudways doesn't have its server, they use other popular companies' platforms and provide you with an optimized, faster experience.
Cloudways uses Digital Ocean, Linode, Vultr, AWS, and Google Cloud web hosting platforms.
So, if you have ever used Google Cloud or Amazon Web Services (AWS) then you have seen the complicated user interfaces and these two platforms need some technical skills.
But, the case of Cloudways makes everything very simple, after all, you can access Google Cloud and Amazon Web Services without any complications, with two-three clicks, and everything is set up on the Cloudways platform using Google Cloud or AWS resources.
But you do not just use GCP or AWS you can choose any cloud platform that already I have mentioned earlier, like Digital Ocean, Linode, or Vultr.
Cloudways is the one, that took all popular cloud providers into one platform and those are already giving the fastest web experiences. All these providers (GCP, AWS, Vultr, and Digital Ocean) have various pricing, So, it's also beneficial to users, users can compare side-by-side and take the plans according to budget.
So, before we talk about pricing, I am going to tell you, what things I liked and disliked about Cloudways.
PROs and CONs of Cloudways
Every web hosting is not perfect, they have some minor or major flaws and even some web hosting has better features than others, So, Cloudways also have some better features than others and have some features missing.
PROs
Ease of Access
Popular Cloud Provider in one place
Free SSL Certificates
One-Click Managed WordPress
24×7 Chat Support
Optimized Server Performance
Instant Server Cloning
Cloudflare Enterprise CDN & Security
3-day Free Trial
CONs
Built-in SSH Access is Garbage
Lack of File Manager
Pricing is high, compared to individual cloud

Email Services excluded
Cloudways Features

Cloudways have many features and here I am going to mention all these features that are very useful or going to be useful.
Privilege to choose any Cloud Platform
Cloudways give users to privilege to choose any cloud platform from five of them (Digital Ocean, Vultr, Linode, GCP, and AWS) or even you can create multiple servers on these platforms at a time. You can compare the prices between them and then decide which cloud to choose.
High-Speed Performance
You know cloud hosting is meant for dedicated servers, not for shared hosting, so Cloudways also provides you with your environment to your specifications. All storage would be SSD-based so you can get three times faster performance compared to the traditional HDD.
Cloudways optimized servers are PHP 8 ready so your websites stay away from vulnerabilities and security flaws. Cloudways cashes server-side using Memcached, Varnish, Nginx, and Redis for delivering seamless response and performance.
Free Migration
Cloudways give the option to migrate websites from an old server to Cloudway's new server. The process is very easy just you need to install the Cloudways WP Migrator plugin and take a backup and download then upload it to your new server using the same plugin. This feature is only for their paid members so if you are in a trial period then you can't migrate your WordPress website.
Server Cloning

This feature is very useful, and you will find this feature in almost every cloud platform this feature is known as a snapshot, but in Cloudways you will find it as a "Clone Server".
Block Storage
Block Storage is also a great feature, in case you are running out of your server storage in just a few clicks, you can expand your storage without changing any parameters on your server.
Free SSL Certificates
Cloudways has a built-in Free SSL certificates installation system, click on SSL certificate and enter your domain name, and installation is done. If you have a paid SSL certificate like EVOWild Card or any SSL certificate you can install it on Cloudways.
Bot Protection
I have used almost every popular cloud platform AWS to IBM etc., and no one provides free bot or brute force attacks protection but Cloudways has the feature and it's great. This feature is provided by Malcare for Cloudways users, it's also protected from Denial-of-Service (DoS) attacks.
Real-time Monitoring
Cloudways provides 24×7 Real-time monitoring so you can analyze what happens with your server. They have 16 different metrics types.
Cloudways CDN
Cloudways also provide CDN (Content Delivery Network) services in partnership with Stackpath. If you know about CDN services, then also you know CDN increases your site performance by delivering your content to the visitors by using their nearby server.
Cloudways Pricing
Cloudways pricing is great in terms of performance but they have various pricing according to the server size and the providers and the server's locations. Cloudways base plan starts from $10 per month, and in this pricing, you got 1 GB of RAM, 25 GB of SSD storage, and 1TB of Bandwidth those all are based on 1 virtual CPU. They also provide various Add-ons with various pricing.
Server Pricing
Cloudways server pricing varies according to the server's sizes and providers. The lowest pricing is available from Digital Ocean which is $10 per month for the lower-end server and the highest price for the lower-end server is from AWS which costs about $36 per month.
Digital Ocean Pricing:
Digital ocean's pricing on Cloudways is the lowest price for the lower-end server which gives you 1 GB of RAM, 1vCPU, 25 GB of storage, and 1 TB of Bandwidth, and the high-end server pricing is $80 per month which gives you 8 GB of RAM, 4vCPU, 160 GB of Storage and 5 TB of Bandwidth.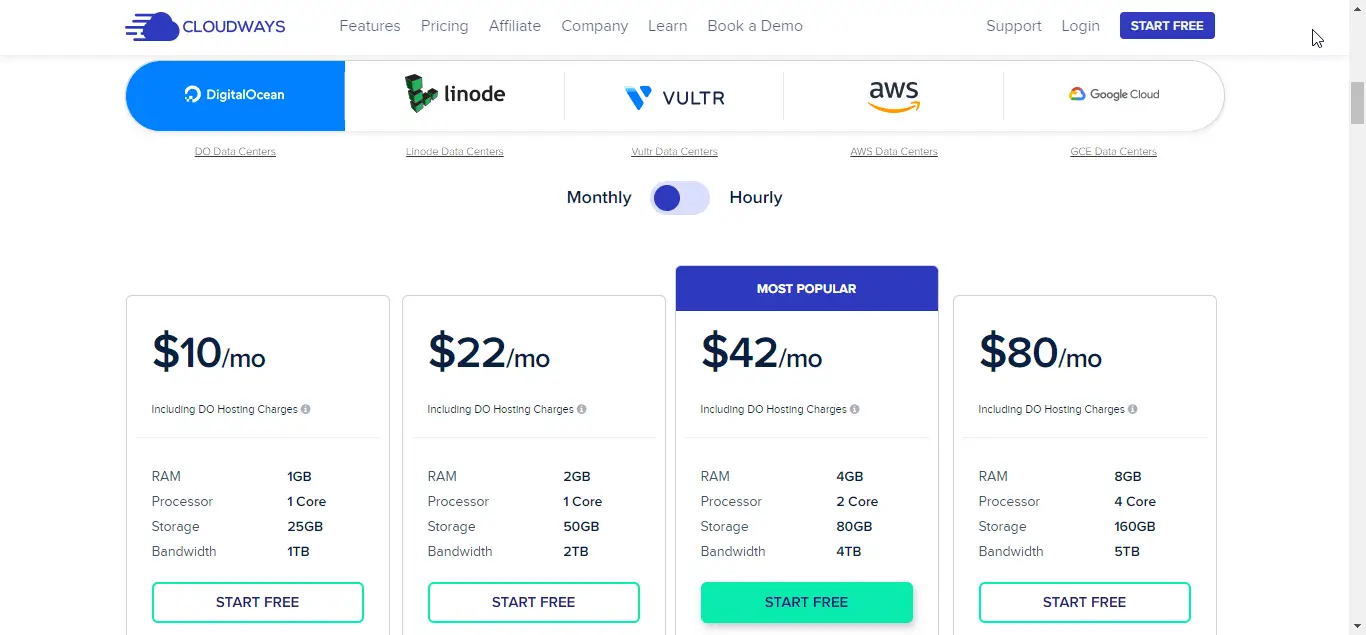 Linode Pricing:
Linode pricing on the Cloudways platform starts at $12 per month which is the same as Digital Ocean which gives you 1 GB of RAM, 1vCPU, 25 GB of storage, and 1 TB of Bandwidth and when you choose the higher number of CPUs the pricing also increases.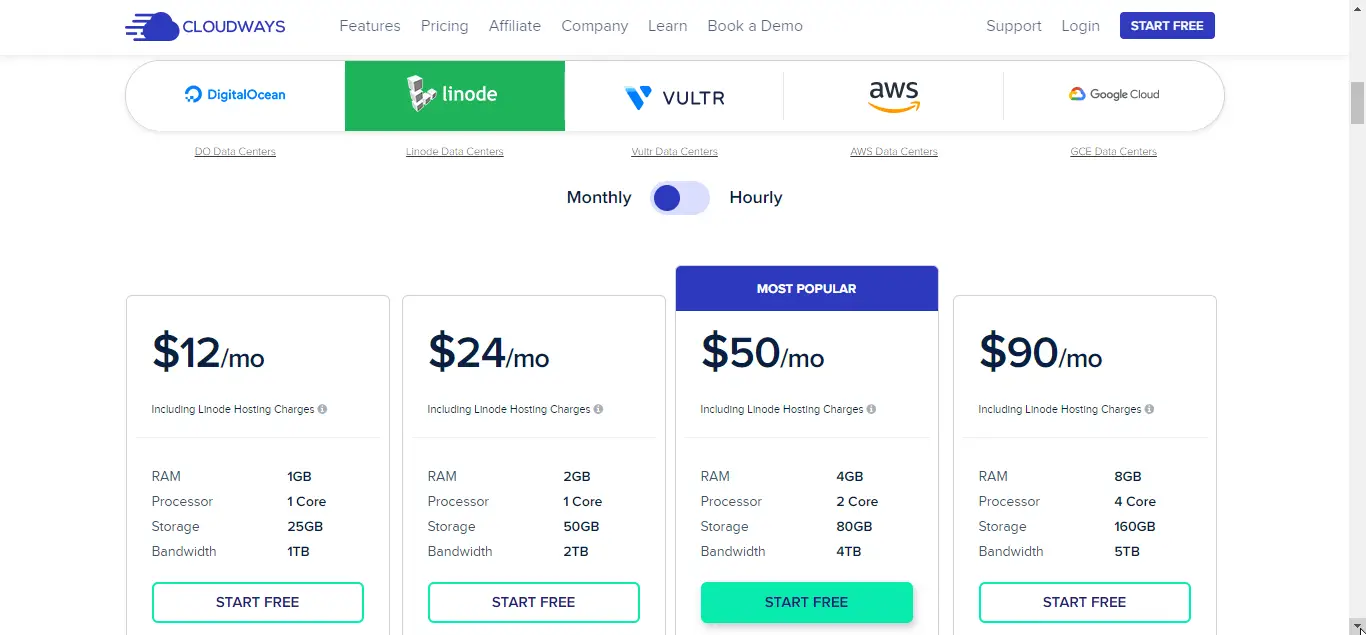 Vultr Pricing:
Vultr Cloud has two types of servers on Cloudways, one is standard which is the same as the other two providers Digital Ocean and Linode, and the second type of server is High frequency, and this type of server comes with more resources and little bit higher prices.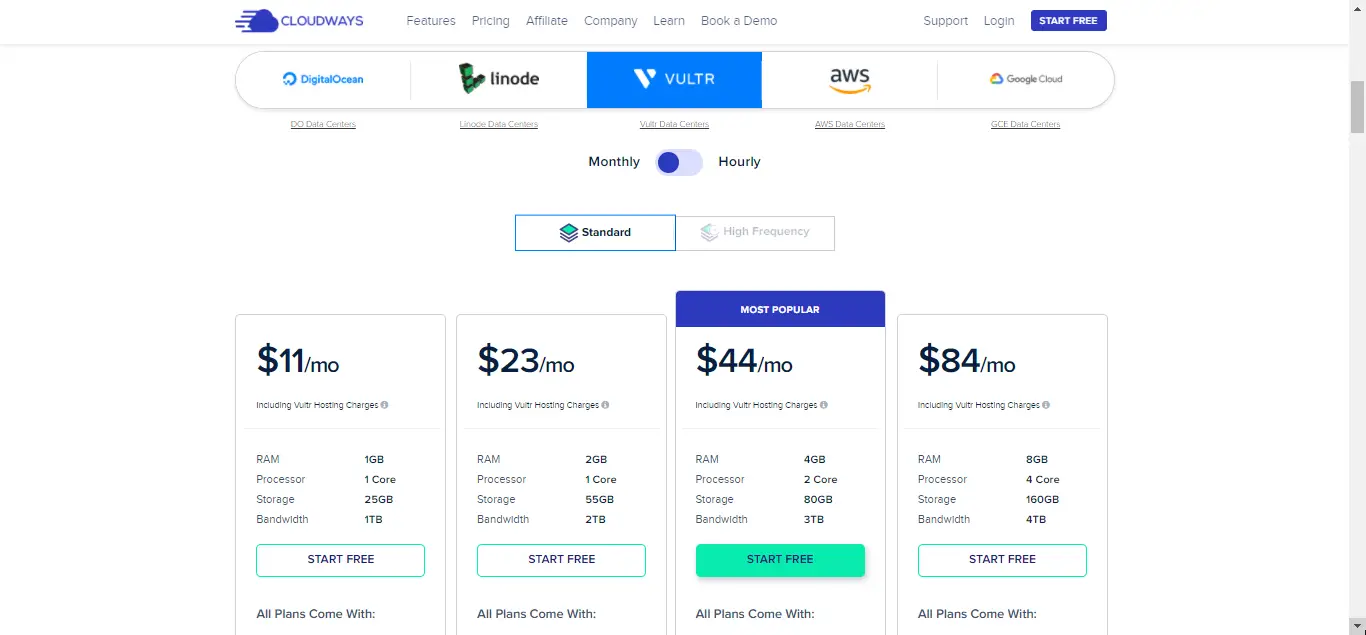 Vultr standard servers pricing on the Cloudways platform starts from $11 per month and goes to $84 per month is the higher-end server, and these server configurations are the same as Digital Ocean and the Linode.
But there are some changes in pricing and the server resources, when you select the High-frequency version of Vultr Cloud then you will get the lower-end server at $13 per month which is compared to the other two but you will get 32 GB of storage and if you choose the higher end server you will get at $100 per month and the server configuration will be 8 GB of RAM, 4vCPU, 256 GB of Storage and 4 TB of Bandwidth.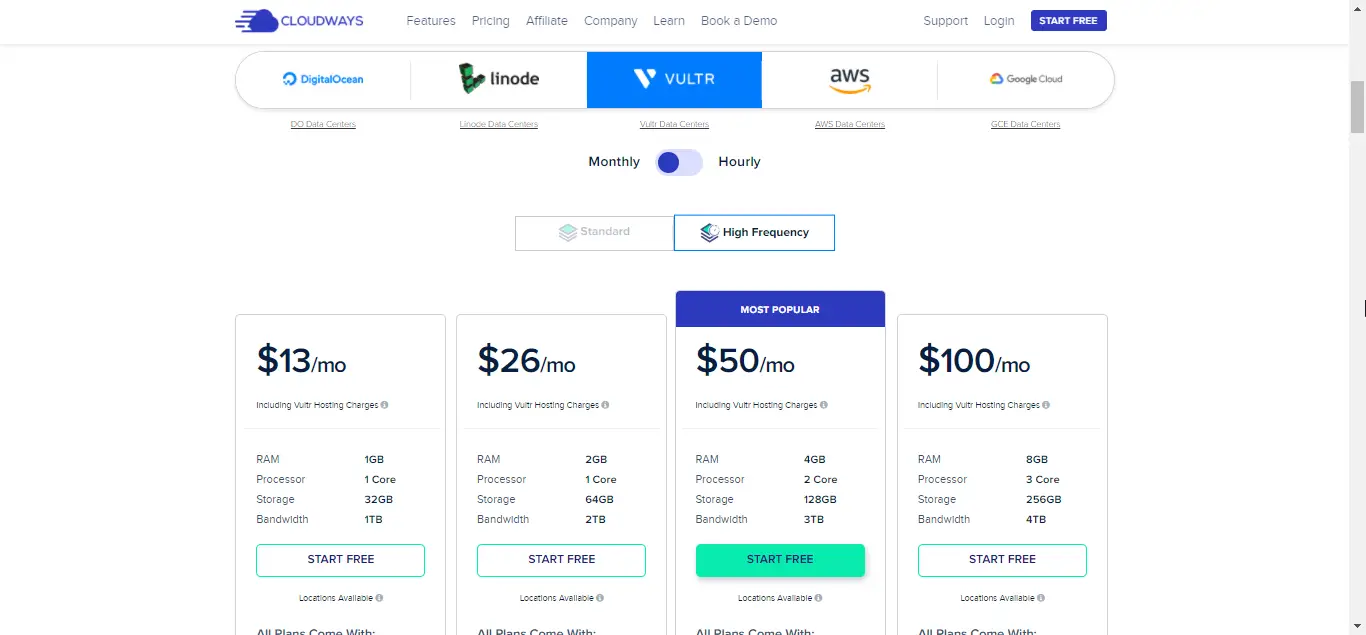 AWS Pricing:
In the Cloudways platform, Amazon Web service's pricing is higher than any other providers, and the base plan starts from $36.51 per month this is the lowest price for AWS and if you change the server location then pricing will be changed accordingly.
In the base plan, you will get 1.75GB RAM, 1vCPU, 20 GB of storage, and 2GB of Bandwidth, there are more prices according to the sever sizes but I am not going to talk about this, and I am not recommending any of AWS plan to purchase.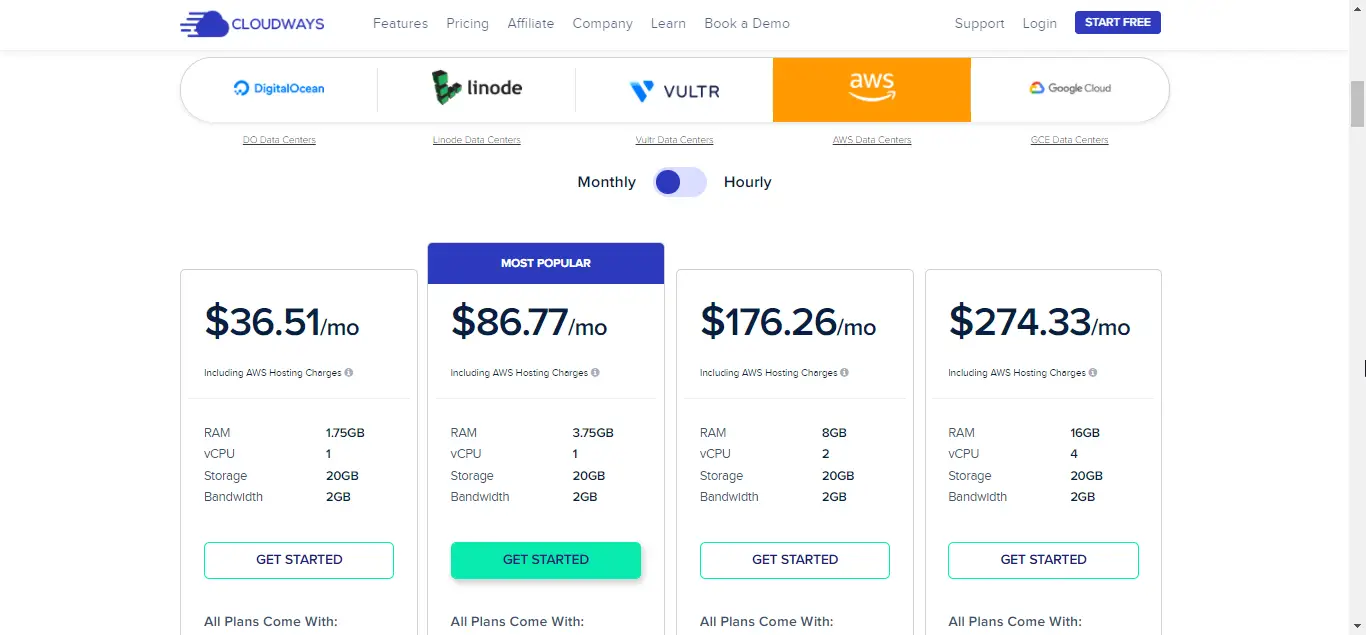 Google Cloud Pricing:
The last cloud server provider on Cloudways is Google Cloud Hosting, this one is also very expensive, but in-compared to AWS is a low price. GCP's pricing starts from $33.63 per month and this pricing also varies when you change the server locations.
Server configuration is about to same as AWS but in my opinion, these two Cloud providers AWS and GCP are not beginner-friendly on the Cloudways platform. So, if you are a beginner then definitely you should avoid their plans.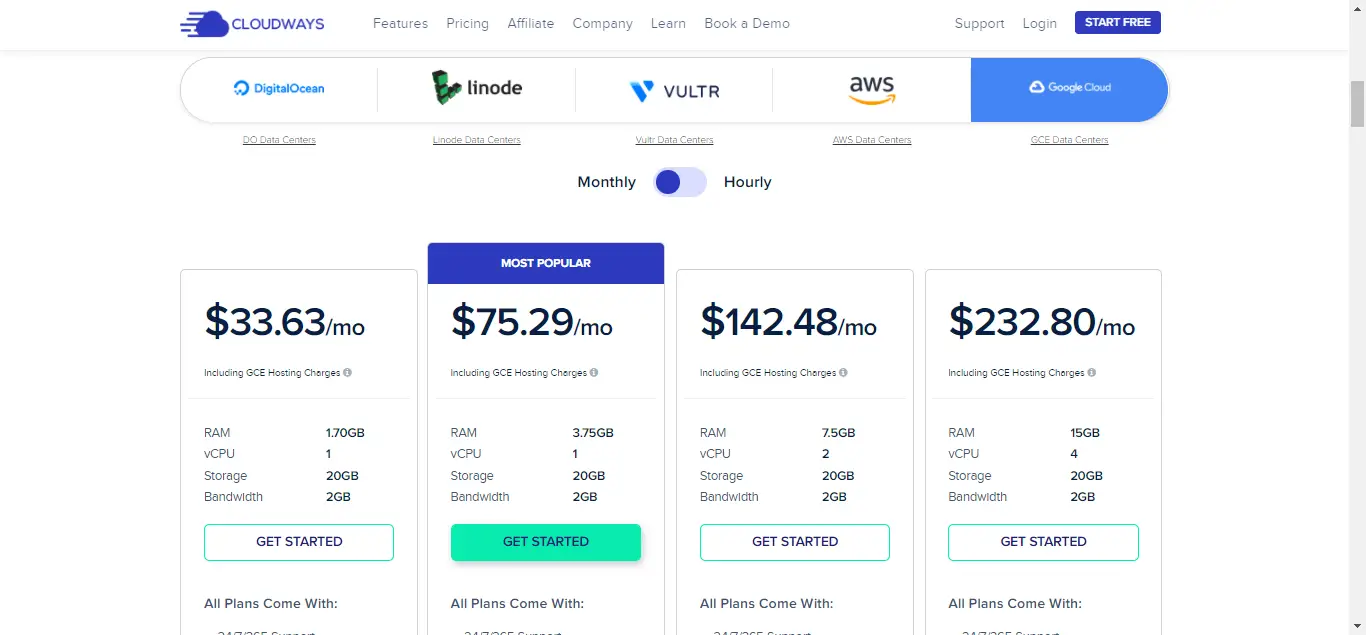 CloudwaysCDN Pricing
CDN services are always helpful for web servers, CDN reduces the server load and provides faster performance anywhere in the World and if you take services from Cloudways then you can take their CDN service which is provided by Stackpatch.
The pricing is very low in comparison to other market leads but this CDN service is only for the Cloudways server user, if you take the CDN service then it will cost you an extra $1 for 25GB bandwidth per application. For additional usage, the cost will be $0.04 per 1GB of bandwidth.

Add-ons Pricing
Cloudways provides some add-on products, you can purchase them if you want. Support Add-on there you can extend your support plans and get high-priority support and the plans start from $100 per month. Cloudways doesn't include email hosting like other web-hosting providers, so Cloudways provides an add-on of email hosting and you can take it just for $1 per month. They also provide some other interesting add-ons to check out on the Cloudways website.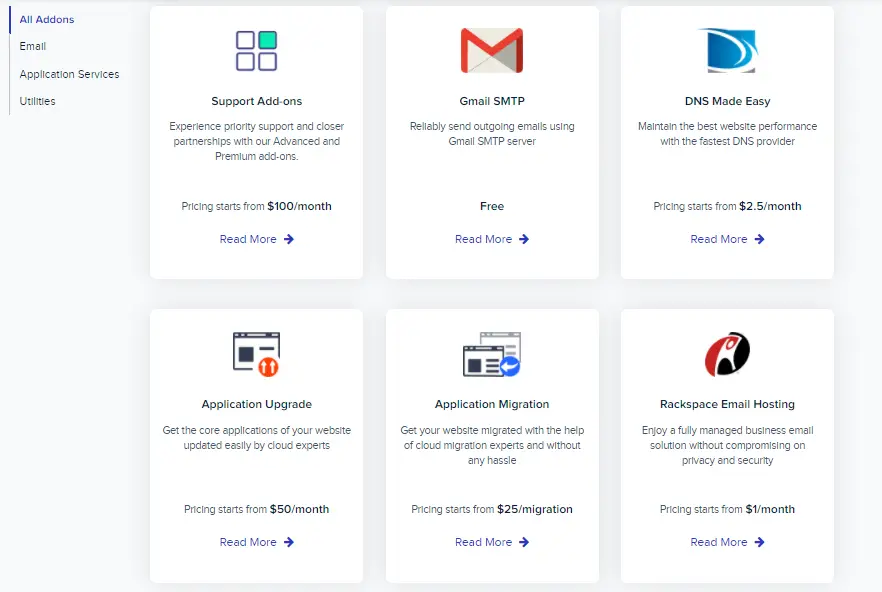 24×7 Support
Cloudways provides various types of support facilities like Chat support, Online Ticketing, and even Phone Call support (Premium Support Add-on).
Cloudways give 24/7/365 Live chat support but I have told you they have also a premium add-on for Phone call support and they solve your all issue just you need to call them but that is not for everyone, who pays $500 extra, for them.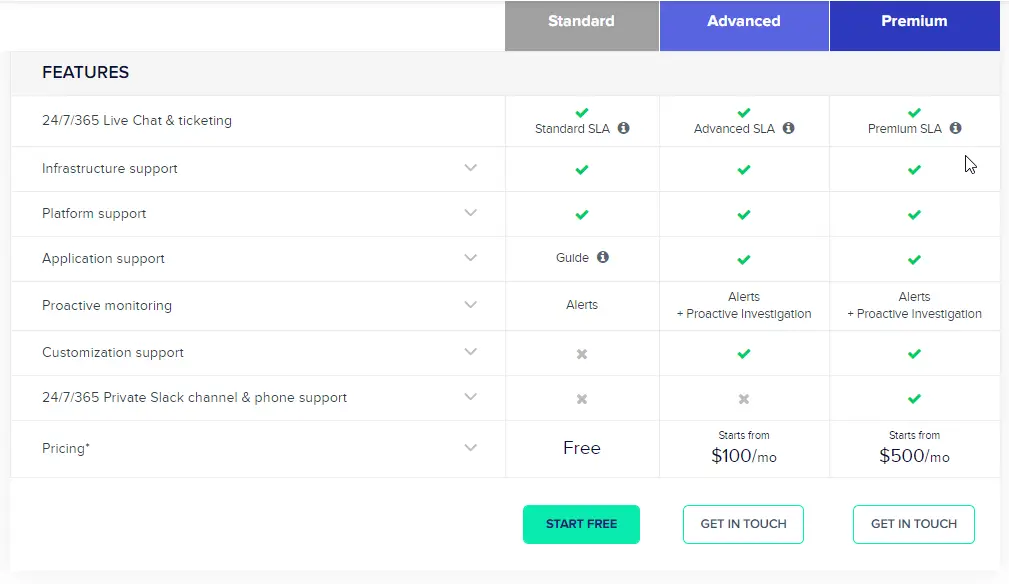 In my opinion Cloudways support, it could be more technical but you need to pay more for getting technical support. When you start the chat service then their chatbot starts to talk and give you documentation guides.
Getting Started on Cloudways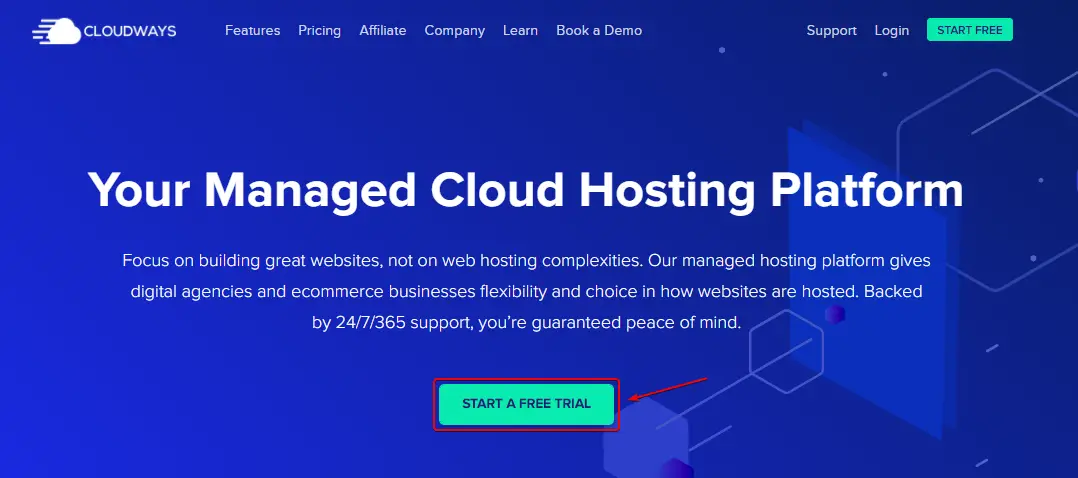 Cloudways gives you three day free trial without filling in any payment details so you can create a server and test it out. If you are satisfied with their services, then you can stay by adding your payment details or just enjoy the three days of a free trial.
Sign up on Cloudways
When you click on "START A FREE TRIAL" then need to fill out your details like Name, and Email address.
Now tick on "I agree to the Cloudways" TOS & Privacy Policy then click on "START FREE" and then you are good to go.
Sometimes Cloudways ask you to verify your details by sending your Government-issued ID card or something. Their fraudulent detector encounters you sometimes, so you need to verify your details. So, your account activation process will take less than 24 hrs.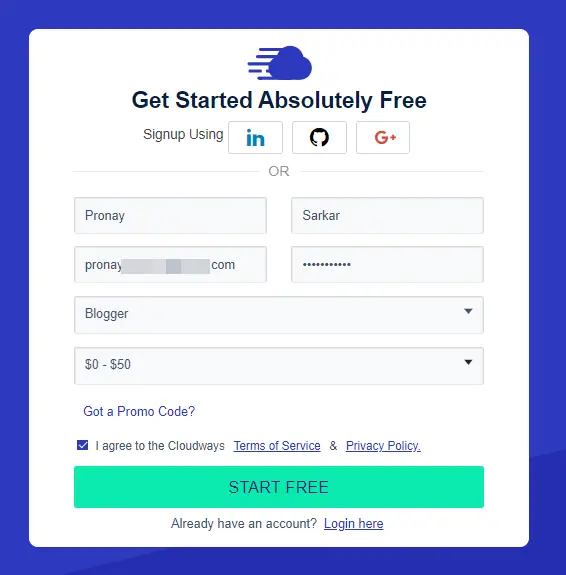 Server Installation on Cloudways
You can install any application you want Cloudways have the 11 most popular applications including WordPress, they also give you the choice to install Cloudways-optimized WordPress.
So, for the server installation, you need to select an Application and then fill out the all details like Application Name, Project Name, and server name, then you need to choose one server provider from five of them. Then choose your server size and location.
When you choose the various server from various providers Cloudways shows you the live pricing preview. If you are satisfied with the pricing then you can good to go for "LAUNCH," so click on "LAUNCH NOW."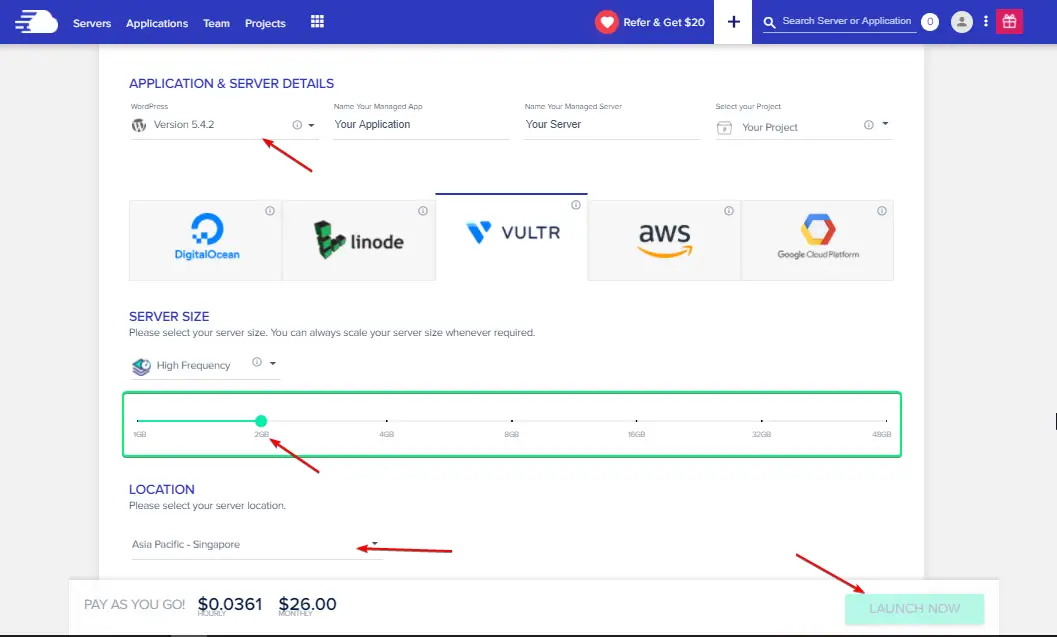 The launching process will take about 5 to 13 minutes it depending on your server configuration, by-the-way let us see the next steps.

Post Server Configuration on Cloudways
In this step, you can manage your server's services and applications. You can disable or enable applications or services according to your necessity.
Manage Services:
In this section you can manage your running services on the server as you can see in the image below you can enable or disable the services as per your requirements.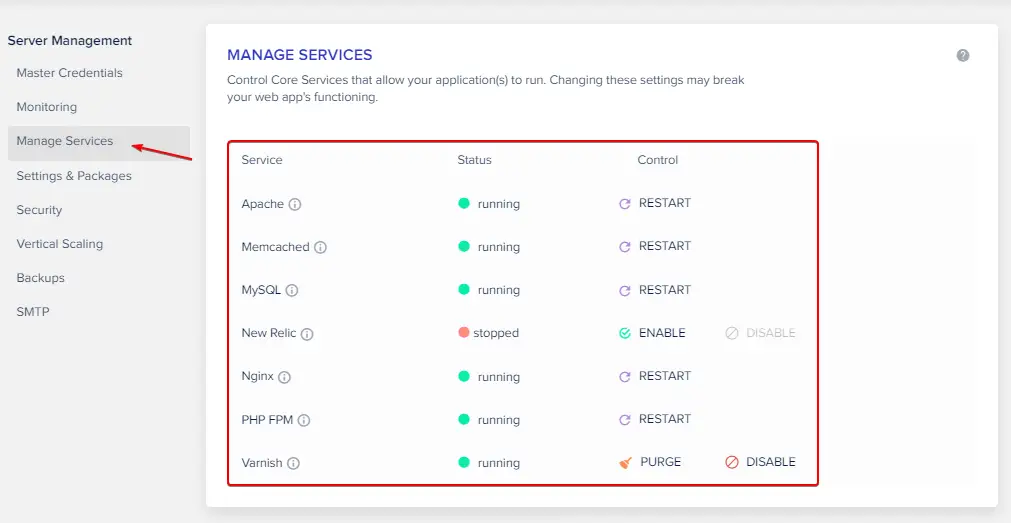 Manage Settings and Packages:
In this section, you can manage your server's upload limit, memory limit, etc. This is very useful for your project, you just need to modify these settings and then upload big files on your website.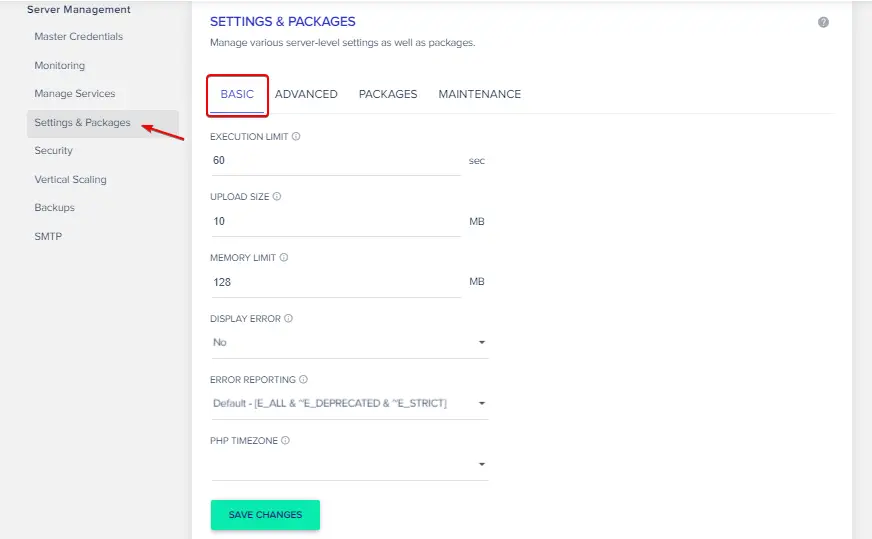 Install Optional Packages:
You can install the required package for your server in the section of Settings & Packages. I have installed the Redis package for my server, and it is very useful for performance.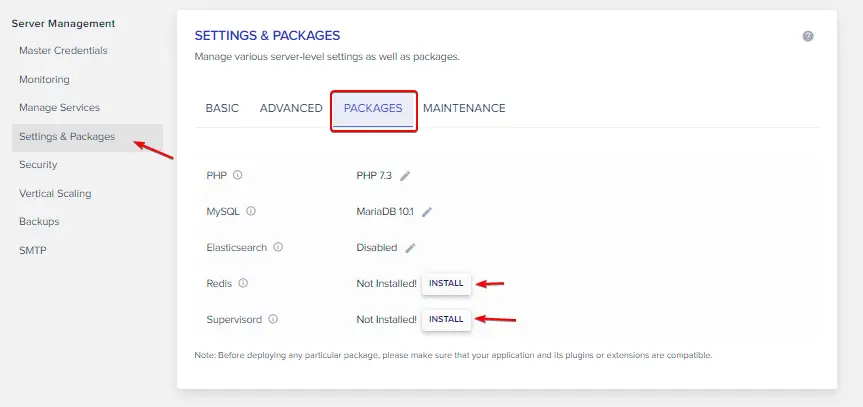 Vertical Scaling or Server Expansion:
This is another very useful function and mostly you will find in every Cloud hosting service, Vertical Scaling means you can expand your server size or resources without stopping, deleting, or migrating your server, you just need to scale as per your requirement and are good to go.

Auto Server Backup:
Cloudways gives you various options to back up your resources, you can clone your server or even you can schedule your backup as per your requirement and Cloudways take your backup automatically. That is awesome.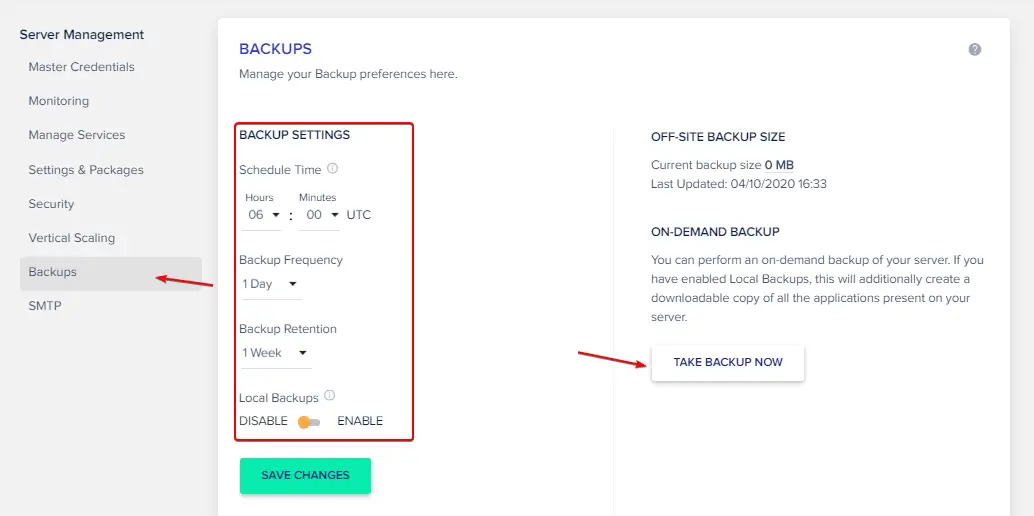 SMTP Configuration:
In Cloudways you don't need to set up an external SMTP service, Cloudways gives you the option to set up an SMTP service built-in, so just go to the server management then select SMTP and set up your SMTP account.
Must Read:- How To Create Free Business Domain Email With Zoho?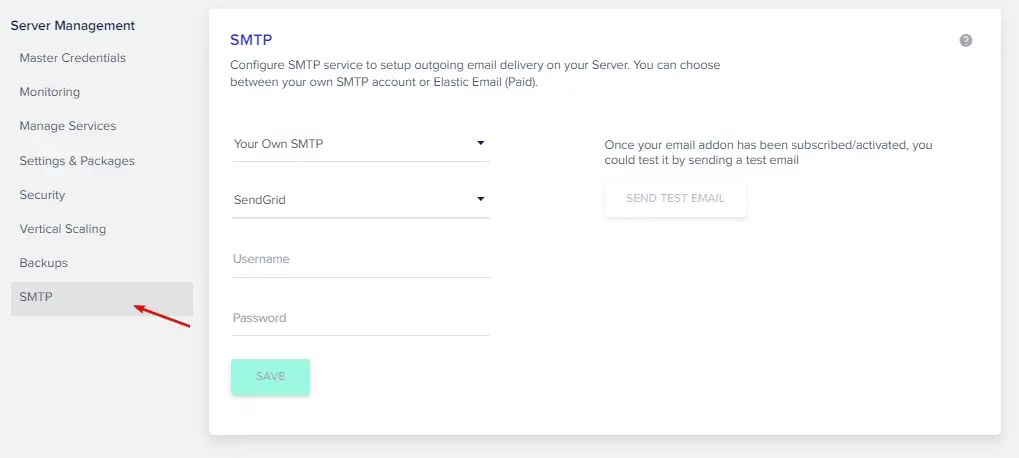 Post Configuration of Application (WordPress)
Now I going to configure the application in my case I installed WordPress when I deployed the server. So, now I am going to configure some credentials and settings that would be very useful for our WordPress website performance.

Access Details or Admin Credentials:
So first, you need to set up your application credentials, you can save the information in a safe place so you can access it easily.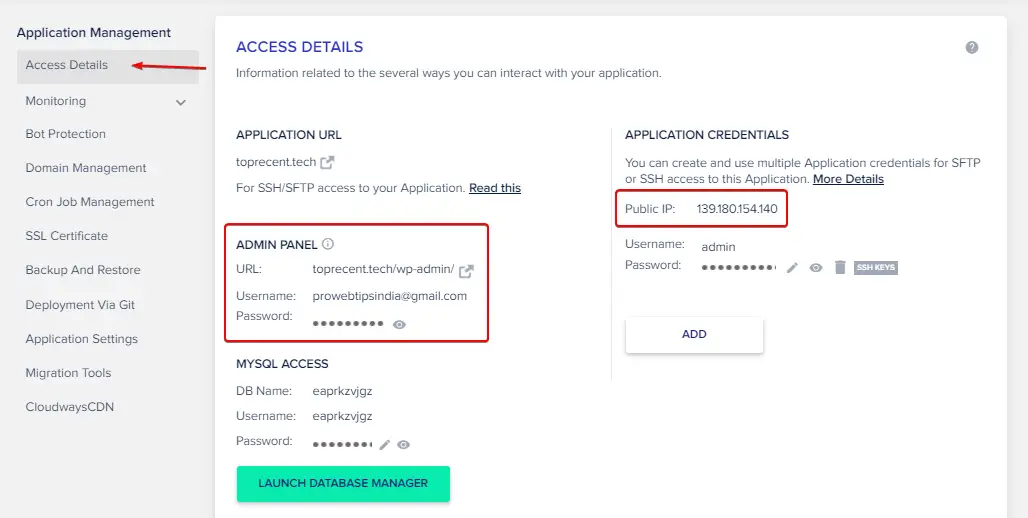 DNS Configuration of Domain Name:
After the access information, you need to manage your DNS on your Domain registrar dashboard, as you can see below in the image, you need to add the server IP address to your DNS management.

Adding Domain Name on Cloudways Control Panel:
Next, need to add the domain name on the Cloudways server so, in the application management, you need to find domain management as you can see in the image. Then add your primary domain name and click on "SAVE CHANGES".

SSL Certificates:
The next step is SSL certificate installation, go to Application Manager then click on "SSL Certificate", now as you can see in the image fill out your Email address and Root Domain name, then click on "INSTALL CERTIFICATE".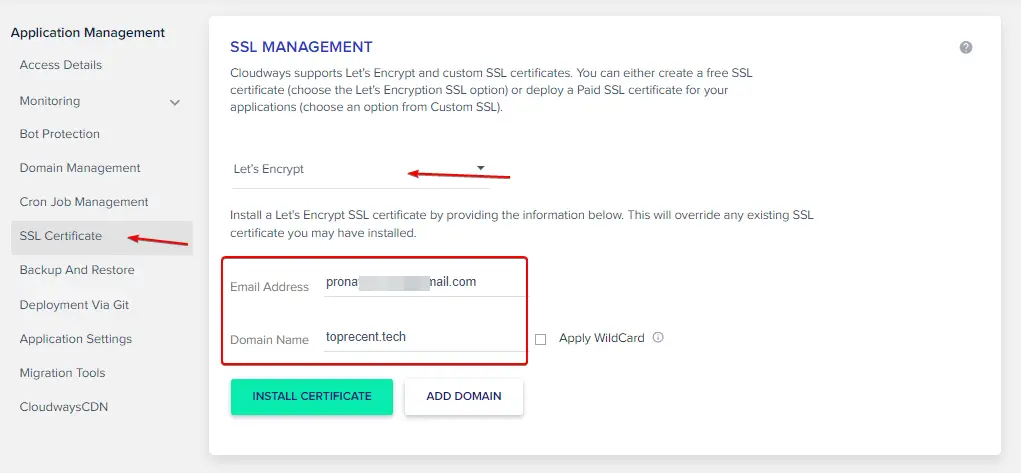 HTTPS Redirection:
The next important setup is HTTPS redirection, if you do not enable this feature then your website will not redirect HTTP to HTTPS and that can affect your website's SEO. So, this setup is useful in terms of SEO.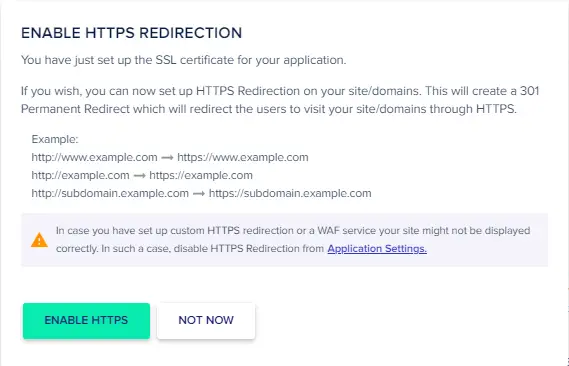 Application Level Backup:
Backup services in Cloudways, I have mentioned earlier that Cloudways has various levels of Backup and restore the system. If you want just backup up your Application then click on Application management and then "Backup and Restore", that you can schedule the timing of backup, and whenever you want you can restore them.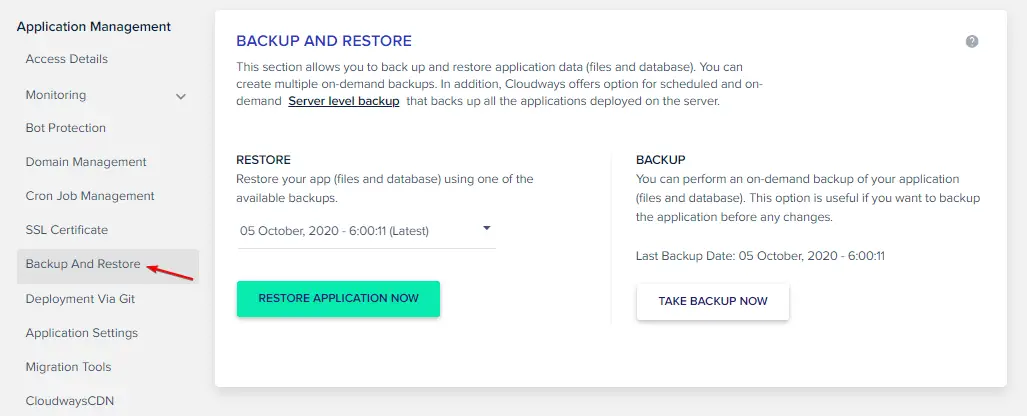 Cloudways CDN:
CloudwaysCDN is optional if you want then you can take the service. CDN service will cost you $1 extra per application for up to 25GB of Bandwidth for a month. If your bandwidth uses is over then you will pay $0.04 per 1GB of Bandwidth.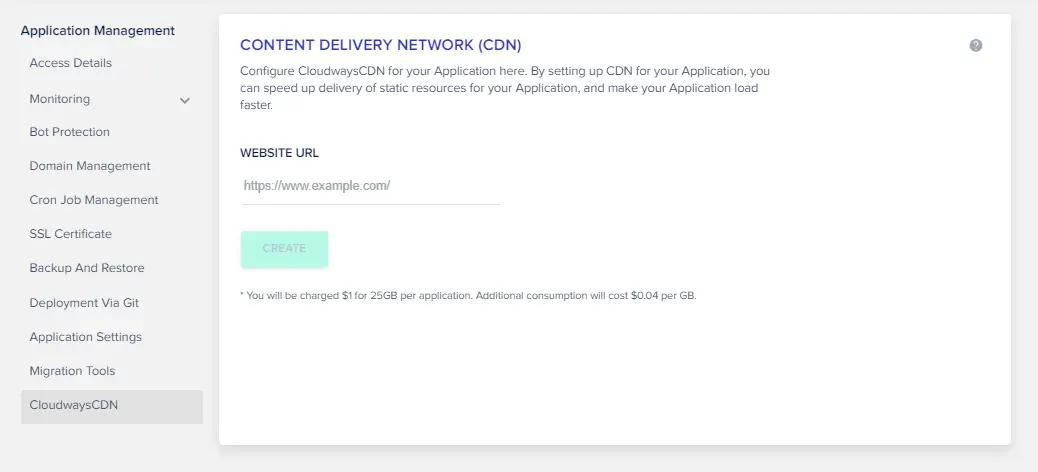 That was the all main application configuration details, after that, you can log in to your application (WordPress) dashboard using your Domain URL.
Login Application (WordPress) Dashboard
So, after all, the configuration you need to log in to your website dashboard when you log in then your application will prompt you to fill in your credentials details which we have already seen in the "Access Details" section.
So, you need to go there and copy your credential data and paste the Application login page, in the username section you need to enter your Cloudways email address.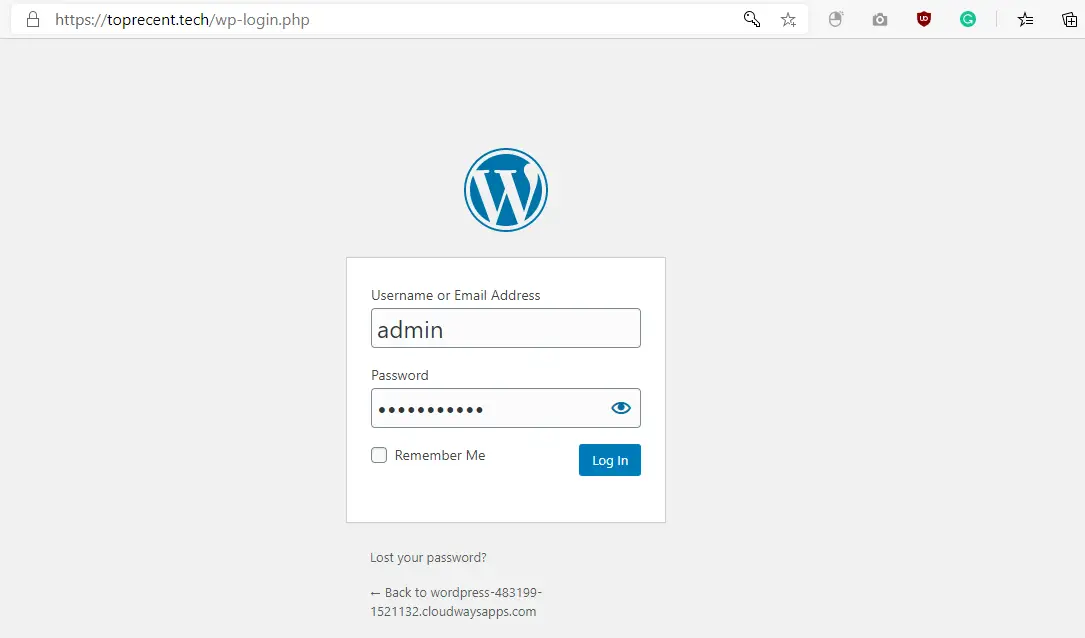 Optimization of WordPress:
After Server and the WordPress installation, then you need to optimize your WordPress website in the front end to get amazing performance. For, this process you need to install two premium plugins and themes, one is WP Rocket, and the second is GeneratePress Premium Theme or Neve Pro.
Must Read:- Full tutorial on WordPress optimization and improving the 2x Speed of the website.
Performance
I have tested the website on all popular speed testing tools like Google PageSpeed Insight Tool, GTMetrix Page Speed tool, and the Pingdom Speed test tool. So, I will share the results with you but before that, I am gonna say, it can be varied according to the Cloud Provider on Cloudways.
I had created two different servers, one was from Digital Ocean and the second was from Vultr Cloud, and the results were very similar, but one server was my pocket saver and the other was a pocket eater. So, let's find out who the pocket eater is and who is a pocket saver.
GTMetrix Speed Test
| | Digital Ocean | – | – | – | Vultr (HF) | – | – | – |
| --- | --- | --- | --- | --- | --- | --- | --- | --- |
| | Page Speed Score | YSlow Score | Load Time | Request | Page Speed Score | YSlow Score | Load Time | Request |
| Initial Speed | 96% | 91% | 3.8s | 13 | 96% | 94% | 4.9s | 13 |
| After Installing Neve Pro Theme and Data | 99% | 98% | 2.4s | 17 | 99% | 96% | 3.4s | 19 |
| After Optimizing With WP-Rocket | 93% | 98% | 0.9s | 18 | 99% | 97% | 1.1s | 23 |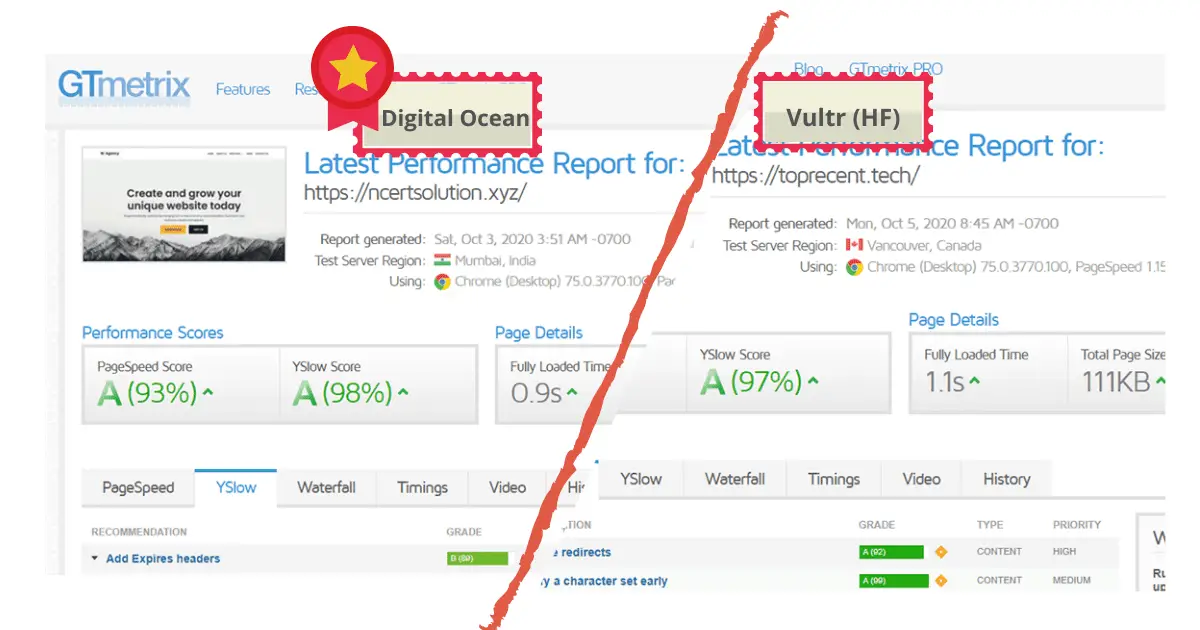 As you can see from the results of both servers which were hosted on the Cloudways platform, one is more expensive than the other if you have already checked the pricing above then I think you know, but if you don't then I going to tell you Vultr Cloud (High Frequency) is expensive than Digital Ocean.
More important thing is that I used the Digital Oceans base variant Server, which is lace with 1GB of RAM and 1 Core of vCPU, and the opposite Vultr Cloud was 2GB RAM with 1 Core vCPU, but when we see the actual result of both of the server Digital Ocean was every test winner.
Google Page Speed Insight
Digital Ocean
Vultr Cloud

(High Frequency)

Initial Speed
100
100
After Installing Neve Pro Theme and Data
85
76
After Optimizing With WP-Rocket
99
98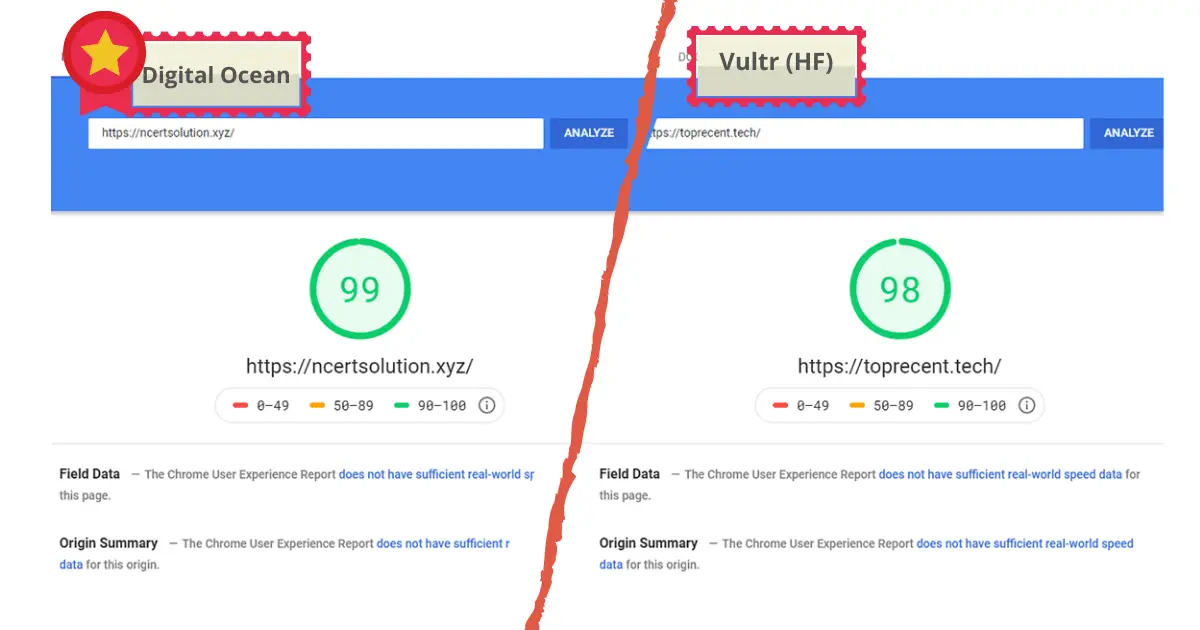 So, there was also the same you can see in the table Digital Ocean is a little bit ahead of Vultr Cloud High Frequency but when we see the specs of the Server then Vultr cloud has more resources than Digital Ocean but pricing has also had a huge difference between them on Cloudways.
The Digital Ocean base plan was about $10 per month and the Vultr Cloud High Frequency with 2 GB of RAM was $26 per month, so that is a huge gap.
Pingdom Final Speed Test (After Optimization)
| | Digital Ocean | – | – | – | Vultr (HF) | – | – | – |
| --- | --- | --- | --- | --- | --- | --- | --- | --- |
| | Performance grade | Page size | Load time | Requests | Performance grade | Page size | Load time | Requests |
| After Optimizing With WP-Rocket | 96 A | 355.9 KB | 658 ms | 18 | 82 B | 131.3 KB | 952 ms | 23 |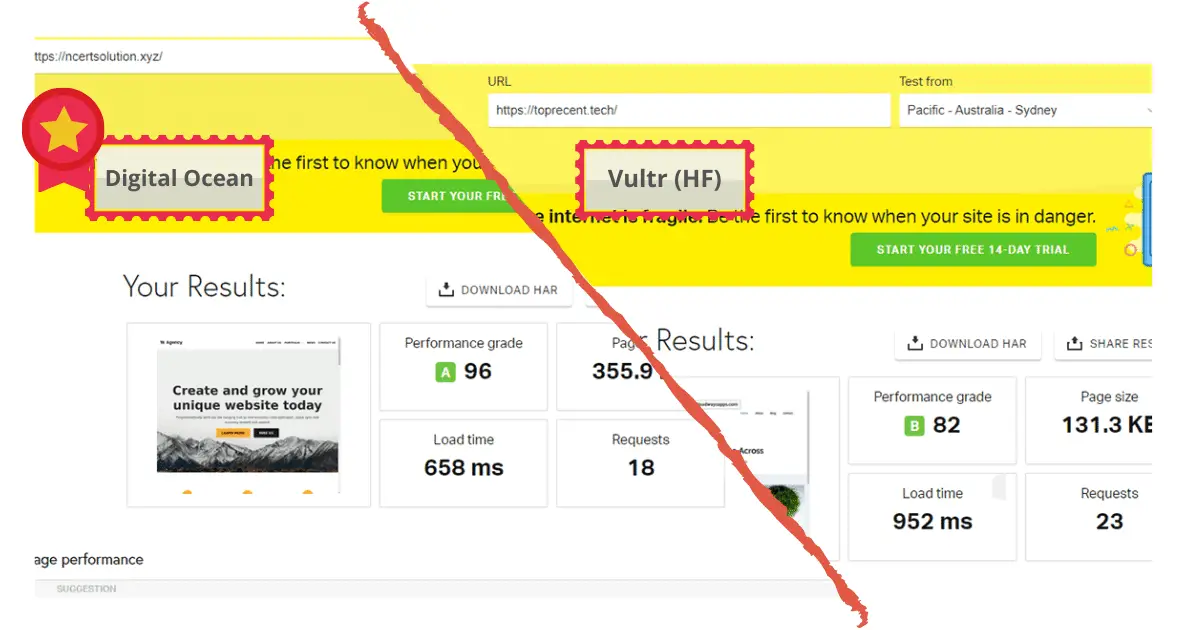 Also, in this Pingdom Speed test, Vultr was far-far away from the Digital Ocean.
Cloudways Offers and Discounts
Cloudways always provides discounts and promos for their services, and you know that their pricing starts from $10 per month and is higher as you choose the server configuration. But for our visitors, you can up to a 5% discount on any plans or products of Cloudways. So, check out the deal, and don't forget to Enter the promo code CLOUD5. We have one more offer if you are looking for an AWS discount then you can get a 10% discount on the Cloudways platform to purchase AWS plans and the coupon code is AWS10. So, forget to enter Cloudways promo code while signup.
By the way, if you just want to try out their services then you can take a trial for 3 days. No need for payment methods to sign up on Cloudways.
Cloudways Review – Conclusion
Cloudways hosting is not beginner-friendly, so if you are a beginner then I suggest you avoid this platform or even any cloud platform because 99% of them aren't beginner-friendly. Because these platforms are expensive if we compare them to the average earnings of beginners.
But if you have established a good business and your earnings are good then without hesitation you can take Cloudway's plan because Cloudways is faster than others, they have the most popular five cloud providers in one place.
They provide inbuilt security and give free SSL certificates and more. Free migration, good support, huge documentation, and mainly easy to access the control panel compared to other Cloud providers.
FAQs about Cloudways
What does Cloudways do?
It is a cloud web hosting provider where you can run your website and cloud application.
How to contact Cloudways?
You can use the chatbot to contact them and you can also contact them through the ticket.
Who owns Cloudways?
Cloudways is a private company and most of the employees are from Pakistan their headquarters is based in Malta.
How to get Cloudways free?
Cloudways gives you three days of a free trial, so you need to visit Cloudways.com and click on Start for free.