Many platforms are providing free Cloud trials, you can use any of them, but in this article, I am going to tell you about a cloud hosting provider that has a worldwide reputation. They don't require a bunch of verifications or documents to activate your account.
I hope you have seen the feature image of the article, yes, that is about Alibaba Cloud. It's a Chinese e-commerce company. They have cloud infrastructures in various locations, like the US, Europe, and Asia, including India. In 2017 Alibaba launched its cloud infrastructure in Mumbai, India.
After the launch, Alibaba provides its cloud services for a free trial basis for individuals and Enterprises. I will talk about that, how to get the free trial.
So let's dive in,
Get set and Sign up for Alibaba Cloud
First, I am going to explain step-by-step how to get the free trial. Then I will talk about the benefits and features of the Alibaba Cloud.
So, there are the biggest highlight of their Cloud services, $450+ benefits for Individual users, and if you are a company, then you would get $1300 over 40+ products. So, start the signup process.
Step – 1. Search Alibaba Cloud Trial on Google
You can search on Google for the Alibaba cloud trial or just go to the Alibaba cloud homepage, as you can see from the image you need to select the free trial.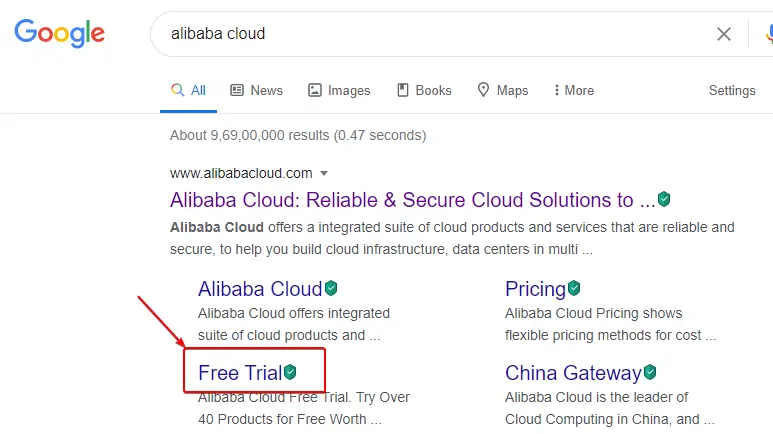 Step – 2. Create an Account on Alibaba Cloud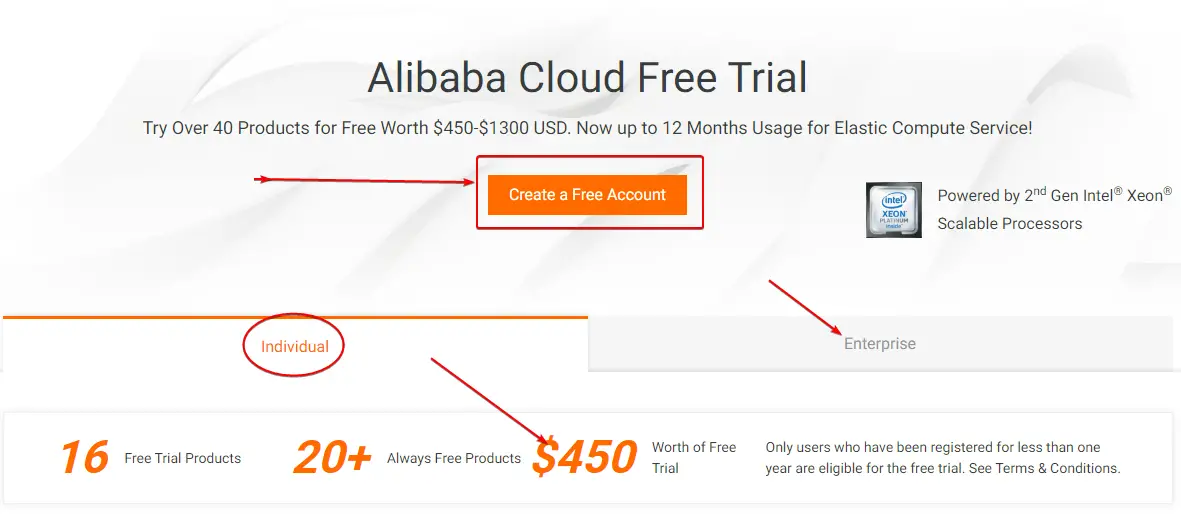 So, guys, as you can see in the image below, you need to do the same procedure. First of all, you need to select your current living country so that you can verify your phone number easily. After that, you need to fill in your login credentials email, and password, and click on the "Confirm" button.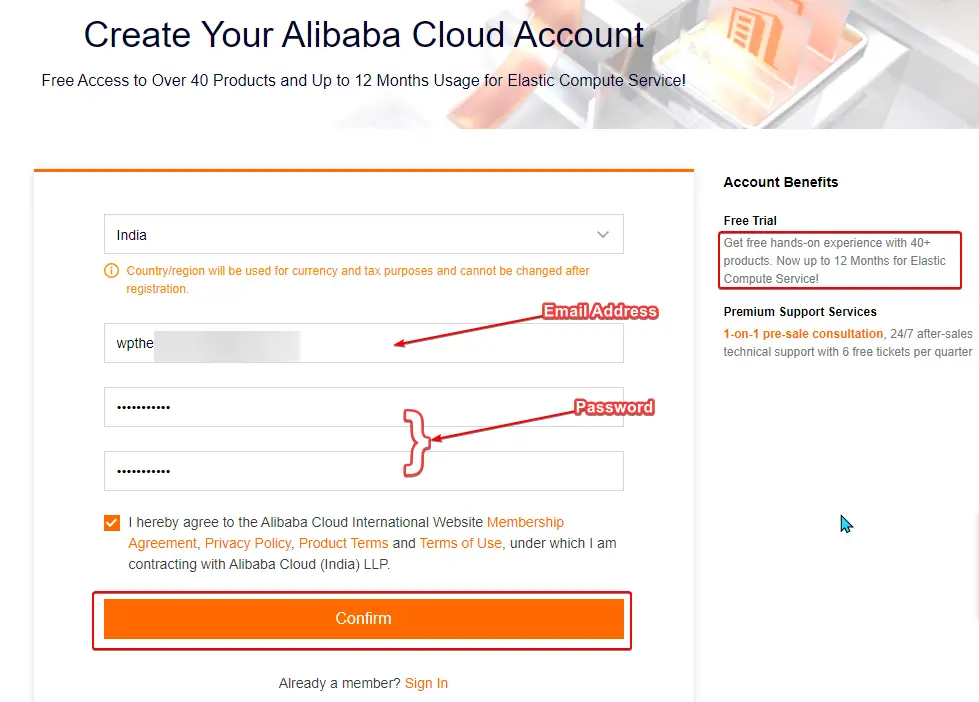 Step – 3. Filling Basic Information on Alibaba Cloud
In this step, you should specify your account type. In simple language, if you are an individual, then select the individual account and proceed to the next level.
If you select the Enterprise account, then you should provide your company information like GST number, etc. So, choose your preferred account type and proceed with the payment option.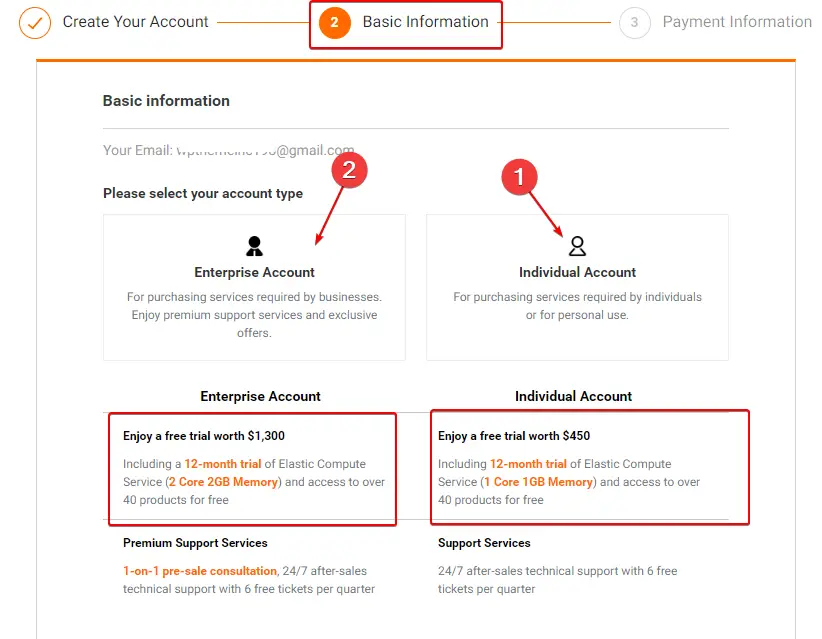 If you select Enterprise Account
If you have an actual company or by chance mistakenly select the Enterprise Account, then as you can see, the image below.
You might fill in all the tax information like GSTIN (Tax Information Number), but you need to upload an economic zone document that specifies whether your company is under SEZ or not. Then click on the "Submit" button and proceed with payment information.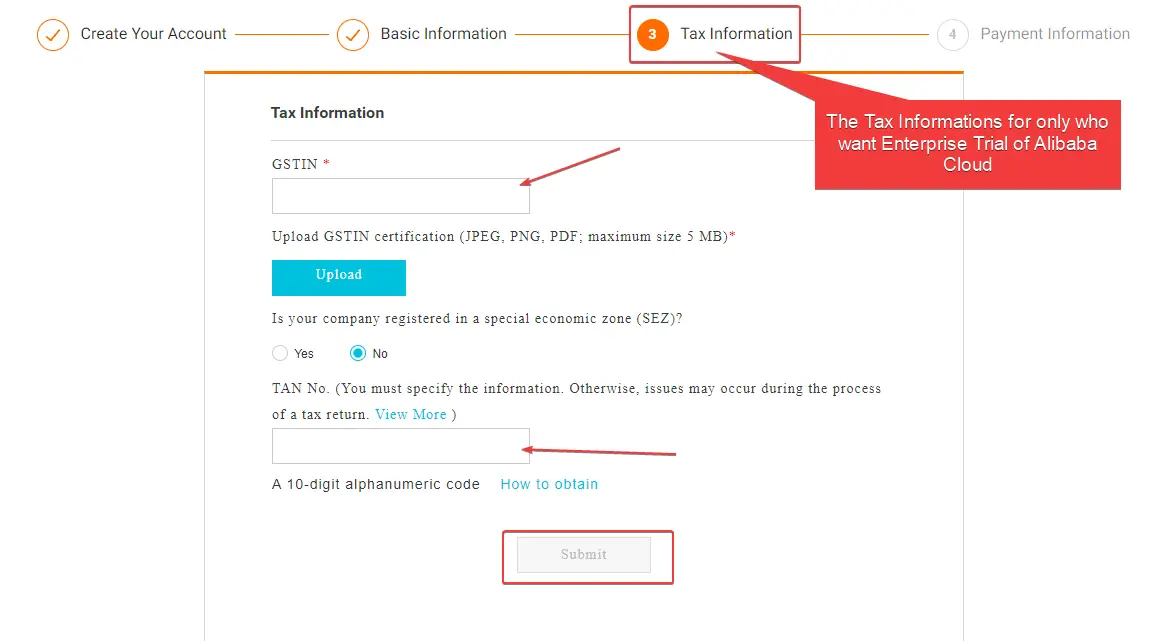 In this case, your account would hold for a while to verify your documents. Still, for the basic trial purpose, I suggest you take the Individual Account, that's enough for a maximum of three website hosting and 100GB of Object storage, and more.
Step – 4. Verification of Your Alibaba Cloud Account
I have already told about that Alibaba cloud has the easiest and the fastest verification process compared to others. In this step, you need to verify your account by email or phone verification.
As you can see in the image below, you will get OTP from Alibaba which needs to be inserted in the verification box. Then simply click on the "Verify" button for the next step.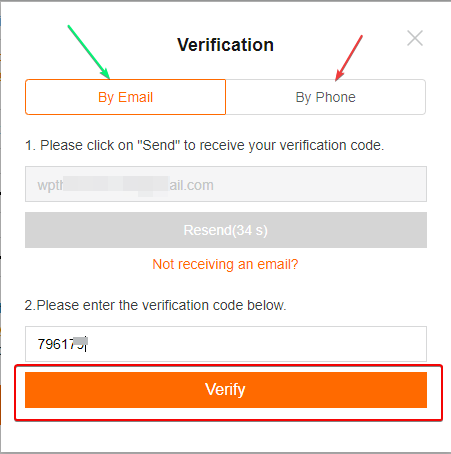 Step – 5. Filling Payment Information on Alibaba Cloud
In this step, you will find two payment options one is PAYTM (only for Indian users), and the second one is the Prepay option. In this Prepay option, you can use your credit or debit card as a payment method.
If you are from India and confused about which option you should consider, the conclusion is that I have already signed up there, and I recommend choosing the PAYTM option. This option is speedy and reliable.
Click the "Bind" button for the next step.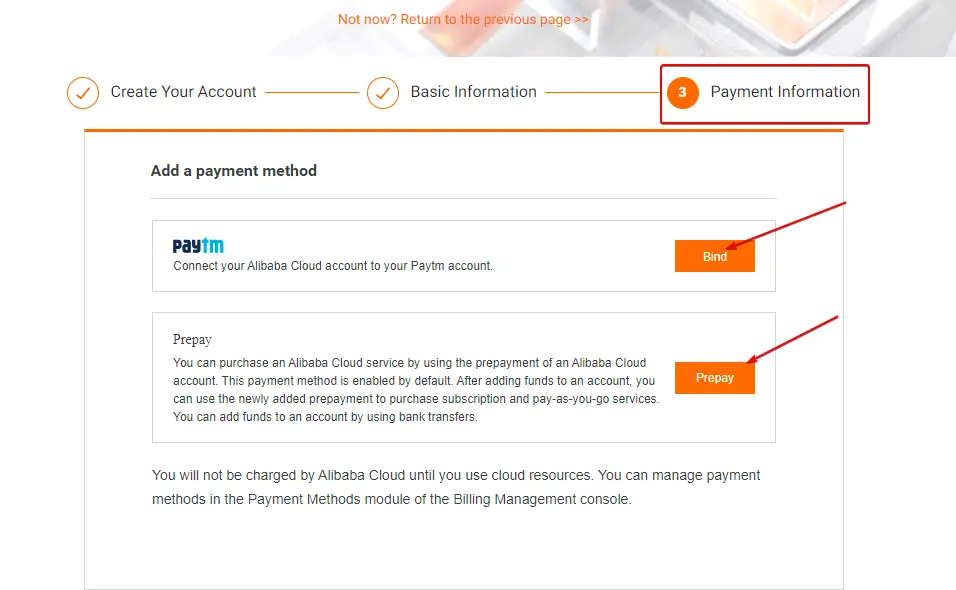 Step – 6. Payment Method Verification for Alibaba Cloud
If you choose the PAYTM payment option, then the interface would look like the image shown below.
As you can see, you need to fill in your Phone Number (Which is already attached with PAYTM), then send the OTP and verify your OTP on Alibaba Cloud.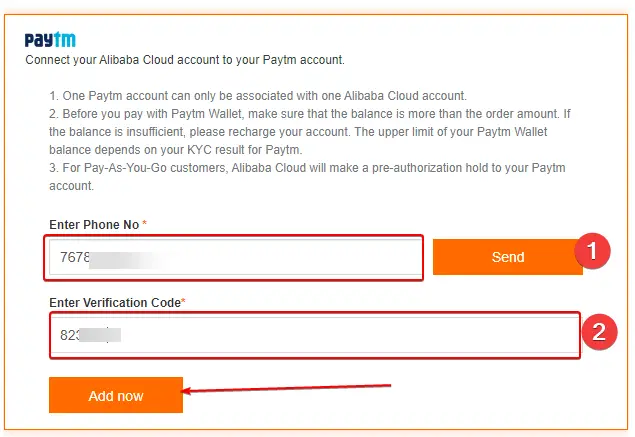 Step – 7. Success Message From Alibaba Cloud
When you have been successfully binding your PAYTM account or any other payment option, you will get a Success message like this. That means your free trial account creation is successful.
Now, what to do?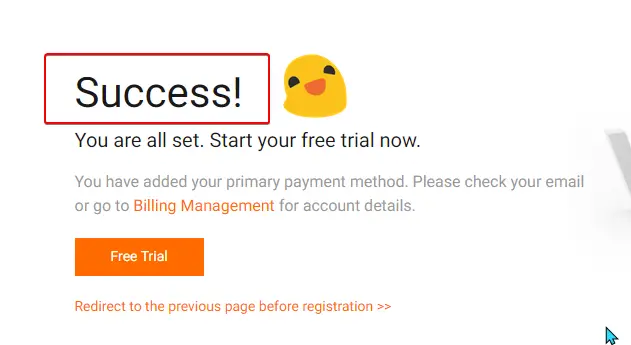 Features and Limitations of Alibaba Cloud
I have mentioned earlier, that if you take the free trial from Alibaba Cloud, then you would get 40+ products worth $450, and if you verify your company details, then you would get up to $1300 worth of benefits in these 40+ various products.
So, let's list out some basic features that you will get on in Individual and Enterprise accounts.
| | Individual Account | Enterprise Account |
| --- | --- | --- |
| Compute Engines* | 1VM (1+1+12mo.) or 1VM (2+2+3mo.) | 1VM (2+2+12mo.) or 1VM (2+4+3mo.) |
| Object Storage | 100 GB | 500 GB |
| Databases | Mongo + Apsara DB for 1Month | Mongo + Apsara DB for 2Month |
| Load Balancer | 50+ GB | 300+ GB |
| Private Emails | 50 Accounts For 1 Month | 50 Accounts For 1 Month |
| Kubernetes Container | Always Free | Always Free |
| Web Apps & Other | Always Free | Always Free |
*Compute Engines (CPU+RAM+VALIDITY)
So, that's was some basic features, which you will get in the free trial duration. It would be beneficial for students, developers, and bloggers who want to take up their business or startup online.
So, guys, there are some limitations, you need to know, you can't deploy more than one compute engine. This compute engine also has some limitations like limited storage of 40Gigs, limited RAM, and CPU. If you choose a higher RAM value instance, then validity would be three months.
Some other popular services are also for a limited time, so keep in mind it is only a trial program if you want more then you should pay them.
If you are a blogger or web designer, then I suggest you take the trial for 12 months and deploy your machine. You can install any kind of Linux-based open-source operating systems like Ubuntu, Debian, and more. Then you can install any CMS for web hosting.
So, let's install a WordPress Application for our website Cloud.
Installing a Virtual Machine for WordPress on Alibaba Cloud
There are many methods to install the latest version of the WordPress application. So in this article, I am going to tutor step-by-step the process of WordPress installation.
When you have successfully created your free trial account on Alibaba cloud, you need to return to the homepage of Alibaba Cloud. Then you should select your preferred type of machine. I have chosen 1 Core CPU with 1 Gig of RAM ECS, which is valid for a year or 12 months. Now, just need to click on the "Try Now" button.

Step – 1. Configure an Os on Alibaba Cloud
When you clicked on the button "Try Now," there will open a popup as you can see in the image below.
Select Your Preferred DATA center or Server Location
Select Disk Size (Default 40GB SSD)
Operating System (Choose any operating system)
Agree with terms and conditions
Click Try Now for Deployment
Note:- In the operating section, you can choose the pre-configured WordPress Application, but they are an outdated version of the container. Either you can select Plesk WebSE (Free Editions). Alibaba Cloud allows replacing your Operating System's Image at any time. So, I am going to do that.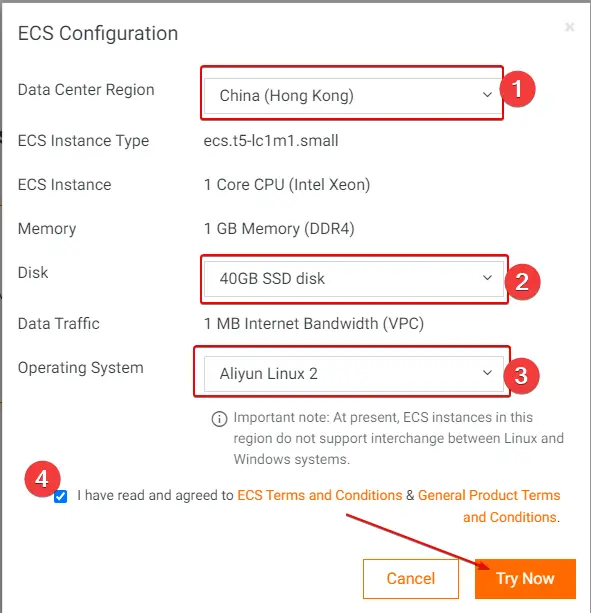 Step – 2. Replace the Operating System Image
In this step, I am going to replace the Operating System's Image with LiteSpeed WordPress's Image. So, the first thing we need is to go Alibaba Cloud console and then the ECS dashboard as you can see in the image below.
Select the compute engine and click on the "Stop" button.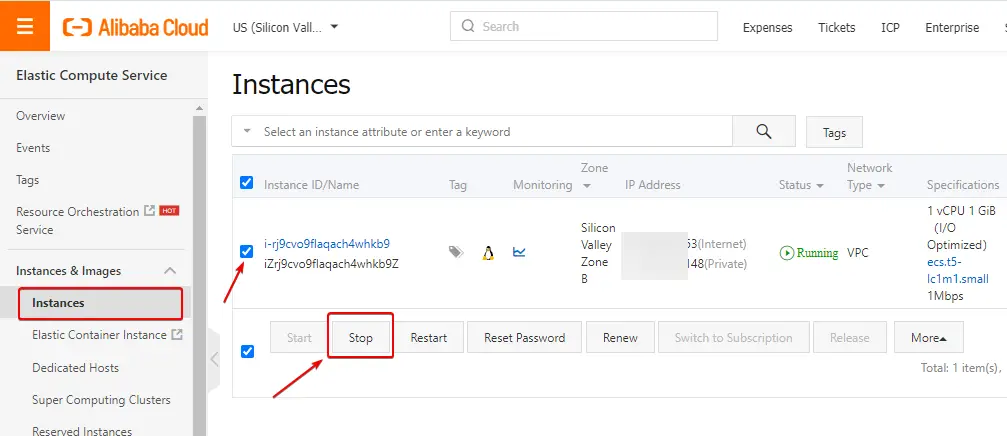 When your compute engine stops, you should click on the "More" button as you can see in the image below.
Now click on "Replace System Disk" for further steps. There will be a popup you should click on yes for replacing your System Image.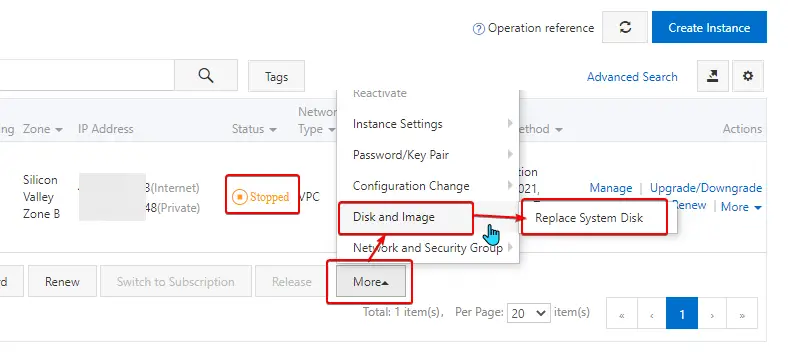 Step – 3. Choose Litespeed WordPress Container
First of all, you need to select Marketplace images and then search for the LiteSpeed WordPress, as you can see in the image below. Now, click on use.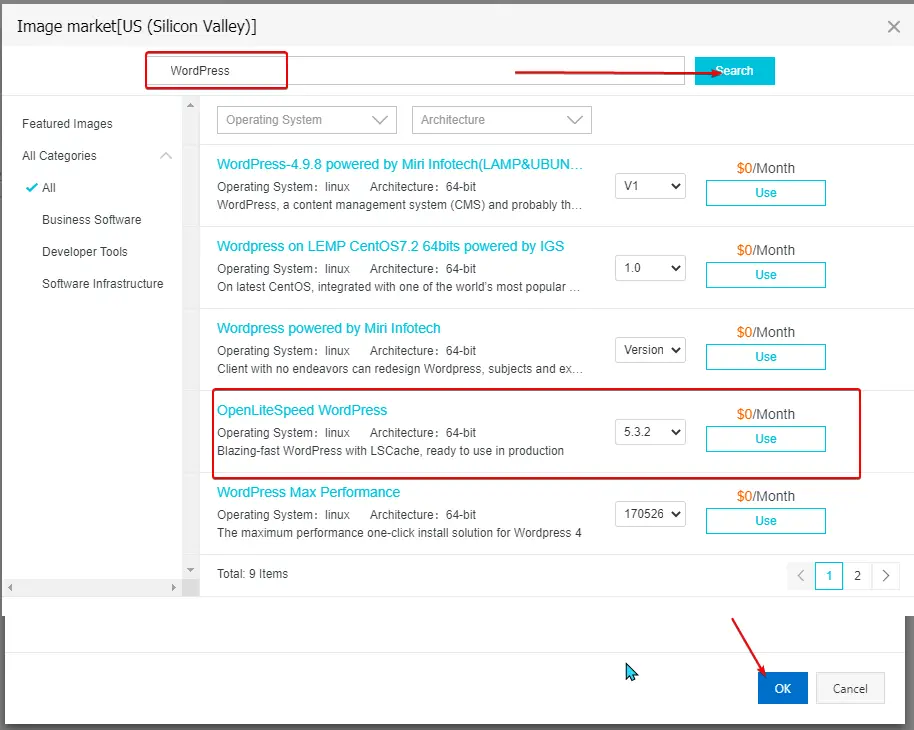 Step – 4. Configure the Credentials on Alibaba Cloud Images
In the security option, you should choose a password for the reliability or if you want better security, then select Key Pairs. In this case, I have chosen a password.
Next, set up your password and agree to the terms and conditions then hit on the OK button.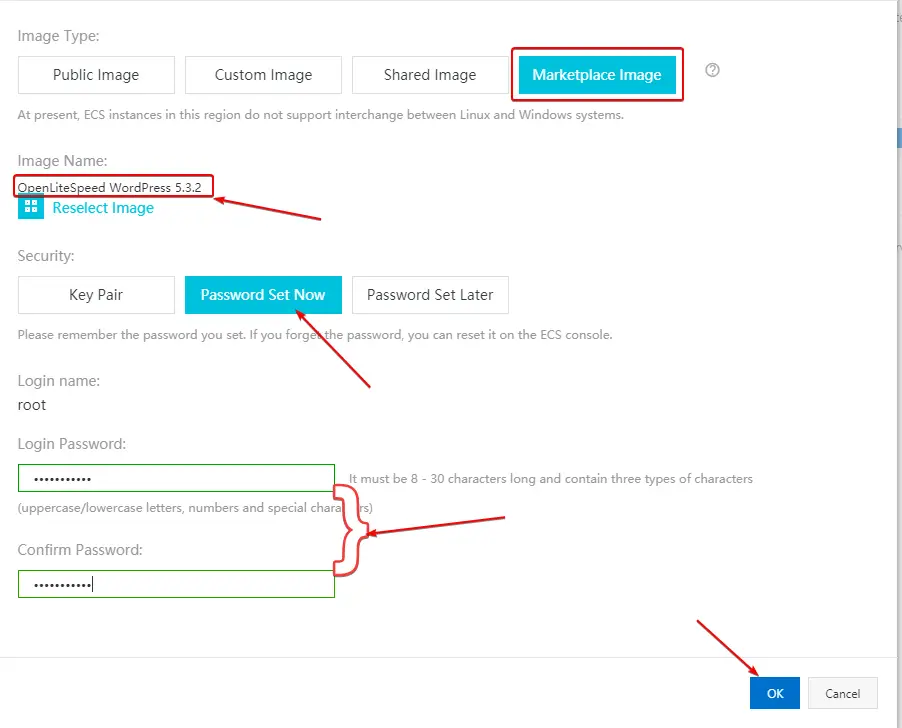 Step – 5. Purchase WordPress Free of Cost on Alibaba Cloud
I have mentioned earlier that Alibaba cloud allows changing OS multiple times, because Alibaba cloud free trial is based on free open-sourced products like WordPress, Linux, and more.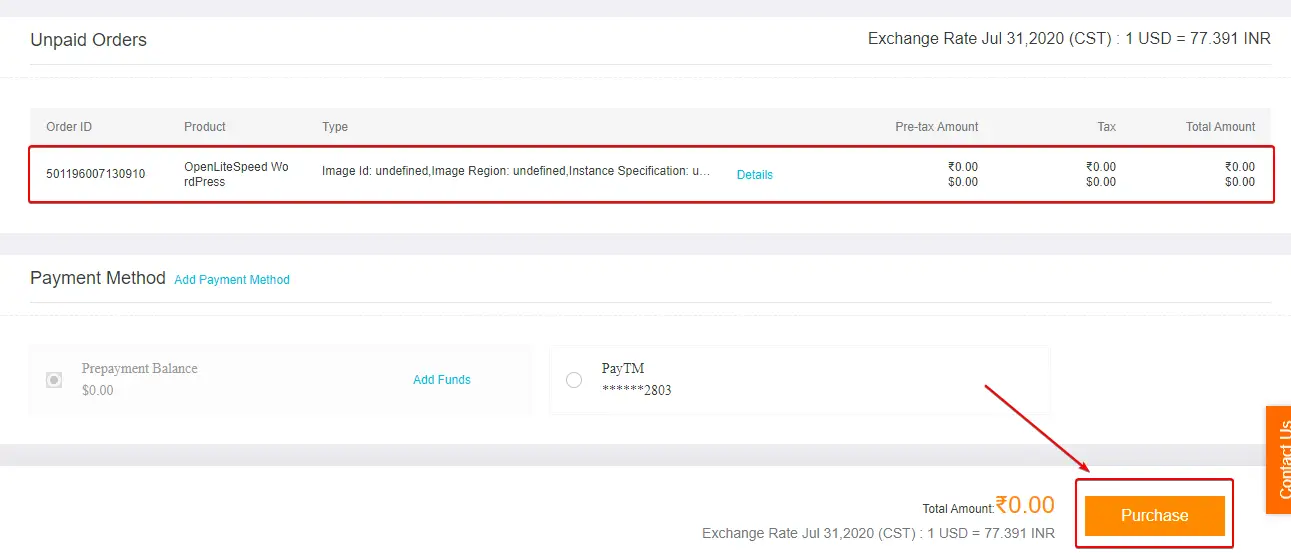 So, simply click on purchase, then you will get a success message from Alibaba cloud.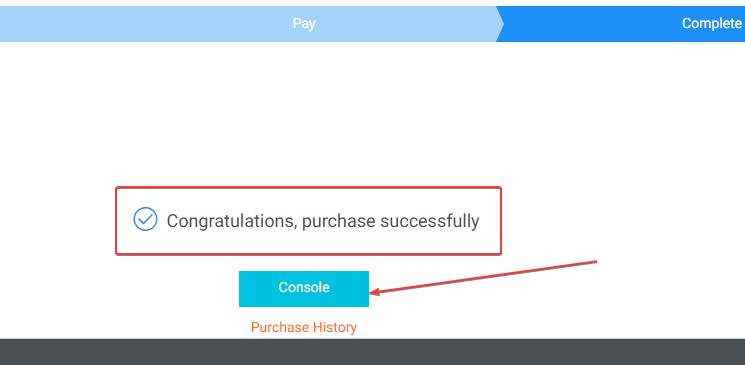 Step – 6. Return to Alibaba Cloud Console and Set Some Rules
Before configuring the domain name with the WordPress application, you should add some security rules for Incoming and Outgoing traffic, or remote SSH access. These security rules are needed to add just for one time.
As you can see in the image below, you need to add custom security rules as in the "Red Box."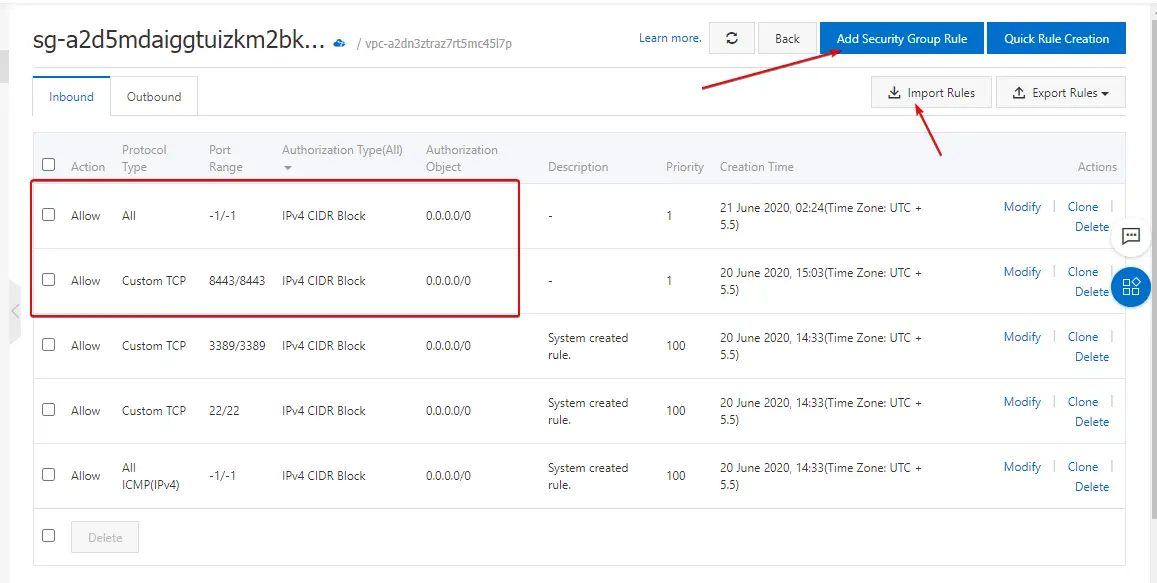 Step – 7. Configure Name Servers or Ip Address
On Alibaba cloud, you can create free cloud DNS, but I have a better alternative for this you should point out your domain name to the Compute engine's IP address, that's it.

I had all my domain names configured on Cloudflare, So don't need to do much. Configuring Cloudflare is good for security reasons and also for getting free CDN services.
Step – 8. Connect Compute Engine With SSH Terminal
There are three methods to connect your Compute engine's terminal, first is the native Terminal on the Alibaba cloud dashboard, which you will find on the ECS dashboard.
The second method is using PUTTY by putting your IP address, and the third method, which I had personally used is the Windows terminal. So, what do you need to do?
ssh –I ~/.ssh/ [email protected]
Hit this command on your Windows terminal. Change xxx.xx.xx.xxx to your compute engine's public IP address.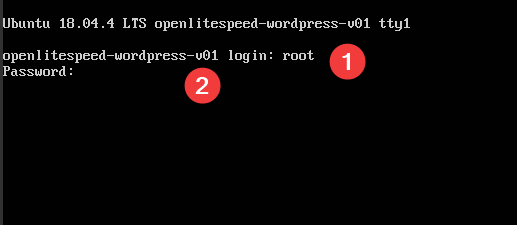 When you connect to the terminal either on Alibaba cloud or Windows terminal need to enter your login id as "root" and the password that you configured earlier.
Step – 9. Configure Domain Name on Compute Engine
Configuring domain names on a Virtual machine or Compute engine is an exceptional part of the WordPress installation. Still, we are going to install the LiteSpeed WordPress container, and this container asks to configure the domain name. (As on the image below.)
Now, after we connect to the terminal and successfully logged in, then the LiteSpeed WordPress CLI looks like this (as in the image below).
Now you need to add your domain and hit enter, then for the confirmation press "Y" and hit enter. Next, if you want an SSL certificate, then press "Y" if not, then "N" and hit enter, and last CLI prompt to update the webserver, so you should press "Y" and hit enter.

Step – 10. Post Configuration of WordPress
In this last step, you need to open your website on the browser, and then you will find the WordPress configuration menu, which prompts you to select a language.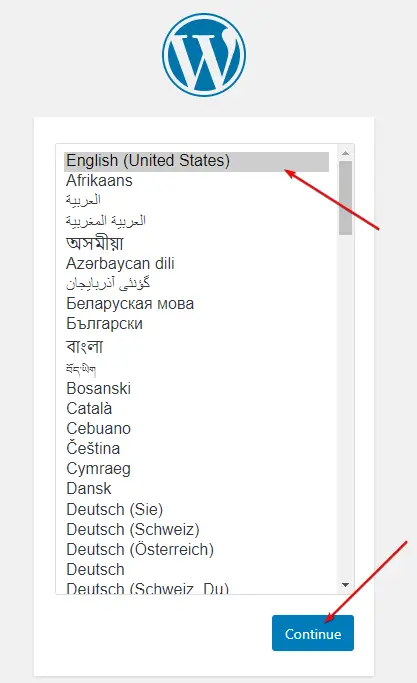 When you select the language and click on continue, you will find the credentials configuration options. You need to fill in all details like Site Name, User Id, Password, etc.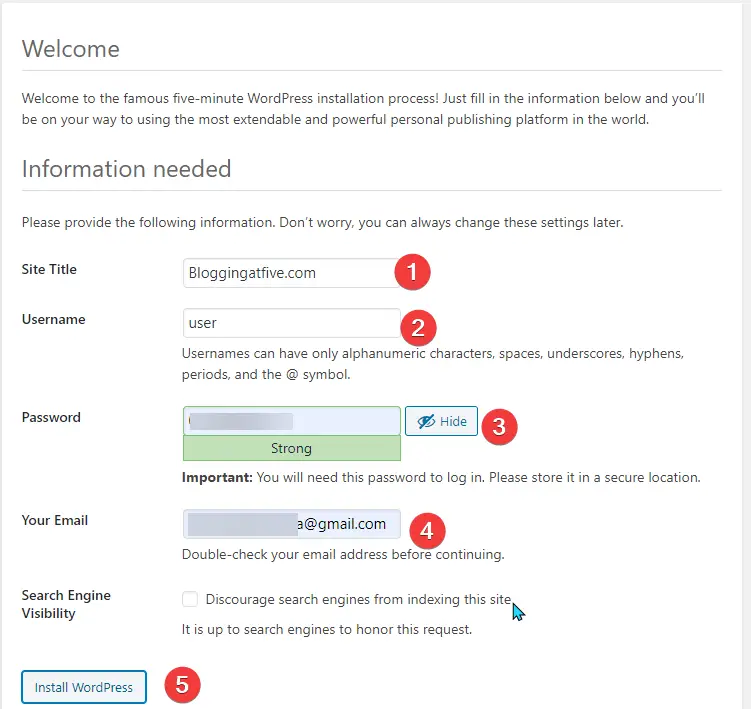 After the configuration of login credentials, you will find a success message, as in the image below. Now you can log in to your WordPress Dashboard.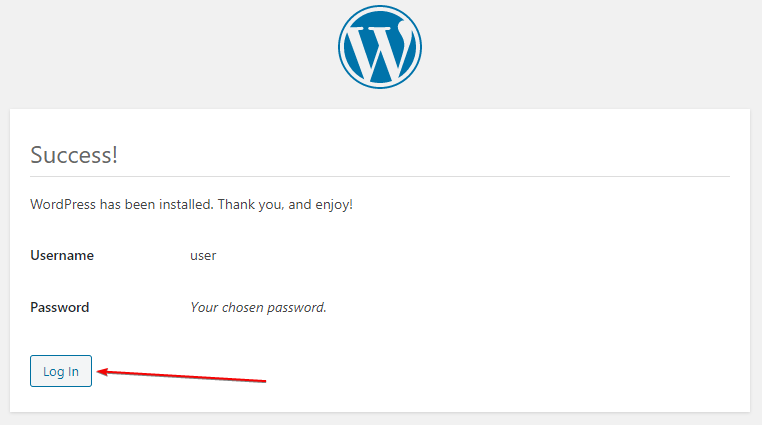 FAQs about Alibaba Cloud
What does Alibaba Cloud do?
Alibaba Cloud is a cloud service provider. Alibaba also does the same as the other cloud providers can do. Alibaba, have Elastic Compute Services (ECS), Web Hosting, Machine Learning, IoT, Big Data, Networking, Security, Storage & CDN, Databases, and other many development services.
Is Alibaba Cloud free?
Not at all, but as other cloud providers give free trials, So Alibaba Cloud gives $450 worth of services for free for an individual and $1300 value of services for Enterprise users. This free trial is only valid for 12 months. They also give about 17 products as free to use with limitations for a lifetime.
Is Alibaba Cloud good?
Alibaba Cloud is good but not so high as AWS, Azure, and Google Cloud. Alibaba Cloud is also cheaper than other cloud providers and easy to use. Alibaba Cloud has its multi-lingual extensive documentation which is a plus point.
Who is using Alibaba Cloud?
Some famous companies are using Alibaba Cloud, like Ford Motors, Air Asia, SAP, Sprint Mobile, China Mobile, Razer Computer, and many other biggest companies are using Alibaba Cloud services.
Who is bigger Amazon or Alibaba?
Amazon is bigger than Alibaba also in their cloud services. Alibaba is the biggest in the Asia continent, but Amazon is way bigger than any other e-commerce company. Amazon's annual revenue is about 88 billion USD, and so there Alibaba's revenue is about 72 billion USD as per the report of Statista.
Is Alibaba like Amazon?
Similar but different in their performance, pricing, and product availability. Amazon is a well-known biggest e-commerce company in the world.
Where is Alibaba located?
Alibaba is a group of Chinese companies, and its headquarter is located in Hangzhou, China. Alibaba cloud then they have servers in different locations over the World.
Is there any free cloud server?
Yes, Alibaba cloud gives one cloud server which has 1GB of RAM, 1Core Intel CPU, and 40Gigs of SSD storage for an Individual user. Signup for Alibaba cloud and get $450 worth of free products for 12 months.
Which is better Alibaba or Amazon?
They both are the best in their way. Alibaba's services are cheaper than Amazon's. But Amazon provides better reliability and performance. So definitely Amazon is better than Alibaba.
How can I get a free cloud?
Alibaba Cloud gives $450 worth of cloud products, you can use them for 12 months and deploy your application, web, and many more things.
How can I delete my Alibaba Cloud account?
There is a simple way to delete the Alibaba cloud account, so in your dashboard, if you have any instances or products launched, you should remove them first. Then go to Account Management > Security Settings and scroll down and the last option 'Delete account.'
Summary
Guys, if you are looking for Cloud Web hosting or any cloud services, then Alibaba cloud is an excellent choice for you, or you can say better alternatives from other leading Cloud providers.
Most of the providers are currently giving their trial for one month, and some are giving a 3-month maximum, but Alibaba Cloud is one of the best Clouds that is offering a year trial service.
This cloud services trial is for only learning purposes, not for any commercial work, because these services have many limitations, and you go beyond the limits, you should pay them. As you know, the cloud services charges are more than a traditional hosting service.
So, if you have any issue with Alibaba cloud or any other cloud, you can comment in the comment box.
Thank You!