Namecheap is an American domain name registration and web hosting company. They are globally known for their affordable pricing on domain names and web hosting plans. Namecheap has more than 1.5 million satisfied customers and a 4.7-star rating out of 5.
If you are looking for web hosting that fulfills your all requirements at an affordable budget price. Then you can consider taking a web hosting plan from namecheap.com. But before you take any action you should read the Namecheap web hosting review.
This article is about Namecheap hosting reviews, and I shared my opinion here, some links are affiliated, if you clicked, then it will redirect to the promoted site.
Namecheap hosting, which I was using since November 2018 and I am going to list down all pros and cons that I have found during my testing. In the last I am going to answer, is it really value for money web hosting?
Pros of Using Namecheap Hosting
Namecheap really stands with some great features, which are lacking in other some registrar, like you will get a free domain, SSL certificates, Hosting migration, free Supersonic CDN, and much more.
Free Migration
Namecheap provides free migration of your existing web hosting to the Namecheap server (free of cost). Namecheap guarantees your website will be migrated within 24 hours, and less than 15 minutes of downtime (DNS resolving time).
Namecheap gives free migration for all hosting plans, so no need to worry if you purchased the base plan, then also you will get free migration.
Free Domain Name
Namecheap provides free TLD domain names free for all hosting plans and also provides huge discounts on popular domain names like .com, .net, etc.
All of the free domains or if you have purchased on Namecheap.com then you will get lifetime free Whois protection and free DNS.
Free Supersonic CDN
Namecheap introduces their premium Content Deliver Network "Supersonic CDN" in early 2020, and if you purchased any hosting plan from Namecheap then you will get fast Supersonic CDN free of cost.
Supersonic CDN is included with a Web Application Firewall, DDoS protection, and SSL integration.
Unmetered Bandwidth
You will get unmetered bandwidth or we can say unlimited data transfer since Namecheap doesn't count the data transfer usages or neither limits any data transfer. You will get unmetered bandwidth in all shared hosting plans.
Free SSL Certificates
Namecheap provides fifty PositiveSSL certificates for your domain and subdomain name. These SSL certificates you will get with any of their shared hosting plans. When you add a domain name or subdomain, the PositiveSSL certificate will automatically configure.
30-day Money Back Guarantee
Namecheap gives you the option to get your money returned in case you are not satisfied with Namecheap's products and services. You will have a 30-day money-back guarantee after purchasing the Hosting plan from Namecheap.
Affordable Price
Namecheap always is known for its affordability and cheaper price than competitors. They provide lots of premium things as freebies.
24*7 Chat Support
Namecheap provides 24*7 live chat support for your technical or any kind of difficulties. They have huge documentation for tutorials of their products and services.
Decent Load Time
I have been using Namecheap shared hosting since 2018 and I have recorded several up-down stats of Namecheap hosting server response.
Cons of Using Namecheap Hosting
Namecheap has two serious issues with its shared web hosting services, so I am going to elaborate on these two issues.
Server Up-time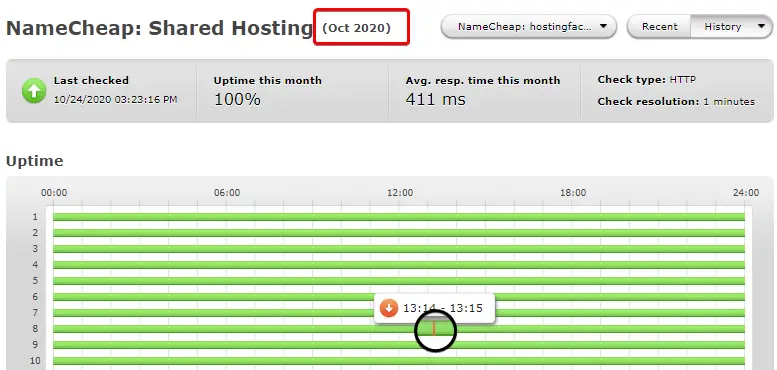 Nobody likes to have their website down, even your visitors would not like to come back to your website. In such a situation, you will not find any mention on the Namecheap website, what is the percentage of server uptime? But, since 2018 we have tracked the uptime of the Namecheap server, and we have gotten about ⁓ 99.90%.
In this month (till 24, October 2020) we have got 100% uptime according to Pingdom, and a downtime of a single minute.
There was only one downtime in this month, but we have faced a lot of downtime ranging from about 5 to 10 minutes since 2018.
Average Uptime of Namecheap Hosting Since January 2020:
October 2020 Average Uptime:

100%

September 2020 Average Uptime:

99.93%

August 2020 Average Uptime:

99.91%

July 2020 Average Uptime:

99.99%

June 2020 Average Uptime:

99.99%

May 2020 Average Uptime:

99.98%

April 2020 Average Uptime:

100%

March 2020 Average Uptime:

99.99%

February 2020 Average Uptime:

99.99%

January 2020 Average Uptime:

100%
Priority Support for Customer
Usually, Namecheap provides 24*7 live chat support for everyone, but not everyone gets high-priority support. So, that is a negative point of Namecheap hosting. For getting high-priority support you need to purchase Stellar Business Shared Hosting which is based on Cloud.
Namecheap Pricing & Plans of Shared Hosting
Namecheap has three different shared hosting plans with different specifications.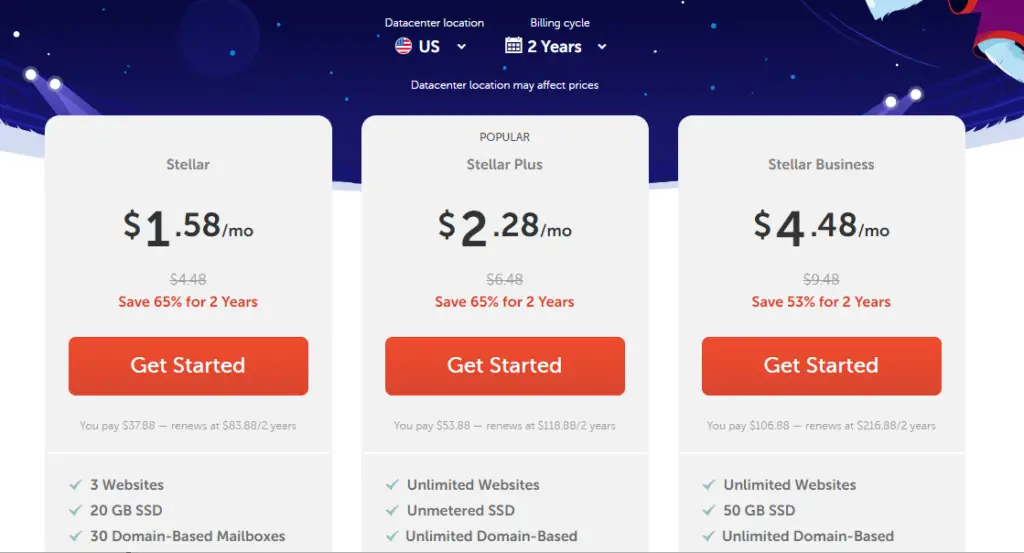 Stellar
Namecheap's base shared hosting plan is Stellar, this is the cheapest shared hosting plan compared to other popular hosting providers.
You can host up to three websites with unmetered bandwidth, this plan starts at $1.58 per month, the first two-year cost would be $37.88, and the renewal price will be $83.88 for the next two years.
Stellar Plus
This is the most popular shared hosting plan on Namecheap, this plan starts at $2.28 per month and the first two-year cost would be $53.88 and after two years the renewal price will be $118.88 for the next two years.
In this plan, you can host unlimited numbers of websites with unmetered bandwidth. In terms of resources, this plan has more than the base Stellar plan.
Stellar Business
This plan is Cloud-based shared hosting with limited storage of 50 GB of SSD with unmetered bandwidth. This plan starts at $4.48 per month, and if you buy this plan, then you will get at $106.88 for the two-year term, and the renewal price will be $216.88 for the next two years.
Features and Specifications of Namecheap Hosting
| | Stellar | Stellar Plus | Stellar Business |
| --- | --- | --- | --- |
| Storage | 20 GB SSD | Unmetered SDD | 50 GB SSD |
| Files (Inode) Limit | 3,00,000 | 3,00,000 | 6,00,000 |
| Bandwidth | Unmetered | Unmetered | Unmetered |
| Websites | 3 | Unlimited | Unlimited |
| Backups | Twice a Week | Twice a Week + Auto | Twice a Week + Auto |
| Emails | 30 | Unlimited | Unlimited |
| Databases | 50 | Unlimited | Unlimited |
| Priority Support | – | – | Yes |
| Free Migration | Yes | Yes | Yes |
| Free Domain | Yes | Yes + Discounts | Yes + Discounts |
| Free SSL | Yes | Yes | Yes |
Namecheap Plans & Features (Updated Dec. 2022)
There are whole more features on Namecheap shared hosting, so check out the details.
cPanel Overview of Namecheap Hosting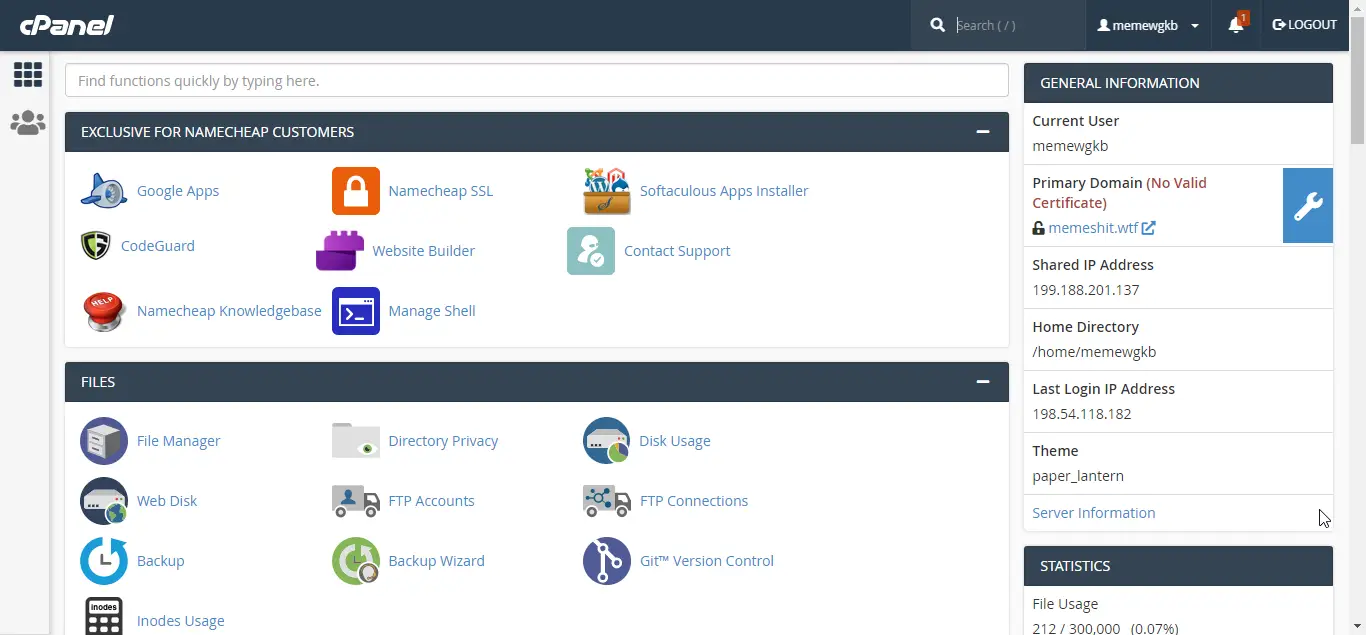 Namecheap gives you to use the traditional cPanel, and this cPanel is widely used for managing your websites and web applications. This cPanel is included with all basic necessary items like File management, Email management, Database tool, Security management, and Sofaculous App installer. And the right side you can see detailed information about your hosting resources.
Having a full-fledged cPanel in this kind of shared hosting platform is amazing, by-the-way this cPanel is very user-friendly compared to the other custom control panel. So, that is a plus point for Namecheap hosting and for their users.
WordPress Installation in Namecheap Hosting
Namecheap cPanel gives you to install more than hundreds plus one-click applications. No need to create databases and then the configuration. Softaculous app installer has all features just you need to select your desired app like WordPress, Joomla, or Magento.
Now we are going to see, how we can install WordPress on Namecheap hosting.
Step – 1. Click on Softaculous App Installer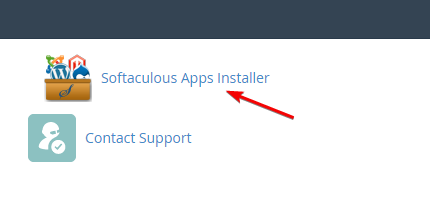 After login, in the cPanel dashboard, you will see the "Softaculous Apps Installer" in the first section, and you can also find the one-click applications by scrolling down to the bottom of the cPanel dashboard.
Step – 2. Click on WordPress and Select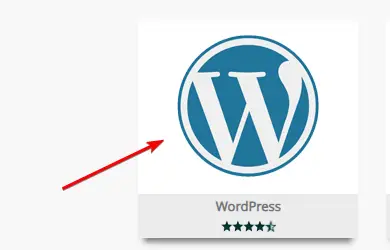 Select the WordPress application, which you will find on the first page. Select or click on "Install" and then a new page will open.
Step – 3. Fill in the Credentials and the basic information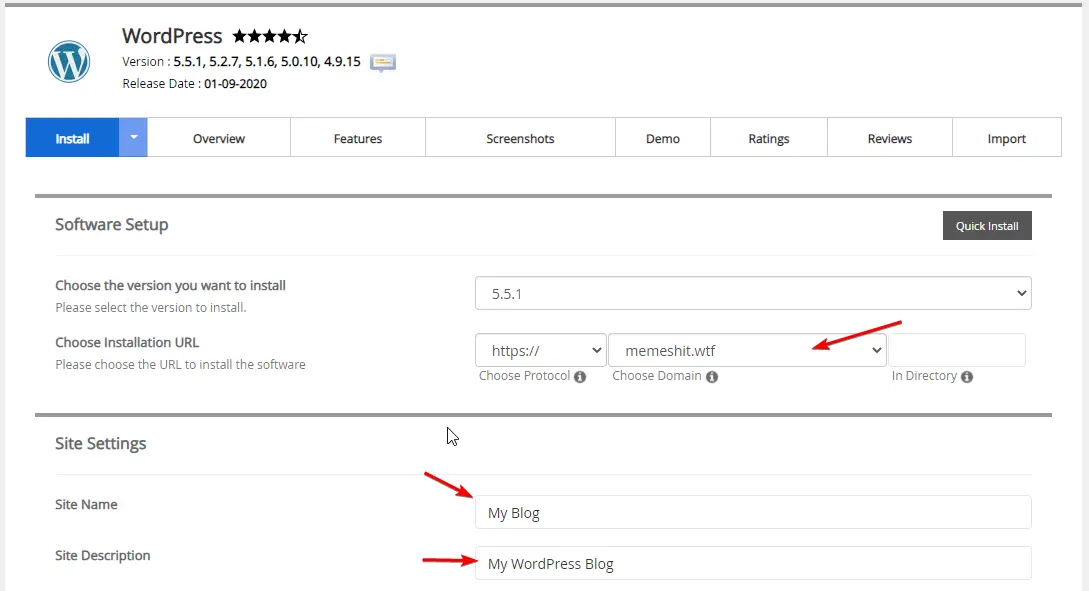 Fill in all credentials like Domain URL, Site name, Site description, username, password, etc. After filling in all information, you'll see the "Install" button at the last of the page, click there and in a few seconds, your WordPress website installation will complete.
Performance of Namecheap Hosting
Namecheap shared hosting is good in terms of affordability, but performance is not good as other premium shared hosting like HostGator or A2hosting.
But when I optimized WordPress with WP Rocket caching plugin the load time is getting far better than usual, I used some free caching plugins but, not as good as WP Rocket.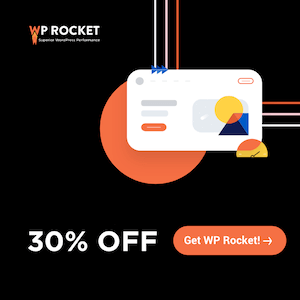 Is Your WordPress Website Slow & Getting Poor Page Speed?
Check out the WP Rocket Caching plugin for WordPress. Improve the Website's Page Speed & Core Web Vitals.
I have recorded some overall speed test results from various speed test tools like GTMetrix, Google Page Speed Insight, and Pingdom.
GT Metrix:

Page speed Insight:

Pingdom Tools:

As you can see in the images above, all three results are very similar, and these results you would get if you install WP Rocket caching plugin.
FAQs
Is Namecheap good for hosting?
Yes, Namecheap is good for web hosting, in terms of affordability. Very good for new blog users or developers.
Which is better Namecheap or GoDaddy?
Namecheap is better than GoDaddy in terms of pricing, and performance is very similar.
Is Namecheap a US company?
Yes, Namecheap is a US company, based in Phoenix, Arizona, US.
Does Namecheap hosting come with SSL certificates?
Yes, Namecheap gives 50 SSL certificates for 1 year with their shared hosting plans.
Conclusion
Namecheap is a very popular domain and hosting registrar, you can find amazing deals and offer in case of new purchasing or renewal. If we talk about shared hosting then it is very affordable, but performance and server-up timing are not so great.
If you are a newbie blogger or website developer, then you should check out Namecheap's affordable web hosting plans. Check out the amazing deals the Black Friday sale is coming so grab the awesome deals and offers.