Ahrefs are a top-rated SEO tool, which SEOs and marketers around the world trust. Ahrefs SEO Tool is an ultimate marketing toolset to research keywords, content marketing, link building, etc.
Ahrefs Pricing


Ahrefs is a paid tool, and its monthly price starts at $ 99. There are four different pricing plans on Ahrefs, and Ahrefs offers a trial for seven days at $7. In this article, I have written details about all pricing plans and features.
| Features/Plan | Lite | Standard | Advanced | Agency |
| --- | --- | --- | --- | --- |
| Users | 1 User | 1 User | 3 Users | 5 Users |
| Site Audit | 10,000 Crawl | 500,000 Crawl | 1.25 million Crawl | 2.5 million Crawl |
| Rank Tracker | 500 Keywords | 1,500 Keywords | 5,000 Keywords | 10,000 Keywords |
| Site Explorer | 175 Domains | 700 Domains | 1,700 Domains | 7,000 Domains |
| Content Explorer | 350 Reports | 700 Reports | 3,500 Reports | 17,500 Reports |
| Keyword Explorer | 175 Keywords | 700 Keywords | 1,400 Keywords | 7,000 Keywords |
| Alerts | 5 emails | 15 emails | 40 emails | 100 emails |
| Extra Tools | Batch analysis | Batch analysis | Batch analysis | Batch analysis |
| Pricing | $99/m | $179/m | $399/m | $999/m |
Ahrefs Tools
As I mentioned earlier, Ahrefs is an SEO toolset in which all popular marketing-related tools are available. Ahrefs SEO tools are helpful for any business work and for dominating your competitor on the Internet.
If you know a bit of 'Search Engine Optimization,' you do not need to hire any SEOs. By using tools like Ahrefs, you can optimize your business or blogs for search engines.
Ahrefs are not entirely free, and for better research and website optimization, you will have to purchase a paid plan for Ahrefs. Some can use the free tools provided by Ahrefs for general research. You can learn more about free tools below.
Site Explorer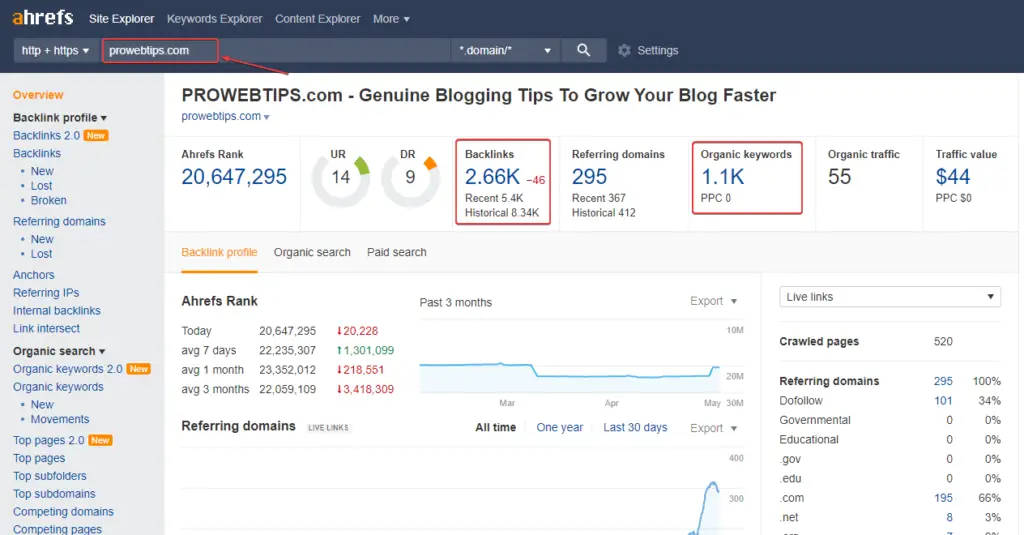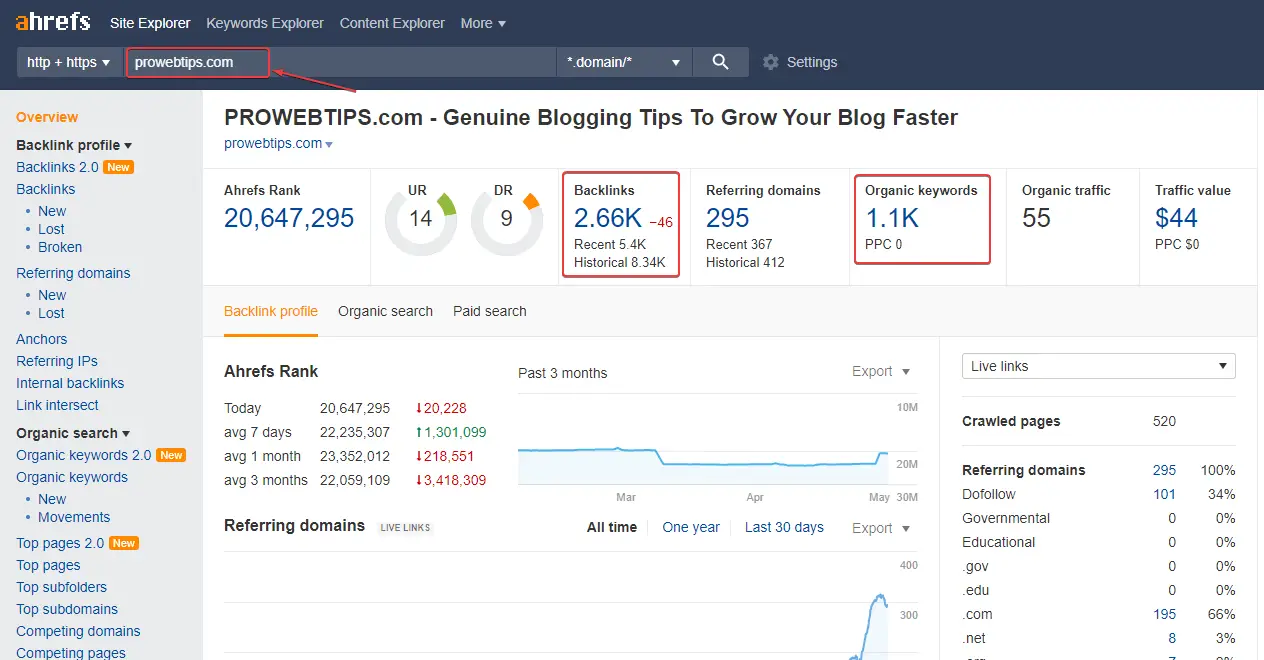 Using the Ahrefs Site Explorer tool, you can do an in-depth analysis of any website or URL. There you will get insight into the website's organic traffic, organic keywords and backlink profiles.
Keyword Explorer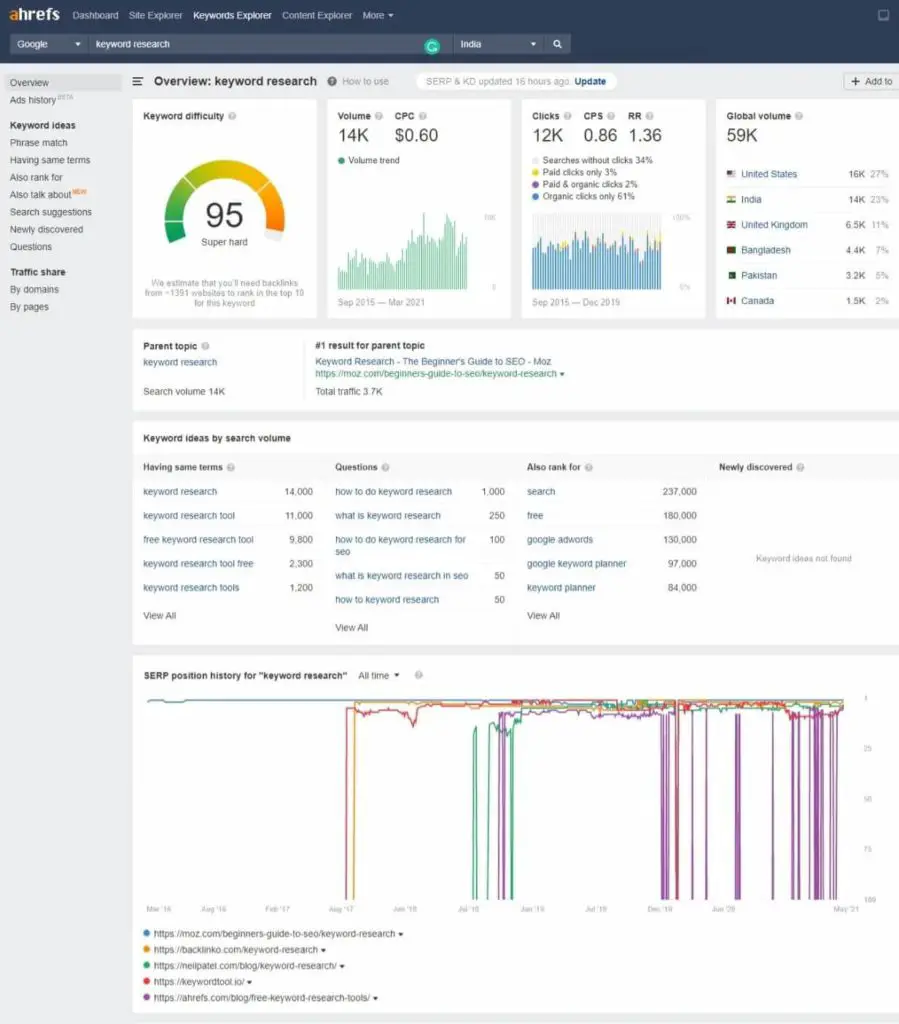 Keyword Explorer is a magic tool, you have to enter a keyword, and you will get thousands of keywords suggested to the main keyword. This tool does not just suggest keywords only. It also tells which pages are on the first page of Google search. First, when you search the keyword, you will find keyword difficulty (KD), keyword search volumes, clicks and CPC (Advertiser Click per cost), and Global volumes, including top countries.

Google isn't only the search engine here, and the best thing is that Ahrefs can estimate keywords from ten different search engines like YouTube, Bing, Amazon, Baidu, and more.
By the way, when you search a keyword, the Keyword Explorer tool shows the parent topic of the keyword, and by clicking on the parent topic, you can get more vast ideas about the subject and your keyword.
Site Audit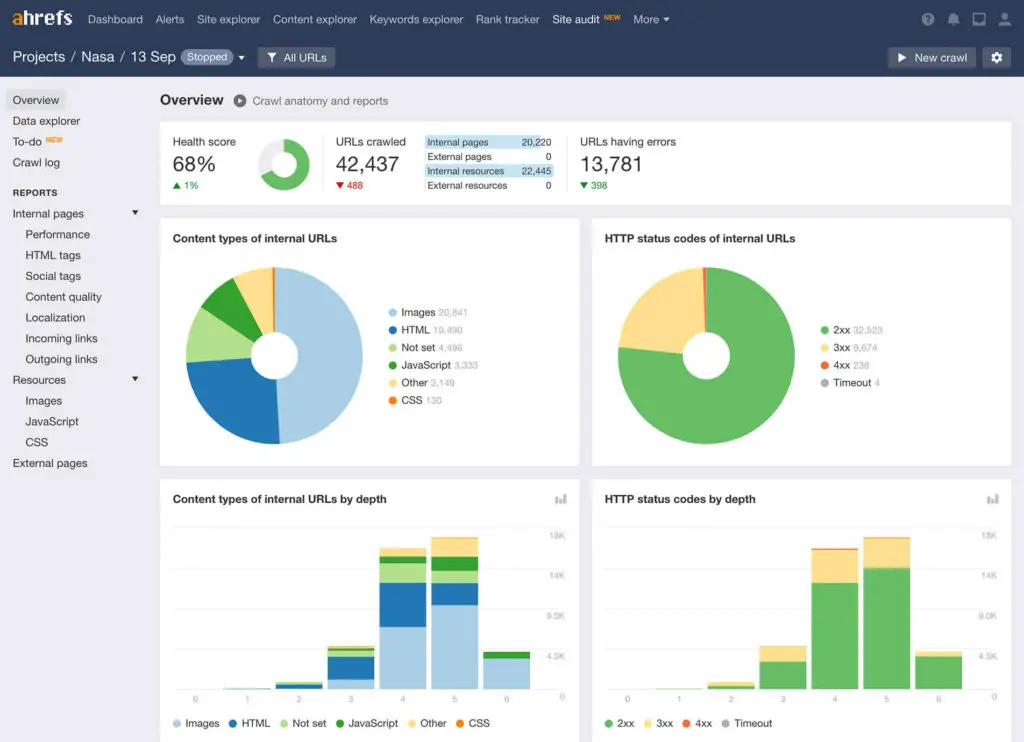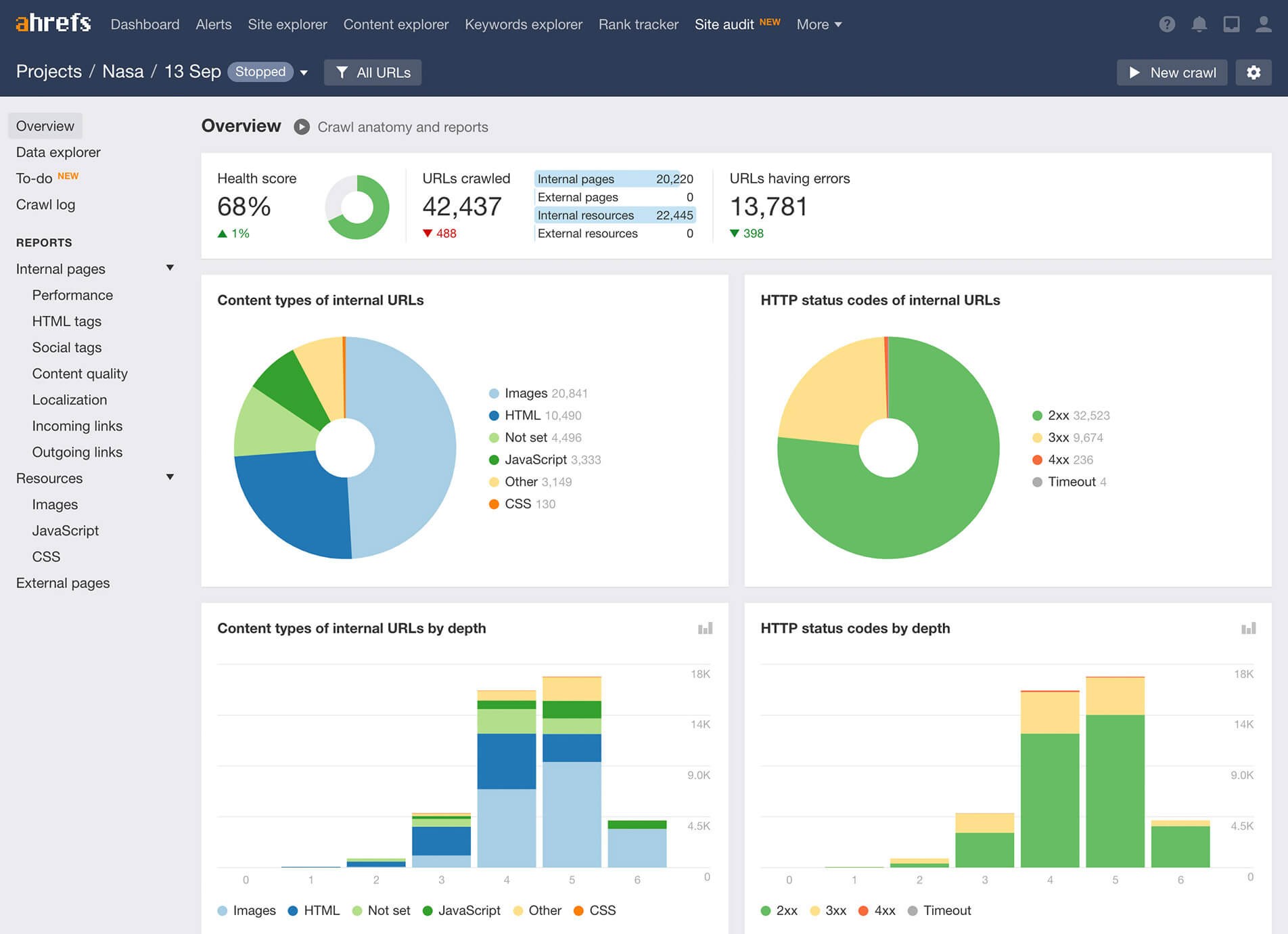 Using the Ahrefs Site Audit tool, you can analyze website performance, HTML tag errors, Content quality, Links, Resources issues, etc. 
Recently Ahrefs launch a free tool name AWT (Ahrefs Webmaster Tool). Using this tool, you can audit your websites; however, there are limitations of uses. In case you are a paid member of Ahrefs, then you can use it without any limits.
You can use custom rules of filters to analyze technical SEO. Ahrefs have a robust data explorer, so you can set numerous parameters and explore every bit of pages.
Rank Tracker


Ahrefs Rank Tracker tool is beneficial for tracking keyword positions and SERP results, etc. 
Monitor Keywords Ranking
Compare Performance against competitors
Content Explorer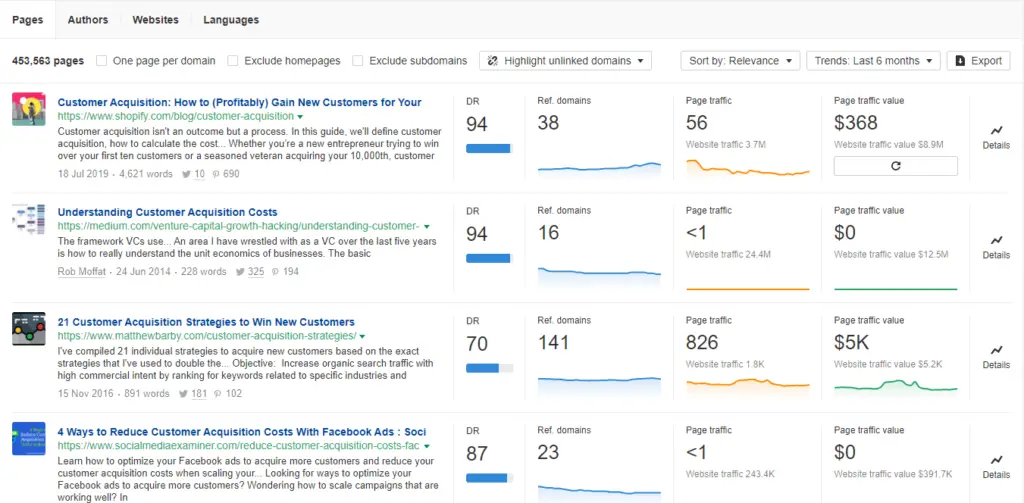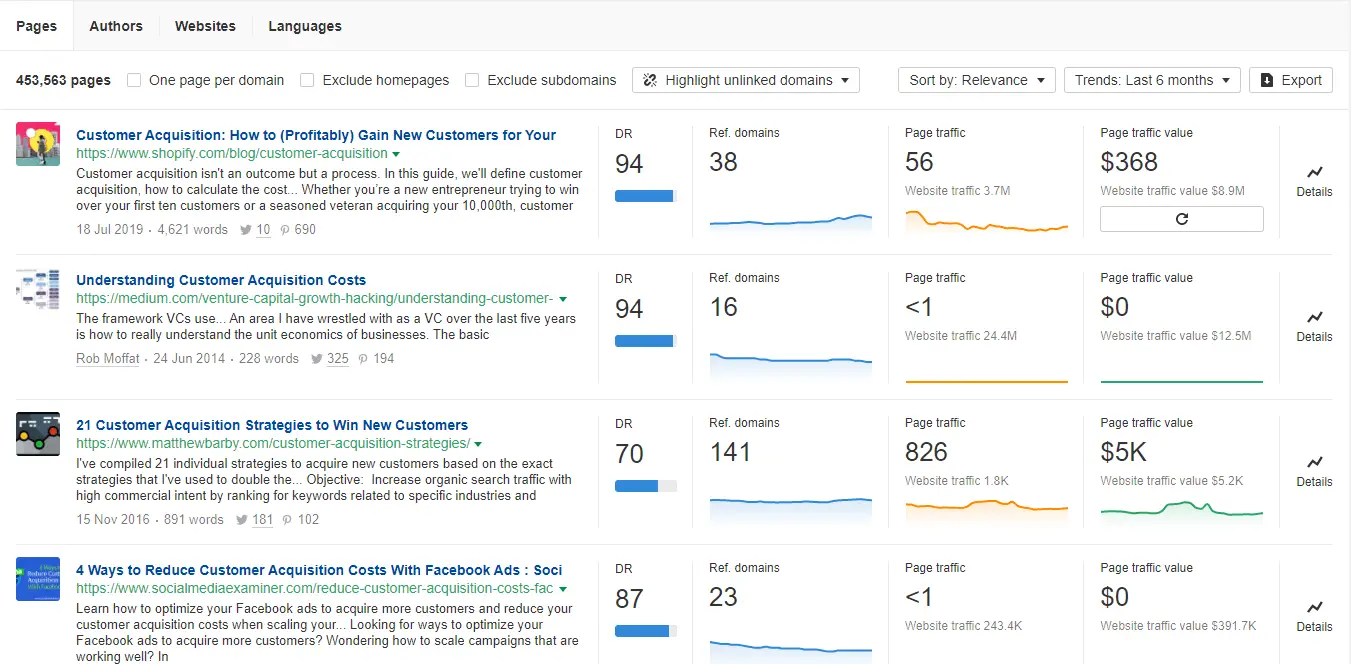 Ahrefs Content Exploring tool is a fantastic tool; using this tool, you can research specific content topics, top content related to the subject, and check organic traffic, the domain rating, referring domain, traffic value, and social share.
Using this tool, you can combine advanced operators to refine your search, and filter the result to find what you need, like Published date, First published date, Refreshed date, Referring domains, Organic traffic, Number of Words, etc.
Ahrefs Free Tools
Ahrefs also provides some free tools to use. There you can check backlinks of a particular domain, generate keywords, check website authority and SERP results, and more. Although you don't have to register to use these tools except one, which was recently launched name is AWT (Ahrefs Webmaster Tool). For using AWT, you have to sign up with your Search Console Email ID or Google Account.
FAQs About Ahrefs SEO Tool
How to use Ahrefs for keyword research?
Using Ahrefs for keyword research is easy. For in-depth analysis, you should have a paid membership of Ahrefs, and for generating keywords, you can use the free keyword generating tool. By the way, for keyword research, you have to open the Ahrefs Keyword Explorer tool, then enter your keyword(s) and get an overview, and you can analyze the suggested keywords.
What are the best tools for SEO analysis?
For SEO analysis, Ahrefs is excellent, and Semrush is also a fantastic Marketing tool. They both have similar pricing, and Semrush has more features than Ahrefs. 
How do I find my organic SEO keywords?
Using the Ahrefs SEO tool, you can find organic keywords. Ahrefs has a specific Site Explorer tool, and you have to enter your website's domain name or a particular URL. It automatically analyzes the website and tells how much Organic Keywords has your website and which ranking.
Which SEO tool will be a tough competitor of Ahrefs in 2021?
In my opinion, the tough competitor of Ahrefs is Semrush. And Semrush has many advanced tools compared to the Ahrefs and even better marketing tools.
What causes Ahrefs to show a high DR but a low UR?
In the context of Ahrefs, DR means Domain Rating, and UR means URL Rating. When you analyze the SEO of your website, it shows a high DR score compared to the UR because your domain has more referring domain compared to the specific URL.
How much does Ahrefs tool cost?
Ahrefs pricing starts from $99 to $999 per month, and they have four different plans.
Summary
Ahrefs is a great marketing and search engine optimization tool, and this article just explained the basic features. In our future articles, we will explain every tool of Ahrefs with a complete visual guide. 
Ahrefs is a paid tool, and if you are a newbie in the marketing or blogging field, then buying Ahrefs paid plans is not value for money, even others provider's tools.
If you have a revenue source then, surely go with the Ahrefs paid plans. And for beginners who can't afford the paid plans, you can buy at just the price of one dollar. 
If you liked the article, don't forget to share, and having any doubts, fill the comment box. I look forward to answering.
Check out Recently Published Articles: