ChemiCloud is one of the best web hosting platforms, that we have ever used. ChemiCloud provides popular four types of hosting services that include, Shared hosting, WordPress hosting, Reseller hosting, and Cloud VPS hosting. The best thing about ChemiCloud is its all-web hosting services based on the Cloud platform.
Here in this article, we are going to share my experiences with ChemiCloud hosting, which I am using for the last two months. we had purchased ChemiCloud Shared hosting's Turbo plan, and here I will give the insights about the services of ChemiCloud, so whenever you consider purchasing a web hosting plan from ChemiCloud, it will give you some ideas.
Before we jump on the review, we want to share brief information about ChemiCloud's features and services, and all this information is also available on the official site.
ChemiCloud Basic Overview
ChemiCloud provides four types of hosting services, Shared hosting, WordPress hosting, Reseller hosting, and the last VPS hosting. All these hosting services are powered by Cloud.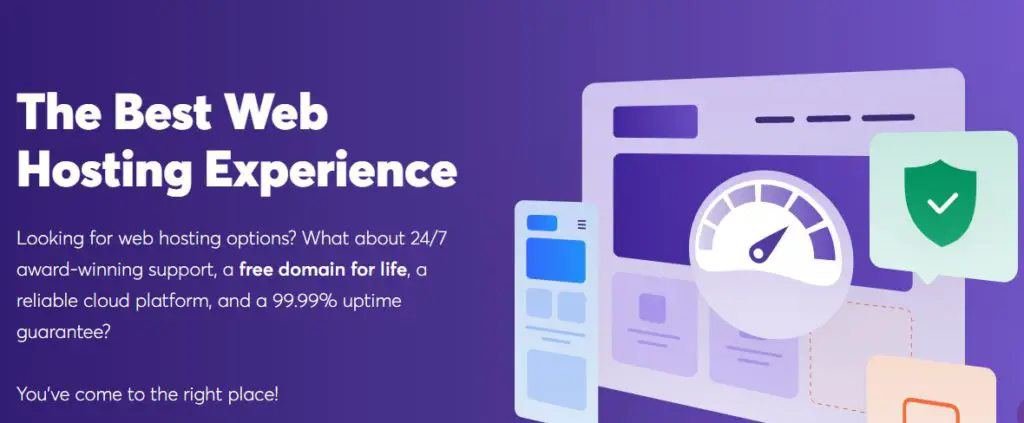 Features
In any web hosting platform, features play a major key role in their success, and the features should be the latest and greatest if not then customers will not attract to services and there will be a loss for the company. Perhaps here, on ChemiCloud's official site they state that you will get the latest and best technology for high performance and better security.
Security Features:
For security and performance, ChemiCloud uses the latest LiteSpeed Web Server, and this technology outperforms the traditional Web server like Apache and Nginx. LiteSpeed's cutting-edge caching technology caches the static content on the server side so clients get better load time and reliability.
A firewall is an import security measurement for preventing unwanted traffics and security attacks, ChemiCloud uses Advanced Firewall with the core system so customers and visitors can safely visit a secure environment.
As we have already mentioned that, ChemiCloud uses cloud infrastructure so no need to worry about any hardware failure and websites downtime. Here you can read how cloud infrastructures work.
ChemiCloud Server Specification:
| | |
| --- | --- |
| Web Server Type | LiteSpeed Enterprise Web Server |
| Server Locations | 8 Sever locations over the World |
| Storage Type | Fast SSD |
| Powered Processors | AMD EPYC |
Reliability:
For reliability, ChemiCloud provides Advanced DDoS protection and real-time network protection. ChemiCloud automatically analyzes and detect unusual activity on the network and then block if it has any attacks intentions.
Web Development Features:
ChemiCloud provides four major types of web hosting services, and in there they use the latest technology but also give freedom to choose other versions of the technology. And the various version of technology means higher compatibility. Here is an example, there are many developers and website owners who use the earlier version of PHP and other software, for that case ChemiCloud gives the option to switch between different versions of PHP.
So, talking about developers, ChemiCloud all hosting services comes with Python, Node JS, and Git, so you can seamlessly deploy your project on ChemiCloud. Here you can also create a Staging site, so whatever changes you do on the staging site can't affect the main site, but if you want changes, you can easily apply them.
Pricing
Pricing is important to any consumer, according to ChemiCloud's official site, you will get best-in-class and affordable web hosting services from ChemiCloud. And with all their hosting plans you will get a domain name for life. Here is the detailed pricing chart of ChemiCloud.
Shared/WordPress Hosting:
| | | | |
| --- | --- | --- | --- |
|   | Starter | Pro | Turbo |
| Base Price* | $3.95 | $6.95 | $10.95 |
| Websites | 1 Website | Unlimited | Unlimited |
| SSD Disk Space | 15 GB | 25 GB | 35 GB |
| Bandwidth | Unlimited | Unlimited | Unlimited |
| Visits** | ~25,000 | ~50,000 | ~10,0,000 |
| RAM/CPU sizes | 1 GB/1 Core | 2 GB/2 Core | 3 GB/3 Core |
Reseller Hosting:
| | | | | |
| --- | --- | --- | --- | --- |
|   | Kickstart | Grow | Expand | Established |
| Base Price* | $7.49 | $9.99 | $13.74 | $17.49 |
| Websites | Unlimited | Unlimited | Unlimited | Unlimited |
| SSD Disk Space | 60 GB | 90 GB | 140 GB | 200 GB |
| Bandwidth | 1 TB | 2 TB | 3 TB | 4 TB |
| cPanel Accounts | 30 | 60 | 80 | 100 |
Cloud VPS:
| | | | | |
| --- | --- | --- | --- | --- |
|   | CVPS 1 | CVPS 2 | CVPS 3 | CVPS 4 |
| Base Price* | $19.99 | $95.96 | $159.96 | $287.96 |
| Websites | Unlimited | Unlimited | Unlimited | Unlimited |
| SSD Disk Space | 80 GB | 160 GB | 320 GB | 640 GB |
| Bandwidth | 4 TB | 5 TB | 6 TB | 7 TB |
| RAM/CPU sizes | 4 GB/2 Cores | 8 GB/4 Cores | 16 GB/6 Cores | 32 GB/8 Cores |
ChemiCloud has more features than we have listed here. However, all the features that are mentioned here are important to know, and for more detailed information you can visit their official website. *Base pricing- as mentioned in this article are discounted monthly price, and ChemiCloud also provides recurring discounts on all hosting plans up to 50%
ChemiCloud Review
Considering ChemiCloud hosting features and pricing it looks like very good web hosting services but is it real that ChemiCloud is one of the best hosting services. Let's find out, about ChemiCloud hosting.
As we have already mentioned that we have been using ChemiCloud shared hosting services for the past two months (date 2021), and here we will share my experiences and opinions about ChemiCloud category-wise. So, please stay tuned.
Overall Impression
| | |
| --- | --- |
|   | Rating |
| Pricing | 5/5 |
| Features | 5/5 |
| Ease of Access | 5/5 |
| Support | 4/5 |
My overall impression is great with ChemiCloud hosting services. ChemiCloud is a US-based hosting company that uses the Linode cloud platform to provide services. All hosting services are managed by ChemiCloud, and they also provide bundled offers, like free domain names, SSL certificates, and more.
Is the Pricing reasonable?
Above we have mentioned the pricing of ChemiCloud hosting plans and compared to other popular hosting providers, pricing is similar and reasonable that what you get. ChemiCloud WordPress starter plan starts at $3.95 per month. Using this plan you can host a single website, and you get 15 GB SSD storage and unlimited bandwidth, and hardware specs you get that is 1 GB of RAM and 1 CPU (technically virtual CPU). If we compare these specs and features with other competitors, then ChemiCloud will fulfill your expectations.
So, in my opinion, pricing is very reasonable, and considering the average market price, and the best thing about ChemiCloud is you can also choose your nearest server location for better performance in speed and your user experiences.
Is the Performance being good regarding the pricing?
Return of Investment (ROI) is based on your hosting performance, if you have a poor hosting service that's slowed down your website, then there is a huge chance to get failure. Recently Google released their Core Web Vital search algorithm, according to this your website should pass the result, and it will help you to rank higher.
So, you are investing money in a hosting service, and you should get great performance. Here on ChemiCloud, we have been using their Shared Hosting Turbo plan for the last three months and here you can see the performance results that we have analyzed using some tools.
Server Download Speed:

According to the ChemiCloud's I/O usage on Turbo plan, the maximum speed is 10 mb/s, and we also checked via downloading a file from the cloud using the terminal and the maximum speed was about 10 – 11 mb/s.
Website Speed Test:

Here you can see the Google Page Speed Insight report, and we passed the core web vitals according to the lab data, however in any new website getting field data is depends on websites traffic. Frist when we install WordPress on ChemiCloud the performance was great with the default theme and no content. Over time we added content and we switched from twenty-twenty one to GeneratePress premium the performance got little bad. But we had the solution, we have used WP Rocket caching plugin, it is one of the best premium caching plugins using that we have optimized static content like CSS, HTML, and JavaScript, and removed the unused resources and that help to improve again the website performance and core web vital for better SEO.
Ping Test: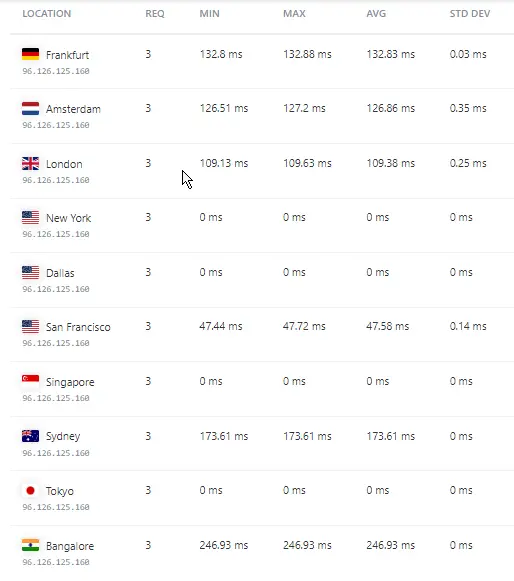 Using the ping test shows that how much time take to connect the server from various location, thanks to the Cloudflare the ping test performance was great. ChemiCloud is officially partnered with Cloudflare so you can get better speed dynamically from all over the world.
Final Thoughts
If we summarize about ChemiCloud in one word, and that is fantastic. ChemiCloud hosting platform is customer-centric which means you will get better quality services, support, and latest features. ChemiCloud is powered by Linode Cloud Infrastructure and their servers are available over the world, so has ChemiCloud.