Want a subscription to Microsoft Azure for free? Microsoft Azure Cloud gives $200 free credit for a month to new registrants and allows free use of some popular resources for up to 12 months and some 25+ resources that are always free to use.

What you will get?
Twelve months of free popular services, including VMs and Bucket Storage.
$200 Free credits for exploring all Azure services for 30 days.
25+ Allways free resources.
In this article, I will be doing stepwise demonstrate how to sign up for Microsoft Azure, how you can get $200 credit, and what resources you can use for the year? Learn about them.
If you are a student, how to get a Microsoft Azure subscription for free without using a payment card? We will also know that in this article, so we start with the introduction of Azure.
Related Articles For Free Cloud Hosting Platform For Beginners:
What is Microsoft Azure?
Microsoft Azure is a Cloud Platform is a cloud computing service created by Microsoft in 2010. Microsoft provides customers deploying and managing cloud applications and services through this Azure Platform.
Microsoft has its managed data centers Software as a service (SaaS), Platform as a service (PaaS), Infrastructure as a service (IaaS), and Platform as a service (PaaS).
What services does Azure provide?
Application Development
AI (Artificial Intelligence)
Cloud Migration
Data & Analytics
Hybrid cloud and infrastructure
Security and governance
Industry solutions
These are only seven categories, and within this, also you get sub-categories, in which many products and services are listed. Go check out Azure's official site.
How to get free Azure subscriptions?
Free Azure subscriptions and $200 free credit are very easy to get. Once you successfully sign up, you can use some popular services like Windows RDP and Linux virtual machines and free storage buckets, etc., for free throughout the year.
So follow the steps given below for a free Azure subscription, then you will be able to sign up quickly.
STEP – 1. Search on Google for 'azure free tier.'
In the first step, you search 'azure free tier' on Google, and click on the first link according to the search result.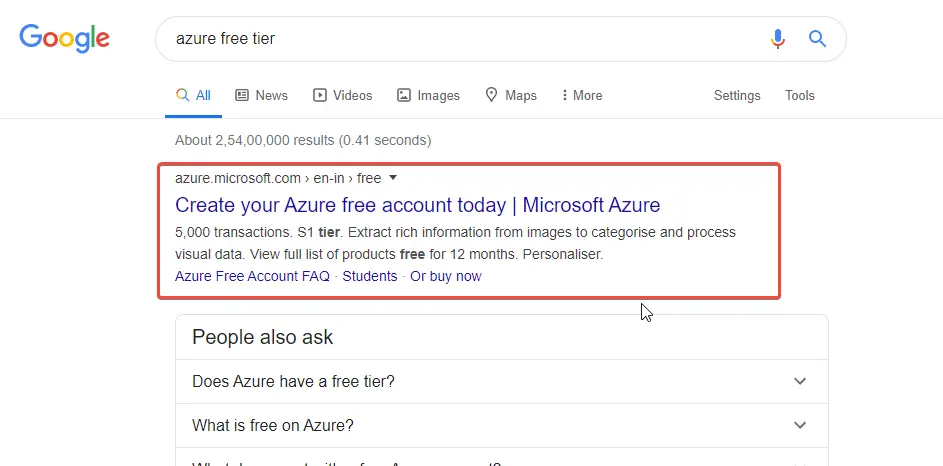 Step – 2. Click 'Start free'
In the second step, when you open the official Azure website, you will see the 'Start free' button on your screen. You have to click on the button for the free Azure subscription.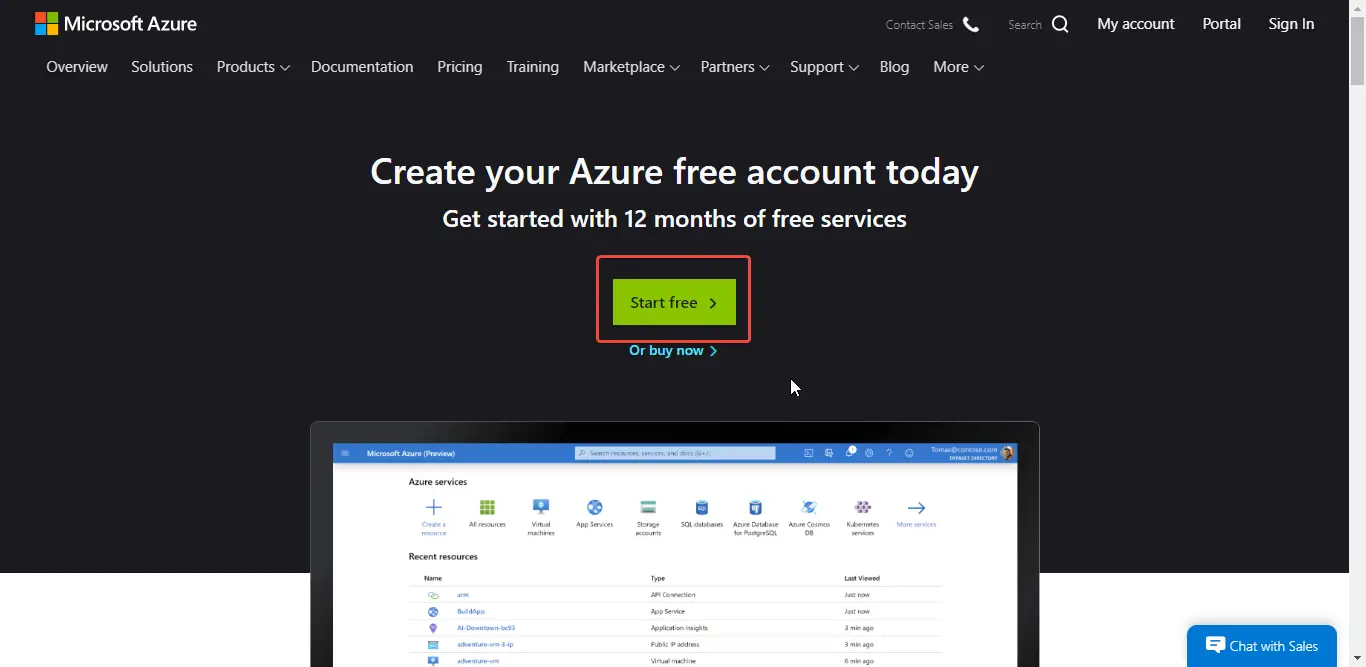 Step – 3. Login with Your Microsoft Account or create a new one.
In the third step, you have to log in with your Microsoft account, and if you do not have any Microsoft account, you will have to create a new one.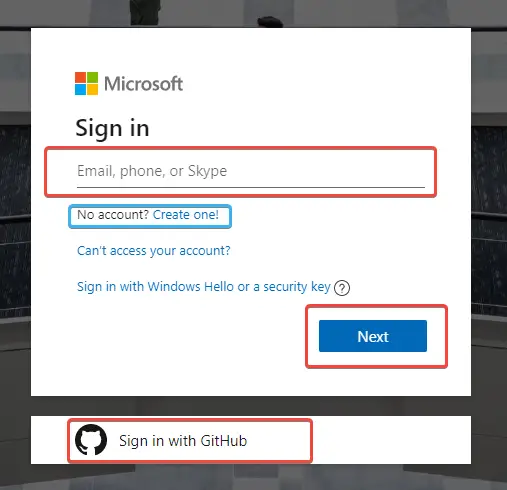 If you have an account with GitHub, you can sign up for Microsoft Azure for free. But we will use our email account. You have to put the email account in the box as per the picture and enter the OTP.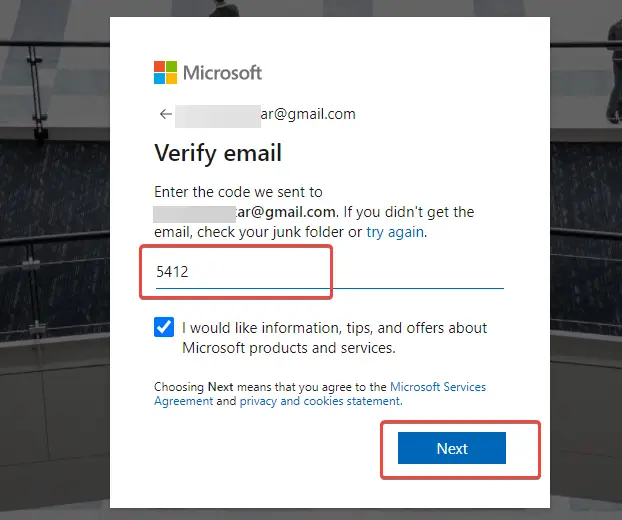 After the email verification process, you will redirect the actual steps of the subscription to free Microsoft Azure.
Step – 4. Filling details for Microsoft Azure Free trial
This is the last step for entering your information. You have to put some information related to your personal and business, and you have to do the payment verification.
Fill Your Personal or Business Information:
In this field, the Microsoft Azure Platform prompts you to fill in your personal or business details to provide you with a trial.
It would be great if you filled in your first name, last name, phone number, pan details, and address.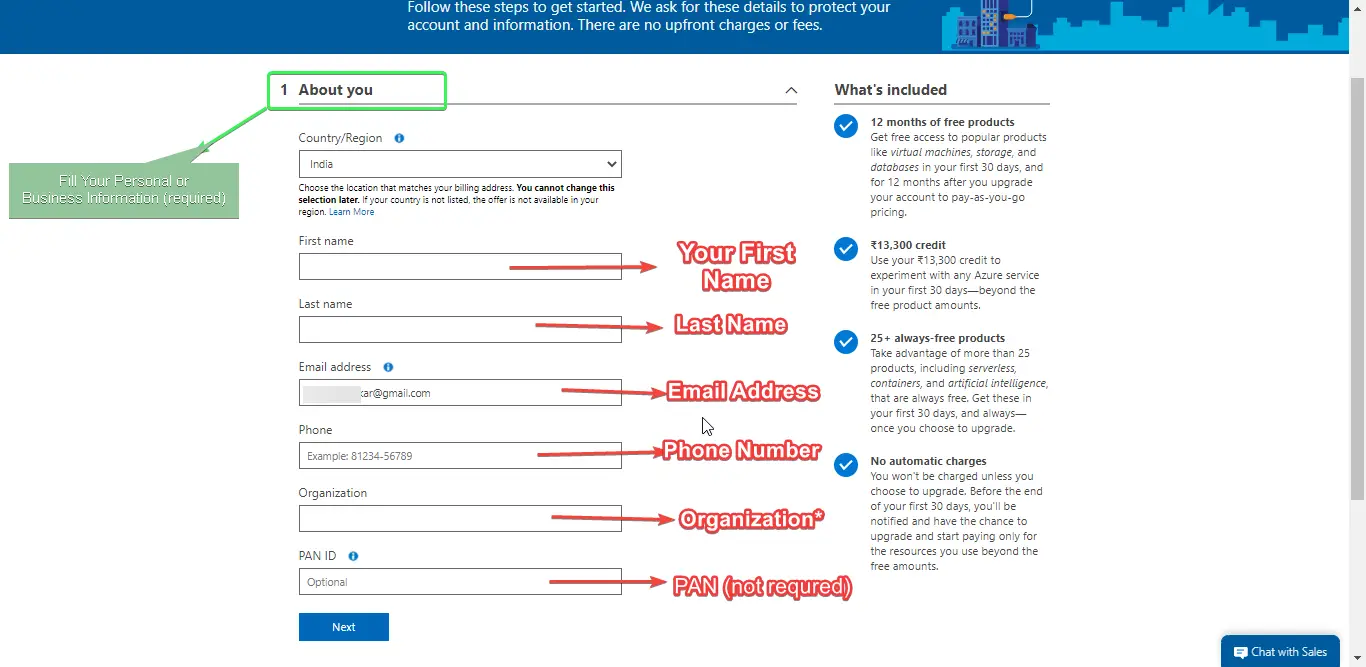 Identity Verification by phone for Microsoft Azure:
This identity verification process is your phone verification, and the Azure Platform will be sent you an OTP for your phone number verification, as shown below in the image.
Identity or Payment Verification by card for Microsoft Azure:
This verification process azure platform prompts you to add your Debit or Credit card details like Card Number and your billing address. Microsoft would charge 2 rupees from your card for the payment verification.
For other country's card, you should maintain a minimum balance of $1 or equivalent.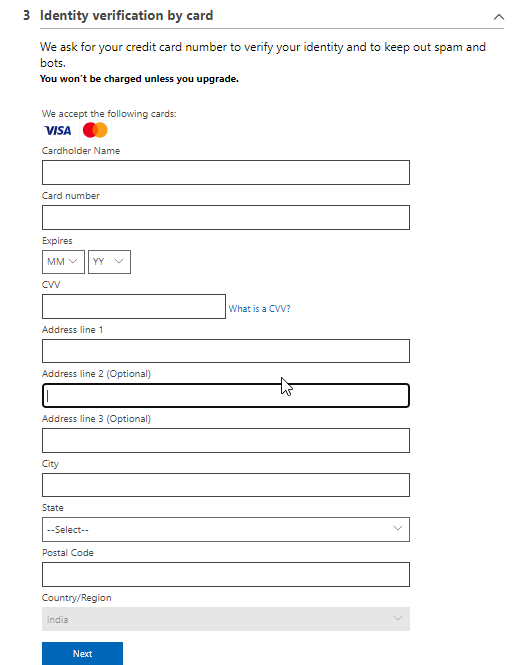 If you successfully verify your identification and payment in Microsoft Azure, you can use Microsoft Azure Services for free.
Step – 5. Accessing Microsoft Azure Cloud Platform Dashboard
After successfully subscribing to Microsoft Azure, you can use your Azure Cloud Dashboard, where you will get information about your instances, storage, networks, etc. You can even use the new resource by clicking on the big plus sign.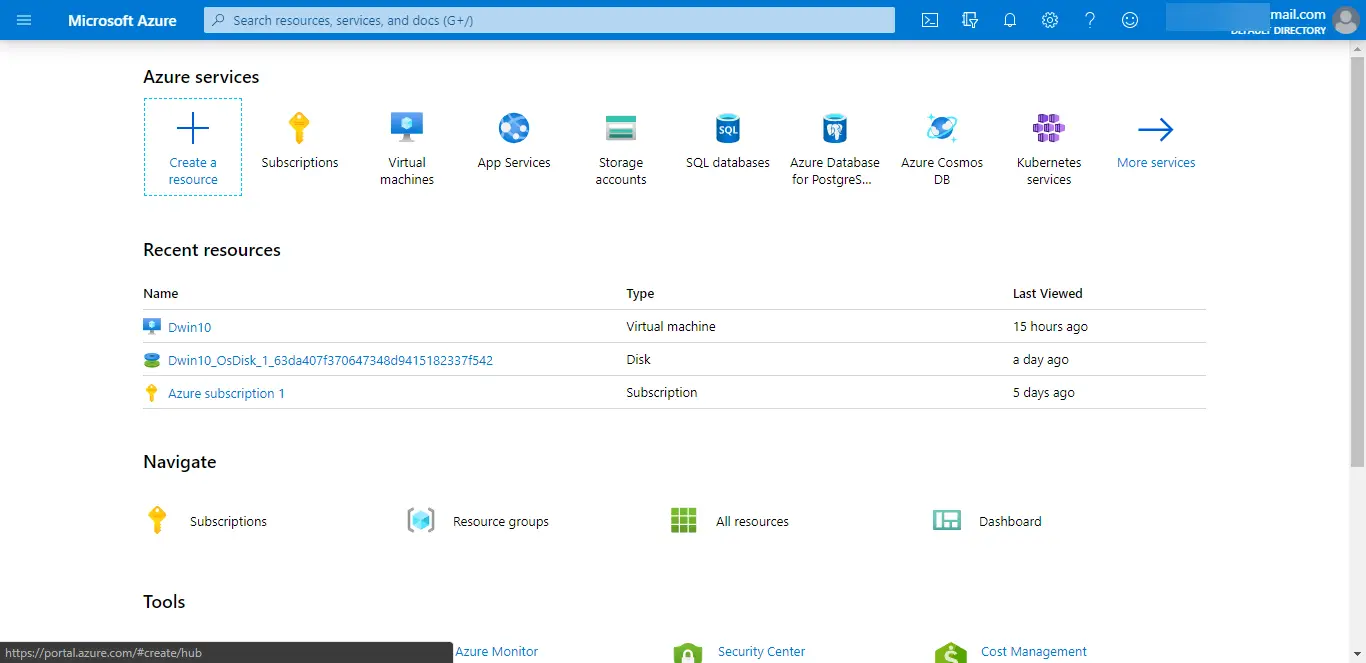 Billing Dashboard:
You can see below in the image, shows the validity, remaining, and uses of credit.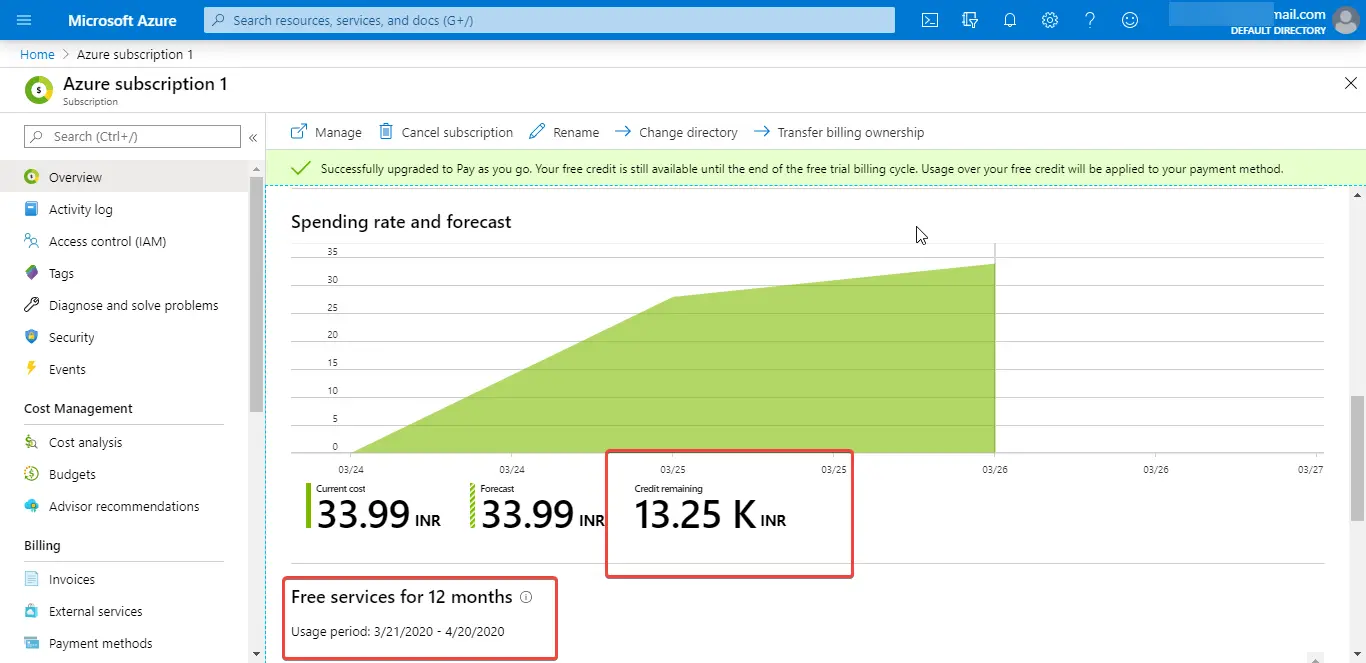 Note:- It must be noted that Microsoft Azure gives you $ 200 for just one month. If you are using resources that are not within free services, then after 30 days, you may have to pay the bill to Microsoft. $ 200 is for 30 days only, and 12 months is selected services, and they also have limitations. For more information, visit the official website of Microsoft Azure.
Video Tutorial of Free Azure Subscription
FAQ about Microsoft Azure Free Trial.
What is Microsoft Azure?
Microsoft Azure is a cloud services platform where you can use companies other than Microsoft's cloud resources. You do not need to purchase resources from each company individually. Microsoft gives $ 200 to use its Azure cloud platform for 30 days.
What is a resource group in Azure?
Azure Resource Groups are containers in which you can store more resources than one of your own. If you say classification in easy language, it makes it easy to find a resource on Azure.
What is Azure Virtual Machine?
Azure Cloud Platform You can create Linux and Windows virtual machines in just a few steps. A virtual machine is an environment that is made in a physical machine.
Why Azure is better than AWS?
Microsoft Azure and Amazon are similar in terms of AWS services. But AWS is the most popular and has more customers. Some say AWS is better than Microsoft Azure, and some believe the opposite. But in my opinion, Microsoft is better than AWS in the Azure user interface.
Who uses Azure?
Microsoft Azure can be used by anyone who is above 18 years of age.
How to set up Azure?
To set up Azure, you must first sign up to Azure Platform from your Microsoft account, then enter your personal and payment information. Then you can use your Azure Cloud Services.
How to Delete Microsoft Azure Account?
To delete a Microsoft Azure account, you have to delete all your resources, and if any payment is due, you have to pay it. After that, you can delete your Azure account.
How to cancel an Azure subscription?
To cancel your Azure subscription, you have to delete all your resources, and if any payment is due, you have to pay it. After that, you can cancel your Azure subscription.
How to pronounce Microsoft Azure?
Azure is a French word that means the color "Blue." The pronunciation of Microsoft Azure is "micro·soft uh·zoor."
How to pronounce Azure?
Azure is a French word that means the color "Blue." The pronunciation of Azure is "uh·zoor."
Conclusion of Microsoft Azure free Subscription
Microsoft is a world-leading company, everyone knows that, and they are providing a free trial of their Azure cloud platform. If you are a beginner, you want to learn and want to create something, and then this trial is for you.
I am a student, and Microsoft Azure free trial is beneficial for me, so you should try the free Azure trial or try Google Cloud for free.
Microsoft won't charge until your subscription expired or insufficient credit.