Google Cloud Platform is the most advantageous cloud platform in the industry. Google Cloud Platform is providing a free trial of $300 free credit for 12 months. Google Cloud Free Tier gives you to experiment and learn about Cloud Resources. In Google Cloud, you can experiment for your I/O related problems and can get solutions.
Google Cloud Free Tier
Google Cloud Platform has two free tire parts:
A 1 Year or 12 months free trial with $300 (Three Hundred Dollar) credit to use with any Google Cloud Resources.
Always free, which provides you limited resources uses with lifetime free of charge.

Note: If you want detail information about Google Cloud Free Tire, Click here for Google's Article.
How to Get Free Google Cloud Subscriptions?
Before we start to the steps of the subscription, you should have these necessity things:
Valid Debit/Credit Card (Visa, Master, Maestro Card)(Should have minimum $1 amount in card)
Valid Address
Note: In the process of verification Google has been deducted a minimum amount of your card balance, which varies by countries. In India Google Cloud Platform India ltd. Deduct only 1 Rupee for Verification.
#STEPS FOR GCP TRIAL
Search GCP on Google.
Search the term "GCP" on google and click the result "GCP Free Tier" as shown in the image below or Click this official Link of Google Cloud Platform Free tier.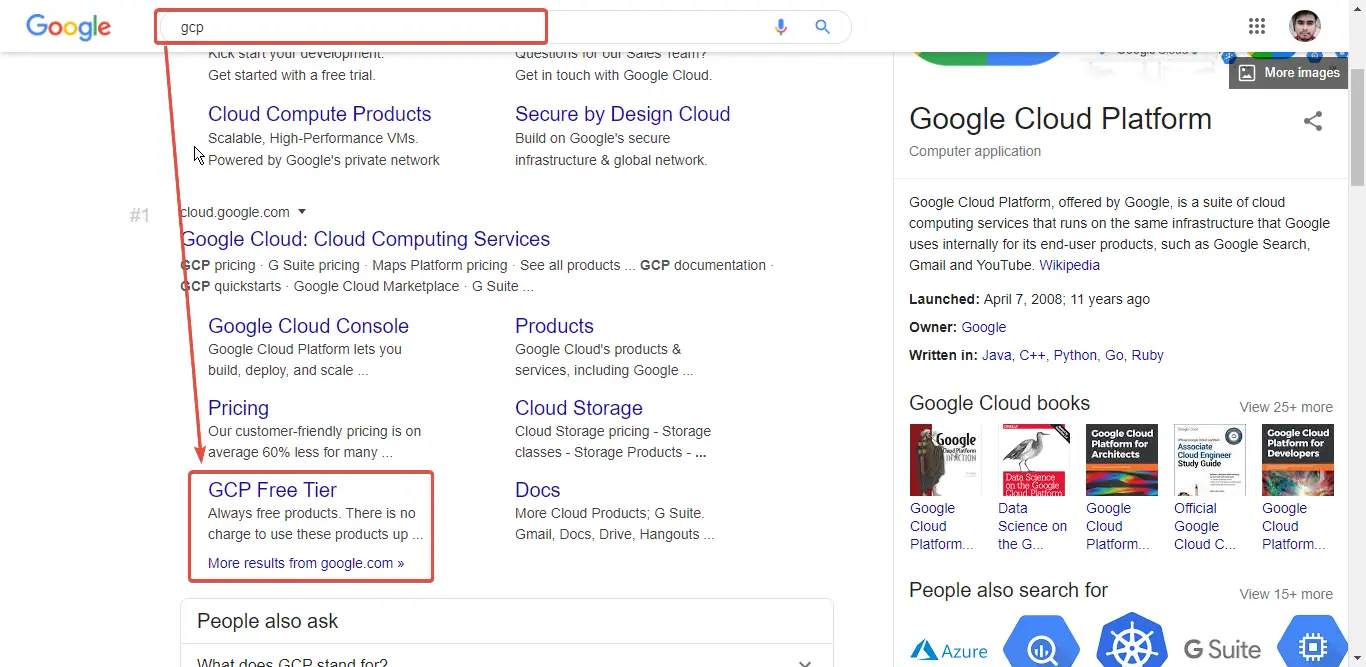 Get Started for Free
When you are going to sign up Google Cloud Platform Free Tier then you should already be logged in with your Google Account, then simply click "Get Started for Free" as shown below in the image.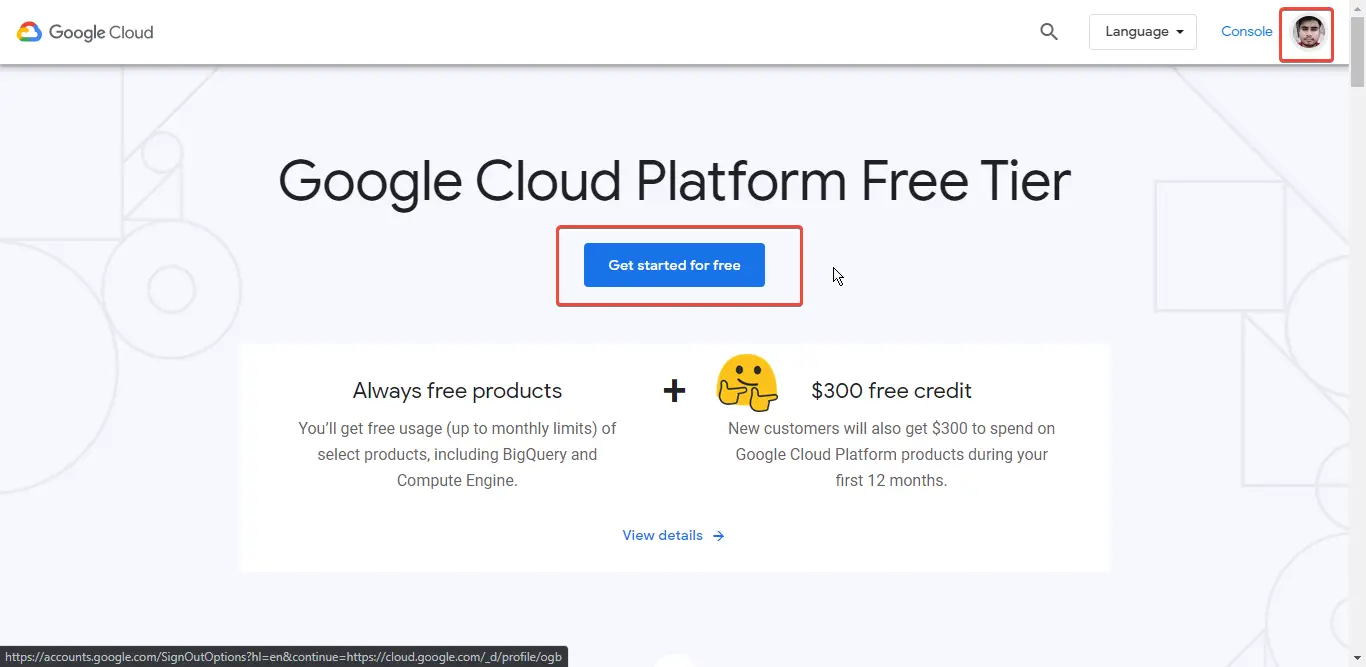 Fill Your Personal Information
Now, this step is most important for getting Google Cloud Platform's Free Tire subscription. Google will ask you to fill your personal information like; Country name, Your Name, Address and last your Debit or Credit card information for verification.
Step 1 of 2: Select Country
So, when you click the button "Get Started for Free" there will open a new page and prompt for filling your personal information in steps.
So 1st step is your Country name, So Select or Fill your current Country name.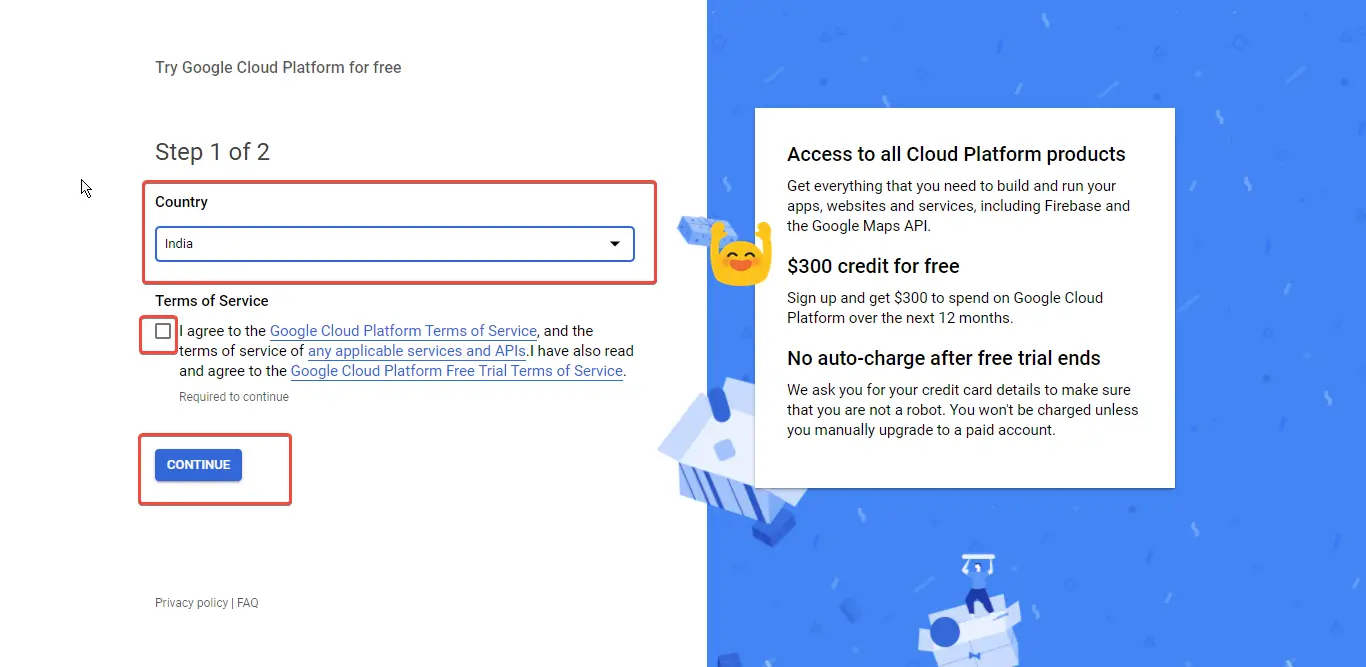 Step 2 of 2: Customer Info
After selecting the country name there will open a new page of Step 2, Google will prompt you to fill your information as you can see below in the picture. If you have been taking the trial behalf of your company then select "business" or if you want to use personally then select "Individual".
Now enter your Name and Address in the required field.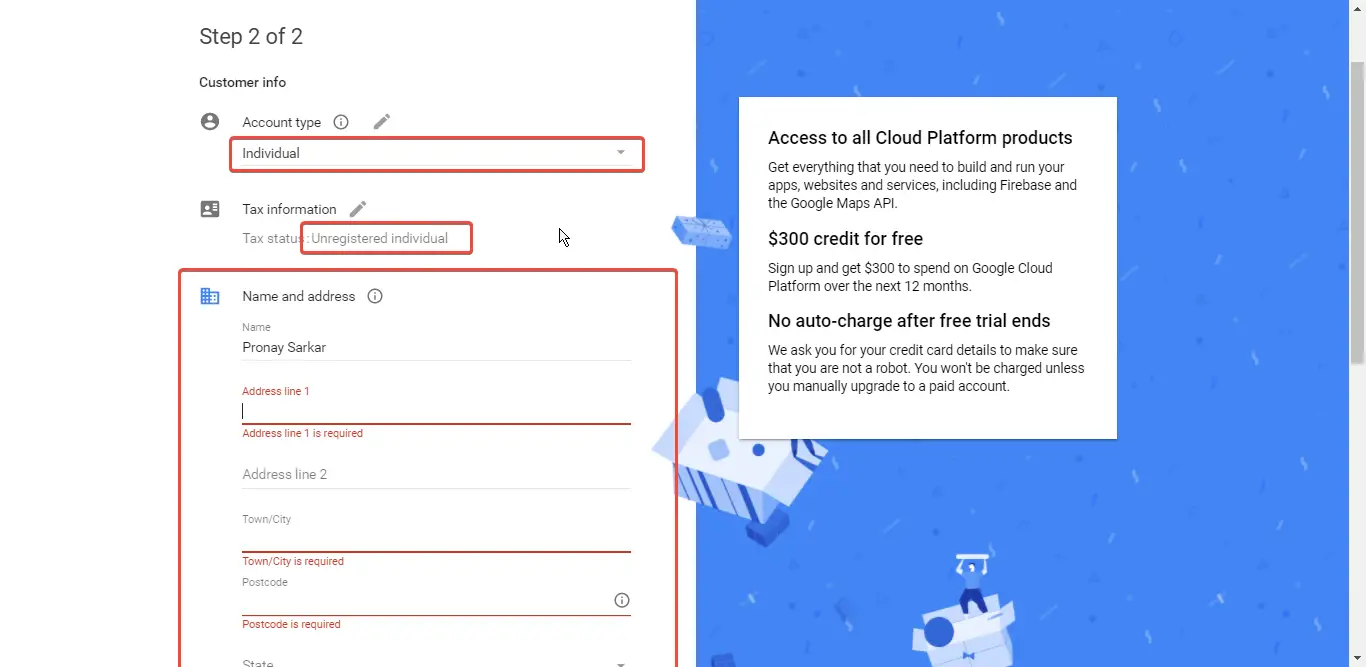 Credit/Debit Card Details for Verification.
After filling your all personal information Google will prompt you to fill your debit or credit card information. You should have a Visa, Master, and Maestro International Card. This step is required for your information and payment verification.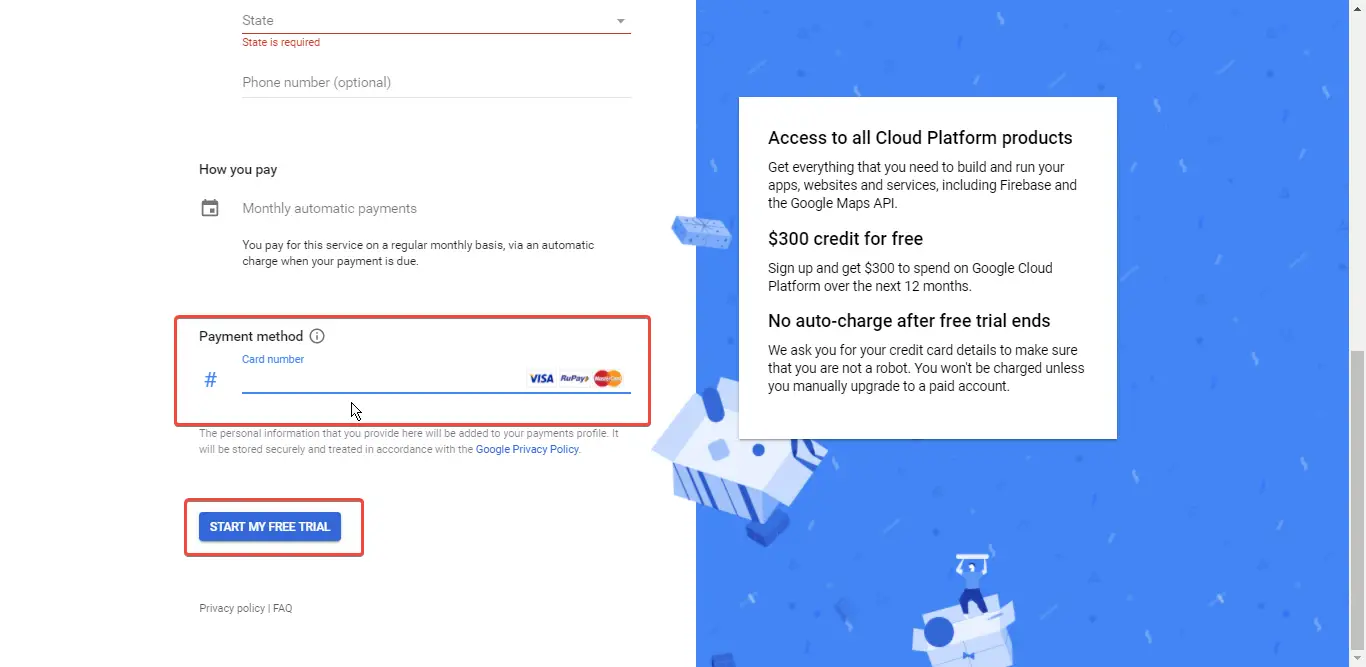 Note: Sometimes Google also prompt to fill additional information like "Payment Proof". In case you should take these steps for verifications.
Payment Verification
After everything completing Google prompt you to verify your account/payment proof. You can see below in the image. Click "VERIFY ACCOUNT".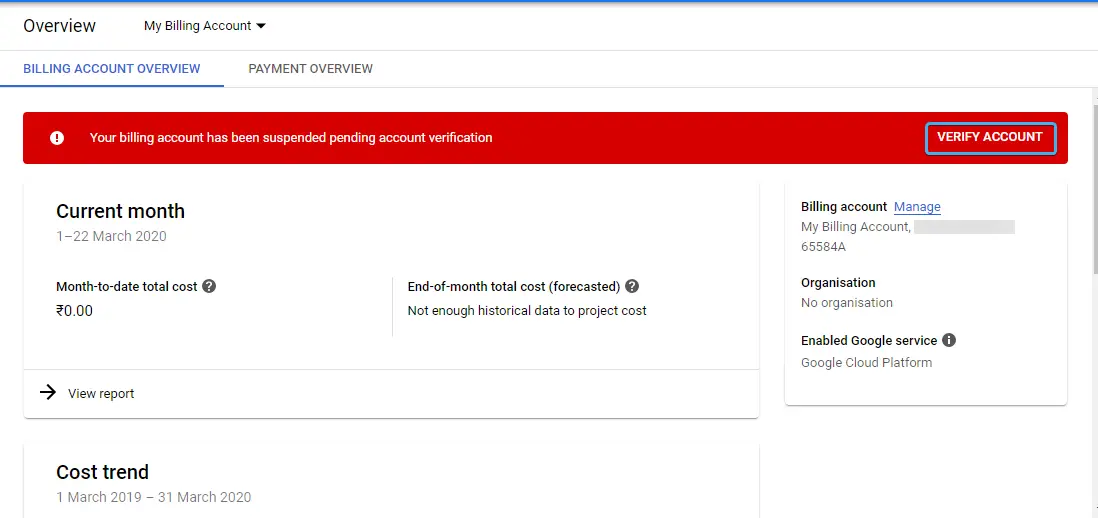 Fill Your Payment Information
Now fill all required information then click Submit. This process takes some days, so keep the patient.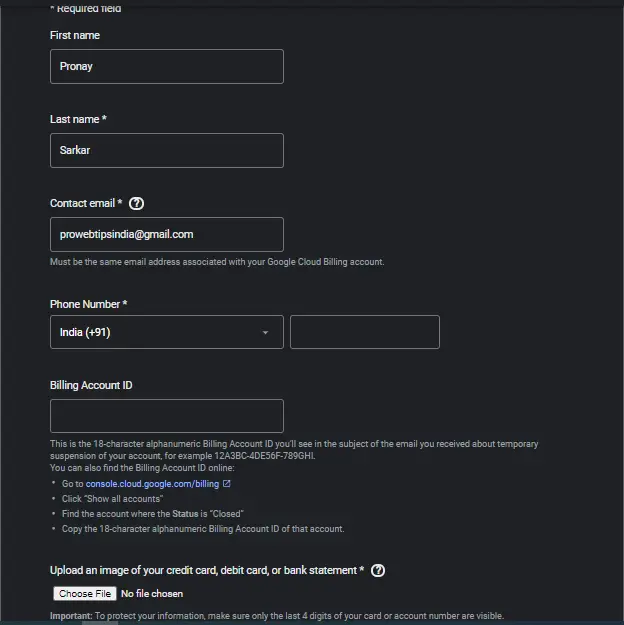 You may like these:
FAQ about Google Cloud Platform Free tier.
What can you do with Google Cloud Platform?
Google Cloud Platform provided by Google Inc. In this platform user can run a computing engine, run and host web applications and store data without any server, these are some products that are provided by GCP, like:
Compute, Storage & Databases, Networking, Big Data, Cloud AI, Management Tool, Identity & Security, IoT, API Platform.
Is Google Cloud Platform Free?
Yes, Google Cloud Platform is free in two cases, first Google provides A 12 month free trial with $300 credit and second Always free with limited resources use. That means Google Cloud Platform is not completely free.
Can we host a website on the Google Cloud Platform?
Yes, Google provide cloud hosting and data storage, so you can host your website or create any kind of website. Google Cloud Platform also provide Cloud Web hosting App engine like WordPress and other CMS app.
Thank You!