GeneratePress and Genesis are among the premium and lightest themes. Both are known for their performance and flexibility, and they are WordPress web developer-friendly.
GeneratePress and Genesis are fully SEO optimized and can be used in multi-purpose projects.
I have been using the GeneratePress theme on my primary website for almost two years now, and I heard from many people that the Genesis theme is perfect and well-performing.
So I decided to make a comparison between GeneratePress vs Genesis.
This article will present the pricing, features, performance, and pros and cons of GeneratePress and Genesis themes.
Basic Overview – GeneratePress vs Genesis
GeneratePress Premium Overview
One of the popular freemium themes in the WordPress theme directory is GeneratePress. It is popular among beginner bloggers and professional web developers for flexibility and high customization.
In the GeneratePress Premium version, you get modular functions, and you can enable any features you like. GeneratePress natively supports the Gutenberg editor, and to increase your accessibility, GeneratePress offers a block editor addon for free.
Genesis Framework Overview
Genesis is a premium and trendy theme and a framework. This framework is open source, and you can use it on an unlimited website.
With the Genesis framework, you can use a variety of child themes. Only a simple child theme is available with the Genesis framework that you can customize.
One of the best features is the built-in SEO feature of Genesis, and you do not need to install any other SEO plugin.
Pricing – GeneratePress vs Genesis
Both themes are similar in pricing, but the main difference is that if you purchase a GeneratePress license, you will get one year of support and update; in Genesis, no such membership thing.
However, you can get a full bundle of Studio press themes, including Genesis framework for free, when you purchase a WPEngine web hosting plan.
GeneratePress premium version comes with two plans, the first is annual, which costs $59 per year, and the second is a one-time fee of $249 for a lifetime. 
Studio Press also offers a plan 'Genesis Pro' where you can get all the themes (35+ themes) of Studio Press without purchasing WPEngine web hosting. Genesis Pro plans are priced at $360 per year. 
Price Comparision
| | GeneratePress | Genesis Framework |
| --- | --- | --- |
| Yearly | $59 | $360 (Genesis Pro Subscription*) |
| Lifetime | $249 | $59.95 (Genesis Framework+Genesis Child) |
| Website Usage | 500 | Unlimited |
*Subscribe to Genesis Pro or Get WP Engine hosting to Access Genesis Framework
Features – GeneratePress vs Genesis
GeneratePress Features
The main feature of the GeneratePress theme is that it is a freemium theme. Meaning you can use the free version theme and upgrade to premium whenever you want. Where you also get some other customization and unique features.
GeneratePress Premium has modular features, which you can turn on and off as per your requirement. In GeneratePress free theme, you get the same features as Genesis, except for a few parts.
Features of GeneratePress Premium add-on, which I have listed below:
Backgrounds
Blog
Colors
Copyright
Disable Elements
Elements (Custom Hooks)
Menu Plus
Secondary Nav
Sections
Site Library (Premade Site Templates)
Spacing
Typography
WooCommerce
Import/Export Settings
In GeneratePress Premium, you get the custom element (hooks) facility, through which you can put custom PHP, Html, CSS, JavaScript, or shortcode in places like the header, footer, content (body), and sidebar of the website.
These are very beneficial for non-developers, and you don't have to tamper with the theme's core files. And you also have the ability to disable a specific element (content header, footer, sidebar, etc.).
Genesis Features
You can use 35+ different Studio Press child themes with the Genesis framework. You get customizers in Genesis like other simple themes, along with some additional features, such as header and footer script, breadcrumbs, and theme SEO.
If you are a developer or can develop themes, you can create your child's themes and use them on the Genesis Framework.
This framework comes with these main features:
Built-in on-page SEO features. If you have ever used Yoast or RankMath SEO plugins, then the same SEO features are built-in with the Genesis theme. That is fine in a way, and you do not have to increase the website's weight by installing any additional plugins.
The theme also comes with the necessary theme customization and header and footer scripts section and a footer copyright section with some global SEO features.
This theme features custom hooks like GeneratePress, but you will need to install additional plugins for that.
Import/Export Genesis Theme settings.
The downside of Genesis compared to GeneratePress Premium theme:
Using different types of child themes in the Genesis framework gives you other customization features, but this is a downside. If you want to have a child theme other than the Genesis framework, you have to spend about $50+ extra.
Some specific features such as custom hooks and integration of WooCommerce require you to install plugins separately on Genesis. You will get inbuilt in themes like GeneratePress, Astra, and Neve.
Performance – GeneratePress vs Genesis
I have been using GeneratePress Premium on my website for about a year and a half, and you can check the performance.
But I checked the performance of the Genesis and GeneratePress theme on the two fresh websites, and the speed of both websites was almost the same.
Initial Speed Test on PageSpeed Insight:
| | GeneratePress | Genesis |
| --- | --- | --- |
| Overall Performance | 98 | 99 |
| LCP | 1.9 s | 1.9 s |
| TBT | 0 ms | 0 ms |
| CLS | 0 | 0 |
| Load time | 3.3 s | 1.7 s |
Final Speed Test on PageSpeed Insight:
| | GeneratePress | Genesis |
| --- | --- | --- |
| Overall Performance | 98 | 88 |
| LCP | 1.9 s | 3.4 s |
| TBT | 10 ms | 0 ms |
| CLS | 0.09 | 0.379 |
| Load time | 1.8 s | 1.7 s |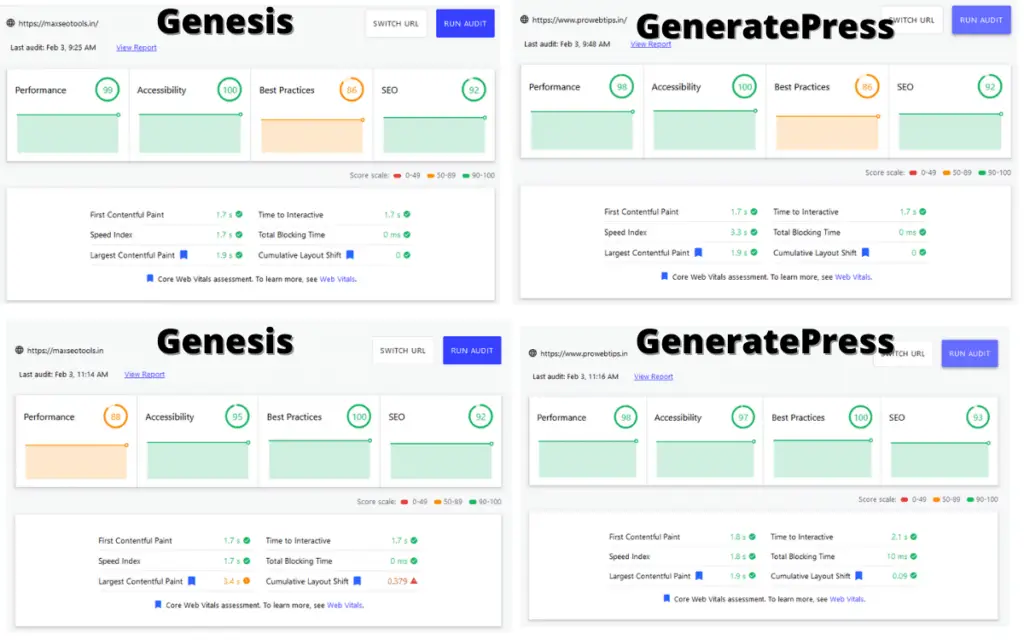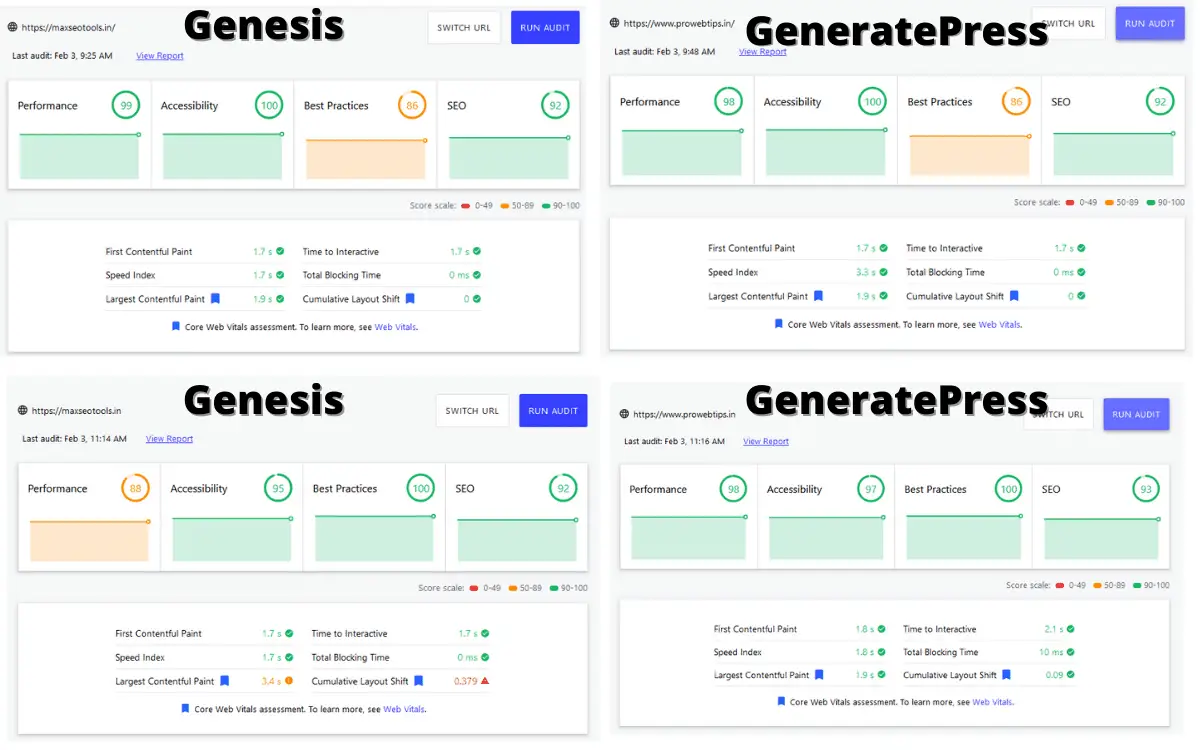 I took three to four-speed tests on different stages, but the result was almost the same. In this article, I have shown the results of only two tests, the first test I did when I installed the themes and the second test when I uploaded the contents and optimized the site with the WP Rocket plugin.
In the final test results, the Genesis framework's overall performance is reduced compared to the earlier test results. So the main reason for this was that you have to install plugins separately for other features, which increases the LCP and CLS of the website.
 Must Read: How To Optimize WordPress For Core Web Vitals 
Ease of Use – GeneratePress vs Genesis
Both themes are straightforward to customize using, and very few theme options are available in the sample child theme of Genesis.
GeneratePress Theme: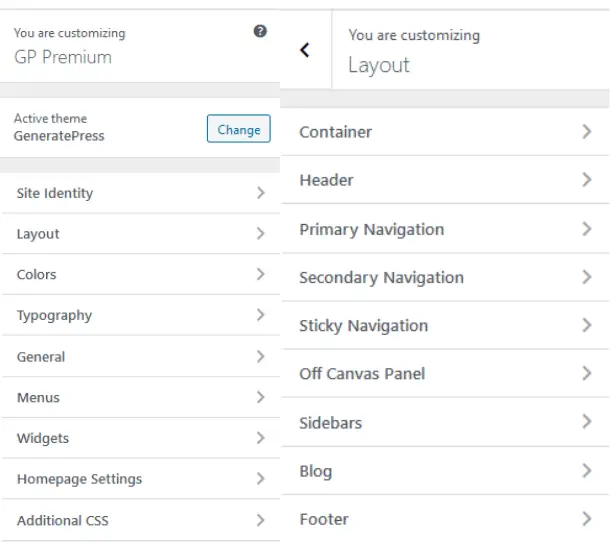 In GeneratePress Theme, you can easily modify it by going to the theme customizer. In this theme, you can customize colors, typography, header, footer, and more as per your choice.
Genesis Framework: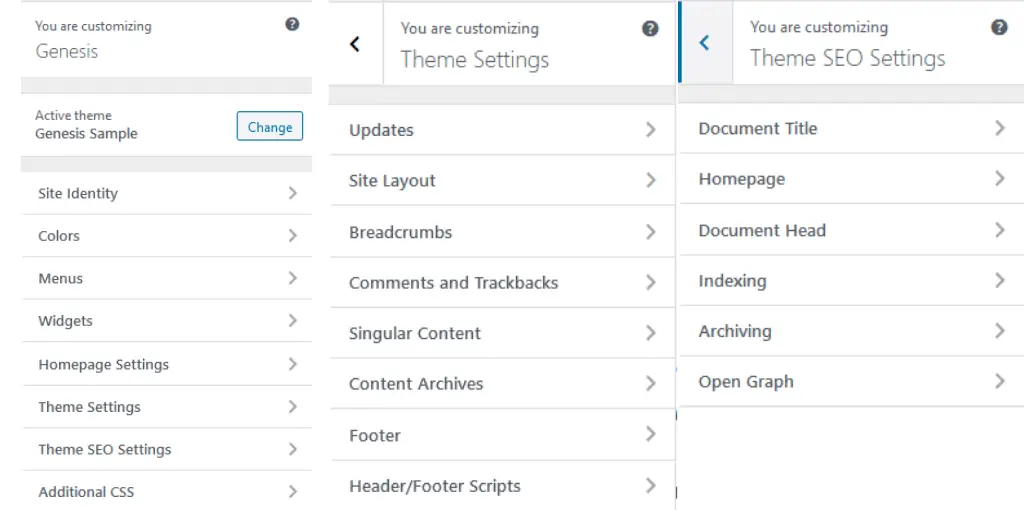 Not as much as the GeneratePress customization option in the Genesis framework, but you do not need to install a separate plugin for SEO. All the features of SEO are available in the theme itself.
Gutenberg Integration- GeneratePress vs Genesis
Both themes basically support Gutenberg Editor, and you can download their block editor plugin from the WordPress repository for free to increase your accessibility.
In these block editor plugins, you will find many features that are not available in the default block editor of WordPress.
GenerateBlocks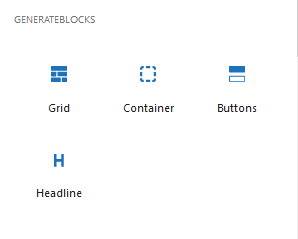 GenerateBlocks is an excellent block editor addon. However, we don't get as many blocks as Genesis blocks. You get the page builder level's customization features, whether font typography or background graded colors.
There are also paid versions of this plugin, but I think the free version is enough for a beginner blogger.
Genesis Blocks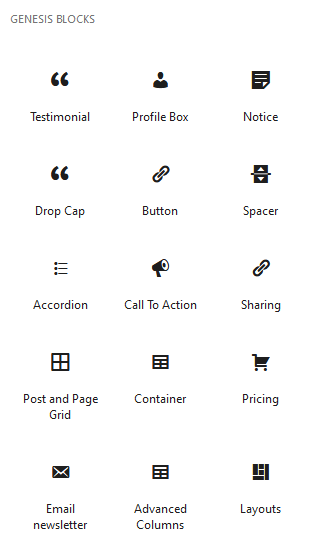 Genesis blocks addon is an excellent plugin, and we get lots of blocks so that even if you don't use any page builder, you will do a lot of things. This is a free plugin that you can download from the WordPress repository.
The paid version of this plugin is also available to get even more blocks. But I liked this free plugin of Genesis very much, and even you can integrate Mailchimp with this plugin for email marketing.
Page Builders Integration – GeneratePress vs Genesis
Both WordPress themes support almost all page builders, and I have created this home page of my primary website with Elementor Page Builder's help.
However, during the test, I used Elementor Page Builder on test sites for both themes. I knew it would work correctly on the GeneratePress, and when tested on Genesis, it also worked flawlessly on it.
I checked their support forum, where I found that both these themes support Elementor and other popular page builders. So if you have any of these plugins, you can use them without rest.
AMP Integration – GeneratePress vs Genesis
AMP or Accelerated Mobile Pages, which is an open-source HTML framework. With its use, you can increase your website's speed to a great extent on mobile devices.
The Genesis theme officially supports Google's AMP and can use AMP's official plugin. But if you are a user of the GeneratePress theme and want to use AMP, then you can, but do not officially support the AMP plugin. For this, you will have to use a third-party AMP plugin such as AMPforWP.
 Must Read: GeneratePress vs Astra Comparison.
FAQs about GeneratePress vs Genesis
Can I use child themes with these?
The concept of a child theme is quite good, and if you edit the function of the child theme, then there is no effect on the parent theme when a new update comes. Child Theme supports both GeneratePress and Genesis, and you can use them efficiently.
What is GeneratePress?
GeneratePress is a popular lightweight WordPress theme. These themes are freemium, and with the paid version, you get modular features.
Should I use Genesis Framework?
You can use the Genesis Framework on your WordPress website. But if you are a beginner blogger, go with the GeneratePress Premium version theme.
What is Genesis Pro?
Genesis Pro is a yearly subscription plan of Studio Press, allowing you to use all Studio Press themes and plugins. The price of this plan is $360 per year.
You can get the feature of Genesis Pro for free with WPEngine's web hosting purchase.
How much does Genesis Framework cost?
The Genesis framework costs $59.95, with which you get a sample child theme. You have to pay this price only once.
Does GeneratePress work with Elementor?
In the GeneratePress theme, Elementor works perfectly with page builder. Through Elementor, you can custom rebuild the complete theme.
Does Beaver builder work with Genesis?
Yes, Beaver builder perfectly works with the Genesis framework.
Does Elementor work with Genesis?
Elementor theme builder smoothly works with the Genesis framework and its other child themes.
Is Genesis theme free?
No, the Genesis framework isn't free. You need to pay a one-time fee of about $59.95, and then you can use it on an unlimited number of websites, and you will get lifetime updates.
Conclusion – GeneratePress vs Genesis
You guys must be thinking about which of the two is better? So I would like to tell you that the overall best themes are GeneratePress. 
If we see both the themes, values are almost the same if you do not buy any other Genesis child theme. GeneratePress is the definitive winner in customization, and there is not much difference when it comes to performance.
Speed ​​tests are also dependent on web hosting, and we used the Hostinger premium web hosting plan. If you use excellent hosting in the speed test, the results also get better.
Genesis gives you lifetime updates on a one-time purchase and unlimited website usage. At the same time, GeneratePress gives you to choose from two license plans. One of the two license plans gives you one year update, and the second plan gives you a lifetime update.