Astra and GeneratePress are the most popular and lightweight themes for the WordPress website. If you are familiar with WordPress's theme library, then you have seen both of them on the library's popular list.
Most of the bloggers and digital marketers will be recommending you to use one of the theme either Astra or GeneratePress.
You know what?
I had the same question in my mind, and I finally settled with GeneratePress.
So, in this article, I will be comparing GeneratePress vs Astra theme using the most popular page builder plugins, Elementor, Beaver Builder, Divi, Visual Composer, and Thrive Architect.
Basic Overview of Astra and GeneratePress Theme:
| | | |
| --- | --- | --- |
| Features | Astra Pro | GeneratePress Pro |
| Pricing | $59 $47.20 (Limited Offer) | $49.95 |
| Renewal Offer | 20% Off | 40% Off |
| Modules | 26 (8 Free Modules) | 13 |
| Template | 53 | 39 |
| Website Uses | Unlimited | Unlimited |
| White Label | Yes | No |
| | | |
Pros and Cons
Astra Theme
| | |
| --- | --- |
| Pros of Astra | Cons of Astra |
| 100+ Premade Free Templates | Costlier than GeneratePress |
| WooCommerce Integration | Mixup with various pricing |
| Learndash Integration | Slow Customizer |
| White Label Feature | |
| Gutenberg Addon Integration | |
GeneratePress
| | |
| --- | --- |
| Pros of GeneratePress | Cons of GeneratePress |
| Pricing is low even renewal price | No lifetime plan |
| Highly Customizable Without Coding Knowledge | No white-label feature |
| WooCommerce Integration | |
| Premade Templates | |
| Gutenberg Addon Integration | |
| Developer Friendly | |
| Create Elements using Page builders | |
Performance Test
Performance is the one most bloggers and marketers consider, even according to the SEO experts if your website has a load time of more than 4 seconds then it will affect Search Engine ranking.
WordPress CMS already has its own resources, and if you install a heavy plugin or themes it will definitely affect the website performance.
Astra and GeneratePress one of the lightest themes in the market and both of them have modular functionality, we talk about that later.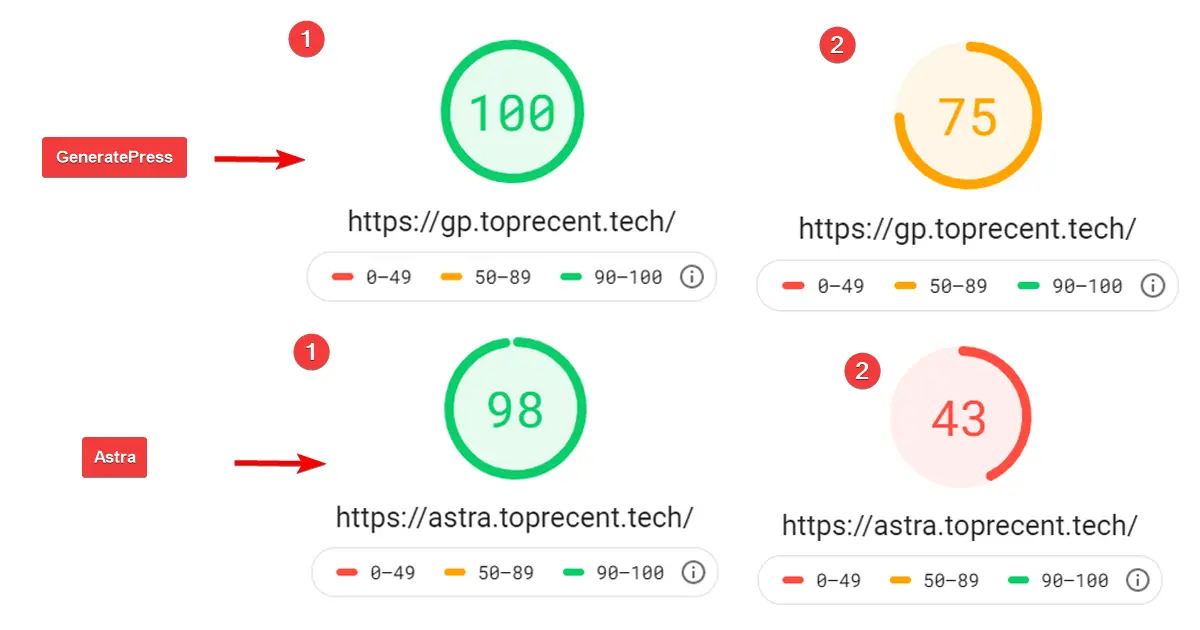 I had run Google page speed insight and as the results, you can see above in the image, I had also tested on GTMetrix as you can see the result below.
GTMetrix speed tests for GeneratePress theme: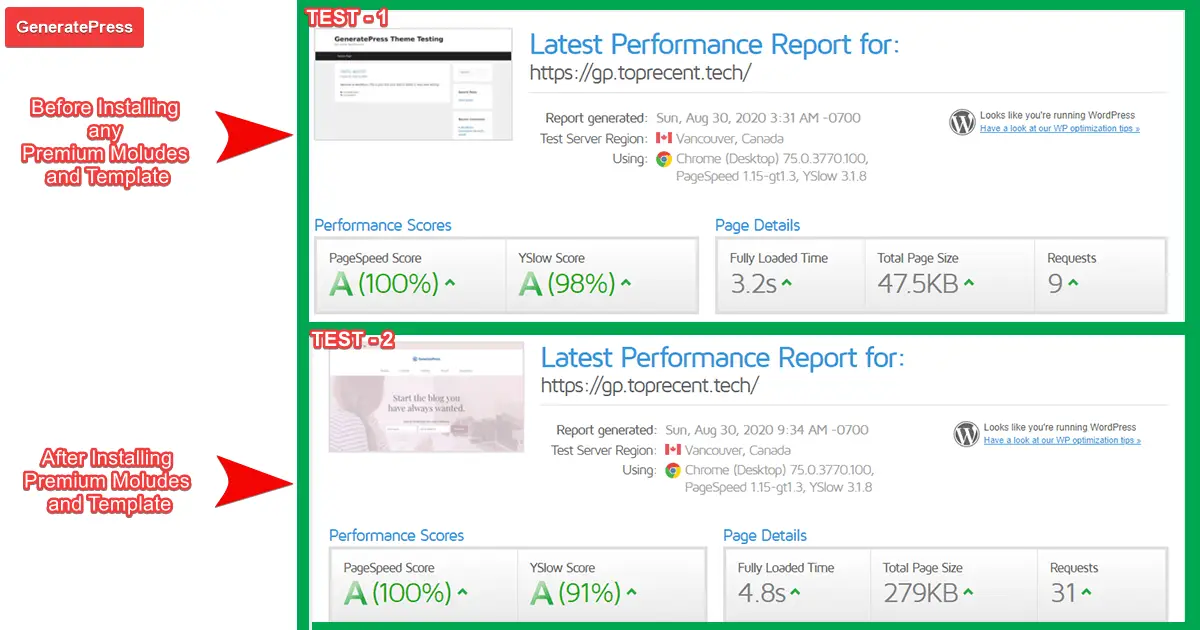 GTMetrix speed tests for Astra theme: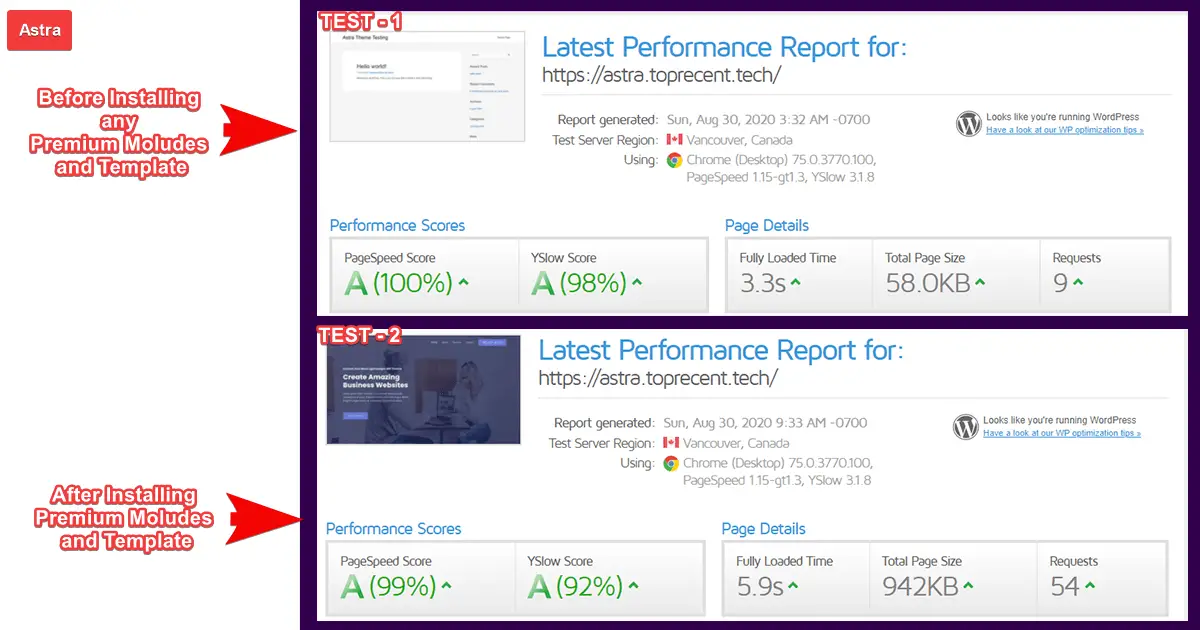 So, guys as you can see the results of both themes Astra and the GeneratePress, but the final results may differ and depend on the theme integration with page builder or customizations.
In my case, I have used basic customization like the readymade template and WP Rocket cache plugin for optimization and the GeneratePress theme always got better results.
By-the-way full load time will be always different for different Web Hosting. All websites I had tested these are hosted on the Hostinger premium shared hosting plan.
Features of Astra and GeneratePress
Features and functions, which we always see in everything. So, in this article, I will be comparing all features and functions of the Astra theme and the GeneratePress theme.
Modular Functionality
Astra has about twenty-six modules and GeneratePress has thirteen modules that are very useful in terms of theme customizations. Both of the themes have modular functionality that enhances the ease of access. The most important thing is that about the modules if you don't need the function you can deactivate.
So, where is the difference? I had already mentioned that Astra has thirteen more modules than GeneratePress. If you don't have a premium license of Astra theme you can even access the eight free modules but GeneratePress don't give any free modules
Astra Pro Modules: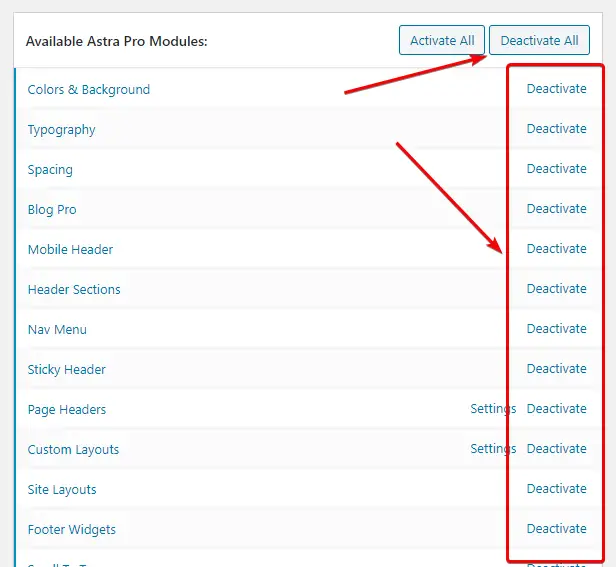 GeneratePress Pro Modules: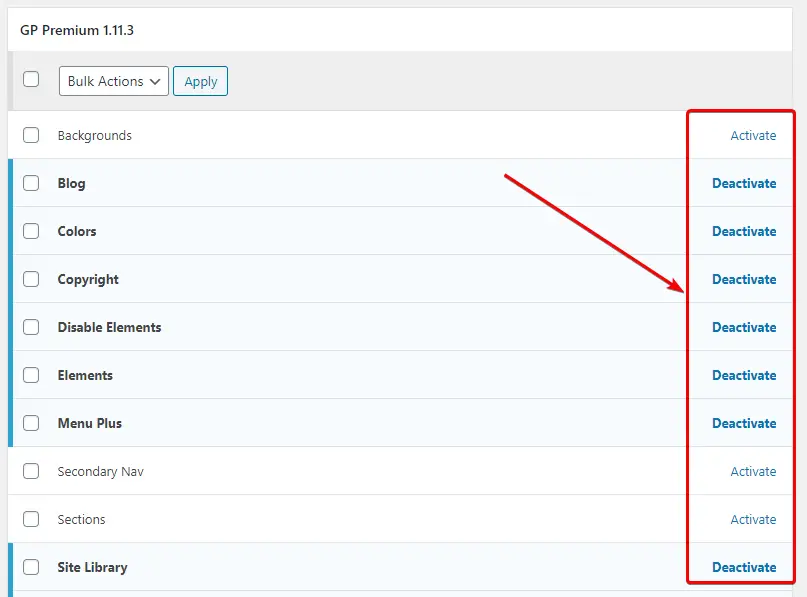 Templates
The templates are very useful for those who want to learn about the theme and who have a limited base of coding or haven't any kind of coding knowledge. By-the-way these themes also focused on them.
You just need one click and ta-da you will see the demo content and perfectly pre-customized theme layout.
Astra has more 100+ templates than GeneratePress. The best thing is that Astra provides 50+ templates free for every user. In comparison, GeneratePress needs a license key.
GeneratePress Template Library: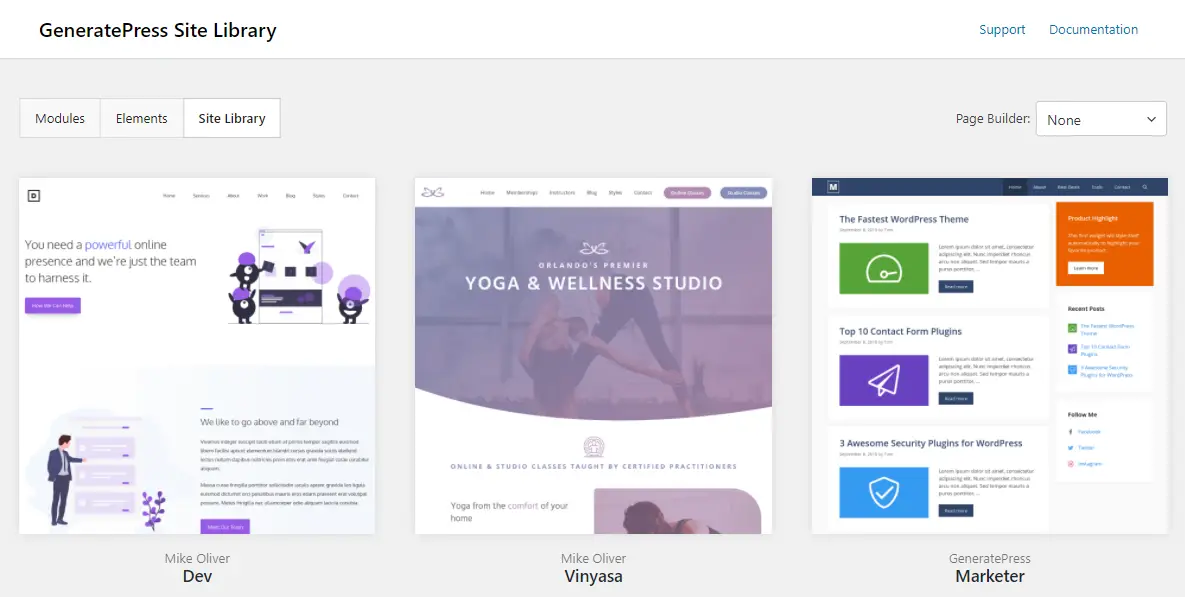 Astra Template Library: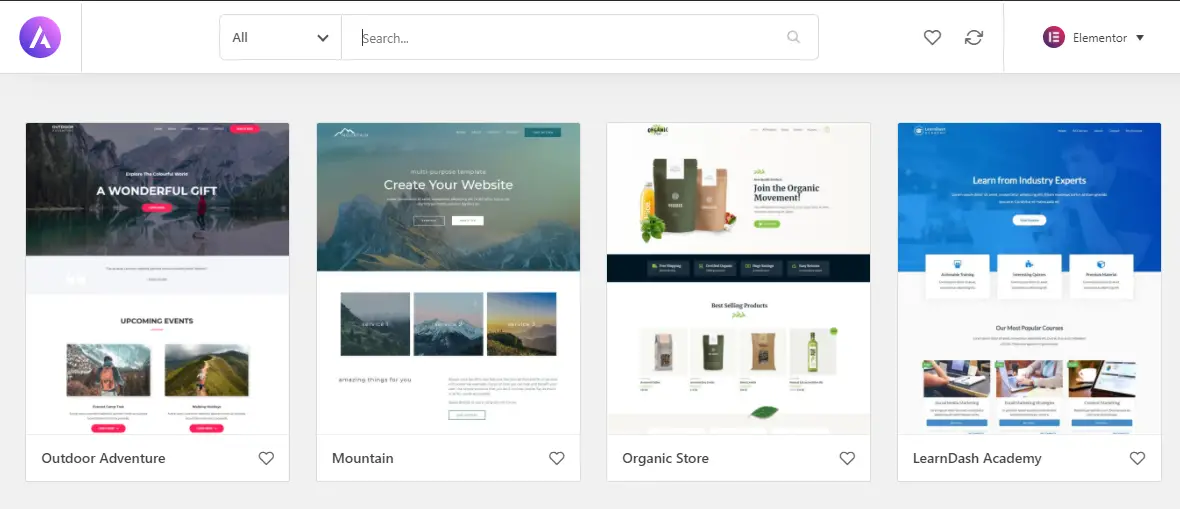 Gutenberg Integration
After announcing WordPress version 5.0, the Gutenberg Block editor comes with inbuilt. This editor has more capabilities than the classic editor, you can edit beautiful pages without using a page builder.
So, both of the themes come with their block editor addon plugin. GeneratePress has its GenerateBlock and the Astra has its Ultimate Addons for Gutenberg. The best part is that you can use both plugins in any theme, and these two plugins are completely free to use.
GenerateBlock from GeneratePress: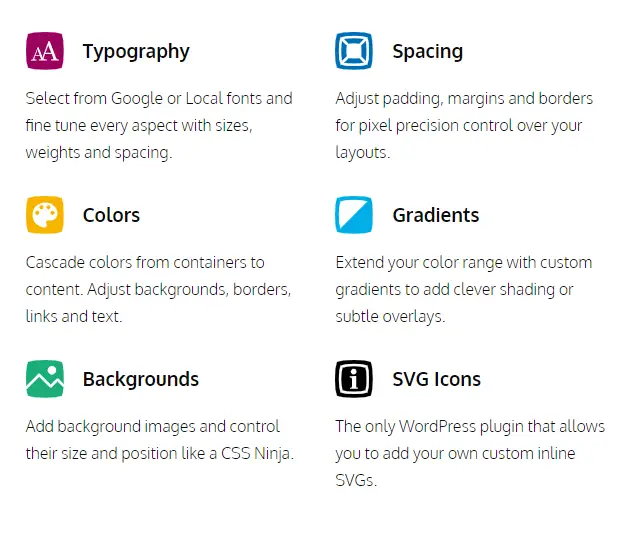 Ultimate Addons from Astra: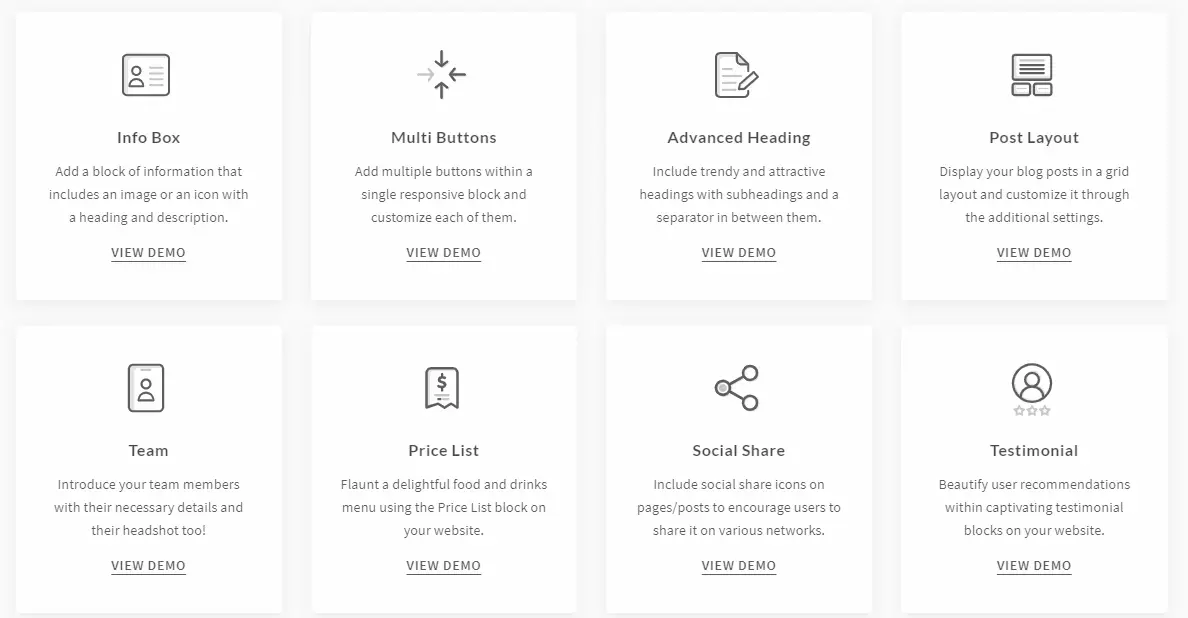 Both of the plugins are great in terms of capabilities and performance.
AMP Integration
AMP also is known as Accelerated Mobile Page. This feature boost speeds up to 20x time more than a regular mobile page. GeneratePress and Astra support standard AMP integration. If you are a Web developer then you can optimize, far better than regular.
AMP on GeneratePress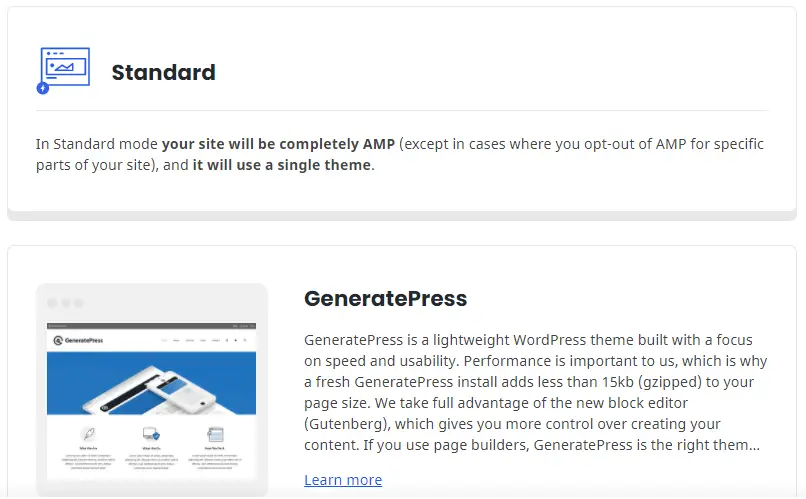 AMP for Astra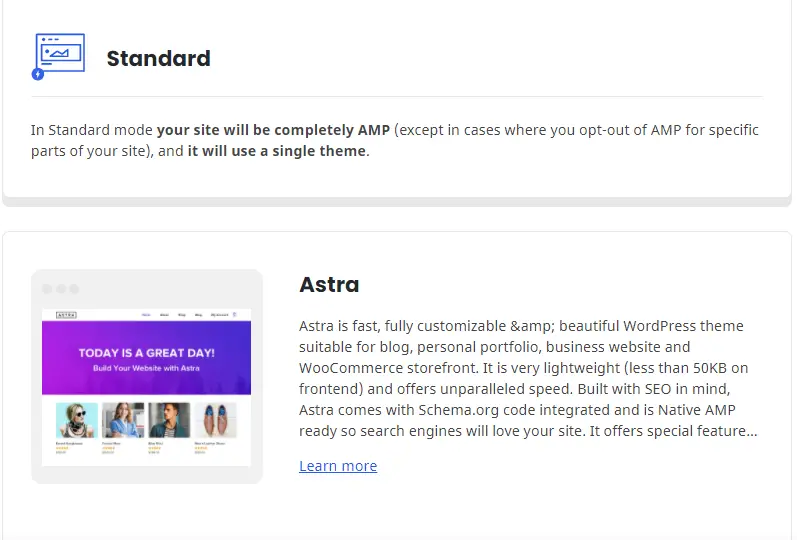 Whitelabel
Whitelabel feature is good when you don't want to share any credits of your theme developer. If anyone checks your website's page source they can't find any particular theme details.
Only Astra pro has this feature, if you are using a free version then you can't edit the theme credits from the source.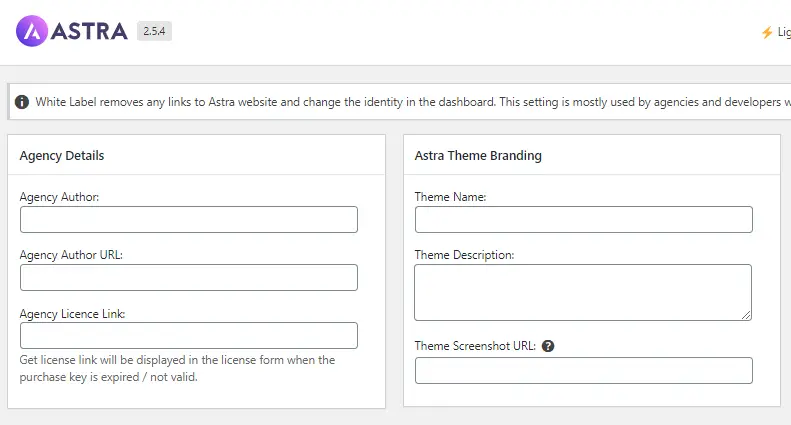 Customizations of Astra and GeneratePress
Customizations are the main feature that defers every website from each other different colors, different font, and web layout. So, in terms of customizations, Astra and GeneratePress are extremely great. You can customize beyond the limit if you know about Web development.
Layout Customization
Astra and GeneratePress are very similar in layout customization, you can set your own value for container dimension, content typography, background colors, Google fonts, and font sizes, and much more in both of the themes.
Header Customization of Astra
In Astra's Header customization you will get a transparent header function, this function you won't find in the GeneratePress theme. But both are very similar in customization.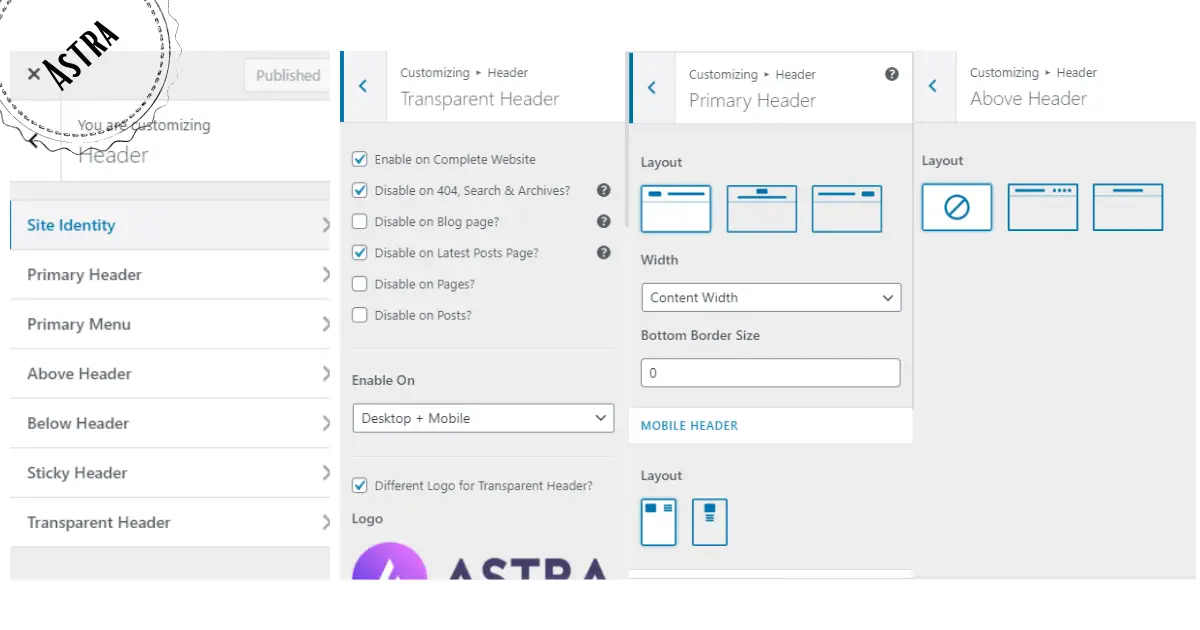 Header Customization in GeneratePress
I have mentioned that GeneratePress and Astra have similar functionality in terms of header control. But there is a big difference between them. Astra has more header control functions in the free version and that is the point lack on the GeneratePress theme. GeneratePress hasn't much to customize in the free version of the theme.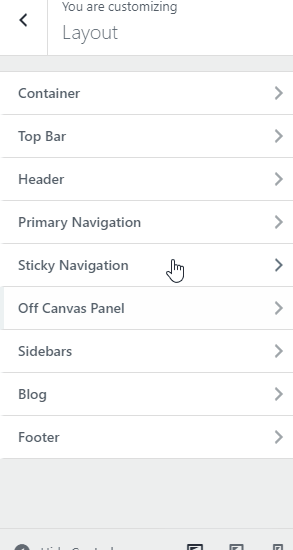 Color Customization
In color customization, both of the themes give great controls but some places you can not customize in Astra but you can do in the GeneratePress theme.
If you want to do extreme color customization in the Astra theme you need to modify the theme's core CSS files. For that, you need coding knowledge.
Color Customization in Astra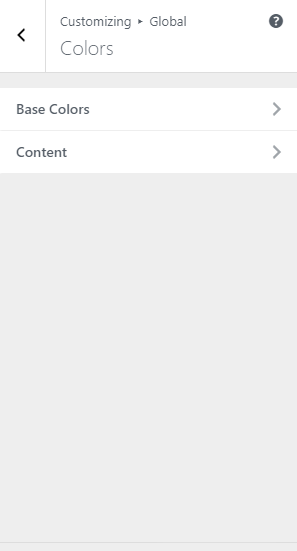 Color Customization in GeneratePress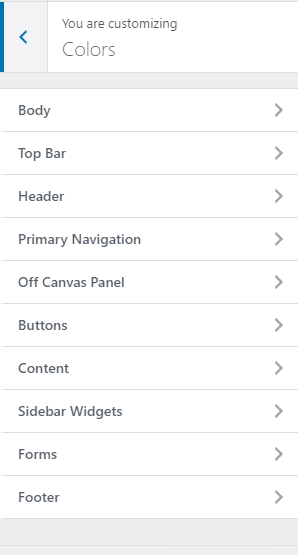 Footer Customization
Footer customization in Astra and GeneratePress are similar but they are identically different because Astra has a footer widget option in the same place but the GeneratePress theme has all widget options in one different place. So that is the difference between the Astra theme and GeneratePress theme but in terms of function, they work the same.
Footer Customization in Astra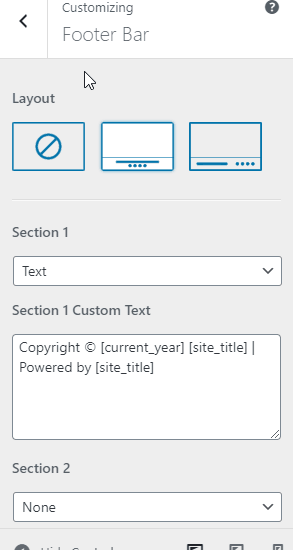 Footer Customization in GeneratePress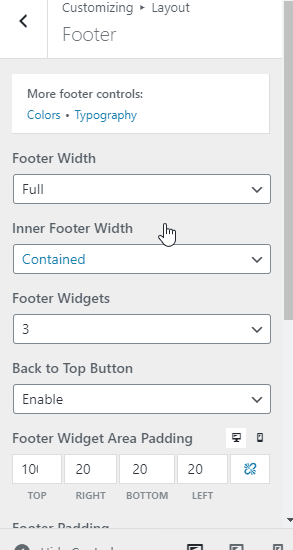 Widget Control
Astra and GeneratePress theme has a similar number of the widget, whether it's for the sidebar area or footer area.
You can add multiple Widgets in the footer and sidebar area, also you can add a custom widget using the page builder.
Custom layout
One of the best features in these both themes. You can create a custom layout for the Single post or Page and even Header and Footer section. You can customize the Featured Image section and more.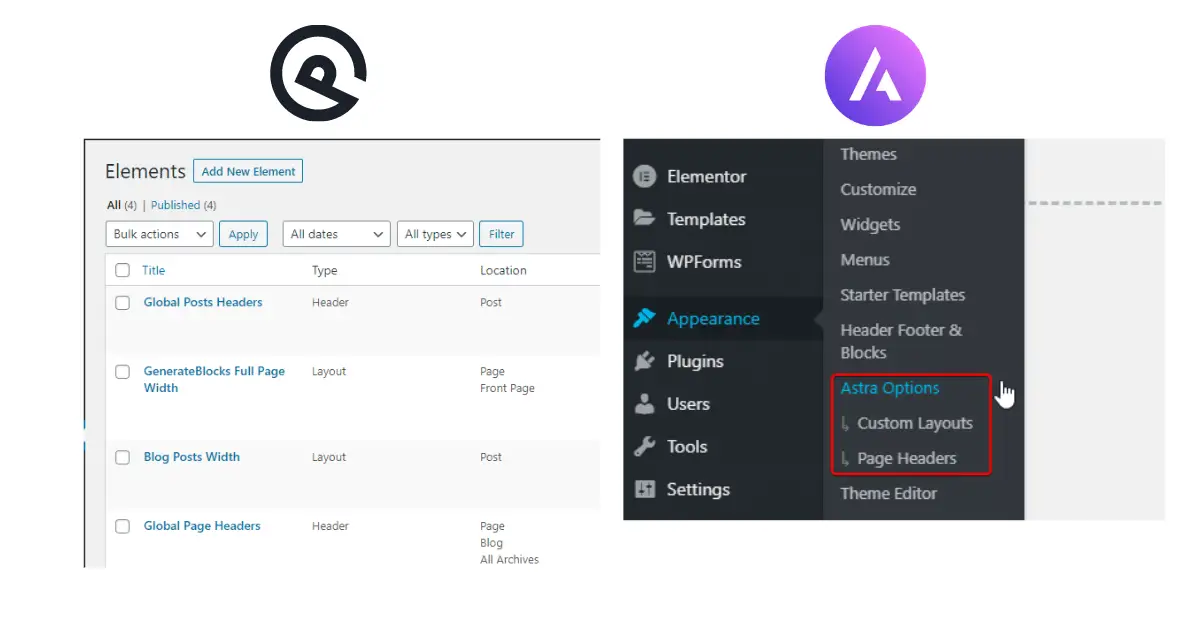 WooCommerce on Astra and GeneratePress
Astra and GeneratePress both of them have specifically WooCommerce integration modules for creating a shopping or any type of e-commerce website. When you need to create an e-commerce website just install the WooCommerce plugin and activate the modules.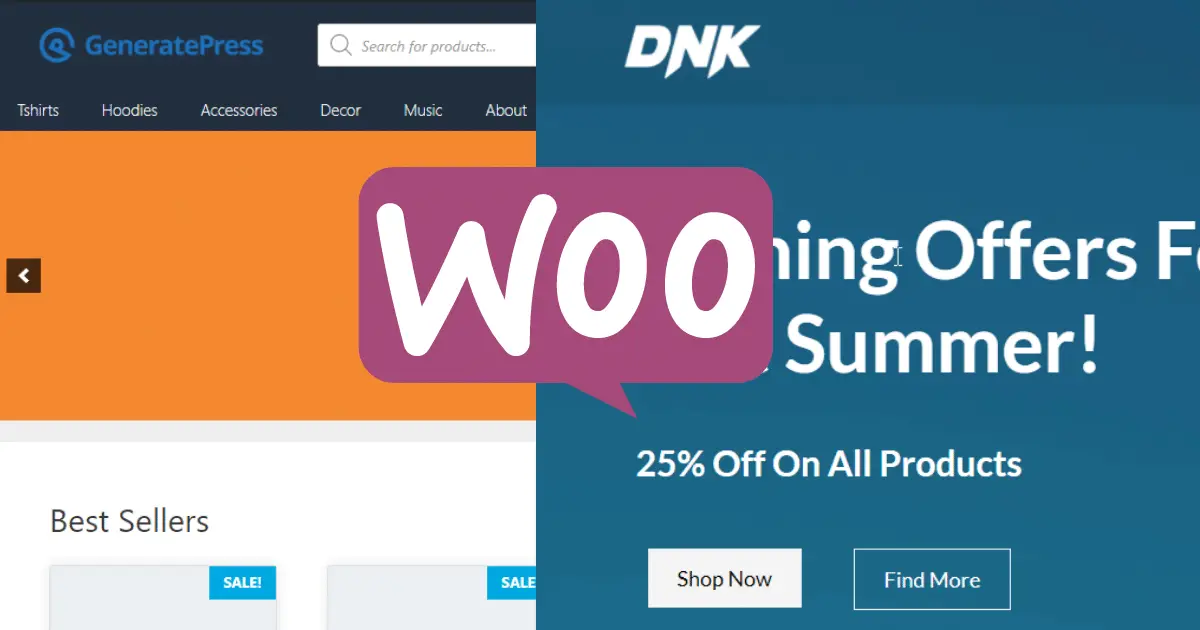 Page Builders Supports
I have tested several Page Builder plugins on both of the themes, Elementor one of the best page builder plugins that work great however Astra theme has an extra addon for Elementor, the addon include with Astra Starter Sites. Starter sites are one of the best plugins that come with Astra's free version, and the good thing is that you can use the plugin with any WordPress theme.
I have tested some other premium plugins, like Beaver Builder, Visual Composer, and Divi Builder. They also have free versions with limited features except for Divi Builder, but anyway we had created a page with every one of them. The experience was great.
If you want to try page building then you can try their free version, and Astra or even GeneratePress fully compatible with these all plugins. There will be no winner because page builders are extra goodies that help your themes to enhance capabilities.
Support and Documentations
Both of the themes Astra and GeneratePress have their huge knowledge base, and even video tutorials. They both also have ticket systems for support.
But there one thing that GeneratePress has an advantage over Astra, that is a support forum. You can resolve your problems by discussing with other premium users and the support faculty. If you are a free user then you can't reply to the discussion but you can see the conversation between them.
Astra Support and Documentations
Good thing is that Astra has a huge number of tutorials and Video tutorials and even third-party tutorials on YouTube.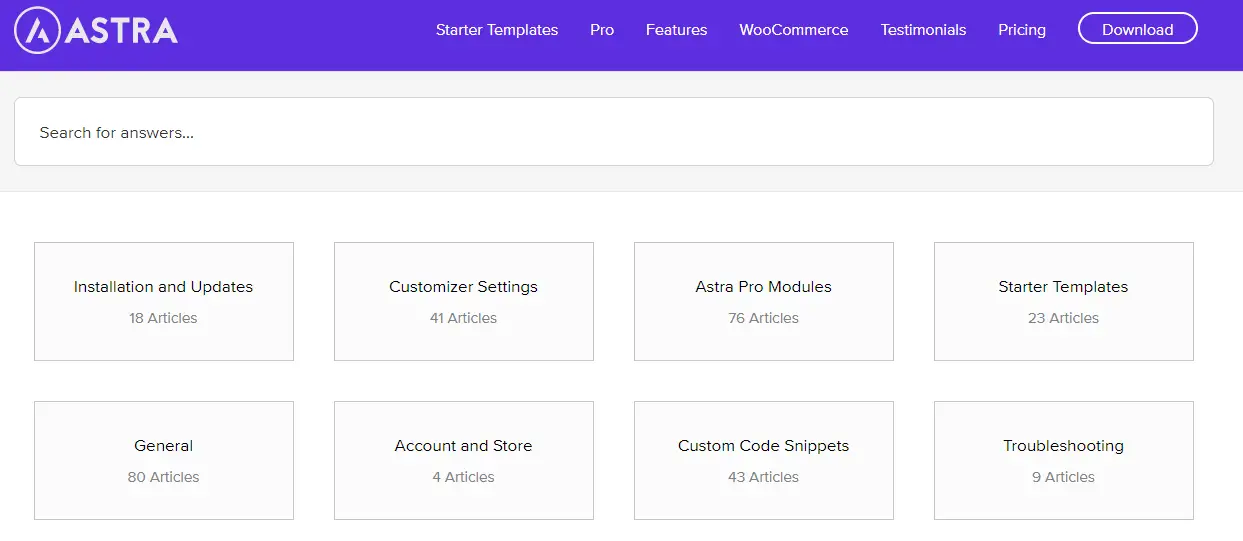 GeneratePress Documentations
GeneratePress also has a huge number of documentation articles, video tutorials even third party tutorials, but there is a thing that is in-person support. That is the lack of Astra theme and that matters. But I also love the Astra theme because Astra and GeneratePress have many things similar.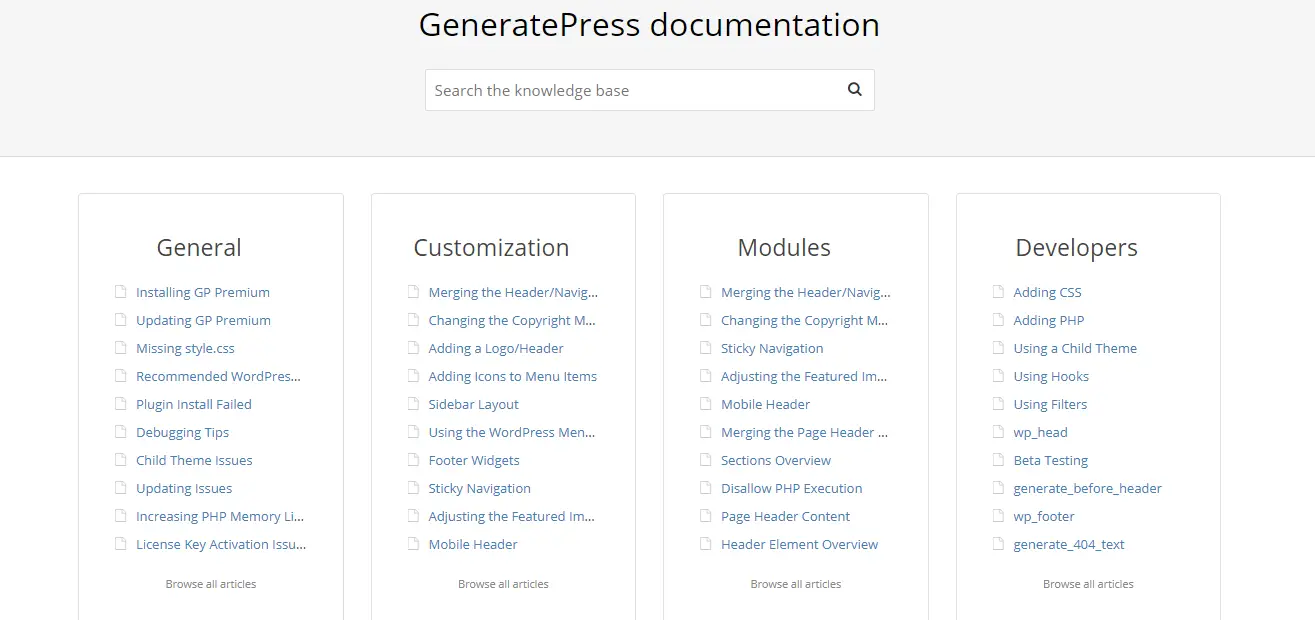 Pricing
Price is the most precious thing in the world for everyone. So, they have a reasonable price on the product. Astra and GeneratePress have very similar prices, that I have already mentioned in the top of the article. In this section, I'm going to compare all of their plans and renewal prices and even offers.
Pricing of Astra Theme
Astra has three plans with limited a time cycle, and even for a lifetime.
| | | | |
| --- | --- | --- | --- |
| | Astra Pro | Astra Mini Agency | Agency Bundle |
| Annual Price | $59 $47* | $276 $169* | $523 $249* |
| LifeTime Price | $523 $249* | $996 $499* | $1893 $699* |
| Renewal Discount | 20% | 20% | 20% |
| Features | Pro Modules | Astra Pro+ Agency Starter Sites | Mini Agency + Pro Plugins Benefits |
| | | | |
*These are limited discounted prices.
Astra theme has good pricing for everyone but my thought is that they mixed up the pricing with lifetime offers and even any kind of limited offer, they confuse customers. Astra has three different-different plans for users and their perspectives.
These three plans have unlimited access to websites, which means you can use or sell your themes for work as a web developer. I think the other two plans except the base plan are unnecessary. Bull all things up to you.
Astra's renewal offer is also low as compared to GeneratePress, but if you take Astra's lifetime plan that would be a breakthrough price. After the breakdown, the discount of 20%, you would be charged for Astra Pro renewal is about 47 US dollars.
Now take a look at GeneratePress pricing.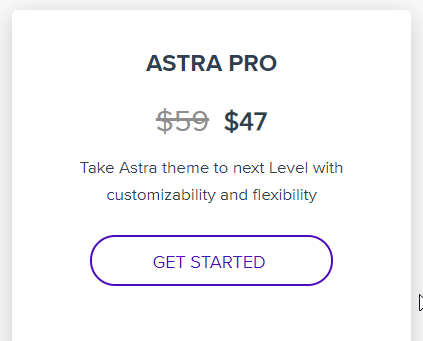 Pricing of GeneratePress Theme
GeneratePress has great pricing on its theme 49.95 US dollars that is about 50 US dollars (No Discount on First Purchasing ). You can use this theme on unlimited websites. They have only one single plan and I loved it.
If you are going to renew the validity of support and update then you will get a 40% discount. I have broken down the price of renewal that is about 20 US dollars. That is a huge discount compared to the Astra Pro.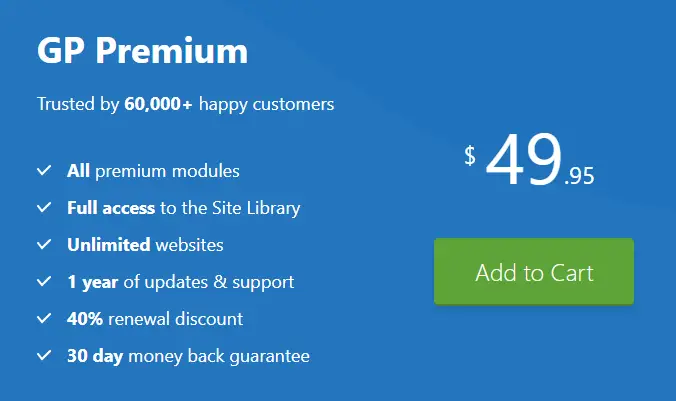 Circumstances on GeneratePress vs Astra
Some other factors affect your website's performance like the Hosting Services. If you are using a good host from a good hosting service provider, then you can also see the good results from above. Cloud Hosting and Managed VPS Hosting services are the best hosting services. But they are very costlier than any shared hosting service.
But in the market, there are some shared hosting services provided they are providing the best performance services at affordable prices. We can just suggest you if you want performance on your website and want to make more audience and want them engaged with your blog, then you should use a good shared hosting service. Like Hostinger, A2Hosting, BlueHost, and Hostgator. These are the best affordable hosting providers.
My Final Verdict on GeneratePress vs Astra
So, guys after lots of experiments upon those two themes, I have concluded and I think GeneratePress is the Winner of this comparison. In our test many factors were relay, in your case would be different, by-the-way you can see our test results, both of them GeneratePress and Astra are similar. At some point Astra is good and at some point GeneratePress.
But here is the thing, GeneratePress is the overall winner, my tests are focused on the beginner who started blogging or wants to start. If you are looking for the best WordPress theme then you can choose one of them.
What you think about these two themes let us know in the comment box.
FAQs About GeneratePress vs Astra Theme
How to download Astra theme for free?

Astra theme is a free theme you can download from the WordPress theme databases or just going to the official Astra theme's website and download the ZIP file.

How to Download the GeneratePress theme for free?

GeneratePress theme is a free theme you can download from the WordPress themes database or just going to the official GeneratePress theme's site and download the ZIP file.

How to increase WordPress website performance?

How can I install GP premium?

GP premium is a paid plugin for the GeneratePress WordPress theme. You need to buy a license from GeneratePress's official site then just download the plugin and install it.

Which theme works best with Elementor?

GeneratePress and Astra themes are fully compatible with the Elementor page builder.

Is the Astra theme mobile friendly and responsive?

Astra theme is mobile friendly and fully responsive for any devices and dimensions.

What is the best theme to use with Elementor?

GeneratePress and Astra are one of the best themes for Elementor page builders. You can push the limit beyond using GeneratePress or Astra with Elementor.

What does Astra mean?

Astra is a Sanskrit word that means Weapon.

What is the best WordPress theme?

It depends on your purposes, but if you want to do blogging stuff or want to make a professional website with a low budget then GeneratePress and Astra one of the best choices.

Can I use Elementor for free?

Elementor is a freemium plugin for WordPress Websites. Elementor has a free version along with a premium plugin that gives you most of the advanced features.

Is GeneratePress free?

GeneratePress is a freemium theme for WordPress that means, GeneratePress has a free version and also the premium version. If you need some extra features then you should purchase their premium plugin.

Is Astra theme free?

Astra is a freemium theme for WordPress that means, Astra has a free version and also the premium version. If you need some extra features then you should purchase their premium plugin.

What is the fastest WordPress theme?

GeneratePress is the fastest theme ever we have tested alongside with the Astra theme. Their performance and features are very similar but GeneratePress is slightly a step ahead than Astra.

What is Astra WordPress?

Astra is a WordPress theme that is developed by the Brainstorm Force team. Astra plugin also available for WordPress this particular plugin is a WAF security plugin.

What is GeneratePress?

GeneratePress is a WordPress theme developed by Canadian developer Tom Usborne.

Is Astra the best WordPress theme?

Yes, Astra is a very good WordPress theme. But not the best, it depends on your purpose. Though Astra is one of the very good themes in performance and customization.

GeneratePress vs Astra, which one is the best option?

Both of the themes are great, but in terms of performance I suggest to buy GeneratePress.

GeneratePress vs Astra vs OceanWP, which theme is good?

All three GeneratePress Astra, and even OceanWP are one the most lightest themes for WordPress websites. So, choose any of them.