GreenGeeks is a renewable energy-driven web hosting company based on 300% green energy. It is the only hosting platform that offers managed WordPress hosting at affordable prices. And their hosting is powered by LiteSpeed technology, So the performance of GreenGeeks is exceptional.
According to Environmental Protection Agency's green power partner list, GreenGeeks is the number #1 among the web hosting business and other businesses in Green Power Percentage of Total Electricity Use.
If you use GreenGeeks hosting, you are helping them to convert a part of your value to green energy. GreenGeeks uses 4,041,000 kWh of green power annually, accounting for 300% of the total electricity.  Now you can say that your website is 100% Carbon Neutral. 
Get Started With GreenGeeks
Creating a website mainly requires a domain name and good web hosting, where you can store the content of your website and blog.
If you are not a developer and do not know how to do coding, you should use a content management system. 
Content management systems such as WordPress. You do not need knowledge of coding and web development to use WordPress.
WordPress is a popular open-source software and operates 59% of websites on the Internet. 
GreenGeeks is a hosting platform that is popular for WordPress hosting. Especially with the GreenGeeks hosting plan, you will get the complete package (domain name, CDN, SSL certificates, and emails) to build a website.
GreenGeeks Managed WordPress initial plans start at $2.49 per month. I have further discussed which scheme of GreenGeeks you should buy.
Which Plan Should I choose?
GreenGeeks has three different hosting plans available for WordPress website hosting. From these plans, you can choose the hosting according to your budget and business size. 
In such a situation, GreenGeeks offers not only WordPress hosting but also WooCommerce, and VPS hosting. So let's see which GreenGeeks plan you should buy for your blog or website.


Lite
GreenGeeks' WordPress Lite hosting plan is the cheapest on their platform and starts at $2.49 per month. If you purchase this plan for a year, you will get a domain name, SSL certificate, and CDN for free.
Features of Lite Plan:
50GB SSD Storage
Unlimited Bandwidth
50 Email Accounts
LiteSpeed Server + Cache
Free Domain
Free Nightly Backup
Free SSL Certificate
Free CDN
Unlimited Databases
30-Day Money-Back Guarantee
If you are a beginner blogger and creating a website or blog for the first time, then GreenGeeks Lite Plan is for you. Under this scheme, you will be able to host a single website.
Pro
GreenGeeks Pro WordPress hosting is more robust than the Lite plan and has more features. You get this Pro plan at $4.95 per month. These are the most popular WordPress hosting plans on the GreenGeeks hosting platform. 
Features of Pro Plan:
Unlimited Websites
Unlimited SSD Storage
Unlimited Bandwidth
Unlimited Email Accounts
Faster Performance than Lite plan
Free Domain Name
Free SSL Certificate
Free Nightly Backup
Free CDN
Unlimited Databases
LiteSpeed Server + Cache
If you are a blogger and have a source of income, you can opt for GreenGeeks Pro WordPress hosting plan. If you have a small business, then this plan is perfect for this. Under this plan, you can host unlimited WordPress websites.
If you have a little knowledge of blogging, then I would advise you to buy this plan only.
Premium
This premium WordPress hosting plan is the most robust and high-performance. The price of this plan starts at $8.95 per month, and the particular feature of this plan is that you get a dedicated IP address.
Features of Premium Plan:
Unlimited Websites
Unlimited SSD Storage
Unlimited Bandwidth
Unlimited Email Accounts
Fastest Performance
Dedicated IP Address
Premium SSL Certificate
Free Domain
Free CDN
Nightly Backup
Unlimited Databases
LiteSpeed Server + Cache
GreenGeeks Premium WordPress hosting is mainly for online store and website which has a large number of visitors. Under this plan, you get more resources than other plans, and the performance is also pretty fast.
Install WordPress On GreenGeeks
If you have made sure that, you have to buy a particular hosting plan from GreenGeeks.
So you must be thinking about how to install WordPress after purchasing the hosting plan? So you can rest assured, WordPress installation on GreenGeeks is a game of magic, and follow our steps.
Step – 1. Claim Free Domain Name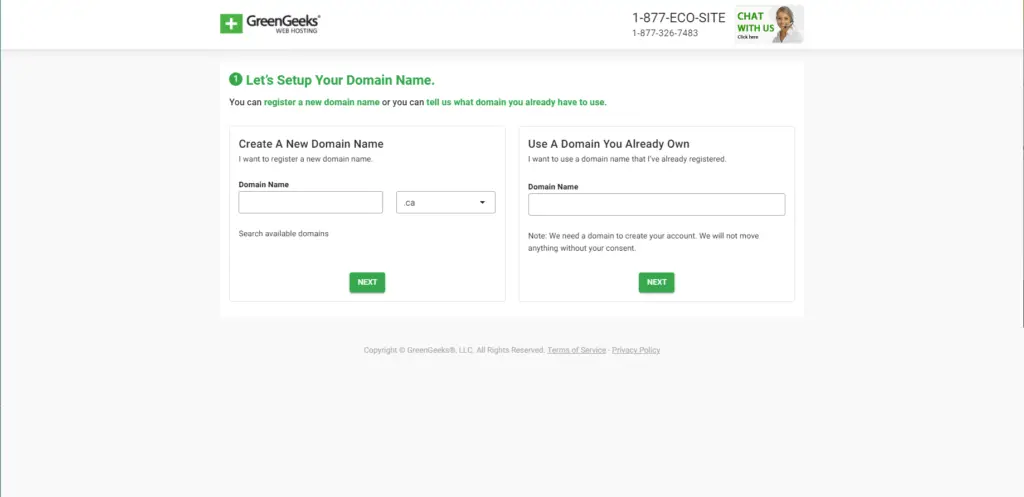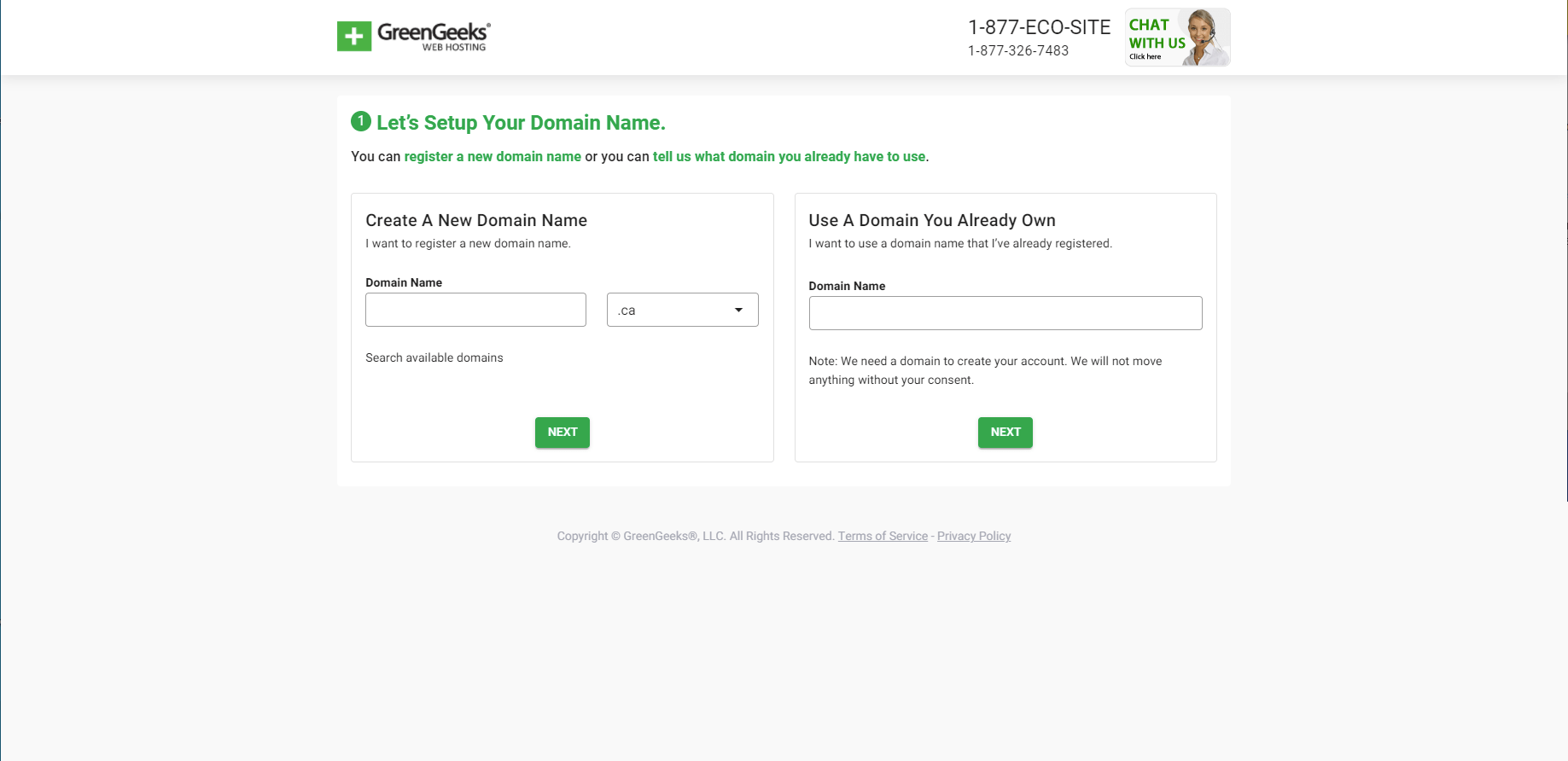 GreenGeeks offers a domain name for free with all of its hosting plans. So when purchasing hosting on the GreenGeeks platform, you have to claim the free domain, and if you already have a domain name, you can connect it.
Step – 2. Fill Up Account Information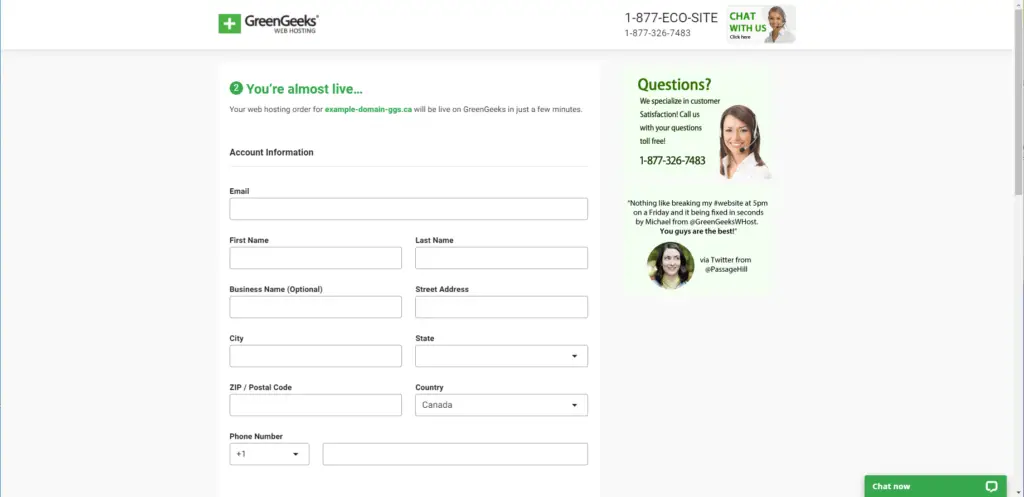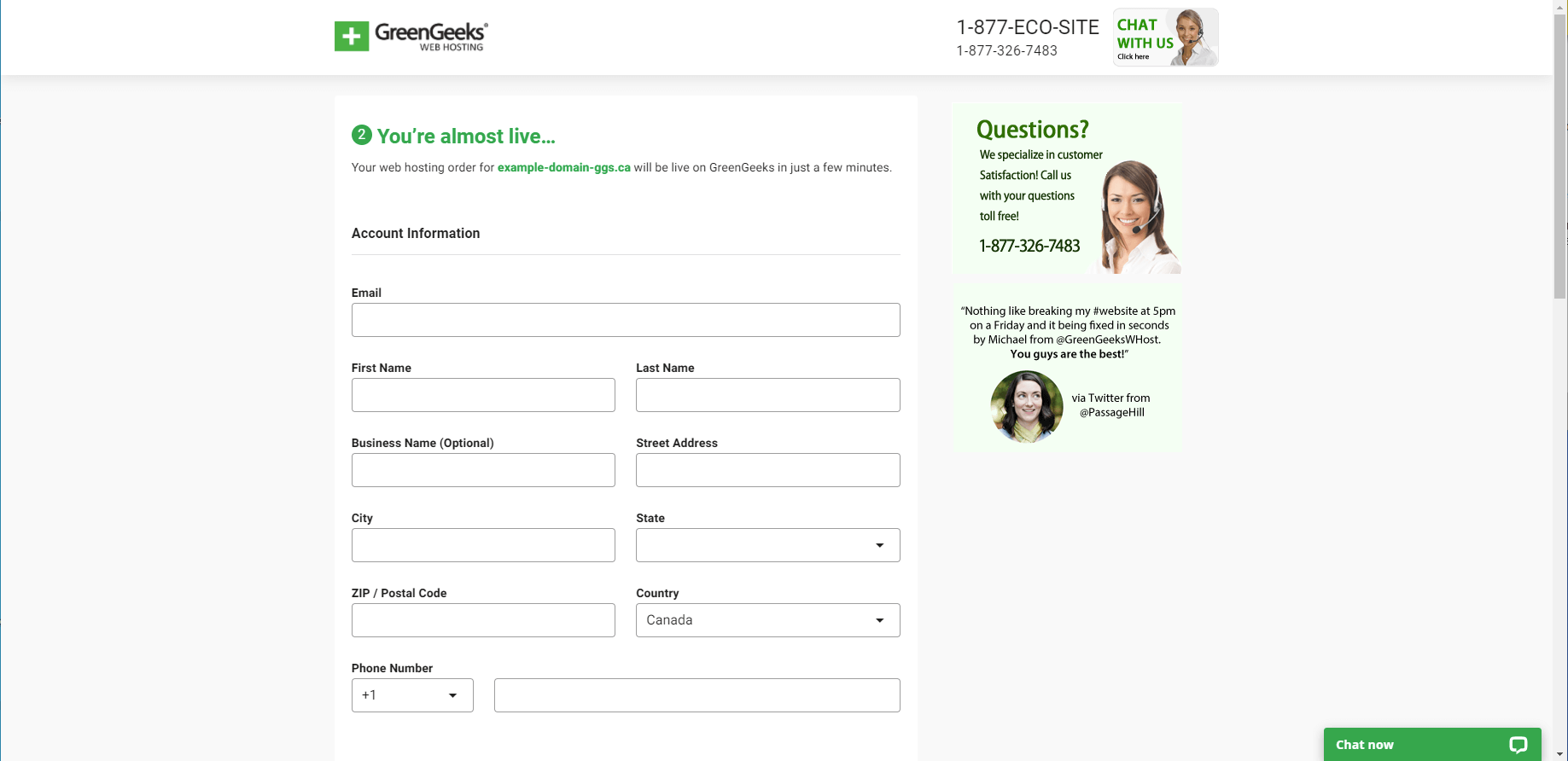 After claiming the domain name, you will need to enter your account information, such as your name, email address, and others.
After this, you will have to prove the data center and payment of your hosting. You can pay through credit card, debit card, and PayPal.
Step – 3. Click "Start New Website"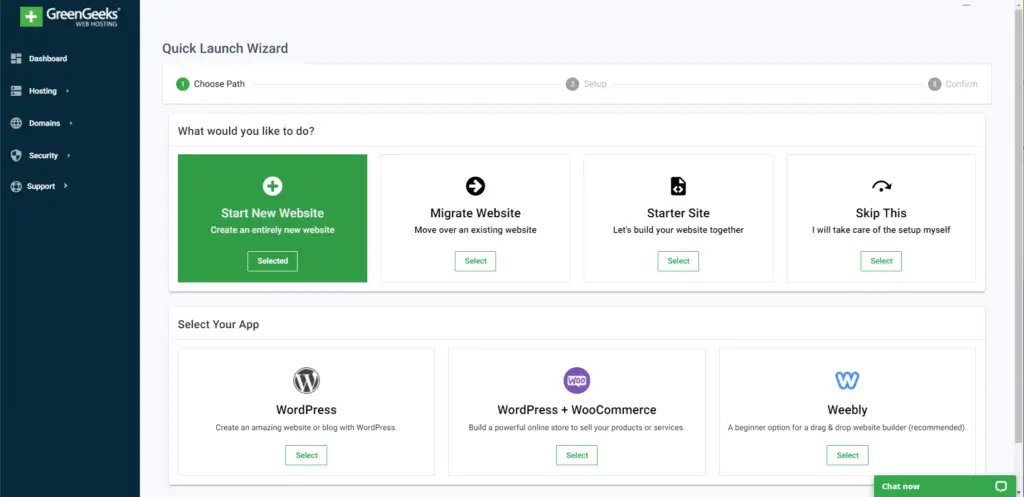 To install WordPress on GreenGeeks, you have to click on 'Start A New Website' as per the picture. Now you will get the option to select a different CMS App.
Step – 4. Select WordPress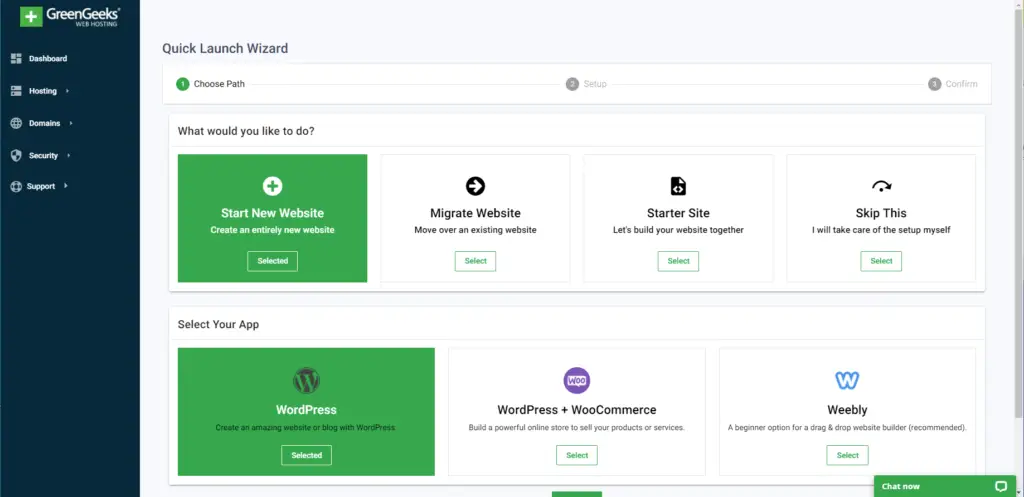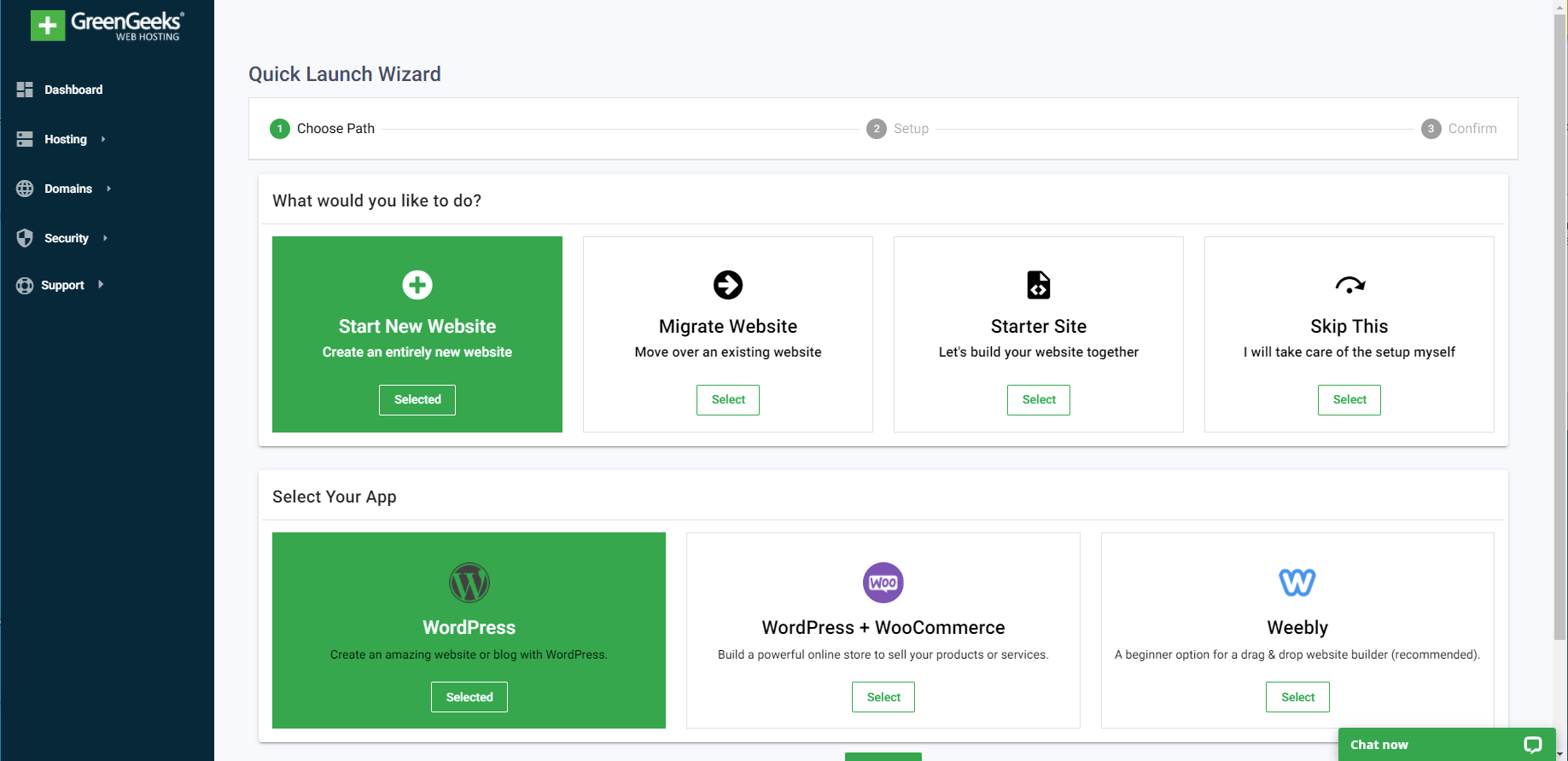 Now select WordPress to start your blog, then click to proceed.
Step – 5. Select WordPress Theme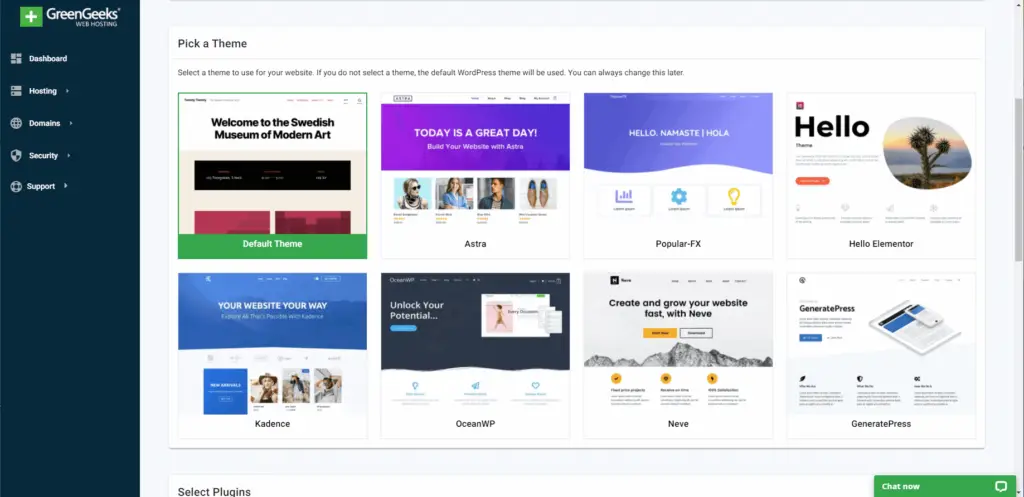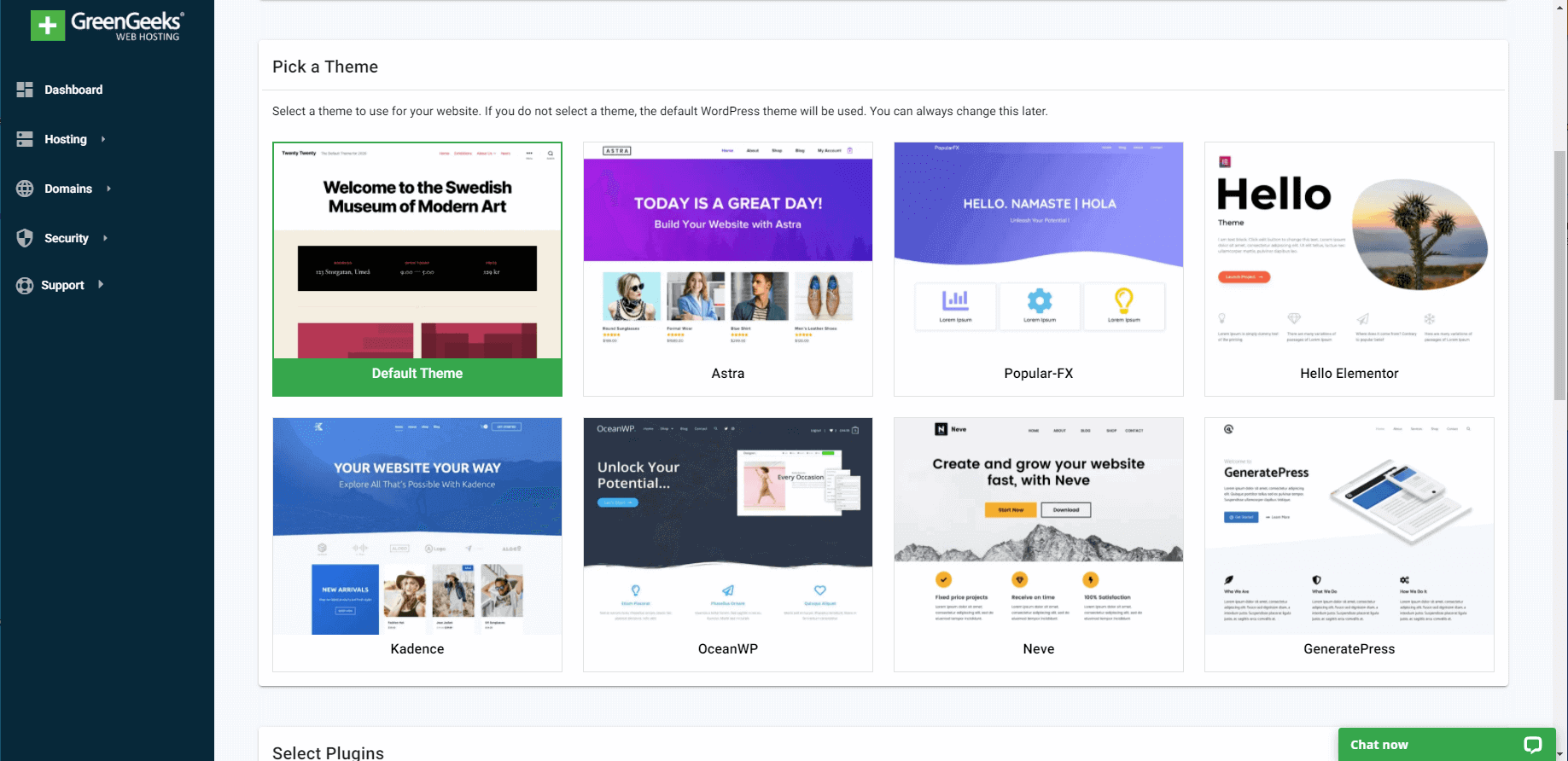 After WordPress installation, you will get the option to choose a theme. As you can see in the picture, you will get a chance to choose free popular themes, such as GeneratePress, Astra, and Neve Theme.
Login To WordPress Dashboard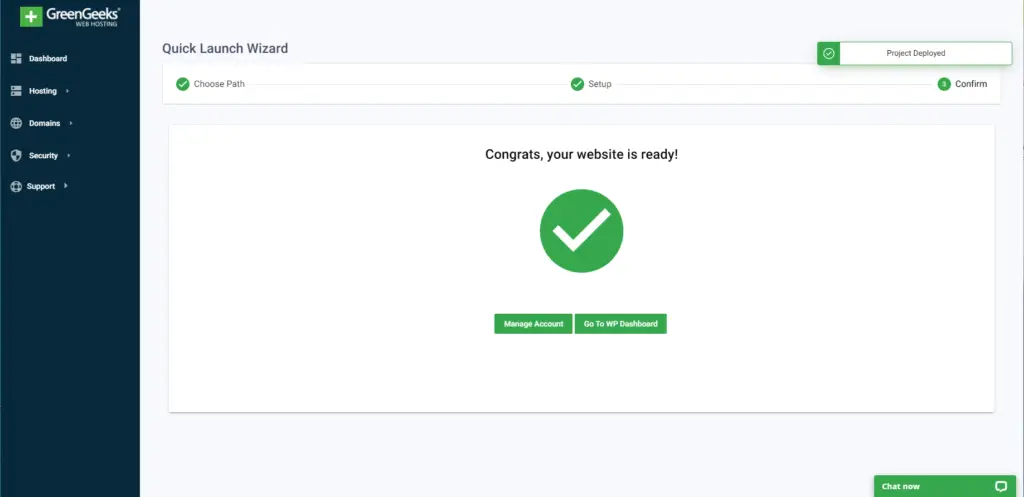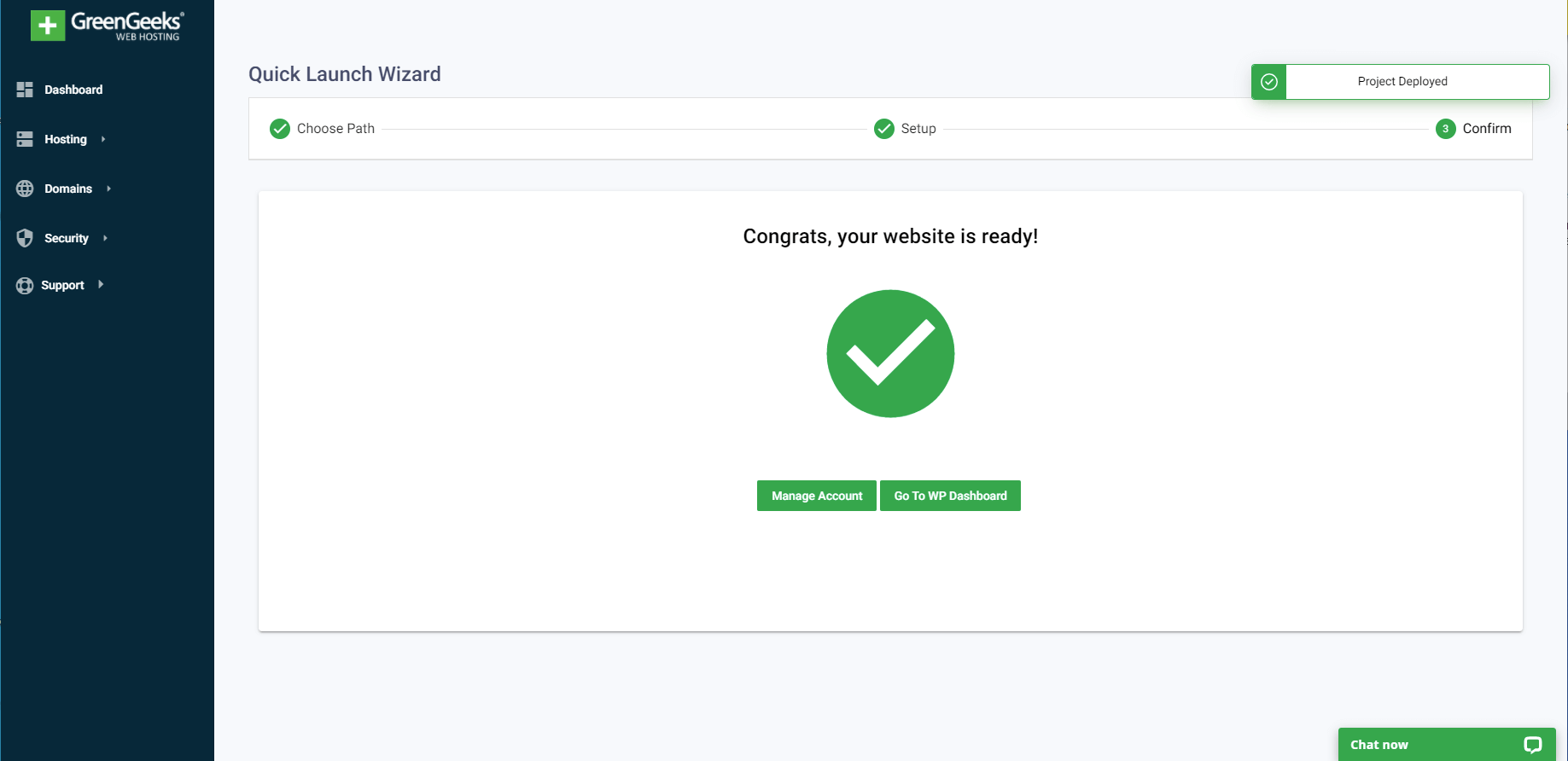 When everything is set, you will see a big green tick as per the picture, which means that the installation of your website has been completed. And you can log in to your website dashboard by clicking on the below WP Dashboard button.
Why should you choose GreenGeeks Instead of others?
GreenGeeks is a popular hosting platform that is fast and secure and is 100% eco-friendly in particular.
If you want to start your blog on WordPress, then I suggest that you choose managed WordPress hosting from GreenGeeks.
If you are wondering, what is this in GreenGeeks Hosting? And why buy GreenGeeks hosting except for other hosting platforms?
So I have mentored some such points, which are available only to you on the GreenGeeks hosting platform, that too at affordable prices.
1. Managed WordPress Hosting
On the GreenGeeks platform, you get a fully managed WordPress. Managed WordPress means that the performance, speed, security, updates, etc., of your WordPress websites, are administered by the hosting provider. 
Must 

Read:-

 How To Optimize WordPress Website Speed With WP Rocket? 
2. Affordable Price
If you are a new blogger and want to create your first website on WordPress, then the GreenGeeks hosting platform is for you. On this platform, you get managed web hosting at $2.49 per month, and where you get a domain name and SSL certificate for free.
3. RAID-10 SSD Storage
On the GreenGeeks hosting platform, you get RAID10-based SSD storage with all plans. This type of storage is 50% faster than regular SSD storage and maintains its performance for a long time.
4. Enhanced Security
GreenGeeks provides you with enhanced security with all your hosting plans so that there is no external threat of any kind on your website.
GreenGeeks scans real-time system changes to the kernel and other files. All of their systems are based on the Secure vFS framework, and if any malware signature is detected during scanning, then isolate it immediately.
Other security measures are adopted by GreenGeeks, to protect user data on your website and website.
5. Free SSL certificate and CDN
When you buy hosting from the GreenGeeks platform, you will get a free SSL certificate and Cloudflare CDN. The SSL certificate encrypts your website and also improves SEO. The same CDN improves the performance of your website.
6. LiteSpeed Tech. Fast Server
On GreenGeeks Hosting, you get an Ultra Optimized Server of LiteSpeed Technology, and it increases the speed of your website by 50% and improves the read and write speed of the server.
7. Various Data Center
If the data server of your website is close to the location of your targeted audience, then your website will load much faster, and the bounce rate will be lower. So while purchasing the hosting, you have to take care of the data center as well.
Some hosting markets provide you with web hosting at affordable prices and do not even let you choose the data center. By the way, GreenGeeks is a web hosting provider where you can select the location of your preferred data center. GreenGeeks's data centers are located in five different places in the world.
Conclusion
GreenGeeks is an excellent web hosting platform that runs on 100% green energy and is very beneficial for the environment. On GreenGeeks, you get from Managed WordPress Hosting to Reseller hosting and Private VPS Hosting. As I mentioned earlier, GreenGeeks is the only hosting company that produces 300% of Green Power for its electricity usage. So if you want to use eco-friendly web hosting, that too at affordable prices, then GreenGeeks hosting is the only option.