In this blog, earlier we have published, how you can install WordPress on Oracle Cloud. Here in this article, I am going to share, how you can subscribe to Oracle Cloud & get free Virtual machines along with other useful services.
As we all know, Oracle is one of the popular multinational computer technologies (IT) company and provide cloud services. Oracle provides cloud services like Amazon, Microsoft, & Google. Other platforms provide a year or just a 90-day free trial, but Oracle Cloud provides a one-month free trial with $400 credits (SGD). Using that credit, you can use all the services of Oracle Cloud without limitation.
However, after the end of the trial, you will still have access to Oracle Cloud services, like two separate Virtual machines powered by AMD vCPUs, Object storage, databases, & more.
So, let's get started with the sign-up process with Oracle Cloud.
Sign Up for Oracle Cloud
Registering on Oracle Cloud is like other platforms, here you must provide account information, and personal information and then need to verify the payment method. For payment verification, it will charge $1 from your card, and after a few hours, it will be reversed.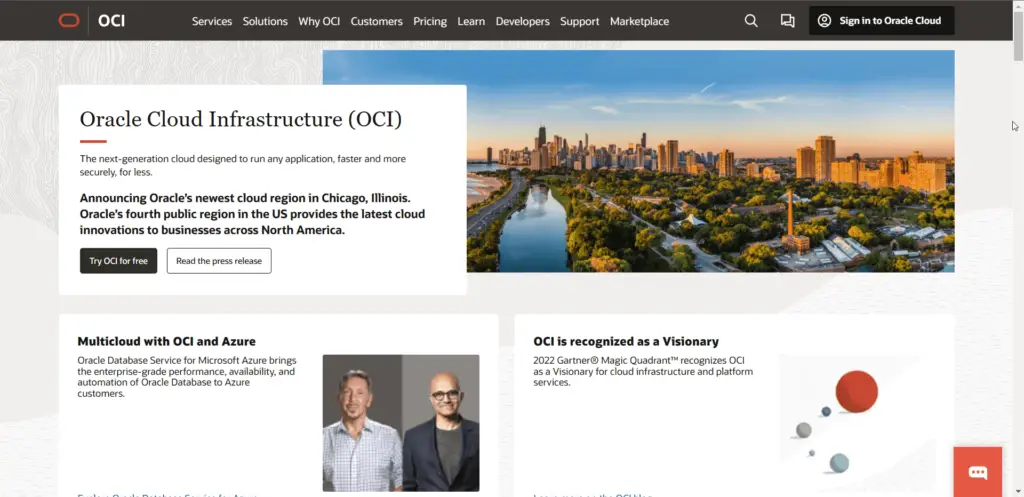 I want to clarify that, until you upgrade the account, you won't charge a penny, so no need to worry about and you can safely use your card to sign up on the Oracle Cloud platform. Visit the Oracle Cloud registration page.
Step – 1. Fill up the account information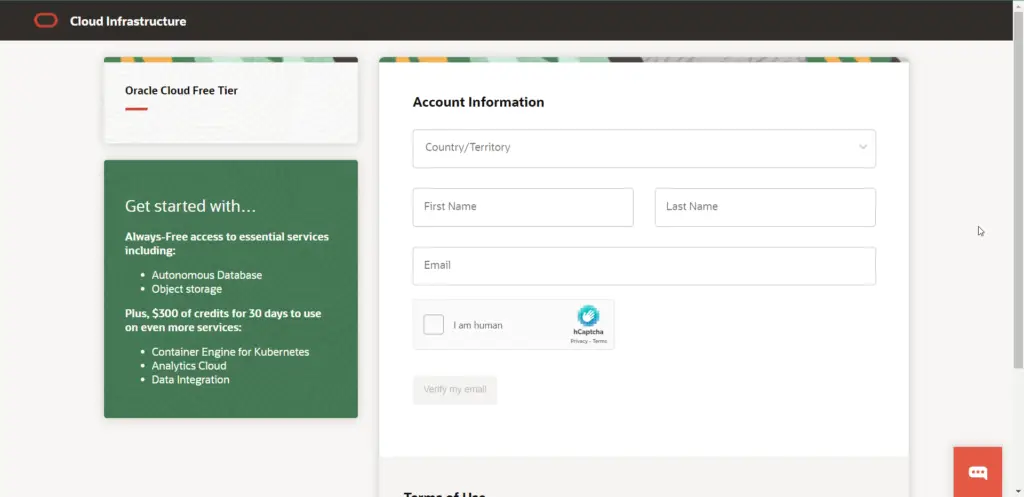 When you open the registration page on Oracle Cloud, fill up your basic information, like the country or territory where you are located and your name with personal/business email address. Of course, verify the captcha as you are not a robot, and click on Verify my email.
When you do that, you will receive a verification email from Oracle cloud, including a verification link. Click on the link and complete the email verification process.
Step – 2. Set Password & Home Region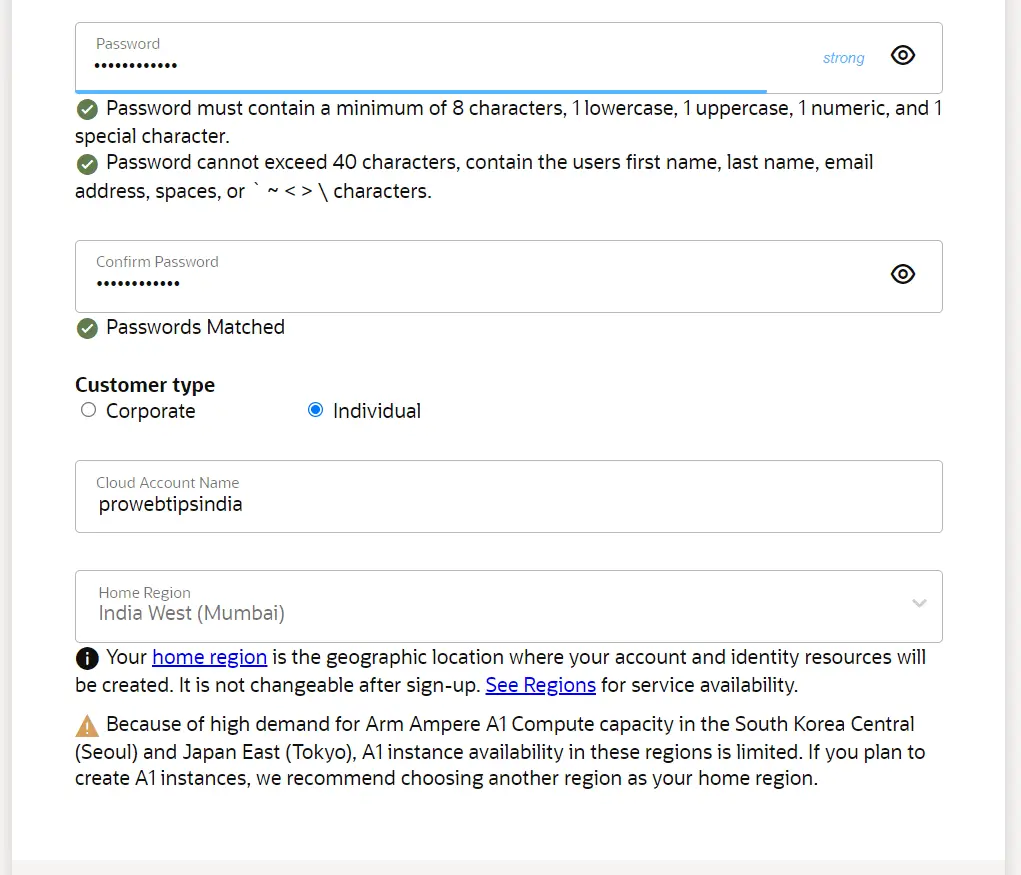 After verifying the email, you must set account passwords and need to select the home region. Why the home region? Oracle Cloud is not like AWS, Azure, or Google Cloud, because here you have to select the particular location (as the home region), where your virtual machine, databases, or storage will be deployed. Hence you must be selective about it. In my recommendation, choose the nearest location, where your business/user base belongs.
Step – 3. Address Information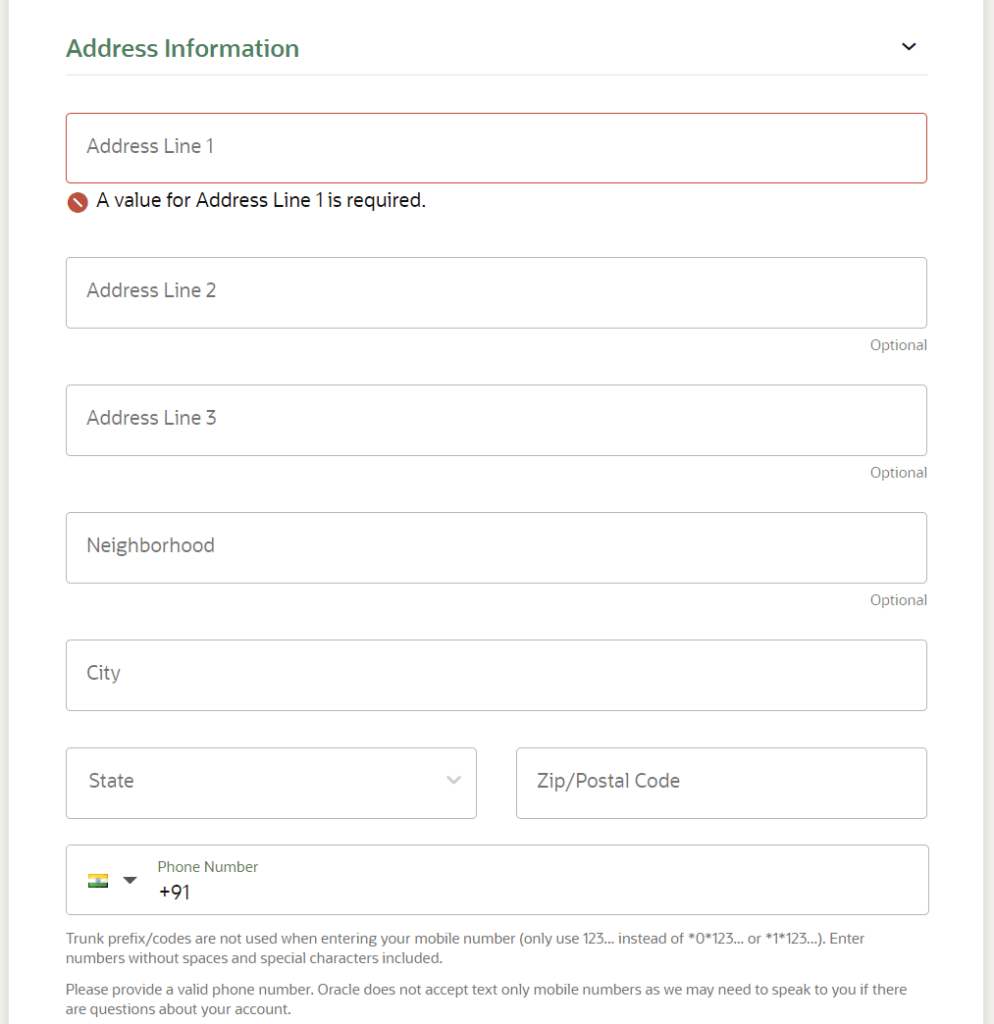 Now fill up your address information, if you are a company/business then fill up with that or if not then use your personal address information along with the phone number.
Step – 4. Payment Information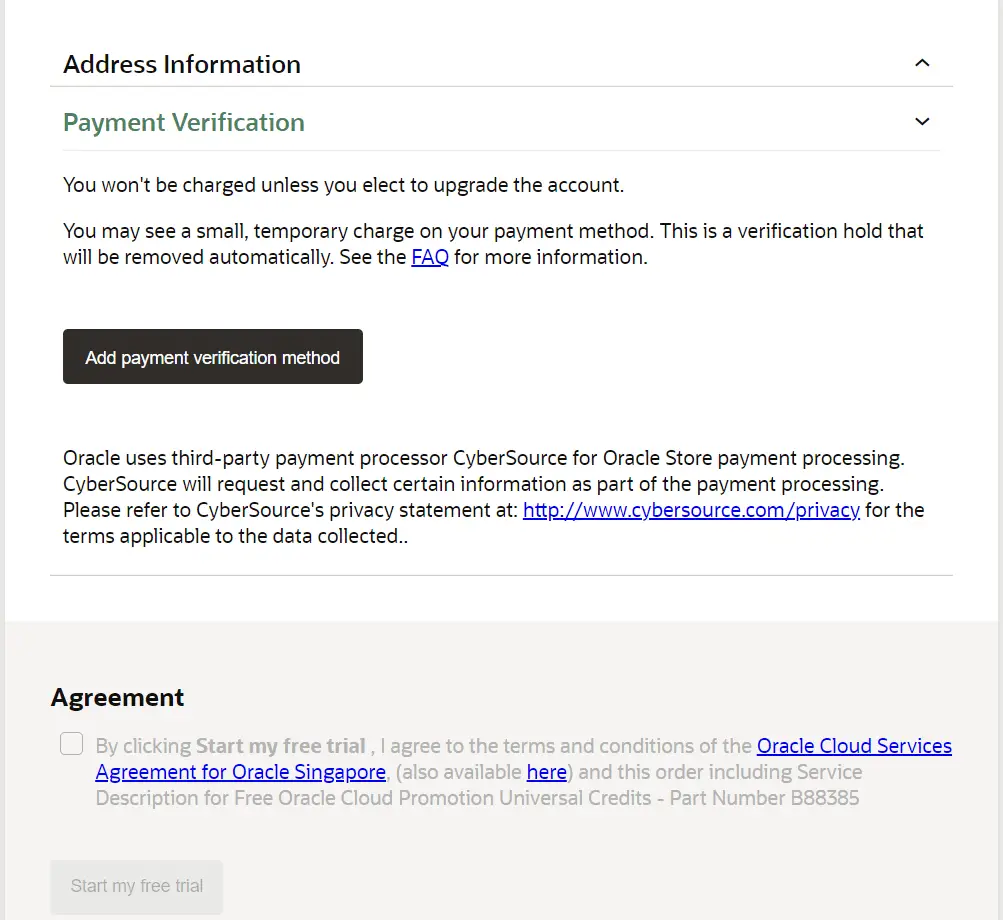 The final step is to verify payment information. Don't worry it will only verify your authenticity and deduct a dollar from your credit card and reverse it back to you in a few hours.
To verify the payment, you must use Visa or Master card, if you have a debit card or any type of pre-paid, it will be declined. So, make sure that you must use a credit card. However, in some cases, your Visa debit card could work (not verified recently so not 100% sure).
Step – 5. Log on to Oracle Cloud Dashboard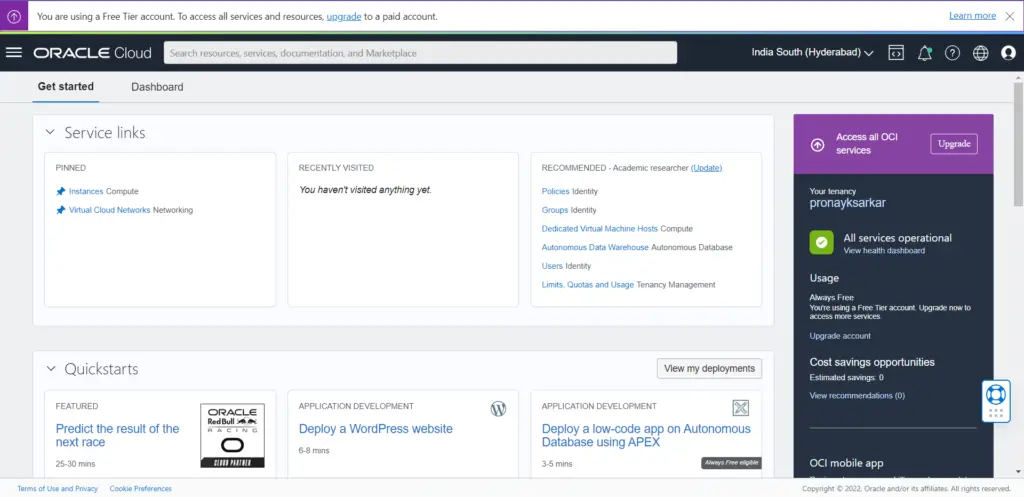 When you verify the payment method, the Oracle Cloud account will be activated. As you are seeing the image above, it is also a free account, after ending the trial period. During the 30-day trial period, you will get about $400 SGD, & you will have access to all the services. However, after the trial period ends, you are still able to access the Virtual machines, Storage buckets, & Databases.
Must Read: How to Install WordPress with OpenLiteSpeed on Ubuntu?
Benefits of Oracle Cloud (For Free Users)
Oracle Cloud provides industry-standard cloud services for everyone. I can't describe every service but most importantly they have all services that any type of business can use. On this platform, you can access some services completely free of charge without paying any monthly fees, etc. So, here I will explain the benefits of Oracle cloud, the basis of a free user.
Free Trial ($400 SGD) 30-days
As you know, in the free trial you will get a limited period of time to access their services and most other Cloud providers also do the same. In the case of Oracle cloud, they give 30 days of the trial period with $400 of Singapore Dollar credits, & you can use this credit while your 30-day trial period. However, if your trial period gets ended, then the remaining credit will also get expired.
So, the main benefit of Oracle Cloud's free trial is you will be able to access all the services, they have on their platform, without paying a penny.
Always Free Services
As I have mentioned earlier, Oracle cloud also gives always free services, which you can use for an unlimited time. Here are the services, that are always free:
Infrastructure:
2 AMD-based Compute VMs with 1/8 OCPU and 1 GB memory each
Arm-based Ampere A1 cores and 24 GB of memory usable as 1 VM or up to 4 VMs with 3,000 OCPU hours and 18,000 GB hours per month
2 Block Volumes Storage, 200 GB total
10 GB Object Storage – Standard
10 GB Object Storage – Infrequent Access
10 GB Archive Storage
Resource Manager: managed Terraform
5 OCI Bastions
Databases:
Your choice of Oracle Autonomous Transaction Processing, Autonomous Data Warehouse, Autonomous JSON Database, or APEX Application Development. Two databases total, each with 1 OCPU and 20 GB storage.
NoSQL Database with 133 million reads per month, 133 million writes per month, 25 GB storage per table, up to 3 tables.
Observability and Management:
Monitoring: 500 million ingestion data points, 1 billion retrieval datapoints
Application Performance Monitoring: 1000 tracing events per hour
Logging: 10 GB per month
Notifications: 1 million sent through https per month, 1000 sent through email per month
Service Connector Hub: 2 service connectors
Additional services:
Flexible Load Balancer: 1 instance, 10 Mbps
Flexible Network Load Balancer
Outbound Data Transfer: 10 TB per month
Virtual Cloud Networks (VCN): Maximum of 2 VCNs, including IPv4 and IPv6 support
VCN Flow Logs: Up to 10 GB per month shared across OCI Logging services
Site-to-Site VPN: 50 IPSec connections
Content Management Starter Edition: 5000 assets per month
Certificates: 5 Private CA and 150 private TLS certificates
Email Delivery: 100 emails sent per day
Frequently Asked Questions about Oracle Cloud
What is Oracle Cloud?
Oracle Cloud is a suite of cloud computing services offered by Oracle Corporation. It includes a range of services for computing, storage, networking, database, analytics, security, and application development, as well as tools for managing and deploying cloud resources.
How does Oracle Cloud compare to other cloud computing platforms?
Oracle Cloud offers many of the same types of services as other cloud computing platforms, such as Amazon Web Services (AWS), Microsoft Azure, and Google Cloud Platform (GCP). However, Oracle Cloud is particularly strong in the areas of database and analytics, and it offers several services that are specifically designed to support these workloads.
How is Oracle Cloud priced?
Oracle Cloud is priced on a pay-as-you-go basis, with prices varying depending on the specific services and resources that you use. Oracle Cloud also offers a free tier, Oracle Cloud Free, which includes a limited number of free services and resources.
Can I use Oracle Cloud to host my own applications?
Yes, you can use Oracle Cloud to host your own applications, either by using the Oracle Cloud Infrastructure (OCI) service or by using the Oracle Cloud Platform (PaaS) service. OCI provides infrastructure-as-a-service (IaaS) capabilities, allowing you to deploy and manage your own applications on Oracle Cloud. PaaS provides platform-as-a-service (PaaS) capabilities, allowing you to build and deploy applications on Oracle Cloud using a variety of programming languages and tools.
Is Oracle Cloud secure?
Oracle takes the security of its cloud services very seriously and has implemented several measures to ensure the security of Oracle Cloud. These measures include physical security, network security, data security, and application security. Oracle Cloud also has several compliance certifications, including SOC 2, PCI DSS, and HIPAA, among others.
What is Oracle Cloud Free Tier?
Oracle Cloud Free Tier is a free tier of Oracle Cloud services that offers a limited number of free services, including compute, storage, and networking resources, as well as access to developer tools and a free trial of Oracle Cloud Infrastructure.
How long does Oracle Cloud Free Tier last?
Oracle Cloud Free Tier lasts for an initial period of 30 days, after which you can continue to use the free tier for as long as you like, subject to certain usage limits.
Is Oracle Cloud Free Tier really free?
Yes, Oracle Cloud Free Tier is completely free to use, with no credit card required*. You will have access to a limited number of free Oracle Cloud services and resources, as well as a free trial of Oracle Cloud Infrastructure.
What services are included in Oracle Cloud Free Tier?
Oracle Cloud Free Tier includes a variety of services, including compute, storage, and networking resources, as well as access to developer tools and a free trial of Oracle Cloud Infrastructure. Some of the specific services that are included are Oracle Autonomous Transaction Processing, Oracle Autonomous Data Warehouse, Oracle Cloud Developer Image, Oracle Functions, Oracle Cloud Shell, and Oracle Cloud Developer Tools.
Are there any usage limits for Oracle Cloud Free Tier?
Yes, Oracle Cloud Free Tier has certain usage limits that apply to the resources and services that are included in the free tier. These limits are designed to ensure that the free tier is available to as many users as possible and to prevent abuse of the free tier. If you exceed these usage limits, you may be required to upgrade to a paid Oracle Cloud service.
Conclusion
In this article, you will learn how you can sign up for Oracle Cloud free tier subscription, & when you subscribe successfully you will get $400 SGD credits for 30 days. During this 30-day trial period, you will have access to all the services that Oracle Cloud provides. So, follow the steps, as mentioned in this article you will get access to Oracle Cloud without any obstacle, however, you may face the Debit/Credit card declining issue. Do not worry, comment down your issue, we will try to help you out.